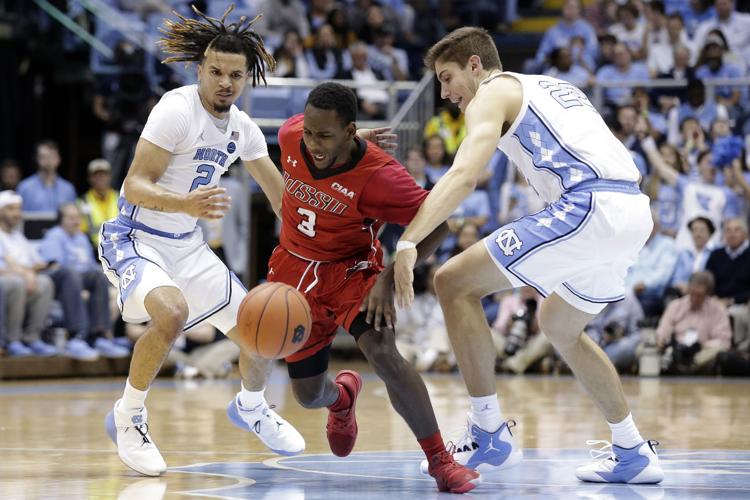 CHAPEL HILL — Chances are Winston-Salem State won't see a 6-foot-8 play-maker like Leaky Black of North Carolina when venturing through the CIAA this season.
Black was just one of the many talented players the Rams faced Friday in an exhibition game against the ninth-ranked Tar Heels in front of 20,000 at the Smith Center on Friday night. The Tar Heels were never threatened as they rolled to a 96-61 victory.
"You won't see that size of a backcourt in our league," said Coach Cleo Hill Jr. of the Rams, who is in his second season. "I really thought their size affected us; and what did they get, 50 points in the paint? You don't see that a lot either."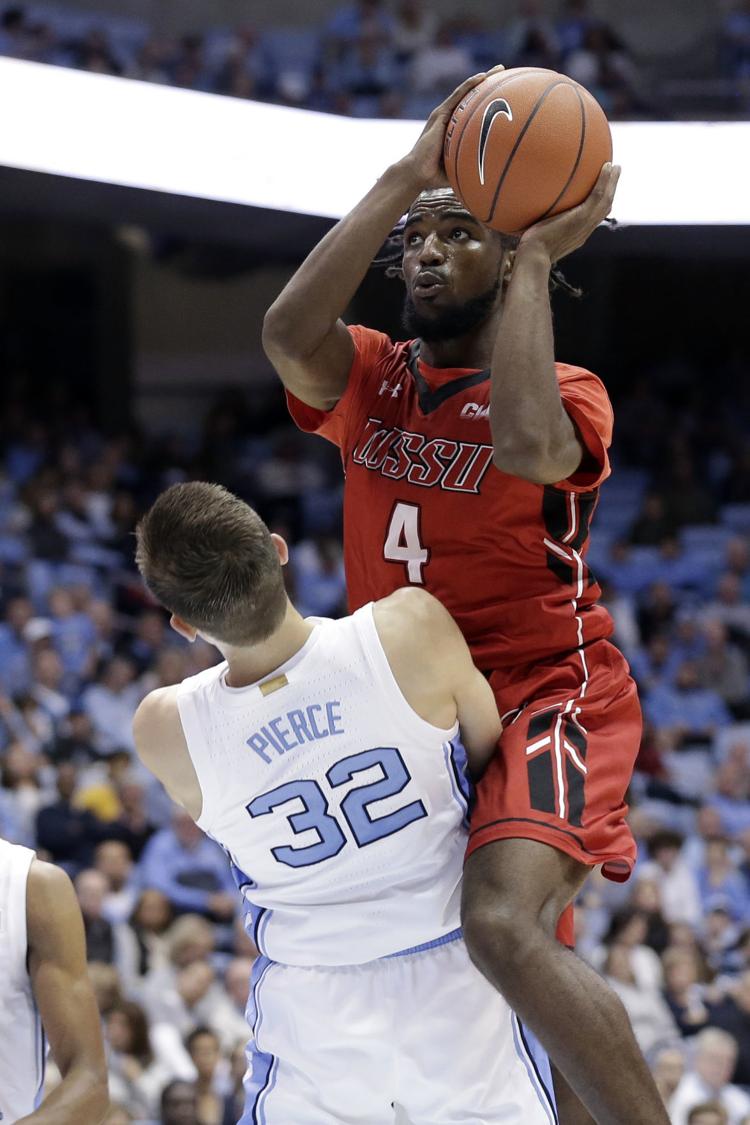 WSSU received $25,000 to play the game, and had a good chunk of support from fans. Around 100 fans took two buses from Winston-Salem during the homecoming weekend that's taking centerstage back on campus.
Hill said he saw some good things, despite the 22 turnovers and the 33% shooting. The Tar Heels outrebounded the Rams 56-33, something that guard Justice Kithchart said was a big issue.
"They really got after it on the boards and we did too, but they had a lot bigger guys down in the paint," said Kitchart, an Old Dominion transfer who led the Rams with 14 points.
While the Rams did trail by 16 twice in the second half, it was Black who helped ignite a scoring surge with less than seven minutes to go that pushed the Tar Heels' lead to 30. On back-to-back possessions, Black led a fast break, and he had nice assists to Christian Keeling (14 points) on both plays for baskets.
Guard Julius Barnes of the Rams, a senior who is from Raleigh, said it was a loss on the scoreboard, but the game prepared WSSU for what's ahead at the Division II level.
"We really did compete, we had some good flashes of play so this will only help us as we start the season," Barnes said. "I think we can take some positives out of this and now we can kind of see what we need to work on."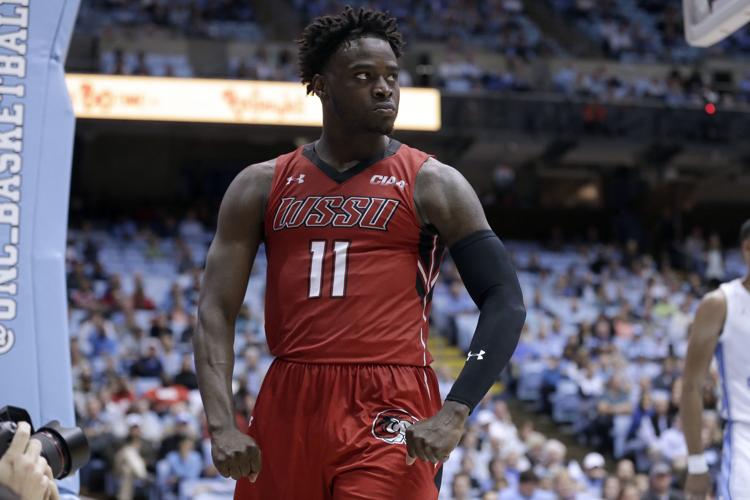 The Tar Heels jumped out to an 8-2 lead and stretched that to 26-6 when the Rams went scoreless over an eight-minute stretch.
Even though Cole Anthony, a 6-foot-3 freshman for the Tar Heels, struggled in the first half, it hardly mattered. When Anthony, a projected NBA lottery pick next season, wasn't at the point guard spot, Black, a sophomore who can play both guard positions, did the attacking. Black had nine points, seven assists against just one turnover.
Garrison Brooks led the way for the Tar Heels with 18 points and 11 rebounds and Armando Bacot, another talented post player, had 10 points and 10 rebounds.
The only other player in double figures for the Rams was Jon Hicklin with 11 points. Robert Colon, the team's second-leading scorer from last season at 16 points a game, was 1 of 7 on 3-pointers but had four assists in 22 minutes.
"There are some promising things, and I thought we had the jitters early," Hill said. "That's to be expected, but we see guys understanding the game plan and what we want to do. We want to drive and kick but we were a little better at picking up the pace in the second half."
The Rams' biggest deficit in the first half was 24 when Andrew Platek hit a 3-pointer for the Tar Heels with 6:30 to go in the half.
At one stretch late in the half, the Rams made four 3-pointers in a row to cut the lead to 16, but by halftime the Tar Heels led 45-24.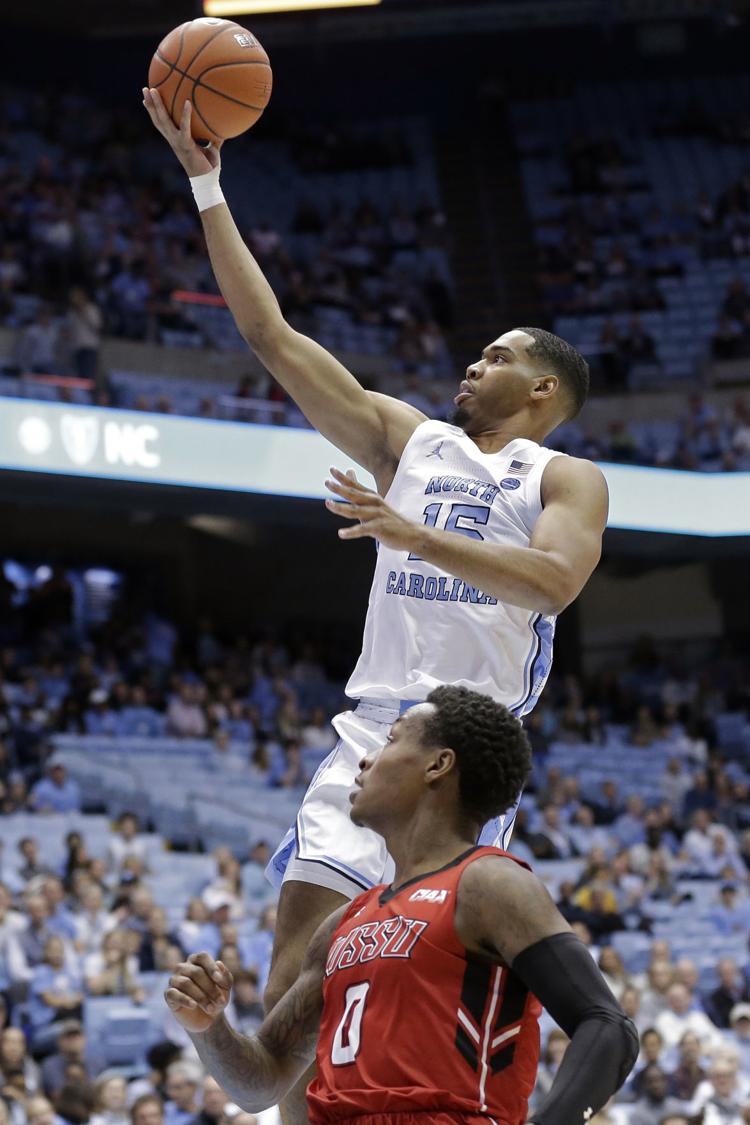 Barnes said it was a great experience against a great team.
"We just have to get back and look at the film and get better from this," Barnes said. "I don't know that any of the CIAA teams will be this big. But I don't think we were intimidated at all and we can to compete so that's the biggest thing we will take away from this one."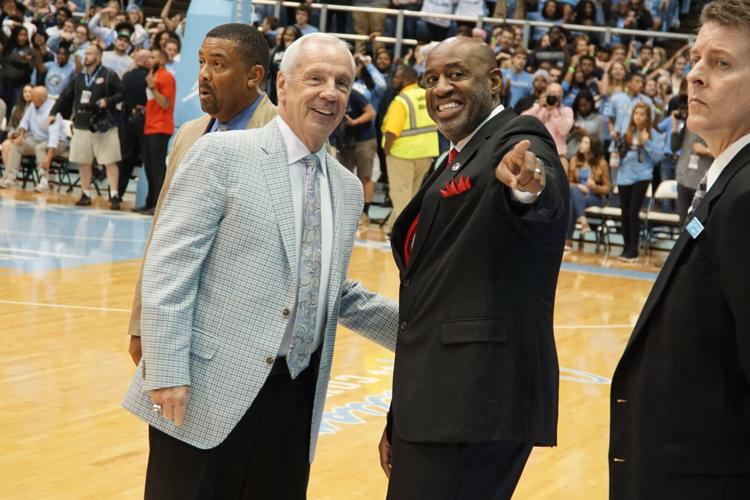 Coach Roy Williams of the Tar Heels said he wasn't pleased with a few areas of his team, but said he would look at the tape of the game first. The Tar Heels had 23 turnovers.
"They shot 32% and we gave them way too many drives to the basket," Williams said. "We have to cut down on that."
One reason the Rams and Tar Heels played was Williams' respect for the late Big House Gaines, WSSU's former legendary coach who died in April of 2005.
"Coach Gaines stood for so many great things," Williams said.
Notes: WSSU will open regular-season play on Nov. 12 with a 7:30 p.m. game at home against UNC Pembroke…. Brandon Robinson of the Tar Heels hurt his right leg in the first half when Xavier Fennell fell on Robinson after Robinson had blocked Fennell's shot. Robinson limped off the court and was later ruled out for the rest of the game. Williams was seen in a walking boot after the game. "We don't know about B-Rob yet," Williams said. "We'll know more tomorrow."... The Tar Heels will open their season on Nov. 6 at the Smith Center with a 7 p.m. game against Notre Dame…. WSSU was playing North Carolina for the second time in the last 15 years. The two programs also met in an exhibition game in 2004 when it was Williams' second season as head coach.