CHARLOTTE – Taking a step is undefined for Coach Danny Manning. It means improving defensively for Brandon Childress. Andrien White said the Deacons' step was taken when the final buzzer sounded on last season.
At the ACC's preseason media day at the Charlotte Marriott City Center, those were the three responses to a question of: What would it mean for the Deacons to "take a step" this season?
"There is no definition for it, it's just taking a step, being better. That's it in a nutshell," Manning said Tuesday. "I still feel that way; we feel that way as a staff, and I think our returning players feel that way. But you've still gotta go out on the court and do it."
The "take a step" line was used by Manning in the spring when it was announced he would return for a sixth season. That was part of his response when asked what fans could expect from the team in the upcoming season, which is now less than a month away.
Wake Forest opens the 2019-20 season at Boston College on Nov. 6.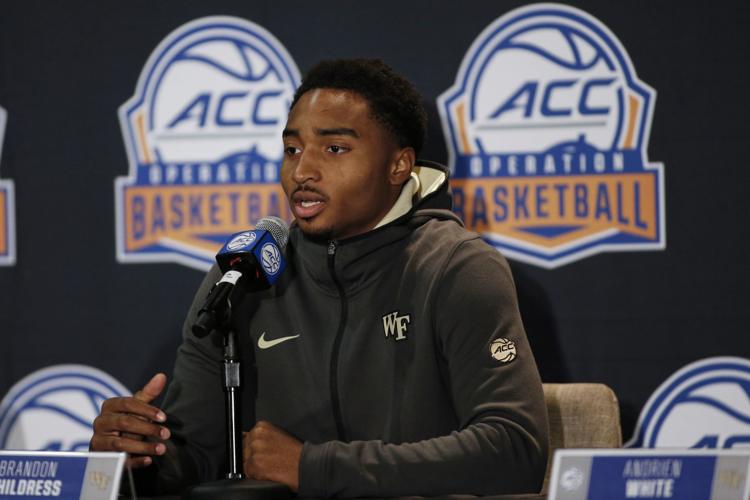 The Deacons are coming off back-to-back seasons with an 11-20 record, along with going 4-14 in the ACC. Manning is 65-93 in five seasons at Wake Forest, the high-water mark being a First Four appearance in 2017; otherwise, three of the last four seasons have seen the Deacons lose 20 games.
Under Manning, Wake Forest has never been better than 125th in the country in defensive efficiency, per KenPom. So it's natural to think that's where the step might be taken — and that's how Childress, the senior point guard, answered.
"Defensively, defensively, defensively, defensively. Just constantly doing the small things, the small things that can impact the game so much, such as rebounding … diving on loose balls, doing the little things," Childress said. "That's what we need to be successful. Just not being outworked, really."
The idea that defensive improvement would have to be involved in taking a step forward — whatever statistic that involves — was presented to Manning, also, who defaulted to citing that Wake Forest's offense has to improve for its defense to improve.
"Defensively the numbers weren't anywhere near where we want them to be, but you're a better defensive team when you can make shots too. You know? It goes hand-in-hand, to a certain extent," Manning said. "You're not going to win a game 35-55, not too often. … You even look at Virginia, they're a great defensive team but they're still scoring points."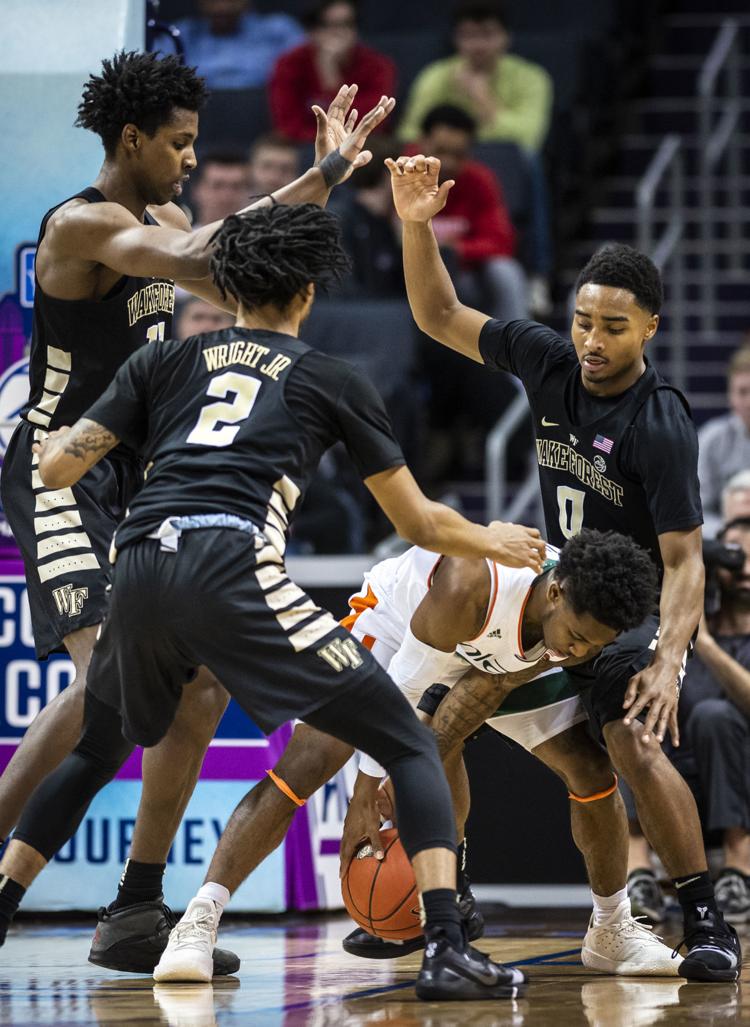 Experience, at least relative to the rest of the ACC, figures to be on the Deacons' side this season.
Wake Forest returns six of its top seven scorers from last season and, to get more technical, 77.3% of minutes played. The Deacons will rely on Childress, a senior point guard, Chaundee Brown, a junior guard who has started for two seasons, and White, a transfer from Charlotte who sat out last season.
Childress, Brown and junior forward Olivier Sarr are the captains, while sophomores Sharone Wright Jr. and Isaiah Mucius averaged more than 20 minutes per game last season as freshmen.
So White was around, despite not suiting up, for Wake Forest last season, and he saw a step taken with players gaining a year of experience.
"We've already taken a step with the final buzzer going off last year. We took a step because guys gained experience," White said. "… I heard earlier, somebody said baptized (by) fire, and that's what a lot of those guys were. That's a great analogy for it.
"The step has already been looking good. Our freshmen have taken a step since the day they came on campus, our sophomores and juniors as well."