Wake notes: Donavon Greene's arrival, kickoff woes and one NFL decision might come soon
Wake Forest's football team will learn its bowl destination Sunday
It''ll feel like a long three weeks or so until the Deacons take the field again.
Here are a few notes that came from Wake Forest's regular-season finale at Syracuse, a 39-30 loss in overtime at The Dome.
Not green anymore
Donavon Greene has indeed arrived in a big way for the Deacons.
The freshman wide receiver from Mount Airy made one of the biggest plays of Wake Forest's win against Duke, hauling in a one-handed catch for 36 yards on third-and-11 on the drive that ended with Cade Carney's victory-sealing touchdown run.
That was the appetizer to Greene's seven-catch, 172-yard performance at Syracuse. The big play was the 75-yard touchdown on which he turned on the burners after running a simple slant, the flashy play was the helmet-aided 25-yard catch along the sideline in the fourth quarter.
"Each game I'm getting a little more comfortable. Starting to slow down a little bit," Greene said Saturday when asked if the one-handed snag against Duke meant he had more confidence against the Orange.
In fact, this little snapshot of Greene in the past two weeks might just be the appetizer for what's to come for the 6-2, 200-pounder. He's played three games and will play in the bowl game, retaining his redshirt for this season.
Wake Forest already knows it's losing two of its top three wide receivers in seniors Scotty Washington and Steve Claude. Redshirt sophomore Sage Surratt, lost for the season to a shoulder injury, seems to at least have a decision to make on whether he'll enter the NFL Draft after a breakout season.
If Surratt leaves, Greene would become an even more integral part of Wake Forest's offense developing new threats at receiver.
Kickoffs
Wake Forest had a major problem on kickoff coverage for the second half of the season, and by the Deacons' second kickoff against the Orange they were sky-kicking to about the 25-yard line and conceding returns past the 30 instead of worse alternatives.
Coach Dave Clawson was blunt in his assessment — which wasn't the same as it was last week, when he shouldered blame for having too many inexperienced players on the unit against Duke.
"I mean, we're not in a good place on kickoff. And really, it starts with the kick. We just … when you don't kick the ball deep, and you kick it shallow and you don't have a lot of hang time, those are ideal returns," Clawson said. "The field position part of that kills us right now. That you're constantly letting other teams start at the 35. … I thought Nick Sciba early in the year did a great job of kicking off, and just — he's got a little bit of a tired leg and I think that showed as the year went on.
"It's just a lot to ask a kid to do. When you score as many points as we do, or we have, it's a lot, there's a lot of kickoffs. Hopefully we'll get him rested up and we'll be better in a bowl game."
One timeline for NFL decision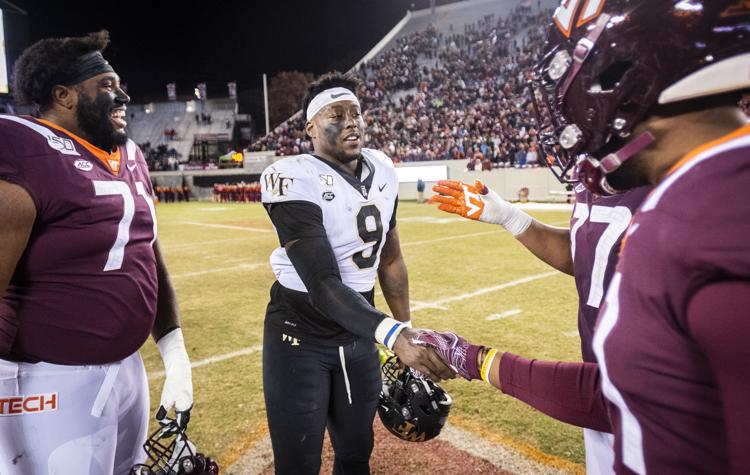 Saturday's game at Syracuse brought redshirt junior defensive end Boogie Basham's career into a full circle, in a way.
Basham's first start of his Wake Forest career came at The Dome two seasons ago, his only start of the 2017 season in place of Duke Ejiofor. He started 12 of 13 games last season, missing one for an injury, and has started every game this season — and Tuesday he figures to be named to one of the All-ACC teams after a season with 10 sacks, 17 tackles for loss, three forced fumbles and 13 quarterback hurries.
As he was leaving the locker room area Saturday, Basham said he was likely to make his decision on his football future — return to Wake Forest for a fifth season or enter the NFL Draft — late this week.