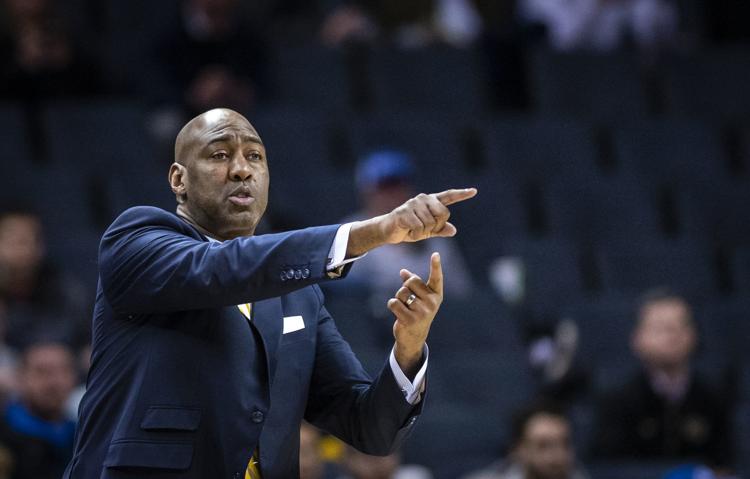 The start of the season for Wake Forest men's basketball is approaching. There are just 34 days remaining until the Deacons' road game against Boston College on Nov. 6. 
Ahead of the season opener against the Eagles, the Deacons will have two closed-door scrimmages — the first of those will take place in Rock Hill, S.C.
Below is more on those scrimmages and other topics as the 2019-20 gets closer and closer:
Manning prefers scrimmages over exhibitions
Wake Forest's men's basketball team will have played an ACC game before fans have a chance to see the Deacons at Joel Coliseum.
Wake Forest will not play an exhibition game before the start of this season, instead opting for two closed-door scrimmages against Winthrop and East Carolina before the season-opening game at Boston College on Nov. 6.
"I like them a lot better than an exhibition game," Coach Danny Manning said of the scrimmages. "For me as a coach, we can stay in there longer than a regular game, we can break down situations, offensively, defensively, special situations — six seconds on the clock, down two.
"For coaches, it's a lot better situation for us because we can be in there longer, and we can really work on some specific things against another team."
According to Jeff Goodman of Stadium.com, the Deacons will play at Winthrop on Oct. 20 and then play East Carolina on Oct. 26.
"We'll go and we'll prepare like it's a road game, we'll go through our routine, we'll have our meal, we'll have our scouting report, we'll do our film breakdown and things of that nature," Manning said. "So our newcomers and freshmen will kind of have an idea of what it's like going into the Boston College game."
Winthrop is coached by Pat Kelsey, a former Wake Forest assistant who's entering his eighth season at the school and is 139-83 in his tenure there. Joe Dooley is in his second season at East Carolina, and it'll be the second season that the Deacons play the Pirates in a closed-door scrimmage; Dooley and Manning were on the same staff at Kansas for several years.
Wake Forest's home opener is Nov. 10 against Columbia. It's believed to be the first time since the 1998-99 season that Wake Forest has not played a public exhibition game.
No more Coach Chaundee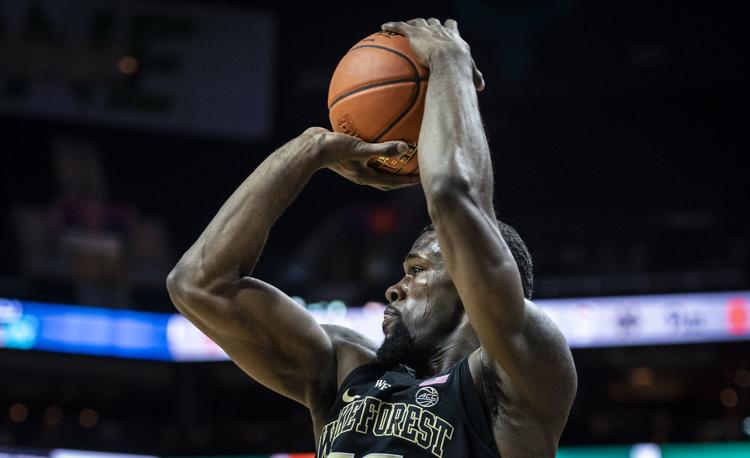 There was a clean bill of health for Wake Forest to start practices last week, which means the return of Chaundee Brown and Torry Johnson after offseason surgeries.
Brown took to his role as an extra coach well enough during the summer, but he also was eager to return to the court.
"I'm 100%, cleared and everything," Brown said last week. "I didn't like sitting on the sideline. (Coaches) got on me a lot about talking and putting guys in the right spots, especially in the summer. Not the whole summer, but just talking and helping other guys out. Still being engaged, not just sitting out, doing nothing and being quiet."
Brown, a 6-5, 220-pound junior guard, is coming off a season with averages of 11.9 points and 4.0 rebounds per game and, as a captain, will be counted on for leadership this season.
Backing up Childress
Brandon Childress played 90.2% of Wake Forest's minutes last season, the 41st-most in the country and second-most in the ACC.
How much that rate declines might depend on how quickly freshman point guard Jahcobi Neath gets up to speed.
"I let him know ahead of time, take care of your body," Childress said of Neath.
Childress said Neath, a 6-3, 200-pounder from Toronto, is a typical freshman in that, "there's going to be a learning curve and everyone hits that freshman wall. … He has a ways to go, but he'll be fine."
Wake up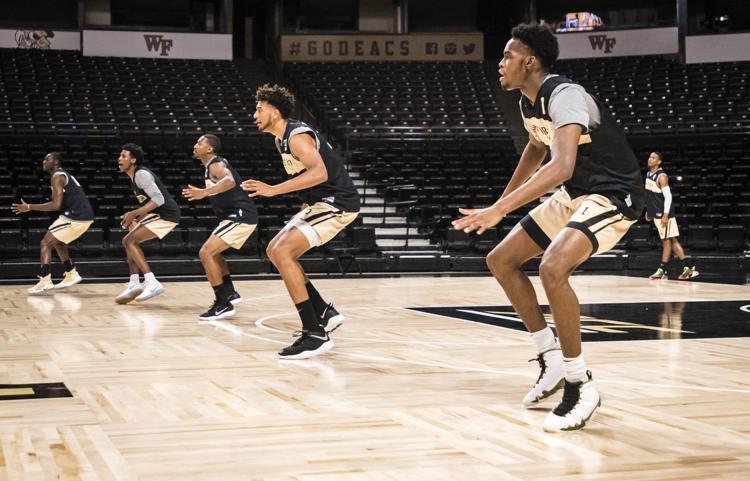 Wake Forest is doing something it's never done entering Manning's sixth season at the helm.
The Deacons are practicing early.
There's a wait-and-see nature to this, but at least until games begin, Wake Forest will hold practices in the morning and weight-lifting sessions in the afternoon. For at least the first few days last week, practice started before 7 a.m.
In years past, it's been the opposite. Manning said his trepidation with the schedule shift when the Deacons start playing games is that they'll travel, get back to Winston-Salem late and then have to turn around quickly for a practice.
So, some tinkering will be required — but for now, the Deacons seem to have embraced the change.
"Personally I feel like I like the morning practice better, I feel like it wakes me up, gets me going," Brown said. "Last year we practiced in the morning, lifted in the afternoon. You know, afternoon, you have two or three classes a day, your body is dead and you've gotta go to practice and wake yourself back up.
"But I feel like the morning, you've gotta wake yourself up also but I get my body generated and going. I don't know about the other guys, but I definitely like the morning practices better."