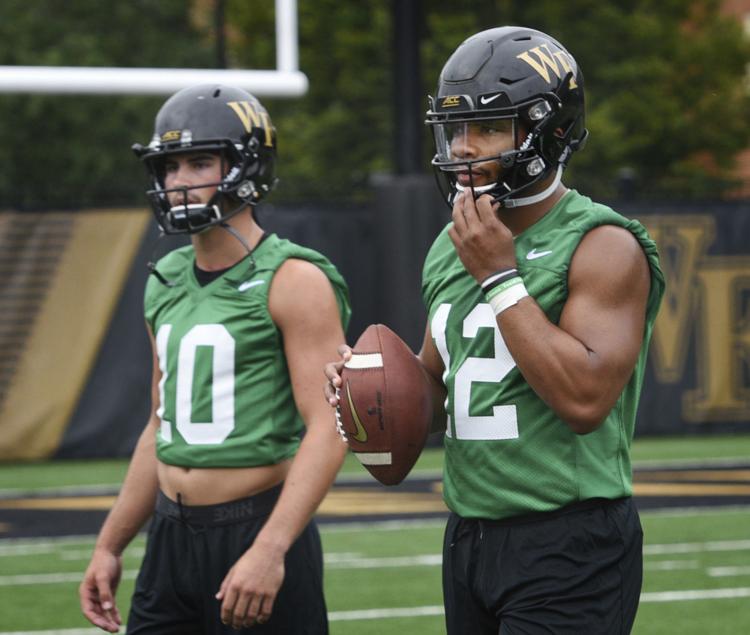 CHARLOTTE — The candidates are the same and the stakes are the same going into fall camp for Wake Forest.
Jamie Newman and Sam Hartman. Hartman and Newman. One of them will start Aug. 30 against Utah State. Just as one of them — Hartman — started against Tulane last season.
The Deacons know a lot more about both of them this time, though.
Wake Forest came to the ACC's media day event last year about a month removed from announcing that Kendall Hinton would be suspended for the first three games of the season. Without Hinton, the Deacons all of a sudden were going to be replacing John Wolford with an unseasoned quarterback.
That was the first time that Clawson spoke publicly about the quarterback situation. 
"I mean, a year ago we were here, our four-year starter graduated, our starter just got suspended," Coach Dave Clawson said Wednesday at the Westin Charlotte on Wednesday. "I would certainly rather be in this position than the position a year ago."
The plan for 2018 was that Newman, then a redshirt sophomore who had played 22 snaps, and Hartman, the freshman who had enrolled in January, would compete for the starting job.
Through a sometimes-tumultuous season, both proved capable of winning ACC games. Hartman started the first nine games and threw for 1,984 yards and 16 touchdowns. Newman started the last four, throwing for 1,008 yards and nine touchdowns.
So, the question coming into this season remains the same: Who starts at quarterback?
The good news about the buildup to the 2019 season is that the unknown about how each would perform is now known.
"I think the battle we have going in this year is a positive thing. Both guys showed they can play at this level," senior linebacker Justin Strnad said. "What Jamie did at the end of the year last year was great, led us to some very big wins. And as a true freshman, Sam showed that he could play at this level, which is also very impressive."
As expected, Clawson said the only situation that would lead to him naming a starter before preparation starts for Utah State — which should be around Aug. 20 — would be if one were to get hurt.
"It's a good problem. It's competitive," Clawson said. "I don't know who our starting left guard is going to be. I don't know who our third linebacker is going to be. Right now I don't know who our starting quarterback is going to be.
"But I have great confidence in both of them."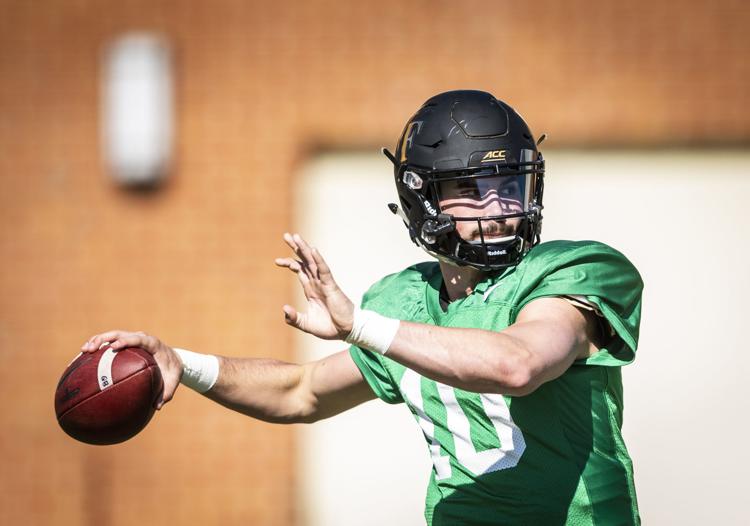 Clawson readily points out that he's never made it through a season at Wake Forest with one quarterback. Even in 2017, Wolford's senior year, Hinton started in a loss at Clemson.
Senior running back Cade Carney knows that, too.
"The team trusts both of them. I think that's important. … I also don't think that the guy who is playing second will be sitting all year," Carney said. "Since I've been here, we've had to rely on two quarterbacks. It's a great thing this year we feel very confident with that."