5 things to watch in Wake Forest's games in the Wooden Legacy
Wake Forest embarks on a four-game road trip that will last more than a week, leaving Tuesday for Anaheim, Calif., and returning after next Wednesday's game in the ACC-Big Ten Challenge at Penn State.
It's a chance for the Deacons, who lost their first two road games but put together their most-complete performance of the young season last week on the road against Davidson, to further grow amid a topsy-turvy start.
"We'll definitely learn some stuff about ourselves. One away (game) will help you learn about yourself, so three or four will definitely help," senior guard Andrien White said. "Just coming together and keep tuning up the things that we need to work on and keep doing the things that we already do well is going to be big for us."
First up is the Wooden Legacy, a three-games-in-four-days tournament starting with a Thanksgiving game against College of Charleston.
Here are five things to watch with the Deacons in the Wooden Legacy:
1. Shot distribution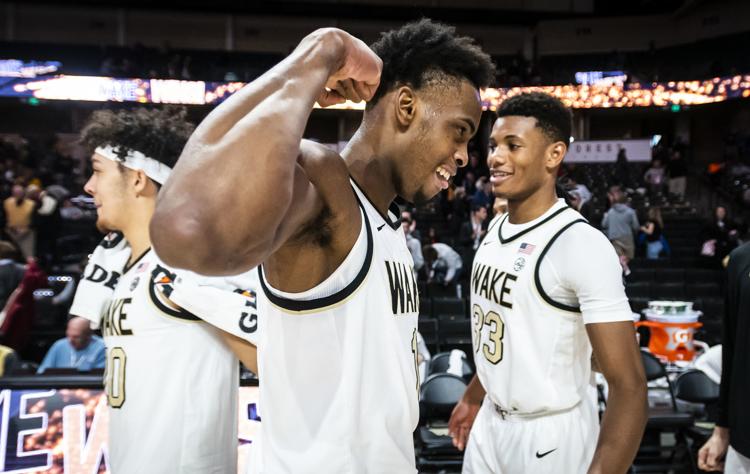 Coach Danny Manning was pleased with the shot distribution against Davidson — Isaiah Mucius (15) and Brandon Childress (13) were the only players to attempt more than 10 shots.
"I thought the Davidson game was a really good game in terms of distribution of the basketball and distribution of shots. We have a lot of balance," Manning said.
The early scoring averages reflect some balance, too; five players average at least eight points per game.
2. Rebounding prowess
Through Monday's games, Wake Forest ranked second in the country in limiting opponents' offensive rebounds — collecting 83.3% of defensive rebounds, per KenPom.
The Deacons have been outrebounded only once — 41-39 in an overtime loss on the road at Charlotte. Otherwise, Wake Forest has held positive rebounding margins of 11, nine, 15 and 14.
Chaundee Brown's 9.8 rebounds per game leads Wake Forest — making it more impressive that the Deacons outrebounded Davidson 43-29 with him sidelined last week.
3. Availability of Brown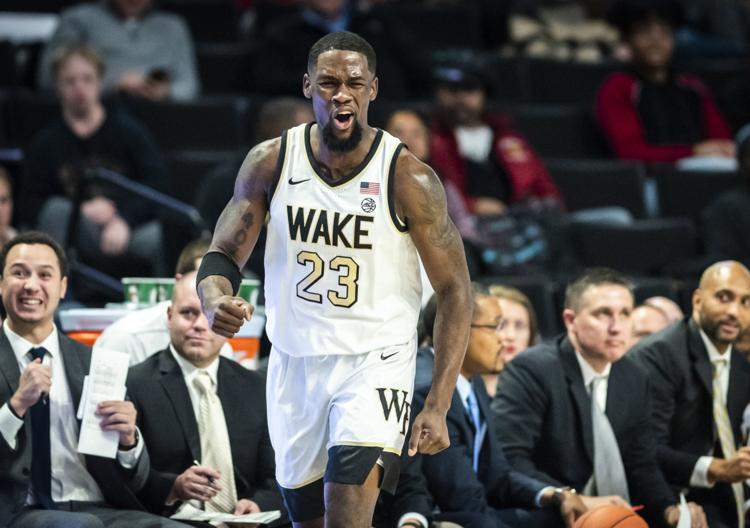 Speaking of Brown, Manning was vague on how much — if at all — Brown will play as he recovers from a foot injury, which occurred in practice last week and had him in a boot for the win against Davidson.
"I don't have anything for you. He was out there today, did a couple of drills with us and then he wasn't out there," Manning said after Monday morning's practice. "And so once he gets complete clearance and they tell me he's ready to go, then I'll put him out there. But it's going to take some time to ease him back in."
Brown had an MRI on his injured left foot Saturday, which Manning declined to discuss whether the results were positive or negative.
"Like I said, once the trainers say he's ready to go, and the doctors, he'll be back out there," Manning said.
4. Tournament feeling
This will be the first shortened preparation time for the Deacons, who have had at least two full days between each game of the season so far.
Wake Forest will play Thursday and Friday, and then again Sunday.
"We've gotta be focused in on playing some games, and it's going to be a unique situation for a lot of our first-time players, playing in a tournament like this with a back-to-back game, and so the prep time is completely different," Manning said.
5. At the end of it all
Wake Forest will wrap up its three-game swing in the Wooden Legacy and then head to Penn State, where the Deacons will stay until next Wednesday night's game against Penn State.
The Nittany Lions started the season with five straight wins, including an 81-66 win against Georgetown, entering Wednesday night's game against Mississippi.
Wake Forest didn't participate in the ACC-Big Ten Challenge last season. Two years ago, the Deacons beat Illinois at home. The last road win in the event came in 2015 with a 69-68 win at Rutgers.