Wake Forest has obviously come a long way from needing to beat Virginia Tech 6-3 in double overtime for its only ACC win of the 2014 season, Coach Dave Clawson's first at the helm of the Deacons.
The latest evidence of the program's growth in this week's first-ever appearance in the College Football Playoff rankings, at No. 19.
Or, for the facetious-but-truthful stance:
"That year, any way we could get it, we'd take it. We weren't into style points at that point," Clawson said. "Now we're beating Florida State and people are booing, so that's progress."
To be fair, the boos against the Seminoles came for Wake Forest's inability to punch in touchdowns from inside the 10-yard line. And also to be fair, against a Virginia Tech team that had won three straight games before last weekend's heartbreaking last-minute loss at Notre Dame, style points might still be an afterthought for the Deacons.
Here are five things to know about the Hokies:
1. QB situation
Virginia Tech's quarterback situation appears to be the same that Wake Forest had entering last weekend's win over N.C. State.
Hendon Hooker, a Greensboro native, took over as the Hokies' starter for wins against Miami, Rhode Island and North Carolina, but was injured against the Tar Heels and didn't play in last week's 21-20 loss at Notre Dame.
Early in the week, Coach Justin Fuente said "if (Hooker) practices all week and does well, then Hendon will be the starter," the sentiment as Clawson's "if Jamie can go, he'll go" from last week. If Hooker can't play, the starter would likely be redshirt freshman Quincy Patterson II, a 6-foot-4, 245-pounder whose first career start was last week — in which he passed for 139 yards and rushed for 77.
2. Bud Foster Day
Foster is retiring after the season after coming to Virginia Tech in 1987, and running the Hokies' defense since 1995 — so this game, Virginia Tech's penultimate home game, has been deemed Bud Foster Day.
He's college football's longest-tenured assistant coach at the same school, and with Foster coaching the defense, Virginia Tech has had 34 shutouts and 26 straight bowl berths — the longest current streak in the nation.
Perhaps the most incredible and ironic stat — at least when it comes to this matchup — is that since Foster took over as defensive coordinator, the Hokies have held opponents to 10 points or fewer 101 times.
The only loss was Wake Forest's 6-3 win in double overtime in 2014.
3. Dangerous receiving corps
Virginia Tech features a dangerous receiving corps, and it's recently returned to full strength. Damon Hazelton missed the first three games, but has 13 catches for 199 yards and five touchdowns in the past three.
Otherwise, freshman Tayvion Robinson is the leading receiver with 24 catches for 267 yards. Tre Turner (another Greensboro native) has the top yardage total, with 302 yards on 19 catches.
"They've got some receivers that can challenge you and make contested catches," Clawson said. "The whole group, Hazelton, Turner, Robinson, (Hezekiah) Grimsley are all good players."
4. Thick of the Coastal
Virginia Tech controls its own destiny — a wild notion in the ACC's Coastal Division.
But if the Hokies win out — that would mean wins over Wake Forest, Georgia Tech, Pittsburgh and Virginia in consecutive weeks — they would punch their ticket to Charlotte for the ACC championship game.
"Obviously they have played well of late, they had a big win over Carolina and then really, they lost a heartbreaker to Notre Dame in the last 30 seconds of the game," Clawson said. "It's a very good offensive football team."
5. Close ties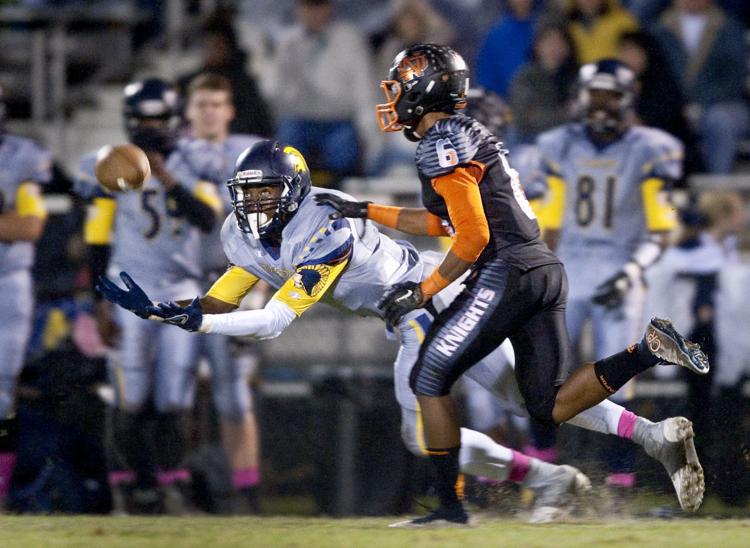 Wake Forest has nine players on its roster from Virginia, five of which are starters: rover Traveon Redd, defensive end Boogie Basham, defensive tackle Sulaiman Kamara, safety Trey Rucker and tight end Jack Freudenthal.
Familiarity goes both ways, as Virginia Tech has 17 players from North Carolina. The aforementioned Hooker and Turner are from Greensboro, while safety Divine Deablo is from Winston-Salem and graduated from Mount Tabor High School.
Additionally, Wake Forest was heavily involved in the recruiting of linebacker Dax Hollifield and cornerback Caleb Farley. Hollifield's dad, Aubrey Hollifield, was a defensive lineman at Wake Forest from 1988-91.
"Hollifield is somebody we know very well, his dad played here. He was a young man we recruited very hard," Clawson said. "And their secondary might be the most-talented secondary that we've seen this year. … Caleb right now is second in the ACC in interceptions, he's tied for first in disrupted passes. It's a really good secondary."