5 things to know about Wake Forest's opponent: Syracuse
Three games better than it was last year at this time, Wake Forest's football team has a desperation level that's also different from last year.
But, there's still desperation.
The Deacons headed to Duke to end last season and won emphatically to punch their ticket to a bowl game. The Deacons head to Syracuse on Saturday with a chance to become the second team in school history to win at least nine regular-season games.
"That's what's so hard about this is to be a team that shows up every week. That's college football and everybody is not fresh right now," senior running back Cade Carney said. "We're banged up and we're fighting through, but that's the message. … We've gotta convince ourselves to go as hard as we can."
Here are five things to know about Syracuse ahead of Saturday's game:
1. Veteran team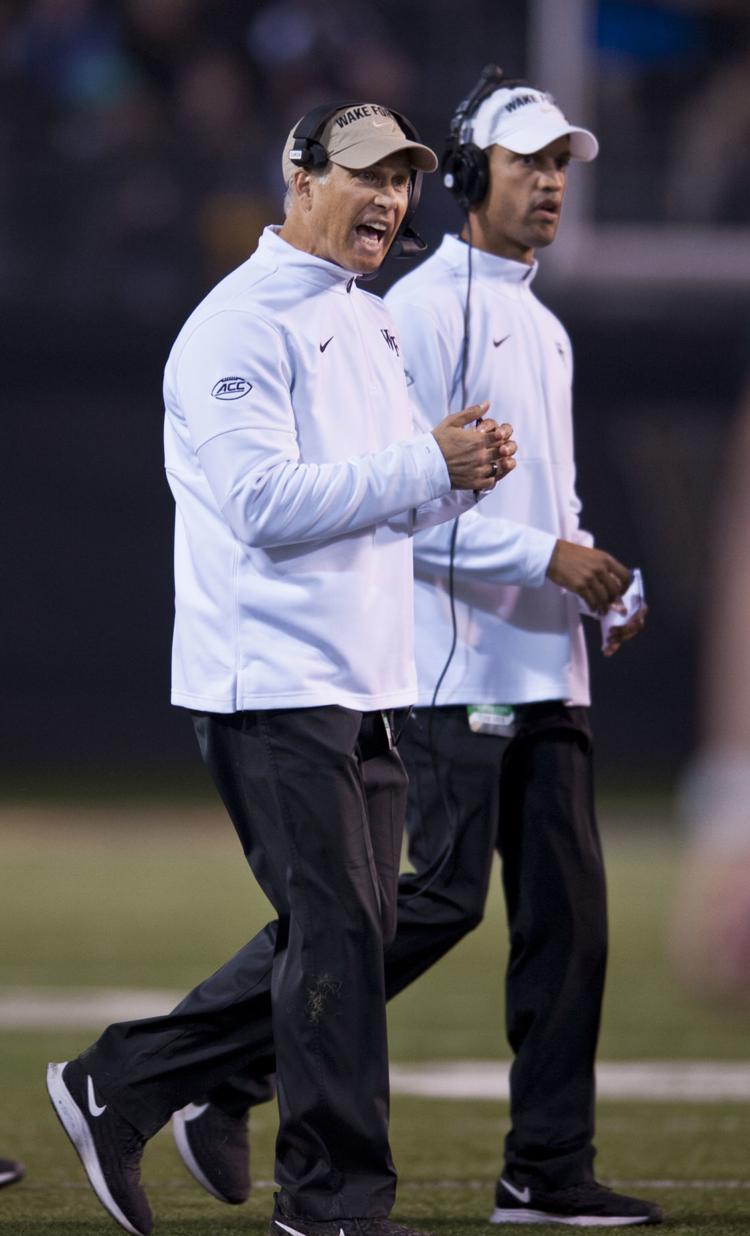 Duke was the most-experienced team that Coach Dave Clawson had seen this season, by virtue of juniors and seniors listed in the depth chart.
Syracuse has one more such player in its two-deep, so the Orange take that label now.
"They won 10 games a year ago, they had a lot of really good players back and if you look at their two-deep, they have 27 juniors and seniors in their two-deep," Clawson said. "So, Duke was the most-veteran team I had seen all year in terms of the amount of upperclassmen in the two-deep, and then Syracuse has one more."
2. Sacks on sacks
That first season of Clawson's tenure at Wake Forest was marked by a poor offense that surrendered 48 sacks in 12 games.
Syracuse has allowed 48 sacks in 11 games.
The Orange has allowed 10 more sacks than the next-closest team (Miami) in the ACC — it's the second-most sacks allowed in the country, behind only Akron, which gave up 58 in its winless season.
3. Their bowl game
Syracuse is 4-7 this season after last week's 56-34 loss to Louisville, and the Orange will either finish with half as many wins last season (when it won 10) or with less than half.
"For injury reasons or other reasons, things haven't panned out the way they hoped for," Clawson said. "But when we went into this season, I certainly viewed this game as being one of the most-challenging games that we would have.
"I think they're a very talented football team. Their offensive skill is excellent."
4. A new QB
Tommy DeVito took over for Eric Dungey and has had a quietly efficient season, completing 63.2% of his passes (211 of 334) for 2,333 yards and 19 touchdowns.
He's thrown five interceptions, none of which have come since September — DeVito has the second-longest streak without an interception thrown in the country, at 167 throws.
"DeVito is really an emerging quarterback," Clawson said before listing his stats. "For a first-time starter, that's really good. He has great arm strength. He has great velocity on the football."
5. Defensive ends
The production hasn't been as high this season for defensive ends Kendall Coleman and Alton Robinson, who had 10 sacks apiece last season and have combined for 7½ this season.
That doesn't mean the Deacons won't be ready to face a couple of strong pass-rushers.
"The two defensive ends are as good of two ends as we'll play all year," Clawson said. "Both of those guys, Robinson and Coleman, are — they're pros. They've both been invited to All-Star games, I mean, they are excellent players."