Mack is back at North Carolina, but more significant than a catchy tagline, the Tar Heels are playing confidently.
Larry Fedora's tenure as North Carolina's football coach ended with the Tar Heels winning six of the last 27 games he coached — and half of those came against FCS teams.
Mack Brown has stepped in and the Tar Heels have two come-from-behind, fourth-quarter wins against South Carolina and Miami.
"They're off to a great start. Obviously Coach Brown and his staff have done a great job of captivating their players. It's not just the fact that they're 2-0, it's how they're 2-0," Coach Dave Clawson said. "Coach Brown obviously has them believing that they can win games and they're off to a great start."
North Carolina and Wake Forest play at 6 p.m. Friday at BB&T Field. The game will be broadcast on ESPN.
Here are five things to know about the Tar Heels:
1. A freshman QB named Sam
Like Wake Forest a season ago, North Carolina has a freshman quarterback named Sam — Howell is the surname here — who has impressively started his career with two wins.
Howell first engineered an 11-point comeback in the fourth quarter against South Carolina in Charlotte, throwing a pair of fourth-quarter touchdown passes for a 24-20 win. And then last week, Howell took the Tar Heels on a nine-play, 75-yard drive to win the game, converting a fourth-and-17 and throwing a 10-yard touchdown pass with 1:01 left.
"Howell is in no way, shape or form playing like a true freshman. Just really has shown a lot of poise," Clawson said. "He's playing with a lot of courage, he's not afraid to run the ball. The throw he made on fourth-and-17, and then the touchdown strike he threw, that does not look like a guy playing his second game.
"He's playing really well and obviously the moment is not too big for him."
2. Stable of running backs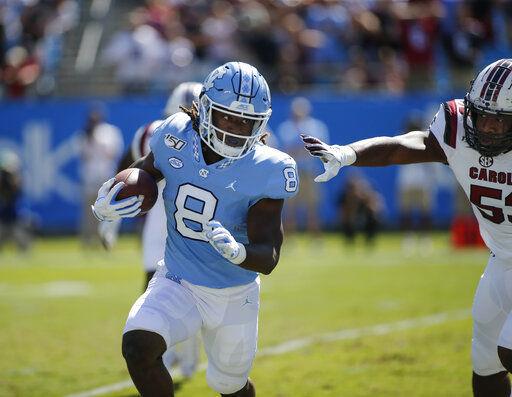 Clawson has been impressed with what he's seen on film from North Carolina's top three running backs.
Javonte Williams is the yardage leader, with 178 yards on 28 carries (6.4 yards per carry), but Michael Carter (107 yards on 27 carries) has started each of the first two games. Antonio Williams' chances have been fewer, but he's picked up 58 yards on six carries.
"Their skill will be by far the best skill we've faced this year," Clawson said. "They have three tailbacks, Carter, (Javonte) Williams and (Antonio) Williams, I think those three kids could play for anybody in the conference."
3. Interior defensive line
A couple of senior defensive tackles have stood out for the Tar Heels so far — Aaron Crawford and Jason Strowbridge. They've combined for 20 tackles, 5½ tackles for loss and two sacks (both by Crawford).
"The two defensive tackles, again, could play anywhere in the conference," Clawson said. "Those guys are high-level players, they're both back from injuries, and they have experience on defense."
They've also helped open up things for edge rushers. Linebacker Tomon Fox had three sacks against Miami.
4. Healthier, not unscathed
Injuries played a large role in North Carolina's lack of success over the last two seasons, and the Tar Heels seem to be reaping rewards from a cleaner bill of health this year.
This week brought unfortunate news, though, as senior defensive back Patrice Rene has been lost for the season with a torn ACL and redshirt senior center Nick Polino is out indefinitely.
Greg Ross, a junior who started against South Carolina, will start at cornerback for Rene. Brian Anderson, a redshirt sophomore, will take over at center.
5. Instant confidence
The shift at North Carolina, to go from a downtrodden team that rarely found success by the end of Fedora's tenure to one that's beaten two Power 5 teams in as many weeks, is astounding — regardless of where South Carolina and Miami wind up this season.
It's a start that has the Tar Heels receiving votes in the Associated Press Top 25 poll. It also has fans thinking about a possible 4-0 start — Appalachian State is in Chapel Hill next weekend — ahead of North Carolina's Sept. 28 game against No. 1 Clemson.