Now the time comes for the middle game of Wake Forest's three home games against Big Four opponents this season.
N.C. State visits Winston-Salem on Saturday having lost two of its past three games, including most recently a 45-24 loss at Boston College in which the Wolfpack gave up 429 rushing yards.
That matters little to Wake Forest.
"We don't focus too much on the numbers of who they played and how they play against them because we know it's … N.C. State, it's a home game, it's a rivalry game," said senior tight end Jack Freudenthal. "We know they're going to bring their very best."
Here are five things to know about N.C. State heading into Saturday's game at BB&T Field:
1. Injury plagued
N.C. State's injury situation is similar to what Wake Forest's was last year.
The Wolfpack has lost seven starters to season-ending injuries. Three of them are cornerbacks — Chris Ingram, Taiyon Palmer and Teshaun Smith — while cornerback Nick McCloud hasn't played since the season opener. Both starting offensive tackles, Tyrone Riley and Justin Witt, have been lost for the season.
It's led, in part, to N.C. State playing more freshmen than any team in the country other than Clemson.
2. A new QB
Devin Leary will become the Wolfpack's third quarterback to start a game this season. Leary, a redshirt freshman from Sicklerville, N.J., completed 15 of 33 passes for 259 yards and three touchdowns against Boston College, his first extensive work of the season.
"I understand they've just made a change at quarterback, and certainly Leary finished the BC game playing very well," Coach Dave Clawson said.
Leary relieved Bailey Hockman, who threw for 208 and 205 yards against Florida State and Syracuse, respectively, and averaged 6.2 yards per attempt in those two games combined. Against Boston College, Hockman completed 4 of 10 passes for 27 yards and threw an interception.
3. A homecoming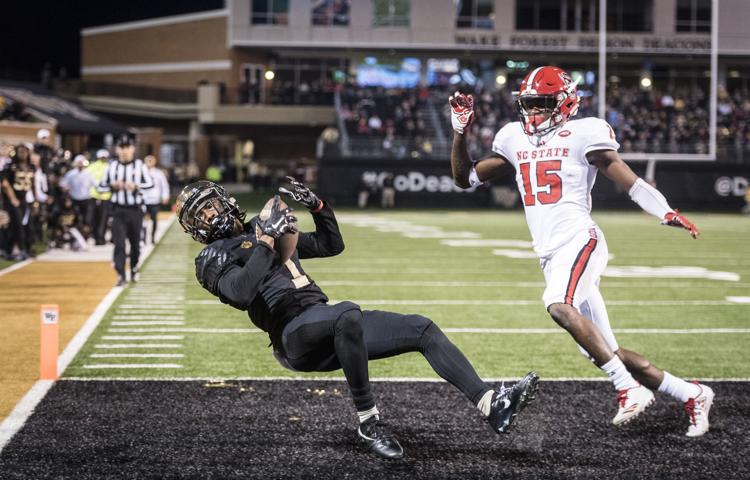 One of the biggest wins for Wake Forest under Clawson was a 30-24 defeat of N.C. State two seasons ago, when the Deacons knocked off the No. 25 Wolfpack and had a three-touchdown performance from Tabari Hines.
Now Hines returns to BB&T Field as a member of the Wolfpack.
Hines left Wake Forest as a graduate transfer and played four games for Oregon last season. Because he only played in four and played immediately at Wake Forest, he was able to retain a redshirt season, and he's playing his final season of eligibility for the Wolfpack.
"Once the game starts, it's a game. I think with Tabari, we know his skills set. We know he's a very gifted player. We certainly don't root against him and in this particular game we're not exactly rooting for him," Clawson said. "But Tabari had a very good career here.
"He was very productive for us and graduated and wanted a different role, and he's a had a chance to find a different role."
4. Defensive changes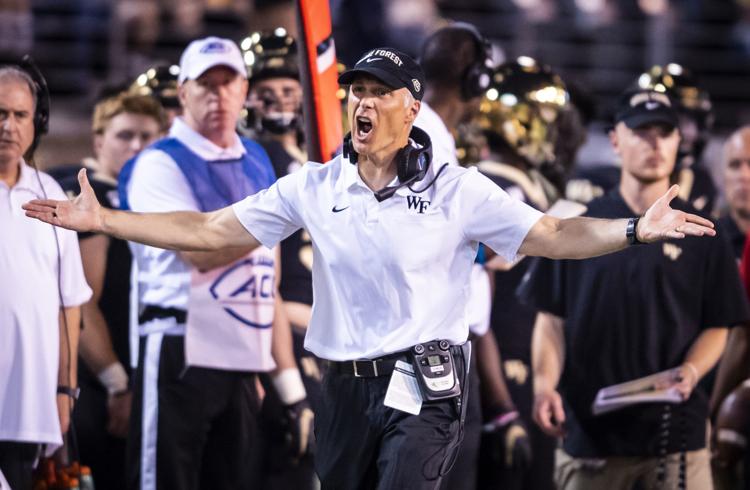 Two weeks ago, Wake Forest was preparing to face what would've been a predominantly three defensive linemen front for the first time this season.
Instead, Florida State played the Deacons with four defensive linemen for most of the game, and the Deacons had to adjust.
Now the Deacons expect to see another team that plays a three-linemen front.
"We've certainly faced it before, but we haven't faced it yet this year," Clawson said. "Whenever you face a defense that the spacing is different, the rotations are different, that's always a challenge. You're taking some of your base plays and you've gotta tweak them a little bit. And how you try to gain leverage against a defense like this is different than a four-down."
5. New and improved special teams
Todd Goebbel and his work as N.C. State's new special teams coordinator has caught the attention of Clawson and the Deacons' staff.
"Their special teams are extremely well-coached and when you're good at the skill positions, you become good in the return game," Clawson said.
N.C. State leads the ACC in punt return average (15.8 yards), is fourth in kick return average (22.9), fourth in net punt average (39.7) and sixth in kick net average (40.6).