My Take on Wake: Taking a shot at predicting Wake Forest's depth chart for the 2019 season
Soon enough, Wake Forest's football season will begin. Utah State is visiting BB&T Field on Aug. 30, marking the second football game to be broadcast on the ACC Network since its launch on Thursday night.
The Deacons wrapped up fall camp this past week and have moved on to preparing for the Aggies.
Here's a stab at what Wake Forest's first depth chart of the season will be:
Quarterback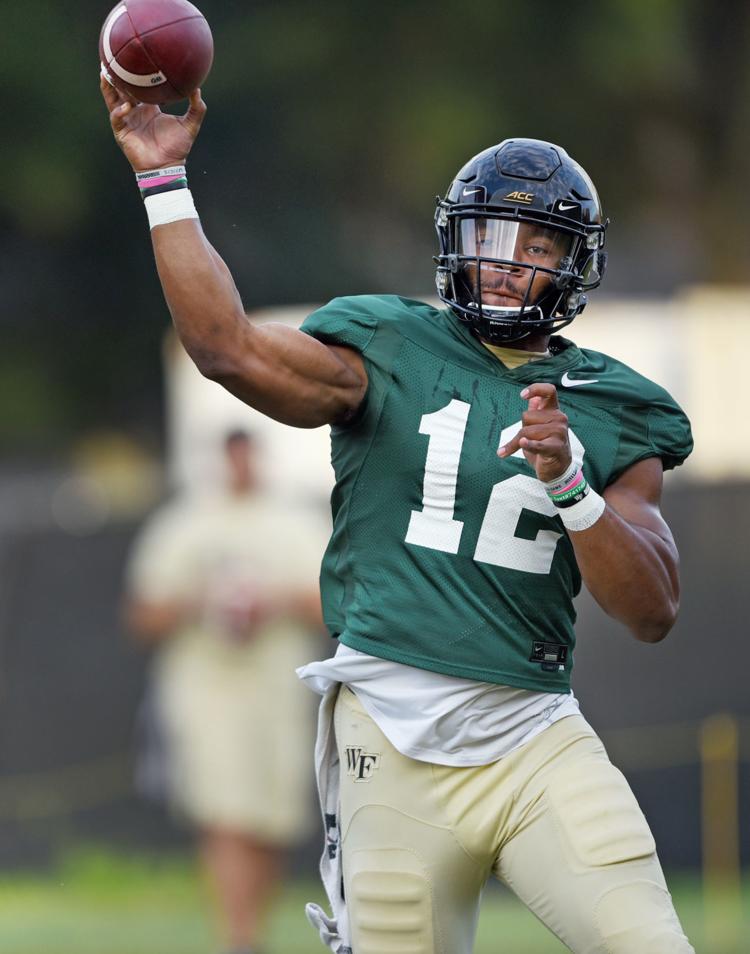 Jamie Newman | R-Jr. | 6-4 |245
Sam Hartman | Soph. | 6-1 | 200
The only question remaining here is whether a third quarterback will be listed and, if so, whether that would be freshman Michael Kern or redshirt sophomore Tayvon Bowers.
Newman was named the starter toward the end of fall camp, and will try to build off his impressive performance that ended last season. He's a powerful runner with a strong arm who — crazy thought — has improved since winning MVP of the Birmingham Bowl.
Running back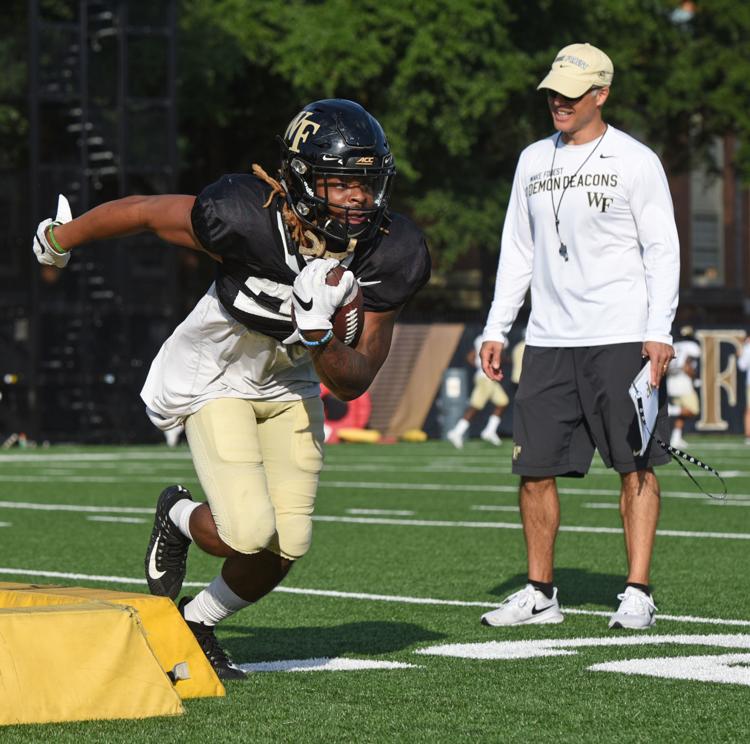 Cade Carney | Sr. | 5-11 | 215
Christian Beal-Smith | R-Soph. | 5-10 | 190
Kenneth Walker | Fr. | 5-10, 200
Carney brings the bruising style that helped him to a 1,000-yard season a year ago, while Beal-Smith and Walker provide electric running styles. Walker was one of the pleasant surprises of camp, a freshman running back with excellent vision and explosiveness. This should be a dynamic trio.
Wide receiver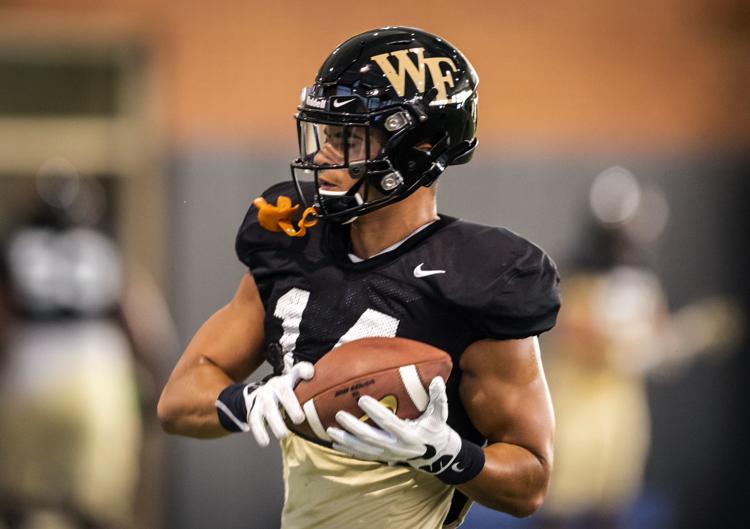 Sage Surratt | R-Soph. | 6-3 | 215
Steve Claude | R-Sr. | 6-2 | 200
These are two of the top three wide receivers for the Deacons, and along with Scotty Washington, they'll be rotated in and out. Surratt is the top returning receiver for the Deacons after catching 41 passes for 581 yards and four touchdowns last season, while Claude will finally get a chance to shine in an expanded role.
Slot receiver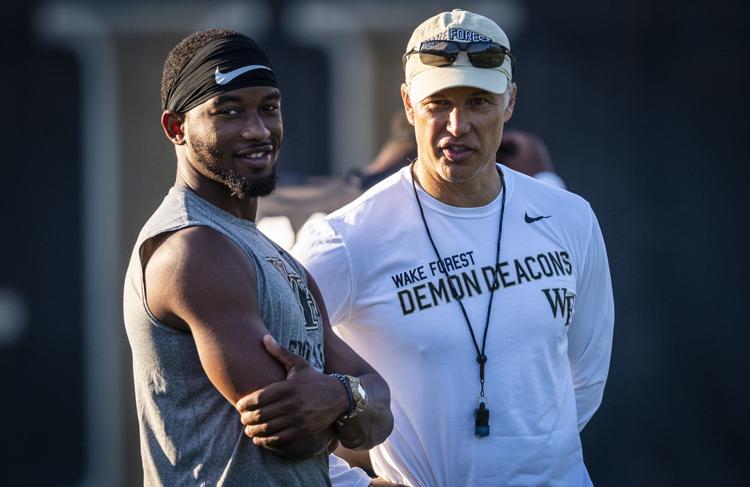 Kendall Hinton | R-Sr. | 6-0 | 195
Jaquarii Roberson | R-Soph. | 6-1 | 180
Hinton might have the most tantalizing talent on the roster, as the former quarterback enters the season as a slot receiver with open-field elusiveness that'll make him a threat any time he has the ball. It won't all be Hinton, though, as Roberson has been primed for a breakout season since spring practices in 2018 and has the physical tools to be a standout.
Wide receiver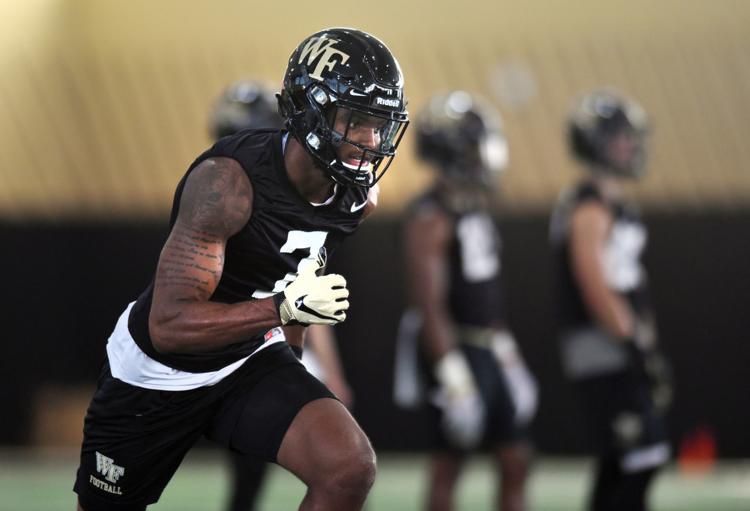 Scotty Washington | R-Sr. | 6-5 | 225
A.T. Perry | R-Fr. | 6-5 | 190 OR Donavon Greene | Fr. | 6-2 | 200
Washington, like many Deacons, has enjoyed a healthier fall camp. The hope is that translates to him returning to his 2017 form, when he emerged as a formidable outside threat with 45 catches for 711 yards. Wake Forest was still searching for its fourth receiver when fall camp ended, and that might end up being Greene, the freshman from Mount Airy High School who already has the physicality of a college receiver.
Tight end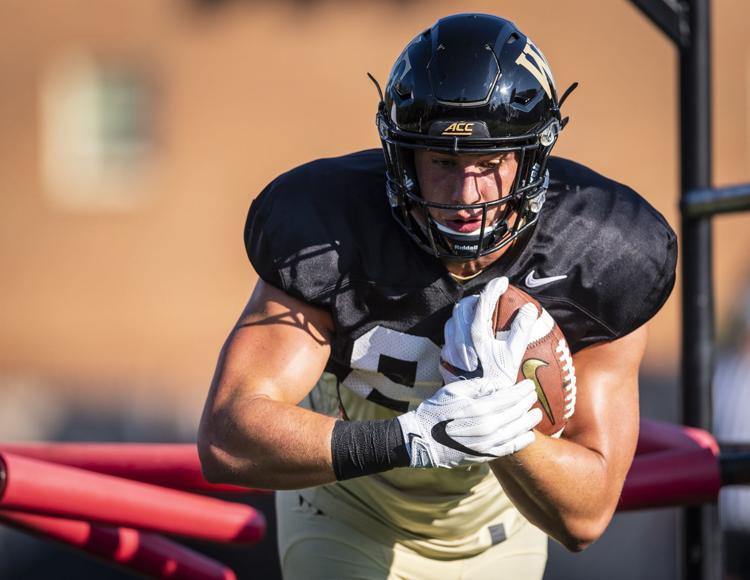 Jack Freudenthal | R-Sr. | 6-3 | 235
Brandon Chapman | R-Jr. | 6-5 | 255
Blake Whiteheart | R-Fr. | 6-4 | 240
Freudenthal and Chapman form an experienced and potent duo, both with size to work the middle of the field and hands to catch off-target passes. Whiteheart quietly had an efficient camp and could see meaningful snaps as a third option.
Left tackle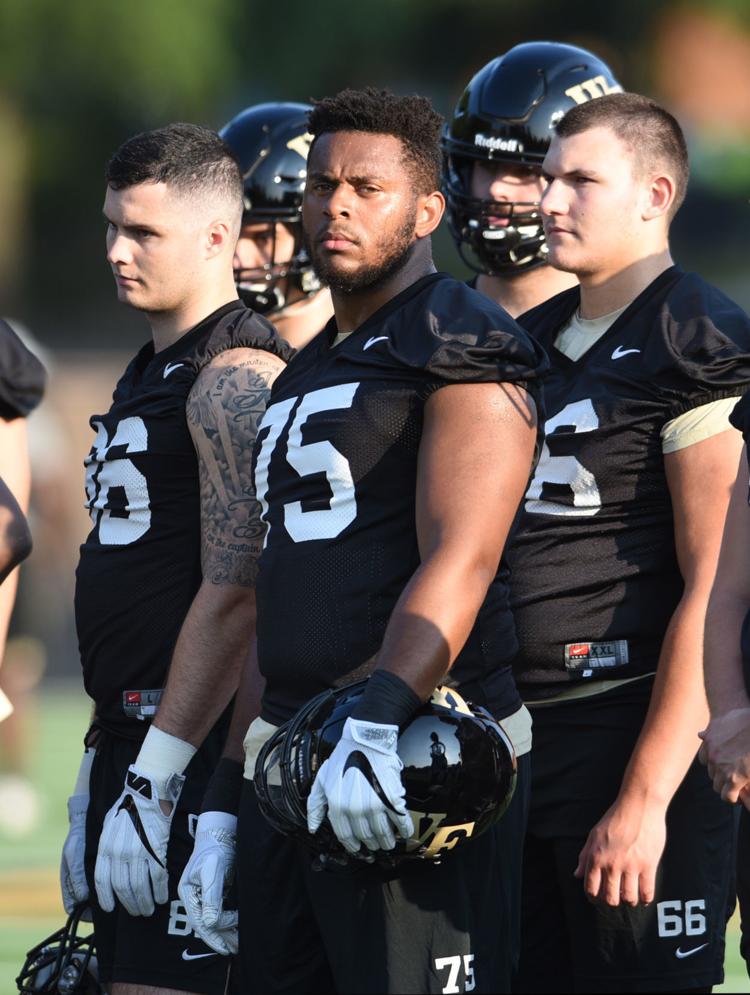 Justin Herron | Grad. | 6-5 | 290
Je'Vionte' Nash | R-Jr. | 6-3 | 295
Herron returns from tearing an ACL in the opener last season, and with 38 career starts, he has a chance to break the program record for starts by an offensive lineman (48, held by Steve Vallos).
Left guard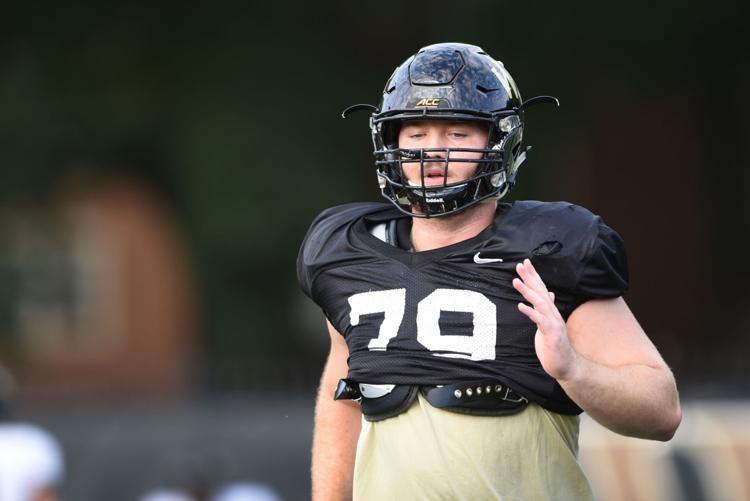 Sean Maginn | R-Soph. | 6-3 | 290 OR Loic Ngassam Nya | R-Soph. | 6-3 | 300
Maginn seemed to hold the edge to start over Nya by the end of fall camp — but it seems certain that both will play in the opener at left guard.
Center
Zach Tom | R-Soph. | 6-4 | 290
Michael Jurgens | R-Fr. | 6-4 | 290
Tom takes over after spending the past two seasons learning from Ryan Anderson, who previously played the position. The redshirt sophomore is a cerebral player, which can only help because of his role in identifying defensive schemes.
Right guard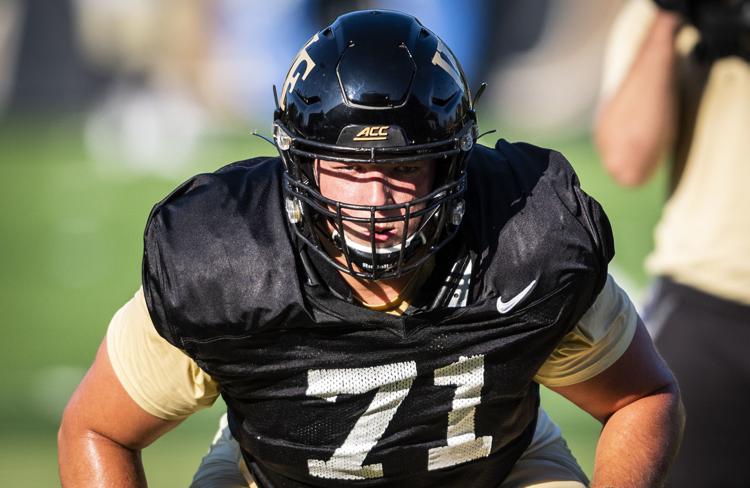 Nathan Gilliam | R-Sr. | 6-5 | 300
Taleni Suhren | R-Jr. | 6-5 | 285
Gilliam slides back to guard, a position he is more comfortable playing. He led the Deacons last season with 1,121 offensive snaps and brings that durability into his final season at Wake Forest.
Right tackle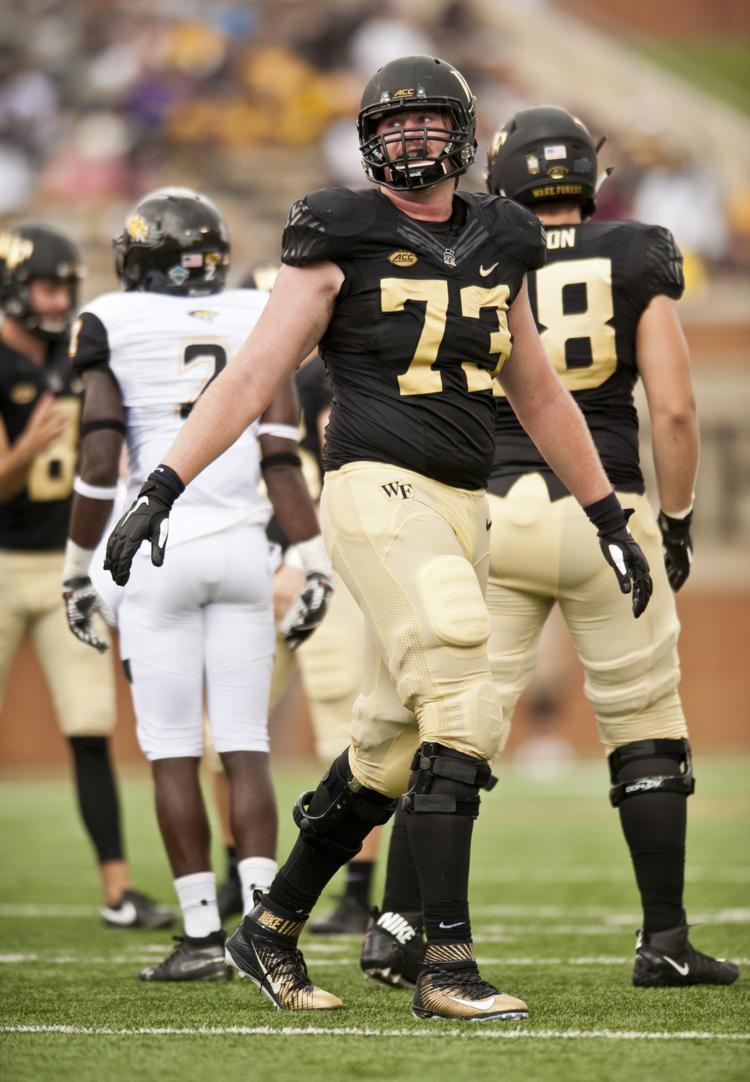 Jake Benzinger | R-Sr. | 6-7 | 295
Allan Rappleyea | R-Soph. | 6-5 | 290
Benzinger moves back to right tackle after spending nearly all of last season at left tackle. He's tied with Essang Bassey for the most consecutive starts on the team (26).
Defensive end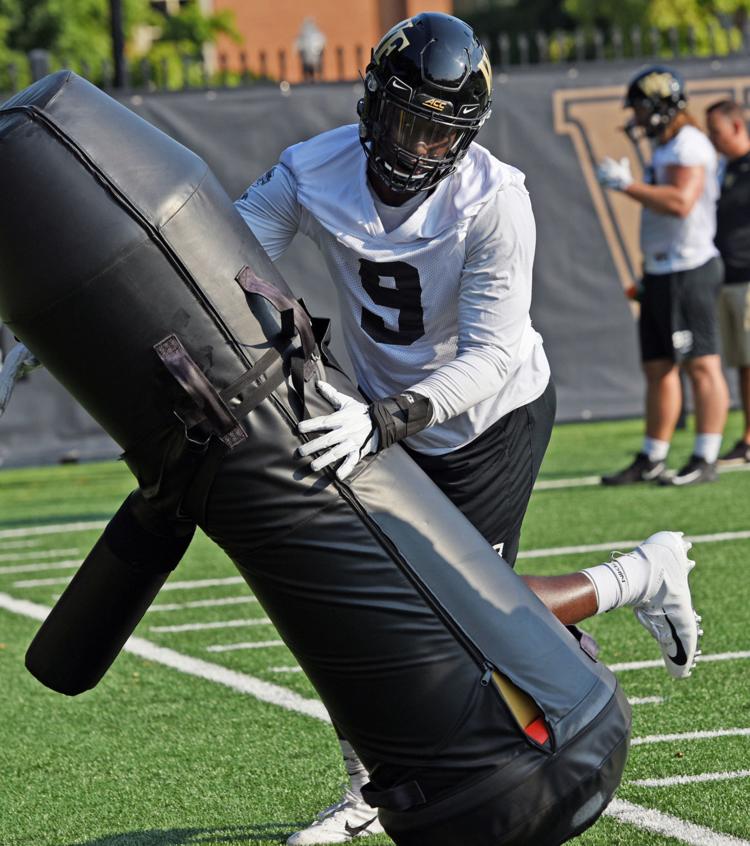 Boogie Basham | R-Jr. | 6-5 | 275
Royce Francis | R-Fr. | 6-3 | 260
This position is where improvement by the defense will begin, if that's to happen. Basham has the ability to record the sixth double-digit sack season in program history, but that's only a number. Beyond the concrete target number, Basham needs to become a dominant pass-rusher who can win one-on-one battles and draw extra attention in protection schemes.
And behind Basham is one of fall camp's biggest risers. Francis didn't appear in a game last season, but he was a standout in the second scrimmage of fall camp. The quicker he develops, the better, so that he can enter the rotation and spell Basham.
Defensive tackle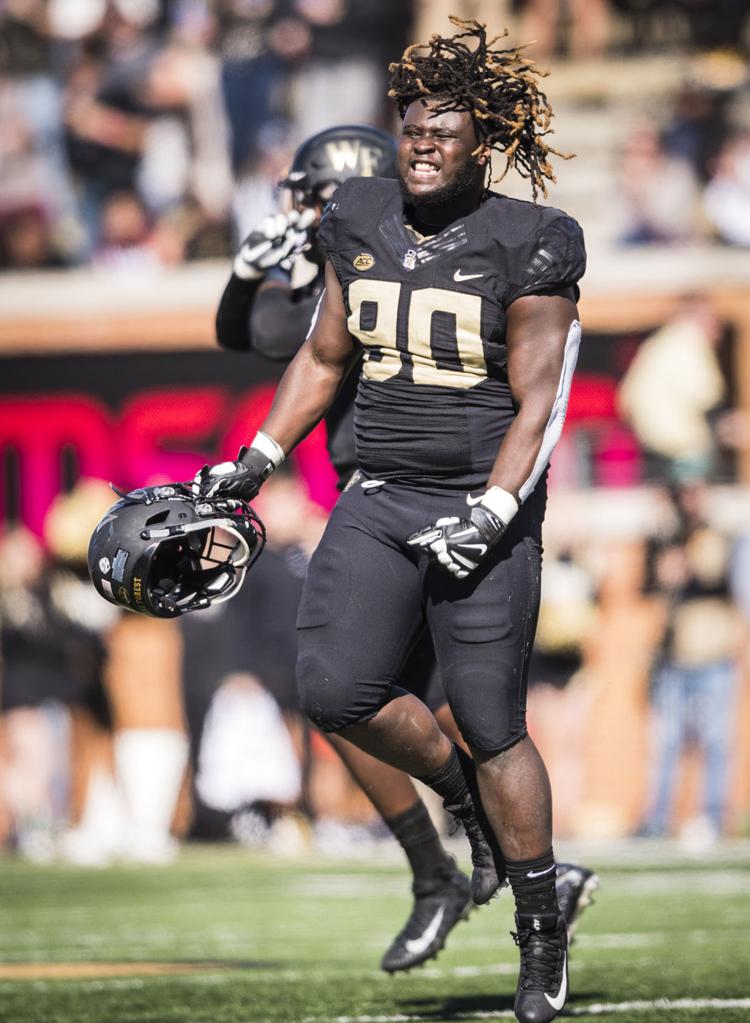 Dion Bergan Jr. | Soph. | 6-1 | 290
Sulaiman Kamara | R-Jr. | 6-2 | 290
Bergan is poised to build on a freshman season in which he was thrown into the fire and played behind two fifth-year seniors (Zeek Rodney and Willie Yarbary).
Defensive tackle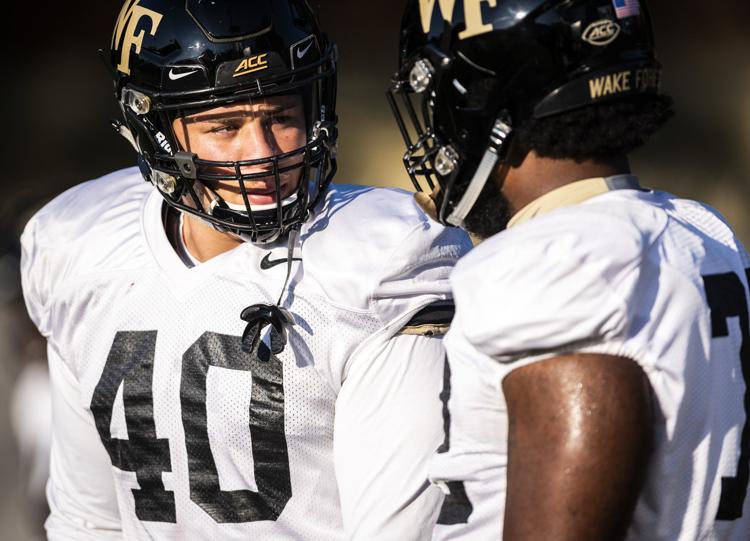 Rondell Bothroyd | R-Fr. | 6-4 | 280
Mike Allen | R-Soph. | 6-5 | 275
Bothroyd had a strong camp after making an impact in his four games last season as a defensive end. With Tyler Williams' status up in the air because of a knee injury, Bothroyd moves into a starting role — and Allen moves inside, where he could have more of an impact than he might playing behind Basham.
Defensive end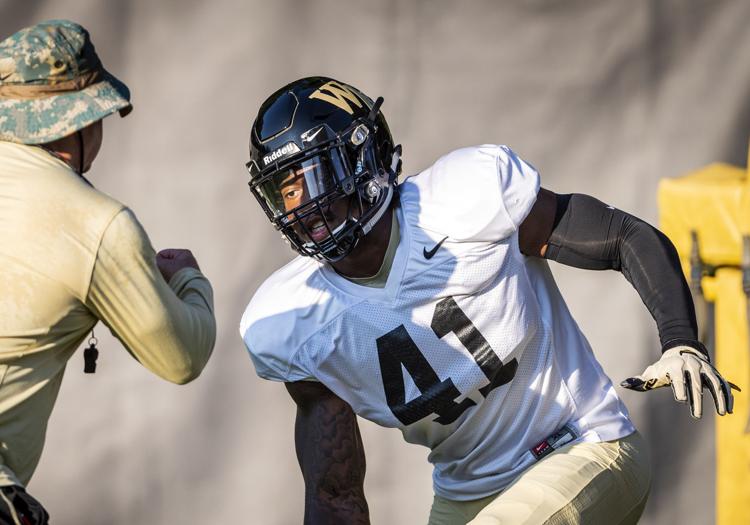 Ja'Corey Johns | R-Fr. | 6-4 | 245 OR Shamar McCollum | Fr. | 6-4 | 235
Manny Walker | R-Jr. | 6-4 | 250
Johns and McCollum both should provide an upgrade in pass-rush skills at this position, and they'll probably split reps. Johns, like Francis, didn't play in a game last season but has been a standout of camp. McCollum's growth since he arrived in January — both on the scale and in on-field production — has been remarkable.
BUCK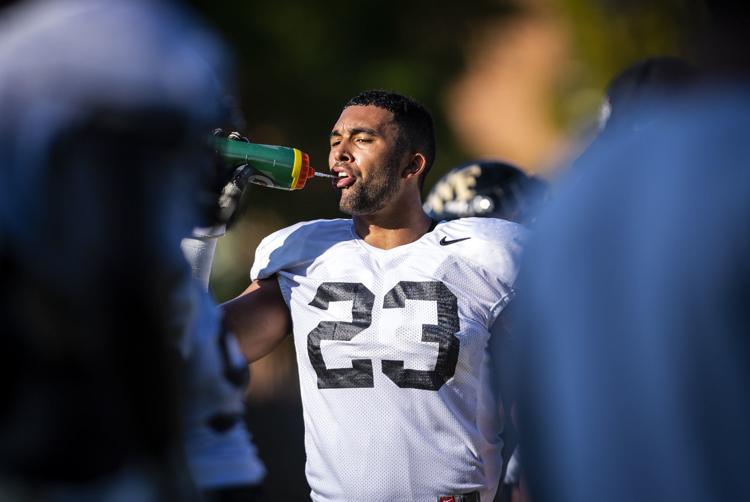 Justin Strnad | R-Sr. | 6-3 | 235
Chase Monroe | R-Soph. | 6-2 | 225 OR Chase Jones | Fr. | 6-1 | 225
Strnad is one of the top linebackers in the ACC and brings an all-around skillset to the defense; he is able to cover tight ends and running backs and stuff the run. He's also a leader of the defense and of the team.
Monroe and Jones ended fall camp neck-and-neck to be the team's fourth linebacker — both encouraging developments, as Monroe is coming off a major knee injury and Jones is a freshman.
MIKE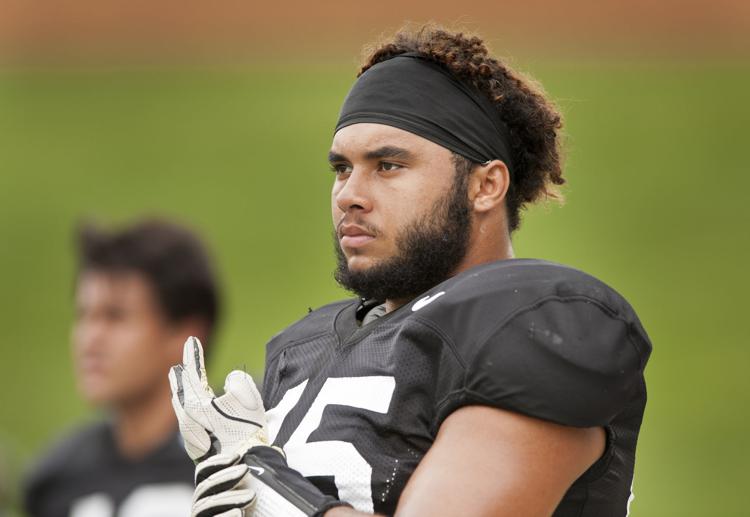 Ryan Smenda Jr. | Soph. | 6-2 | 235
Ja'Cquez Williams | R-Jr. | 6-2 | 220
Smenda seems to be one of the most-improved players on the roster, after playing in eight games and recording 22 tackles last season. He plays beyond his years, and could be poised for a breakout season.
Williams has transitioned smoothly to linebacker from rover and is the No. 3 linebacker, meaning if Strnad or Smenda is out, Williams will be on the field.
ROVER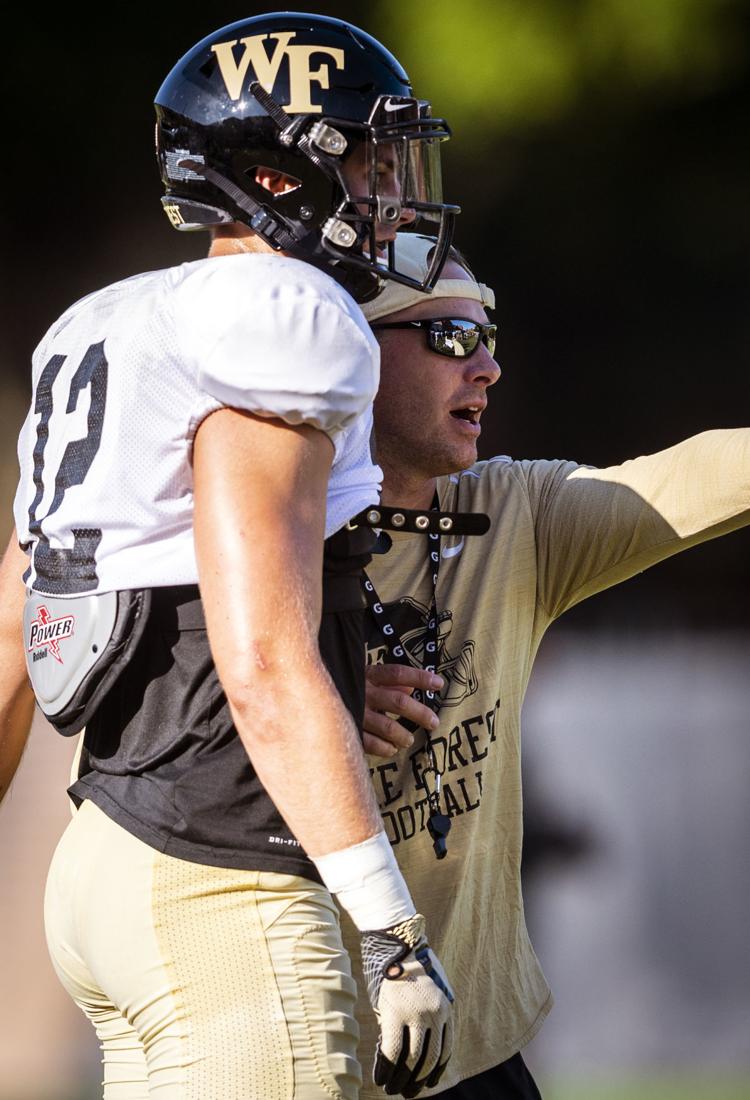 Luke Masterson | R-Jr. | 6-2 | 220
Traveon Redd | R-Jr. | 6-0 | 195
It's more clear that this position will be Masterson than it's clear what the name of the position will be. This is basically a third safety spot, and Masterson has been the starter in this spot since early in camp. His experience last season at linebacker will help him play in the box.
Cornerback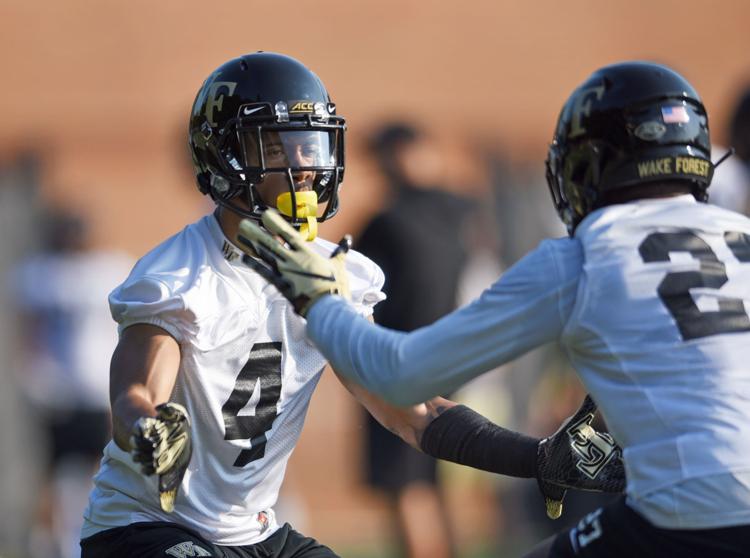 Amari Henderson | R-Sr. | 6-1 | 180
Ja'Sir Taylor | Jr. | 5-10 | 190
Henderson is seventh in school history with 31 passes broken-up in his career, and is entering his third season as a starter. Taylor has been on an upward trajectory since the spring and should be a reliable nickel cornerback this season.
Free safety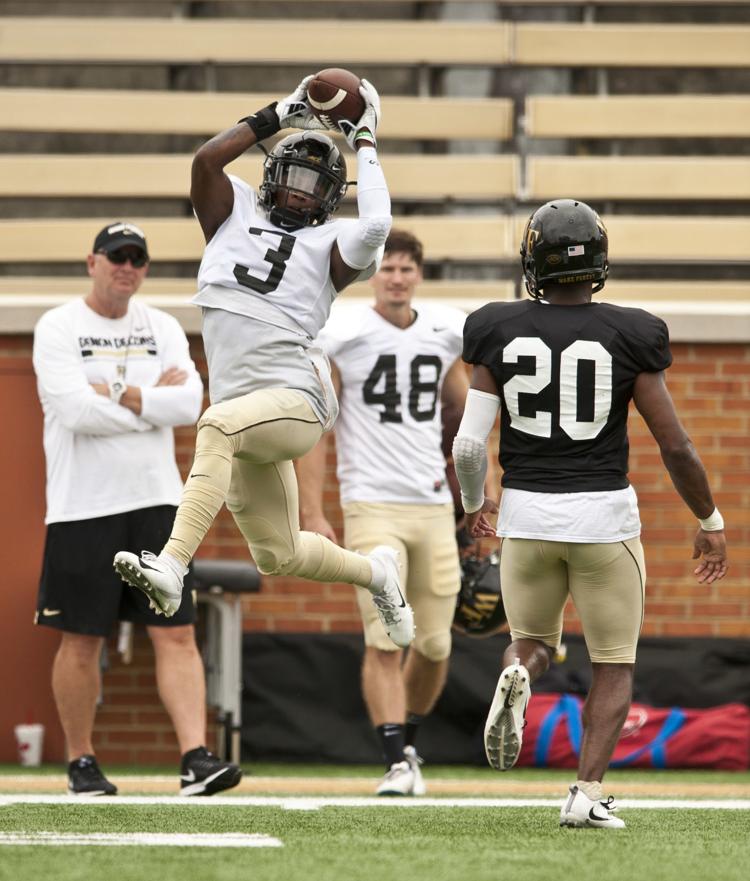 Coby Davis | R-Soph. | 5-11 | 200
Zion Keith | R-Fr. | 6-1 | 180
Davis is coming off of a torn ACL in last season's opener, and the Deacons hope he returns to his form before the injury. Keith is another fall-camp riser who has fit in well at safety after making the move from cornerback in the spring.
Strong safety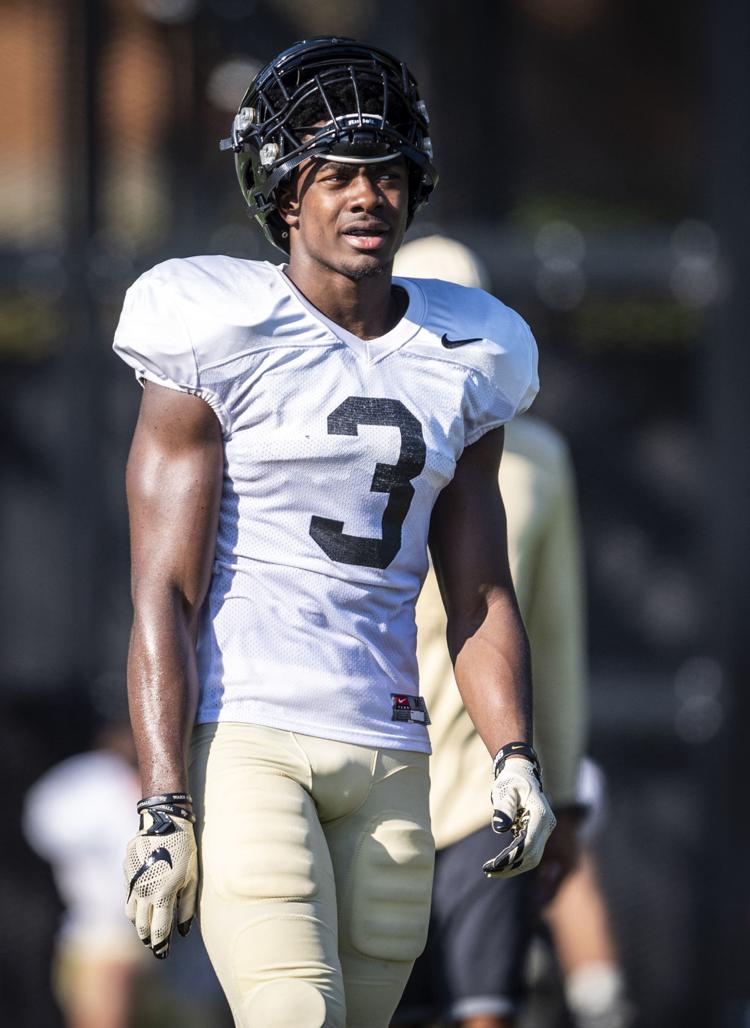 Nasir Greer | Soph. | 6-0 | 200
Trey Rucker | Fr. | 6-1 | 195
Greer had an immediate impact last season, but now he is tasked with becoming a consistent force on the back end of the Deacons' secondary. A strong tackler, Greer's coverage skills will be the indicator of how much he's improved since last season. Rucker played himself into this situation by being a hard-hitter and showing an aptitude to pick up defensive coordinator Lyle Hemphill's system.
Cornerback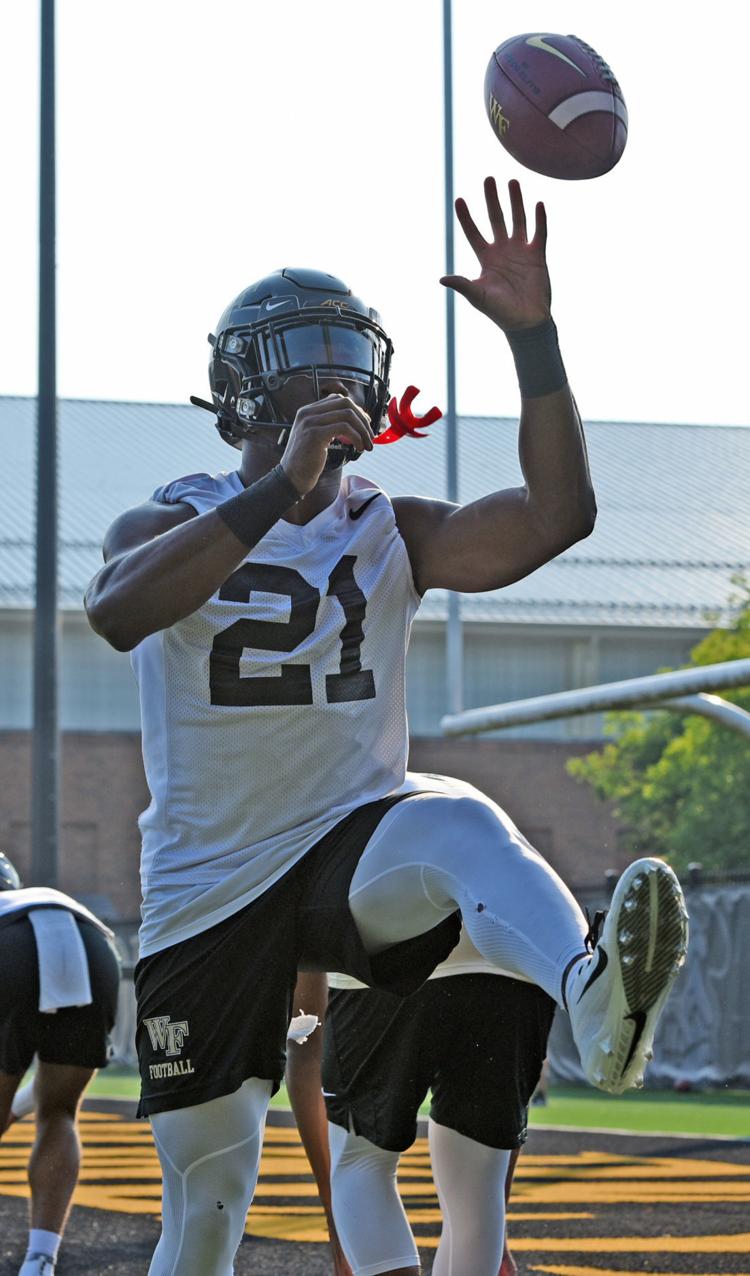 Essang Bassey | Sr. | 5-10 | 190
Isaiah Essissima | Fr. | 5-10 | 185
Bassey is one of the top cornerbacks in the ACC and also has been extremely durable, playing 1,095 snaps last season — the most of any defensive player. Essissima is the last of four freshmen who appear on the two-deep for defense.
Placekicker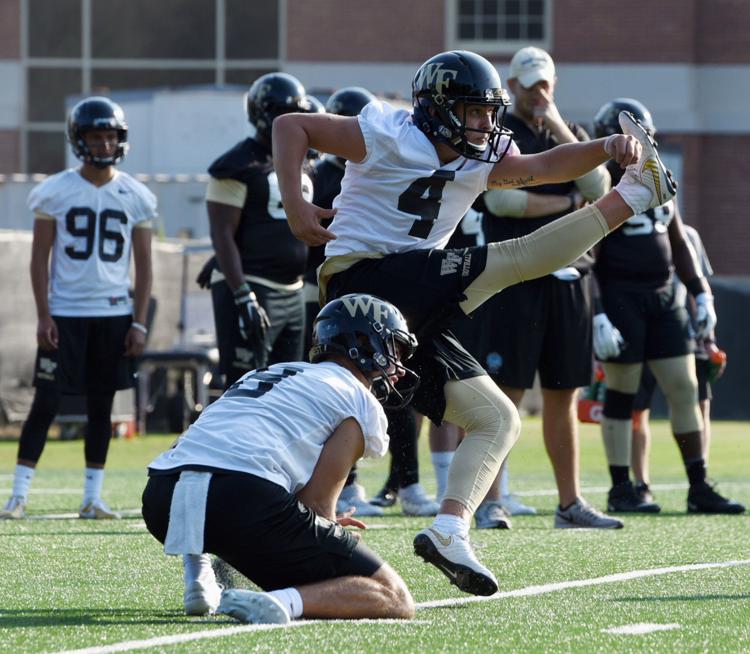 Nick Sciba | Soph. | 5-9 | 190
Zach Murphy | R-Soph. | 6-0 | 185
Sciba enters the season having made 11 straight field goals, which is two away from tying the program record.
Kickoffs
Zach Murphy | R-Soph. | 6-0 | 185 OR Nick Sciba | Soph. | 5-9 | 190
This position battle was unsettled — or at least, seemed to be — when camp ended, so it'll likely be decided in the days before the opener.
Punter
Dom Maggio | Sr. | 6-3 | 190
Ivan Mora | Fr. | 6-0 | 170
Maggio is one of the top punters in the ACC and, though his average dropped last season, his percentages improved in punts inside the 20-yard line and fair catches.
Holder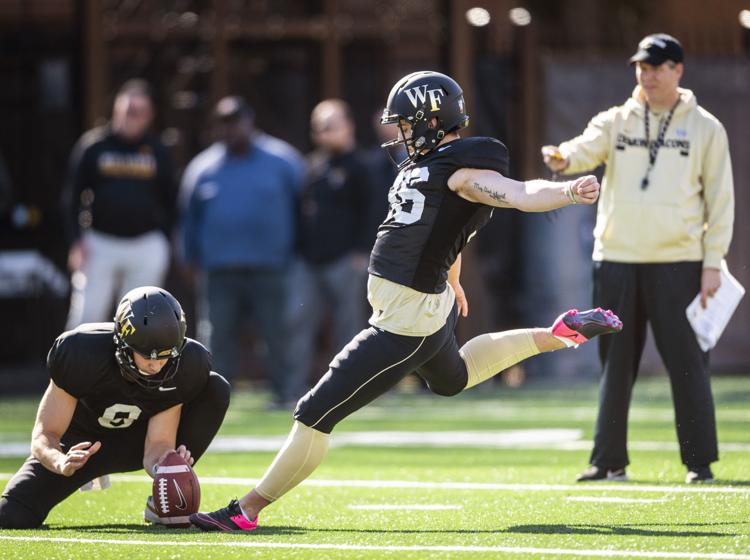 Dom Maggio | Sr. | 6-3 | 190
Ian Driscoll | R-Soph. | 5-10 | 170
Maggio has had this job for a while.
Punt returner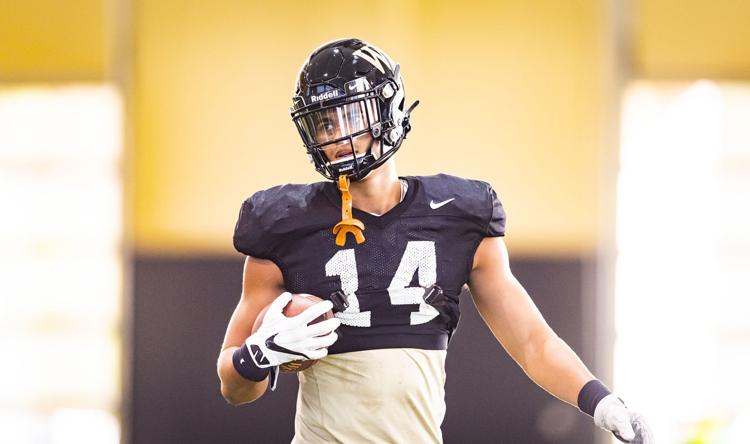 Sage Surratt | R-Soph. | 6-3 | 215 OR Kendall Hinton | R-Sr. | 6-0 | 195
Hinton might get the first crack at this if it won't jeopardize his availability to play slot receiver. Freshman Taylor Morin still might factor in, but it seemed to be Surratt and Hinton by the end of camp.
Kick returner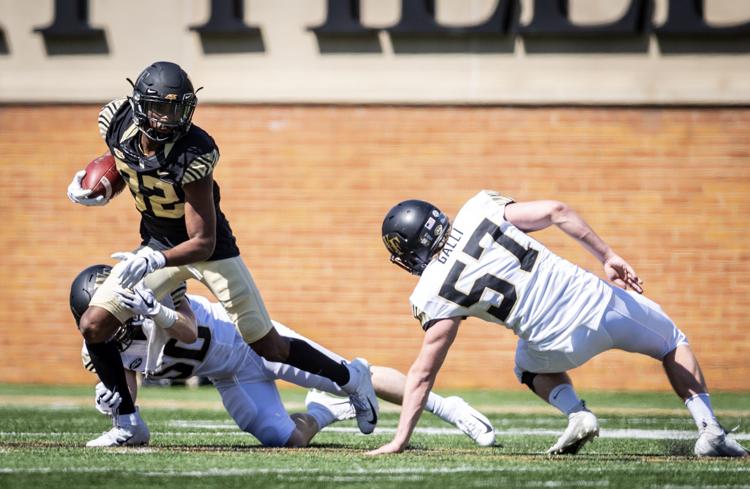 Christian Beal-Smith | R-Soph. | 5-10 | 190 OR Kendall Hinton | R-Sr. | 6-0 | 195 OR Jaquarii Roberson | R-Soph. | 6-1 | 180
There might wind up being more Deacons involved than these three. Who would be the Deacons' returners was the biggest mystery halfway through camp and remained that way when camp ended. It could be a by-committee approach for at least the first few games.
Long snapper
Dayton Diemel | Sr. 5-10 | 230
Noah Turner | R-Fr. | 6-0 | 225
At the position that doesn't get attention unless things go awry, Diemel has been steady as a rock for two and a half seasons.
Wake Forest football practice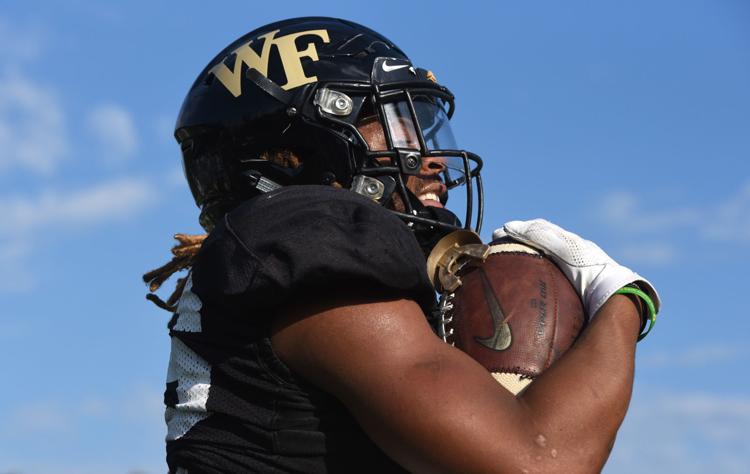 Wake Forest football practice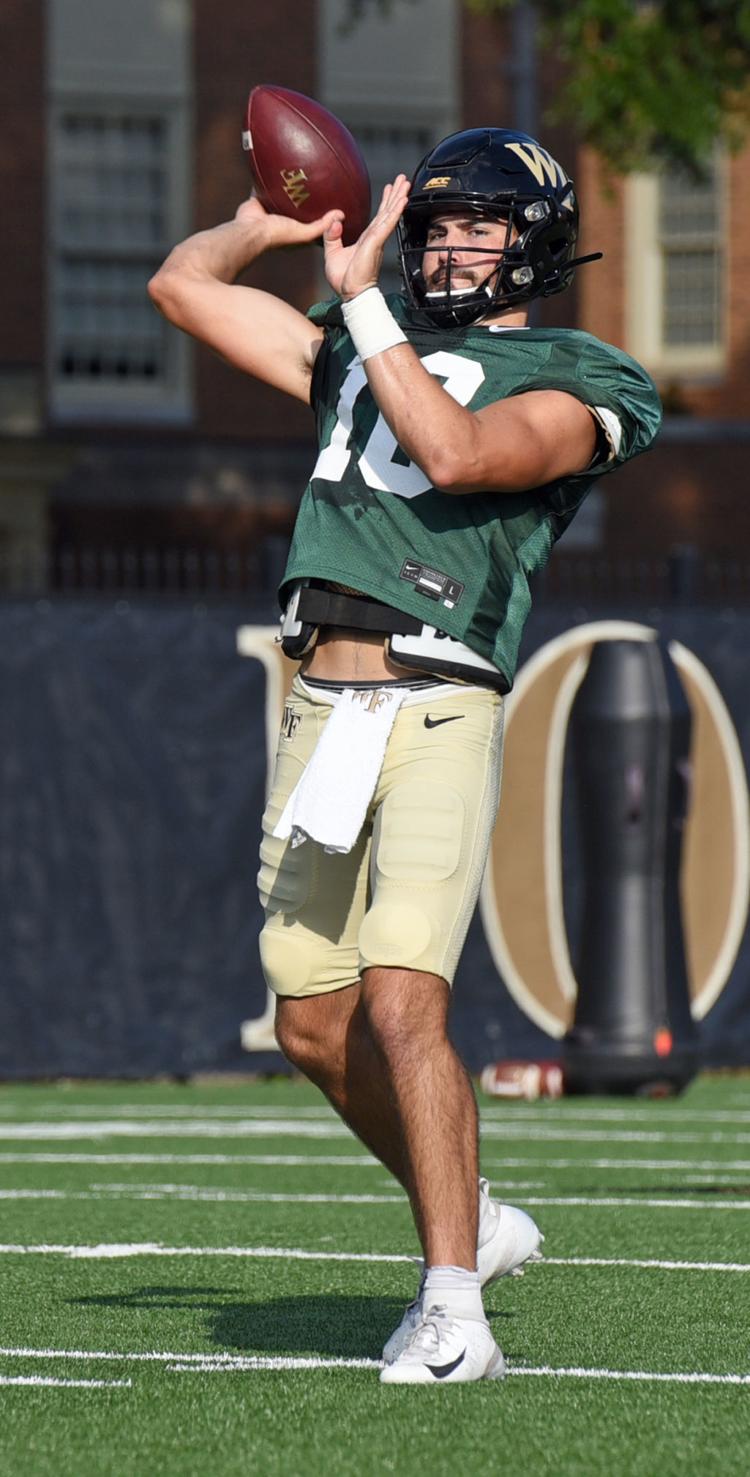 Wake Forest football practice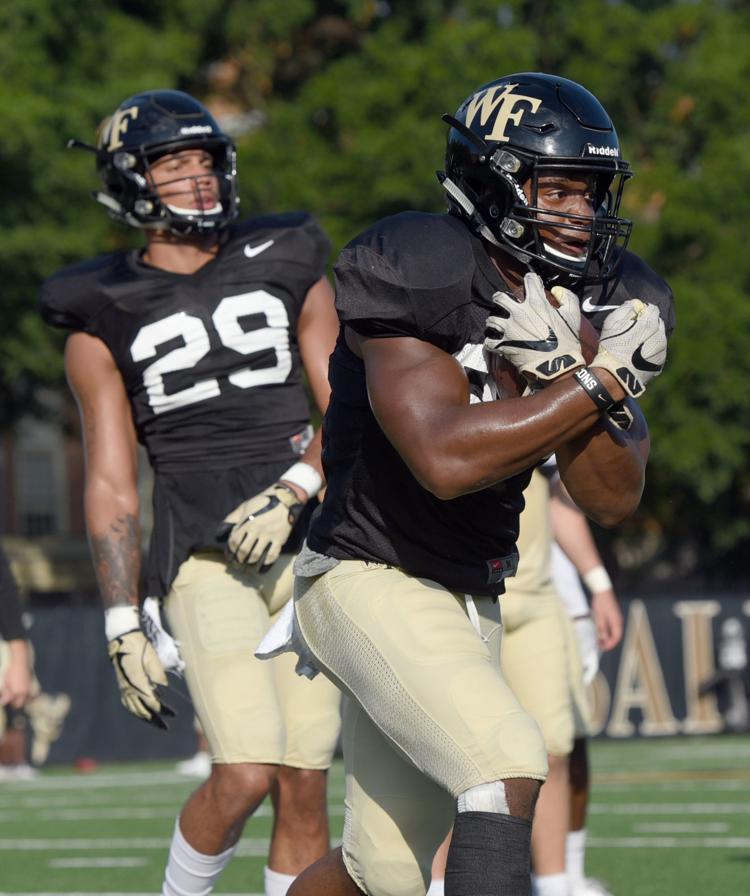 Wake Forest football practice
Wake Forest football practice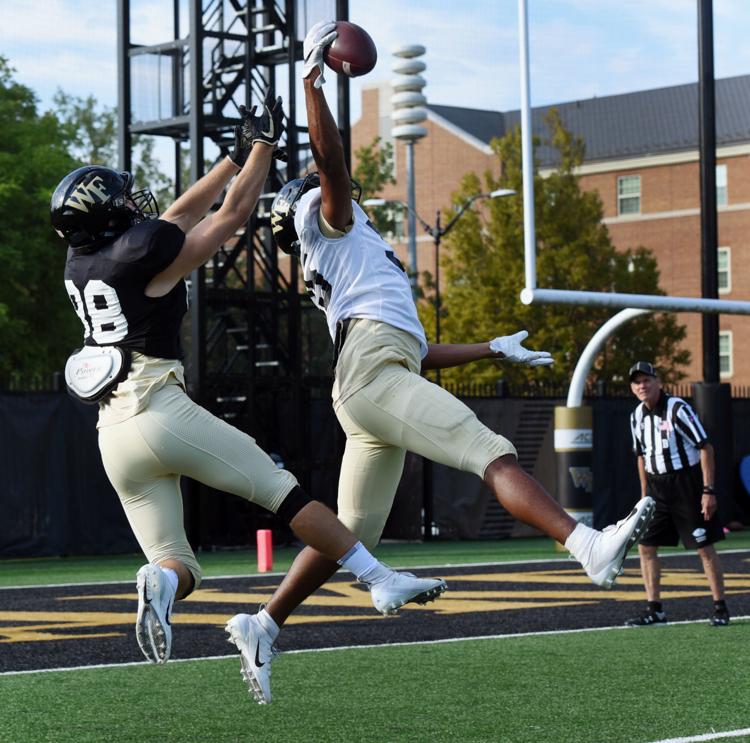 Wake Forest football practice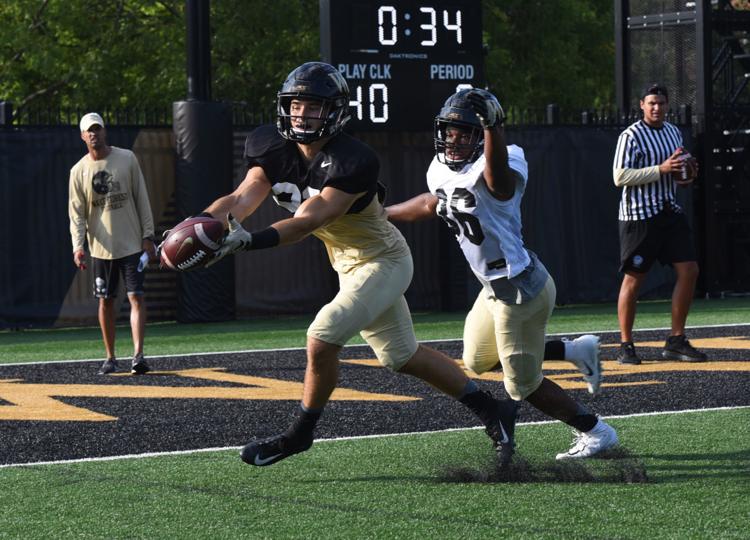 Wake Forest football practice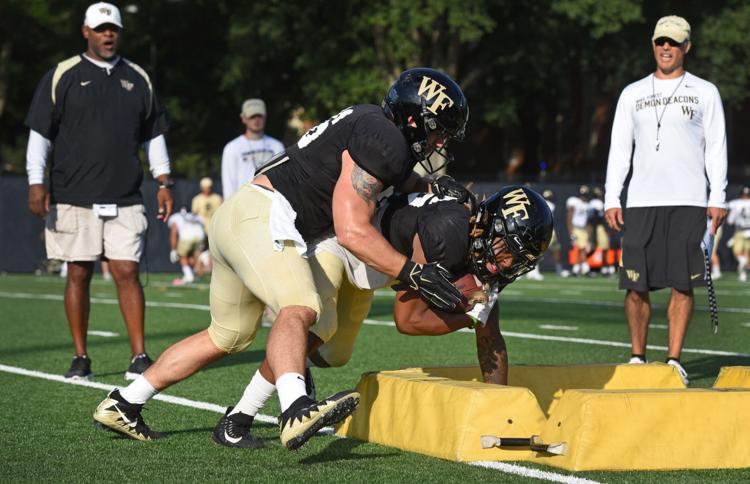 Wake Forest football practice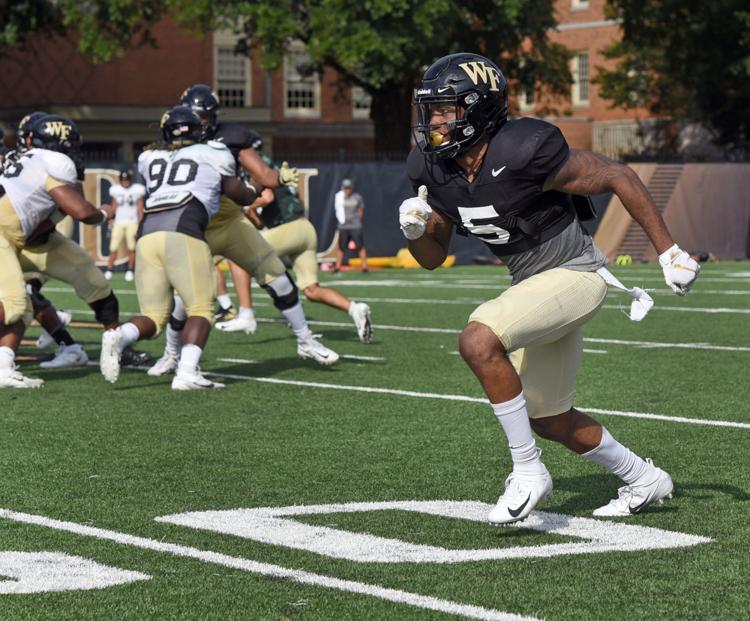 Wake Forest football practice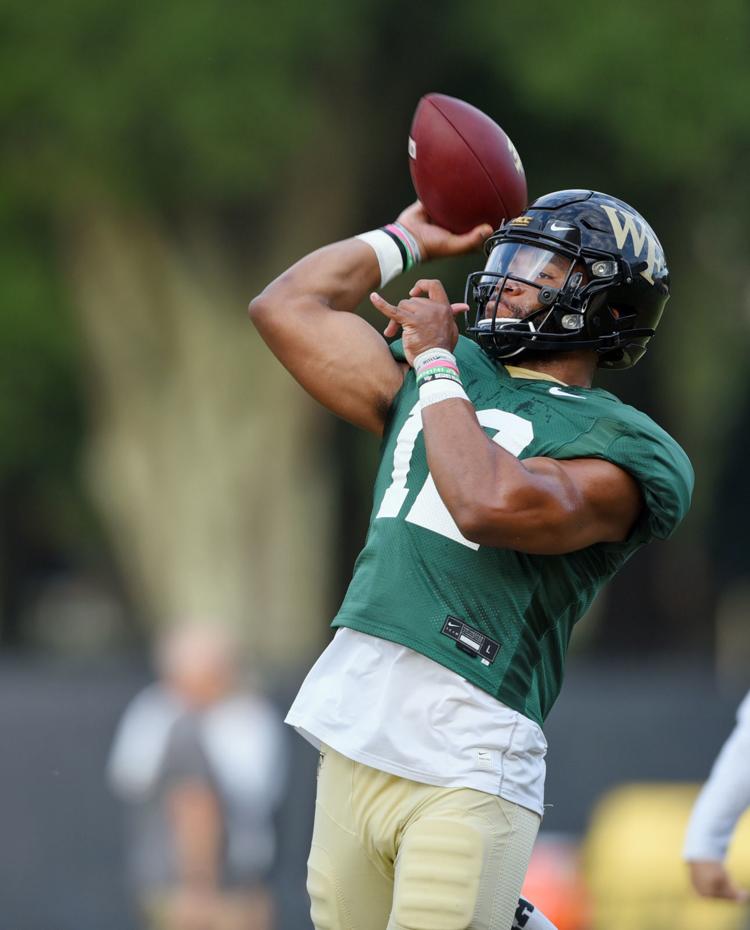 Wake Forest football practice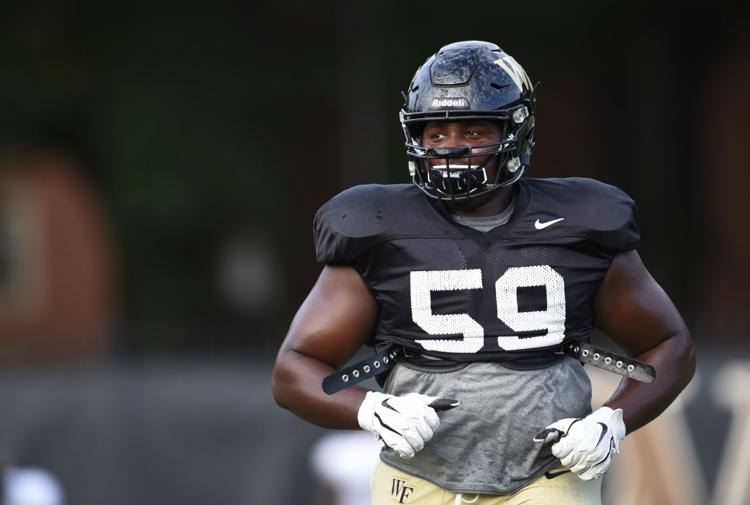 Wake Forest football practice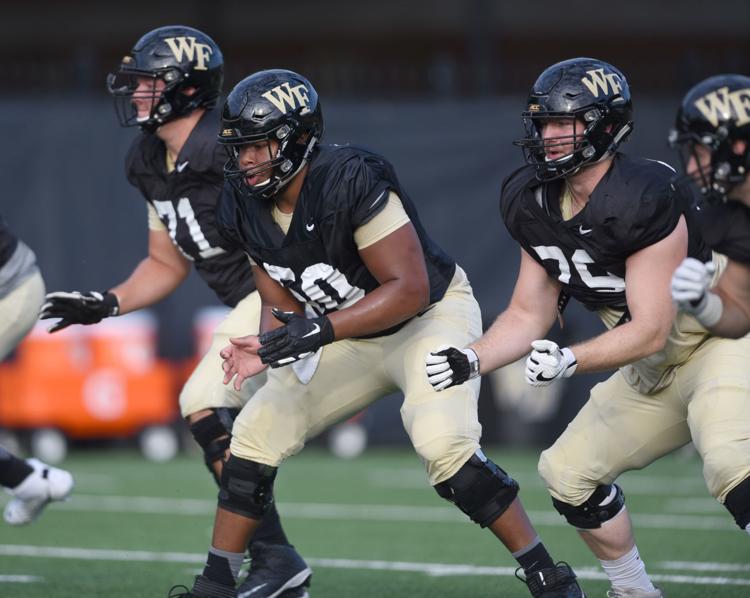 Wake Forest football practice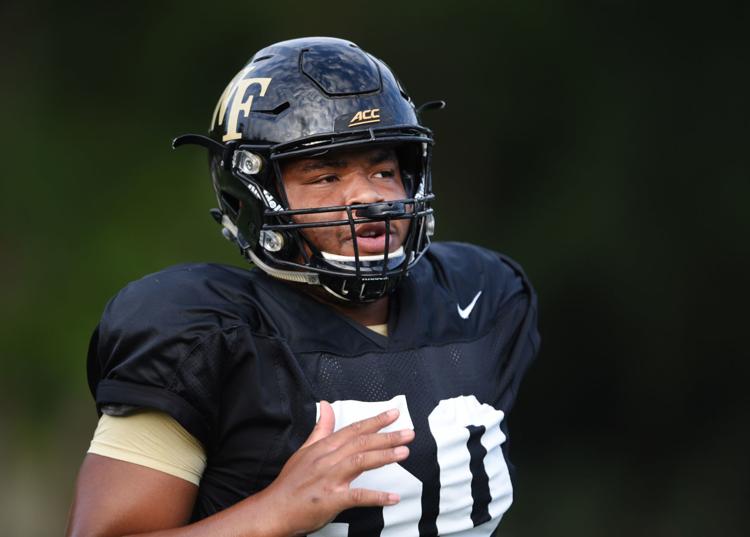 Wake Forest football practice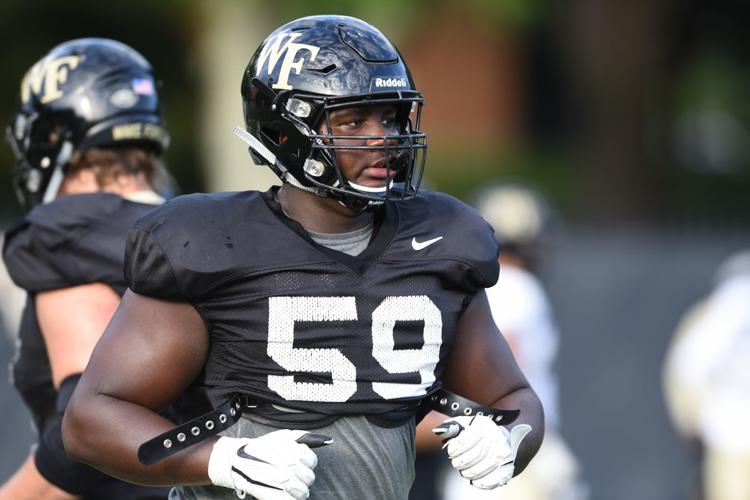 Wake Forest football practice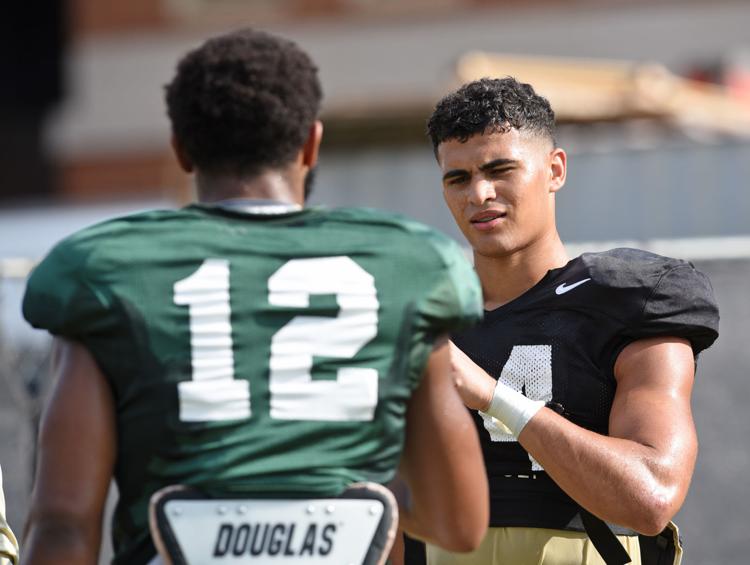 Wake Forest football practice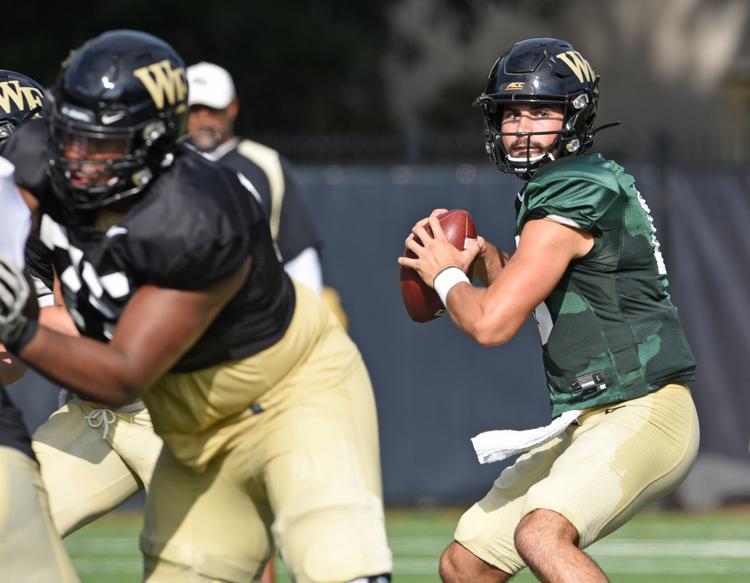 Wake Forest football practice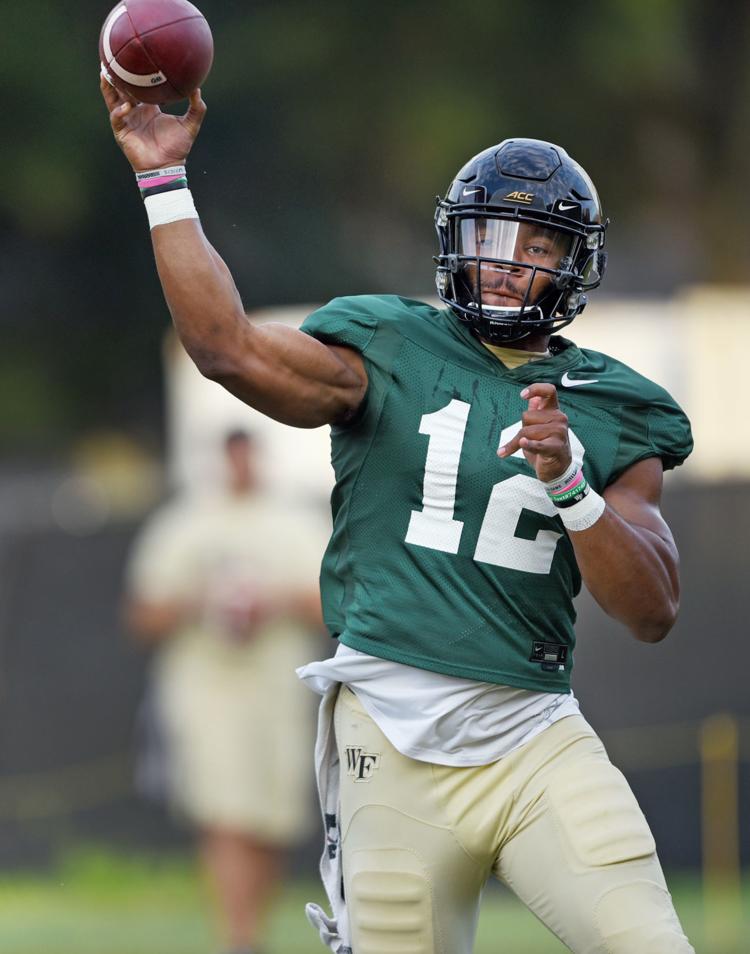 Wake Forest football practice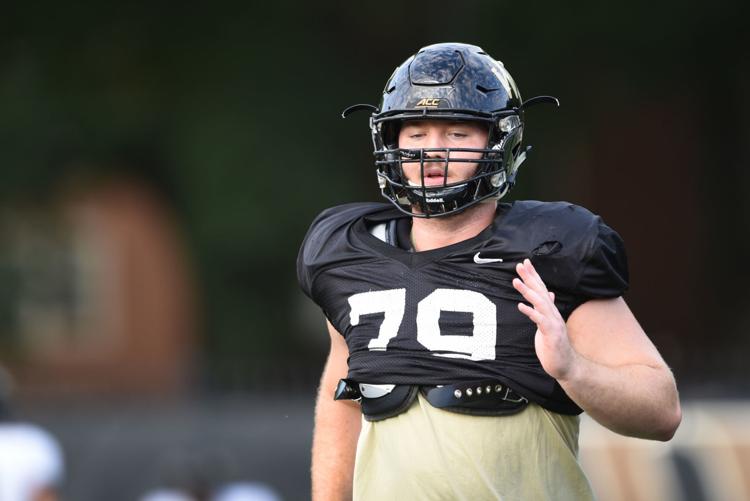 Wake Forest football practice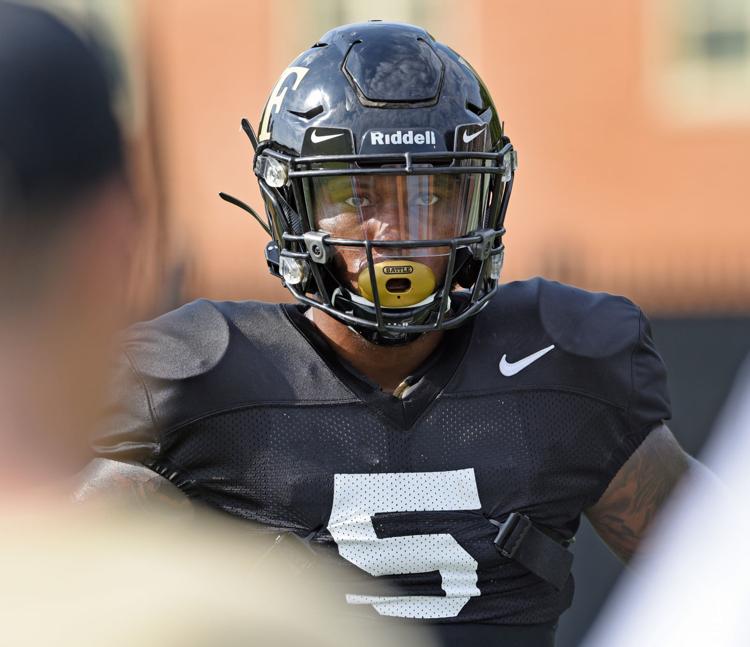 Wake Forest football practice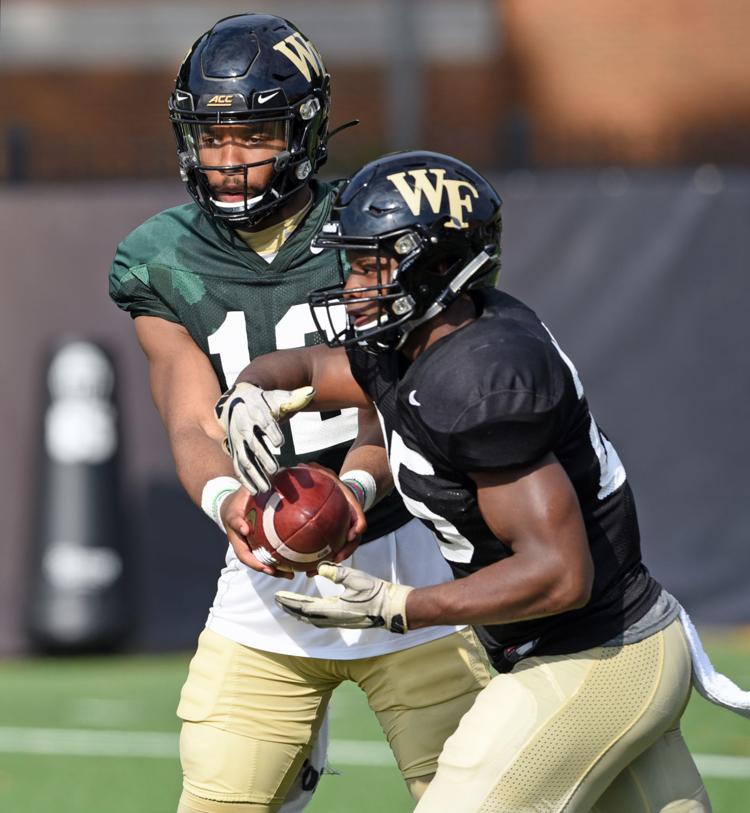 Wake Forest football practice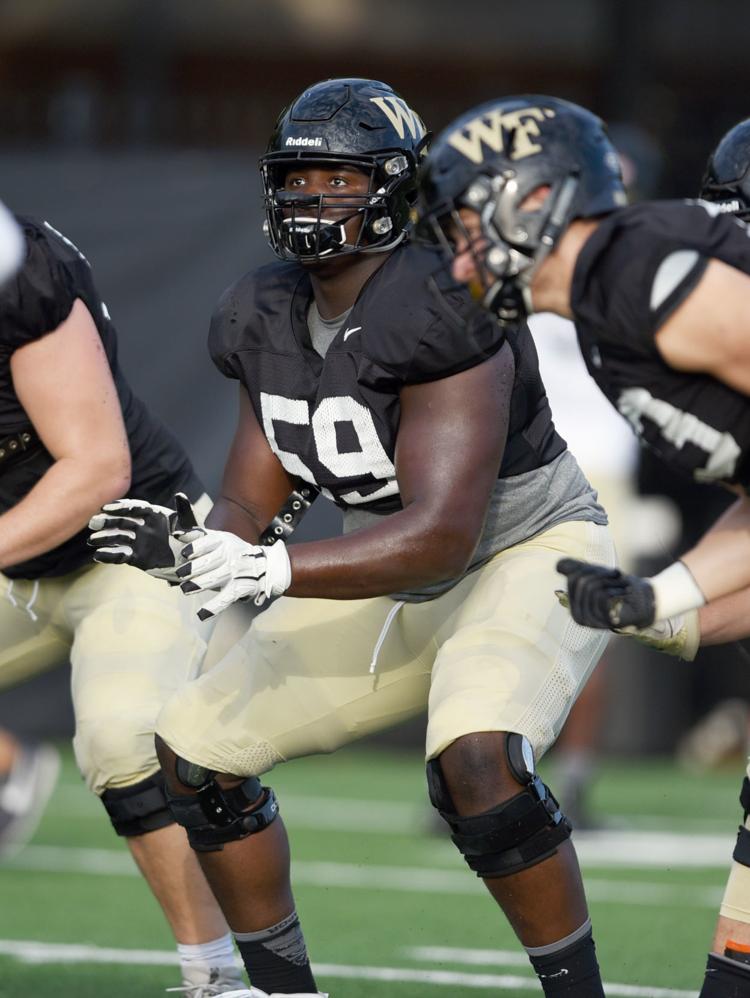 Wake Forest football practice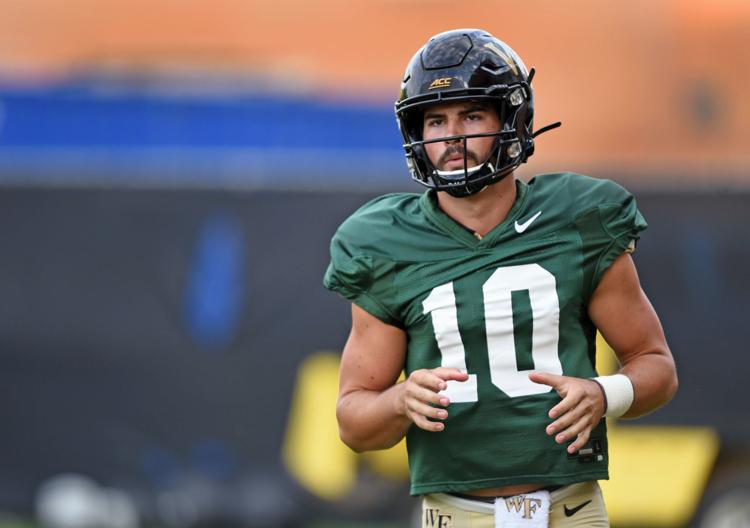 Wake Forest football practice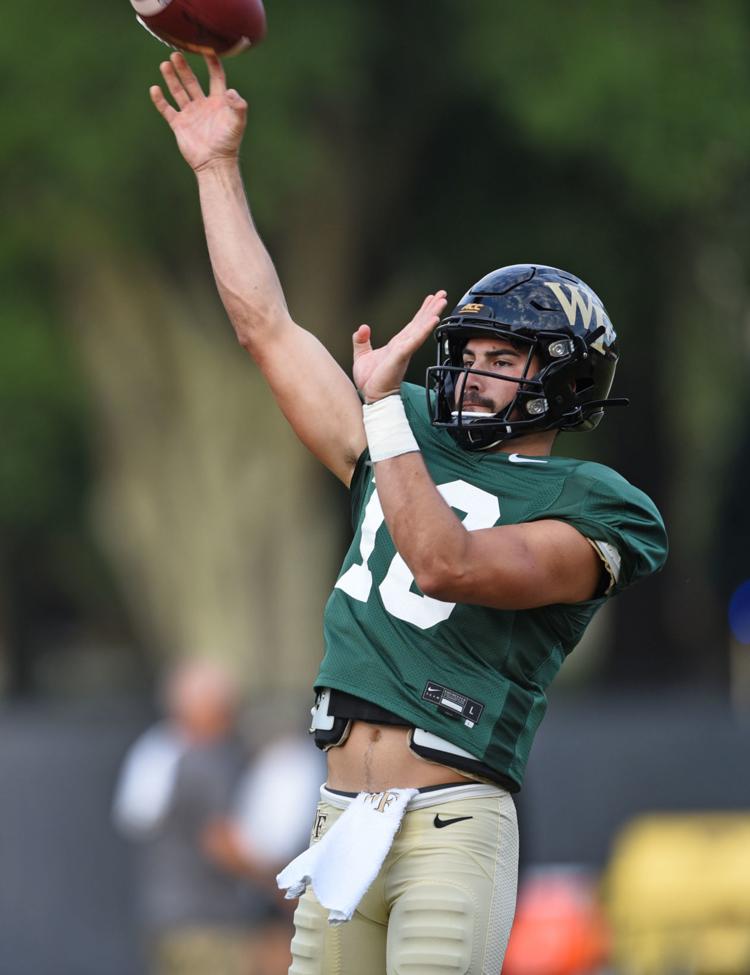 Wake Forest football practice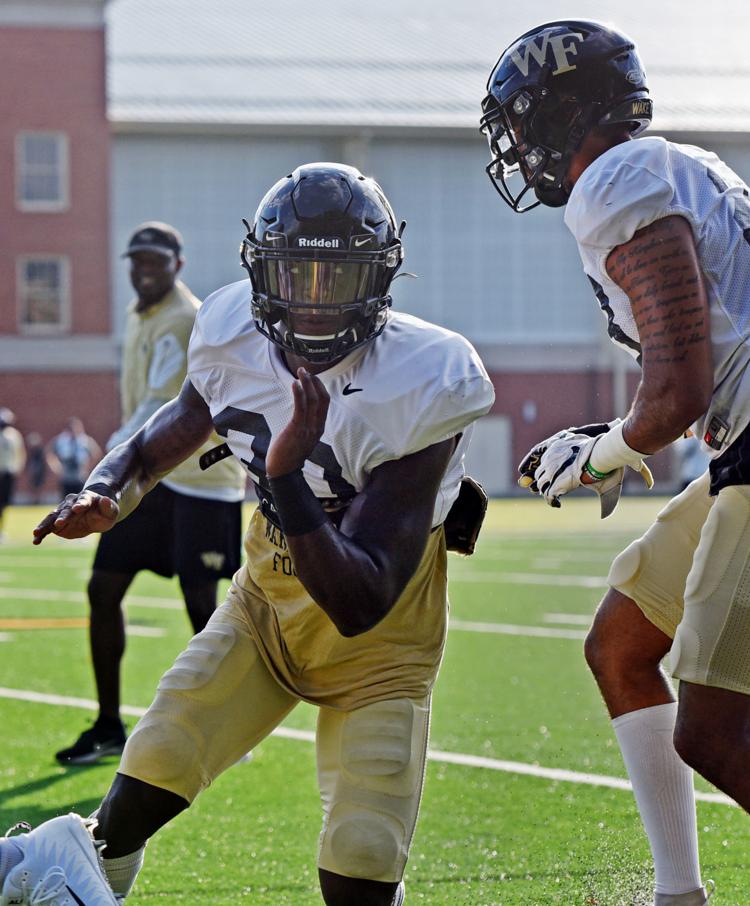 Wake Forest football practice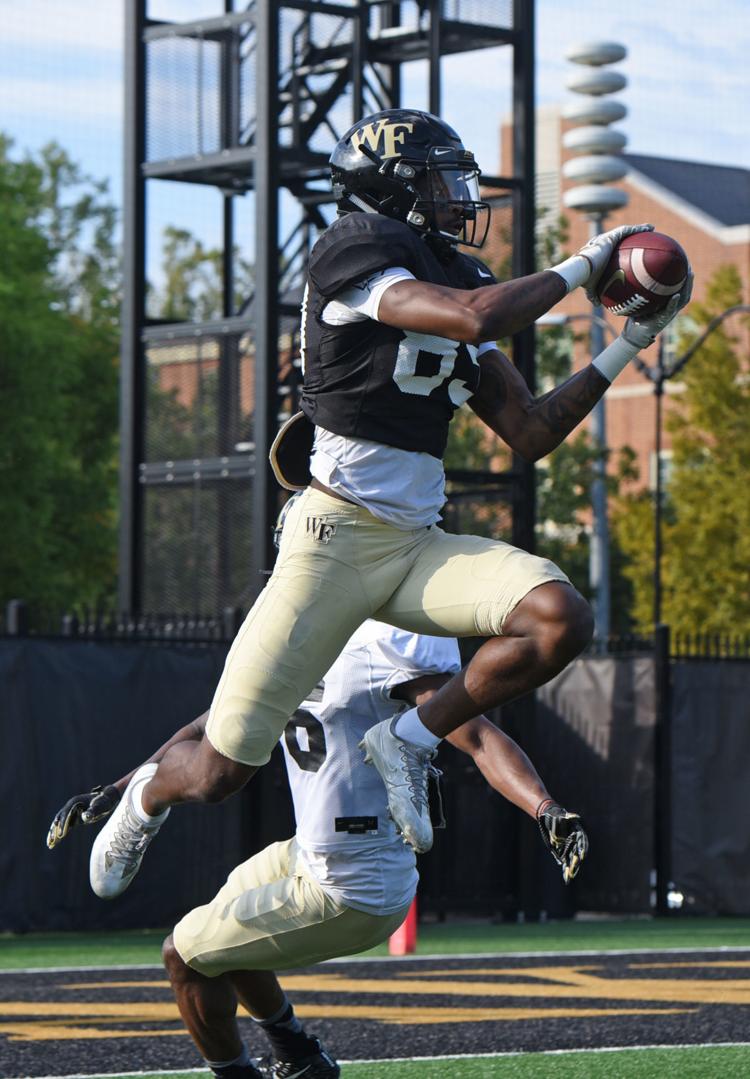 Wake Forest football practice