For the fourth straight season, Wake Forest's football team will enter November with plenty at stake and substantial rewards to play for.
This one isn't like the others, though. Instead of fighting for a sixth win and bowl-eligibility, the Deacons will play for heights rarely reached in program history.
Wake Forest (6-1, 2-1 ACC) controls its own destiny in the league. Five wins in November – the largest would obviously be a Nov. 16 win at Clemson – would put the Deacons in Charlotte for the ACC championship game.
It's a tall order – but it's still on the table.
But there's the other side of this, too. Four of Wake Forest's six wins have been decided in the final minute. Wake Forest has lost two defensive starters in the past two games and played its most-recent game without quarterback Jamie Newman, who still leads the ACC in several passing categories.
The difference between Wake Forest being where it is and where it has been in each of the past three seasons is slight; the margin of error is razor thin.
So here are five reasons for optimism and five reasons for skepticism entering the five-game November slate:
Reasons for Optimism
1. One healthy return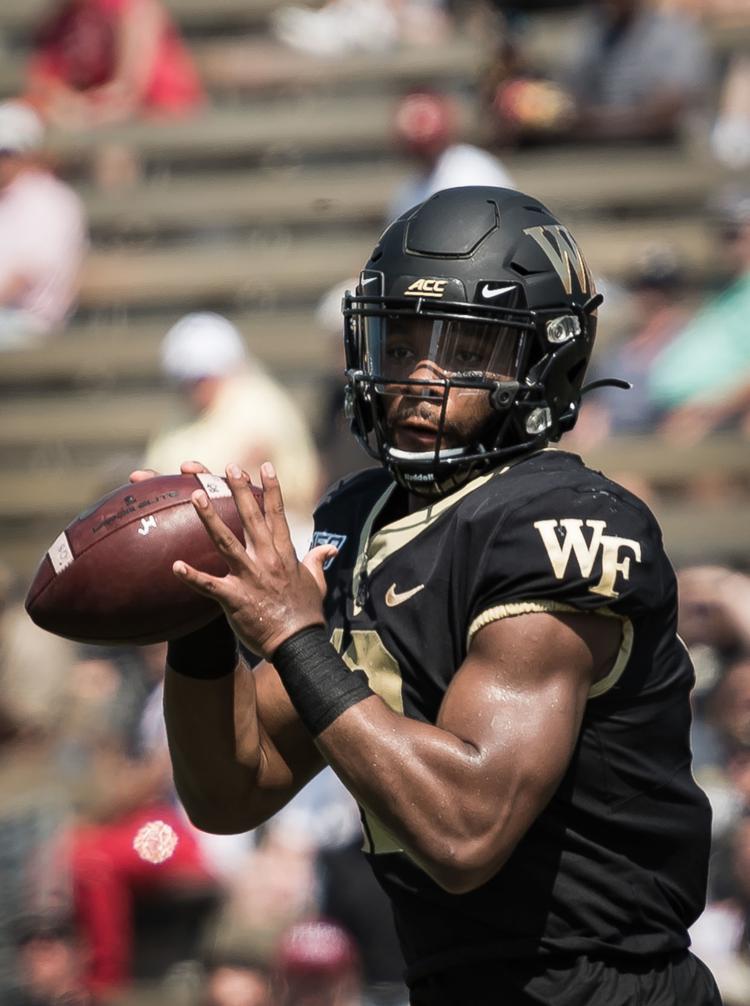 Newman is playing at an All-ACC level and, though the Deacons beat Florida State without him, they'll need the 6-4, 230-pound redshirt junior back to full strength for the final five weeks.
He adds a dimension to Wake Forest's spread-option, warp-speed-tempo offense as one of the best deep-ball passers in the country and as a power runner. Newman is averaging 341.2 yards of total offense per game and leads the ACC in passing efficiency (160.7).
About an hour and a half before the win against the Seminoles, Newman went through a degree of warmups and appeared to throw without difficulty — given that was last week, it's reasonable to believe he'll be recovered from his left shoulder injury to be at full strength against N.C. State.
2. Receiver trio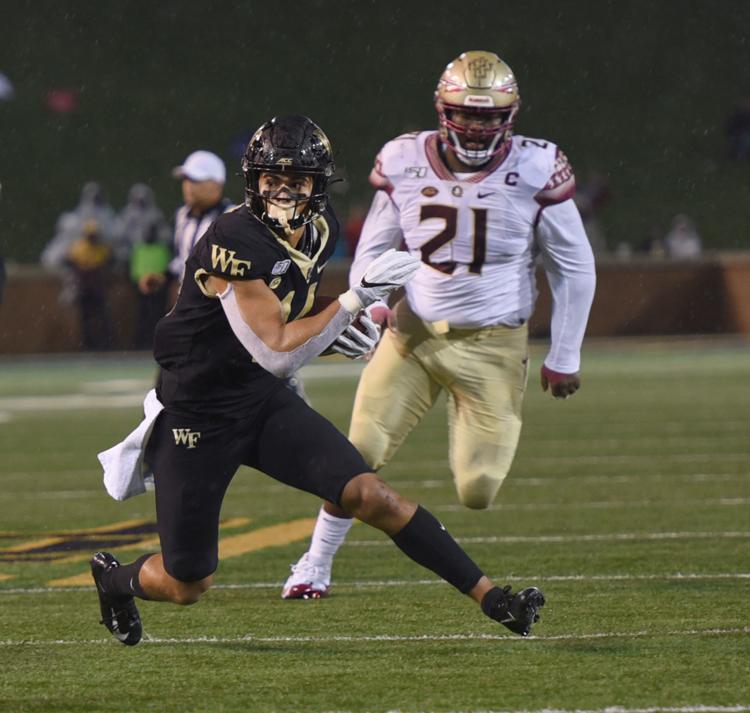 There is perhaps no better trio of receivers in the ACC than Wake Forest's Sage Surratt, Scotty Washington and Kendall Hinton.
Statistically speaking, Surratt is the leader with 53 catches for 881 yards and nine touchdowns. For a comparison, Greg Dortch had 89 catches for 1,078 yards and eight touchdowns in 2018 in what was one of the best seasons for a Deacons receiver.
So, keep these numbers in mind: 98 catches, 1,330 yards and 12 touchdowns. Those are all the single-season records for Wake Forest, held by Kenneth Moore (2007), Chris Givens (2011) and Kenny Duckett (1980), respectively, and they're all within reach for Surratt.
And Surratt obviously isn't Wake Forest's only threat in the passing game. Washington has 32 catches for 523 yards and seven touchdowns, while Hinton has 37 catches for 404 yards and one touchdown — the game-winning catch against Utah State.
3. Beef Boys
Wake Forest's offensive line has quietly put together a strong season.
The Deacons have allowed eight sacks, the fourth-lowest total in the ACC, and are averaging 196.1 rushing yards per game, the fourth-most in the ACC.
Left tackle Justin Herron has picked up some recognition from Pro Football Focus. Right tackle Jake Benzinger and right guard Nate Gilliam, both fifth-year seniors, have anchored their side of the line. Redshirt sophomore Zach Tom has seemingly improved throughout the season, while Sean Maginn and Loic Ngassam Nya have been strong at left guard.
4. A developing D-line
Wake Forest's sacks rate took a sharp decline once ACC games started, but that doesn't mean its defensive line has been unproductive.
The Deacons have two sacks in the past three games, but recorded a season-high 12 tackles for loss against Louisville and had another eight against Florida State. Wake Forest has eight defensive linemen to rotate and should reap some rewards of that depth in November.
5. Winning close games
If nothing else, Wake Forest has shown it has an aptitude for winning close games this season — as mentioned above, the Deacons have won four down-to-the-wire games. Since the start of the 2016 season, the Deacons are 13-4 in games decided by seven points or less.
Whether that continues is likely to be the determining factor in how much success the Deacons ultimately achieve this season.
Reasons for Skepticism
1. Replacing Justin Strnad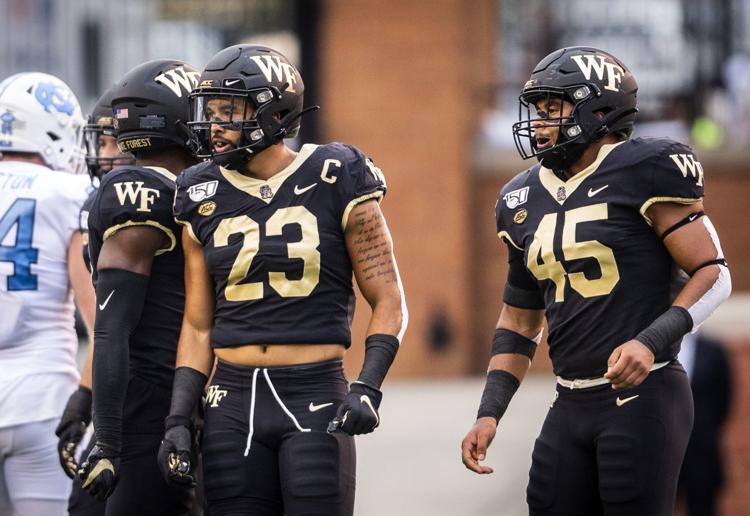 This starts with something that can't simply be done by one player.
Strnad has been Wake Forest's best defensive player this season, and he'll miss the rest of the regular season and in all likelihood whatever comes after it because of a torn bicep tendon.
Strnad's impact is evident in his team-leading 69 tackles, but it's beyond that. The fifth-year senior linebacker was responsible for communicating pre-snap checks and shifts with linebackers and the defensive line. Coach Dave Clawson has heaped praise on Strnad for his leadership ability this season, in the way he mentors teammates and offers constructive critiques.
On the field, Strnad will be replaced by Ja'Cquez Williams in the starting lineup. Williams is a redshirt junior who spent the past three seasons at rover, and only shifted to linebacker in the spring. He had nine tackles and forced a fumble against Florida State. Chase Monroe's role will increase as a backup linebacker, and freshman Chase Jones, who has not played yet this season, could be thrown into the mix.
2. Losing versatility on defense
Strnad and Luke Masterson, who sustained a season-ending injury against Louisville, were two of Wake Forest's most-versatile defenders, Clawson said on his radio show Wednesday night.
Now the Deacons need to find more versatility.
Strnad and Masterson were valuable in coverage; in their absence, it's likely Williams and Monroe are asked to cover as much as Strnad did and Ja'Sir Taylor comes in for more nickel packages.
3. Short-yardage situations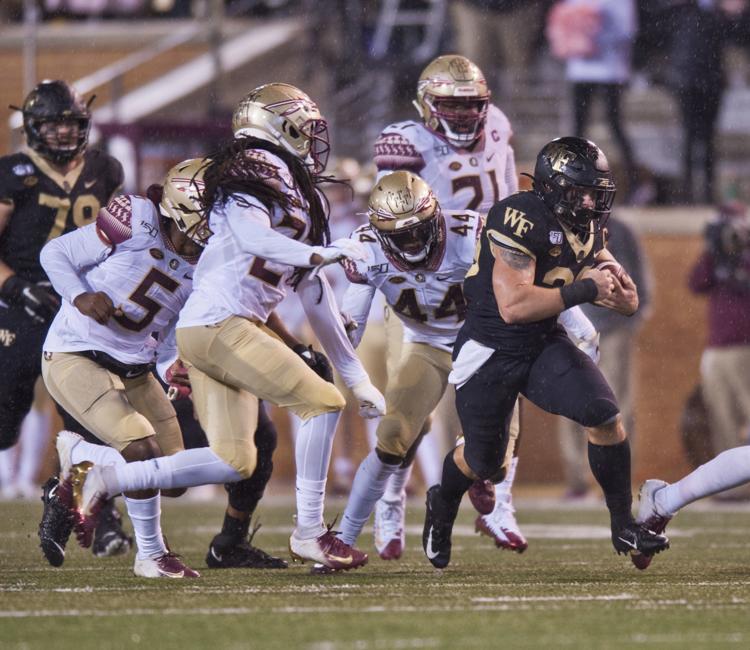 One week it's a problem, the next it's solved, and then two weeks later, it's a problem again.
The roller-coaster issues in short-yardage situations for Wake Forest's offense continued last week against Florida State with five field goals in six red-zone trips. The only touchdown was punched in with Cade Carney taking direct snaps for carries of 6 and then 3 yards for a touchdown — and even the Wild Cade failed to pick up a third-and-2 conversion that would've sealed the win in the final minutes.
Getting Newman back will help, but the Deacons have struggled in short-yardage situations with him in games, also. The Florida State game wasn't the first that the Deacons have used direct snaps to running backs — it's just the first time it was marginally successful.
It's a blemish for what's otherwise been an incredible offense to watch.
4. Some special teams
To be clear: Nick Sciba's perfect season (so far) and Dom Maggio's reliable season, combined with the snapping of Dayton Diemel, have been excellent.
The Deacons' other special teams? Not so much.
Wake Forest has the third-worst net average on kickoffs, having allowed a touchdown and an 83-yard return to Louisville. The Deacons surrendered a couple of big punt returns against Rice and Louisville, and Boston College brought a kickoff back to midfield, leading to a touchdown.
Even when things went right on a punt return — Hinton's 67-yard touchdown last week — it was negated by a block in the back.
Wake Forest can't keep shooting itself in the foot with special teams blunders.
5. Will luck run out?
Here's the inverse of the final reason to be optimistic: Was the Louisville game just a blip in the Deacons' otherwise season full of close wins, or was it a sign of more to come in November?
It's logical to figure the Deacons will have a few more games in which things don't bounce their way. They've handled all but one of those effectively — who knows how long that can continue.
Then again, it's logical to figure the Deacons don't win these games by accident. Clawson preaches the importance of situational awareness, which is why Newman had three game-winning drives in the final minutes in his first five starts. Wake Forest excels in games that aren't for the faint of heart, and aren't good for Clawson's heart rate, but all's well that ends well.
Buckle up. It's going to be a wild November for Wake Forest.