The past week of Wake Forest's fall camp was about separation. Which players could elevate themselves into the two-deep? Which freshmen could show retention of what they'd learned in the first week? Which position battles would be whittled down to two or three candidates?
Now the Deacons enter the final week of fall camp keen on narrowing those questions into answers — or, in a literal sense, names on the depth chart.
Here are the 10 players with the most to gain over the final six days of fall camp:
T-1. Quarterbacks Jamie Newman and Sam Hartman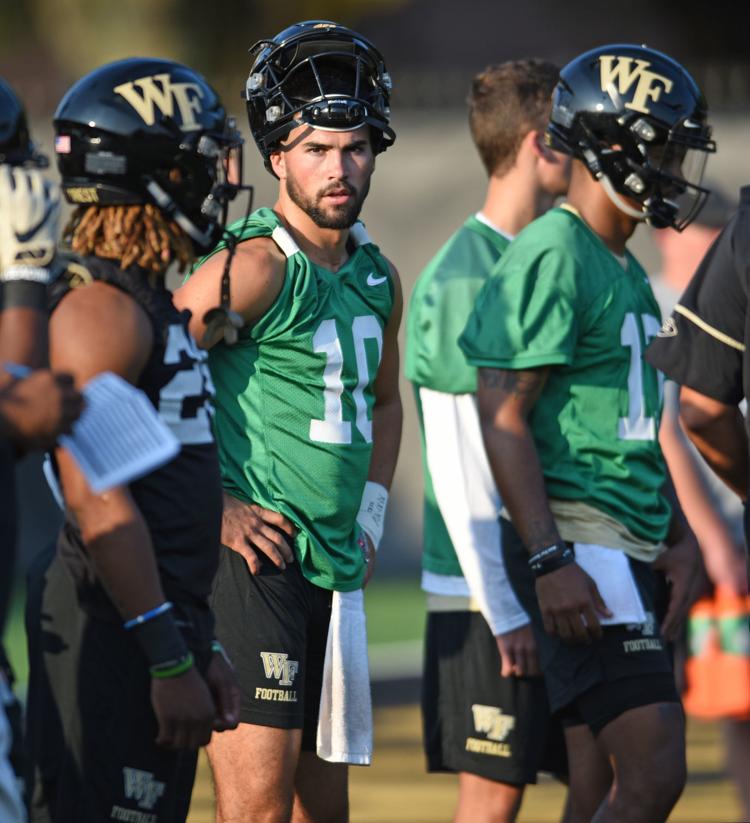 Duh.
Again, barring injury, this will go down to the wire. Wake Forest has two quarterbacks who take the reins and excel. Newman's passing numbers were more efficient in the first scrimmage, although he took more snaps with the first-team than Hartman. Hartman threw the lone interception of the night, but also had 38 rushing yards to Newman's 6.
Upon further review, Coach Dave Clawson said of the scrimmage: "We threw the ball very well and I thought both quarterbacks looked sharp."
The second and final scrimmage of fall camp is slated for Monday night, and figures to be the single-most important action of fall camp for the quarterbacks.
3. Defensive end Shamar McCollum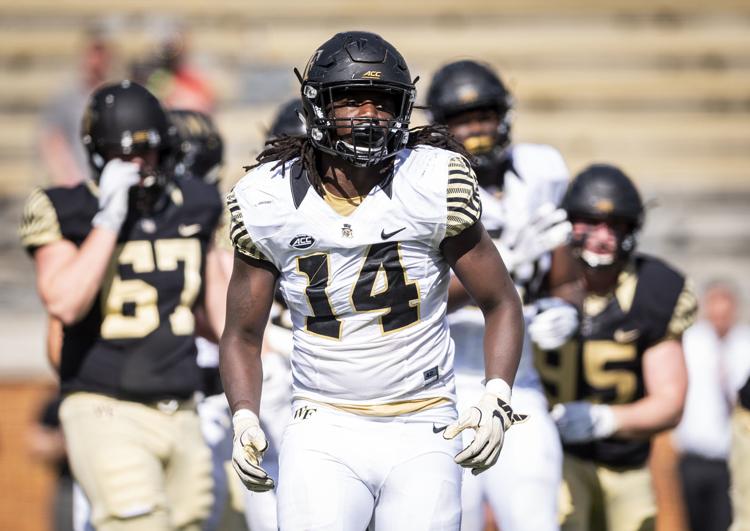 Maybe the most unpredictable position battle waging for the Deacons right now.
Ja'Corey Johns enjoyed a stellar first week of practice, but has been limited by an injury in the past week. In his stead, McCollum has stepped in and flashed the same speed off the edge that made him a spring standout.
Johns was able to suit up for the scrimmage and recorded one sack, while McCollum had four tackles (two of them for losses) and a sack.
In the endgame, if both are healthy, both will probably contribute for the Deacons. The position they're taking over hasn't featured a pass-rusher before under Clawson, so regardless of which one starts, they'll both bring a new dimension to the spot.
4. Guard Sean Maginn
Maginn, a redshirt sophomore, appears to have the inside track to grab the starting spot at left guard, but it's a big week for classmate Loic Ngassam Nya, too.
Those two separated early in the race to fill Phil Haynes' spot, and have alternated snaps with the first-team offense throughout fall camp. It's worth noting, though, that Patrick Osterhage and Nathan Gilliam alternated at right guard throughout the 2017 season, and a similar situation could play out here.
5. Defensive tackle Rondell Bothroyd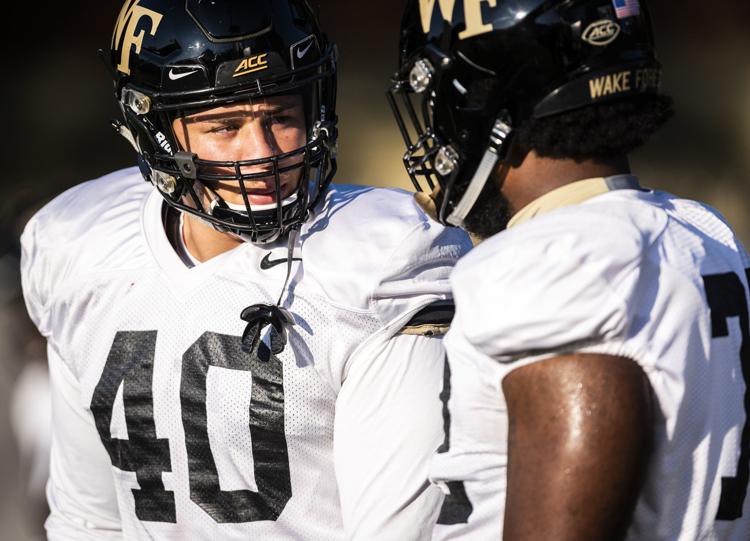 Bothroyd might have received the biggest benefit of the four-game redshirt rule last season. The 6-foot-4, 280-pounder helped the Deacons in the final four games of the regular season, most notably including a sack of Syracuse's Eric Dungey.
Bothroyd moved to defensive tackle in the spring and, with Tyler Williams out for at least the next two weeks, there's a wealth of snaps available for defensive tackles. Bothroyd has moved up to the first-team defense lately, forming a combo with Dion Bergan.
"I feel like it's a lot better spot for Rondell," said Bergan. "He's very athletic, for his size. And I feel like he can do a lot of damage at the three-tech, in my opinion."
6. Running back Kenneth Walker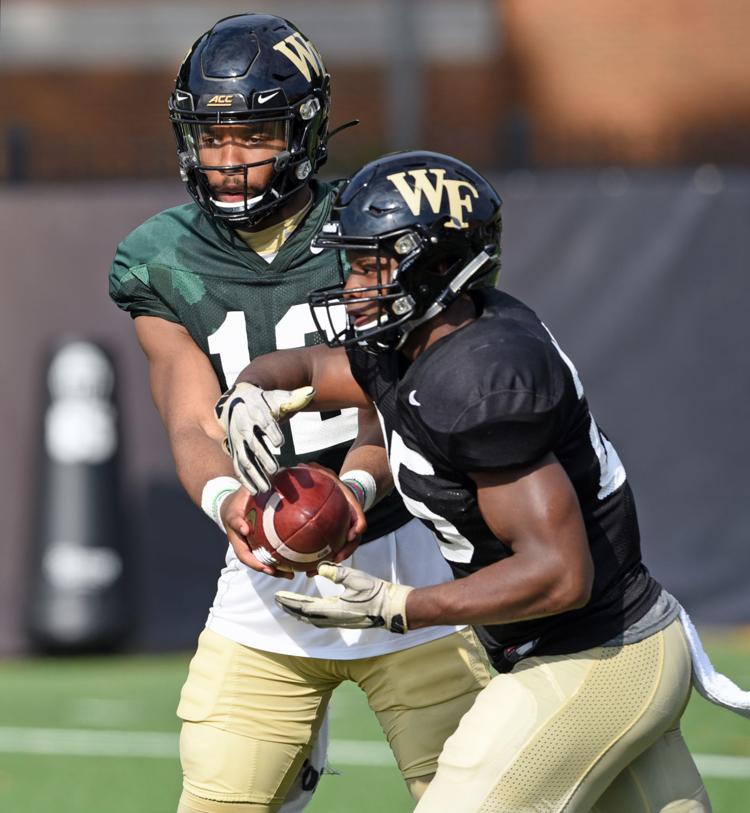 McCollum and Walker, the 5-9, 205-pounder from Arlington, Tenn., are the incoming players who have basically been guaranteed to play more than four games and not redshirt.
"I think we came out of the scrimmage saying, 'Hey, Kenneth Walker is playing.' That right now, he probably left as the third running back," said Clawson.
In addition to excelling at running back, Walker is in the mix at kick returner. He had 117 total yards on 16 touches in the scrimmage.
7. Linebacker Chase Jones
Burgeoning on becoming the third freshman to be guaranteed avoiding a redshirt.
Jones' emergence has mostly occurred in the last week, and culminated in a team-best nine tackles in the scrimmage. Justin Strnad and Ryan Smenda Jr. are set as the starting linebackers, and Ja'Cquez Williams has transitioned well from rover to linebacker, so Jones is vying to be No. 4 in the pecking order.
8. Slot receiver Isaiah Isaac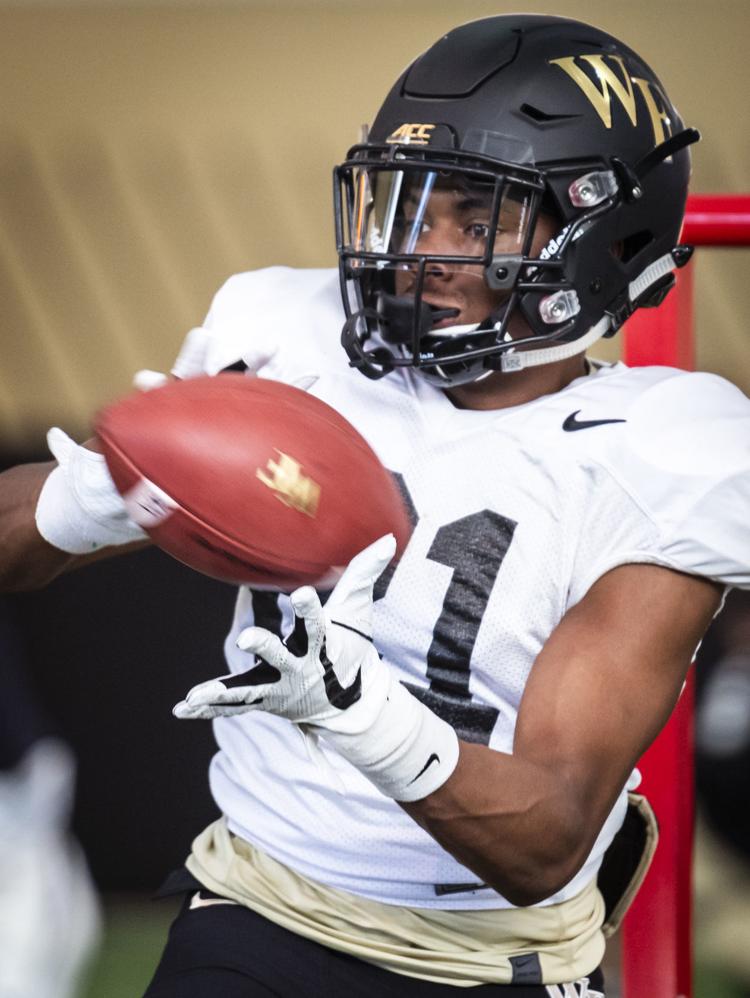 Welcome to the party, pal.
With Kendall Hinton sidelined by hamstring tightness, Isaac was thrust into the backup slot receiver position for the scrimmage, behind Jaquarii Roberson. Isaac, 5-10 and 175 pounds, stepped up with a 22-yard catch-and-run touchdown on a bubble screen and a 21-yard touchdown catch in which he found a hole in the coverage and made himself available for a scrambling Hartman.
For Isaac, who talks to Greg Dortch daily and said he's "like a brother," said he's been motivated to showcase himself because of a pulled hamstring in the spring game.
"(The scrimmage) definitely wasn't perfect, I've gotta work on in and out of my breaks, getting the signals, like Coach (Clawson) said, conditioning," Isaac said.
9. Wide receiver Waydale Jones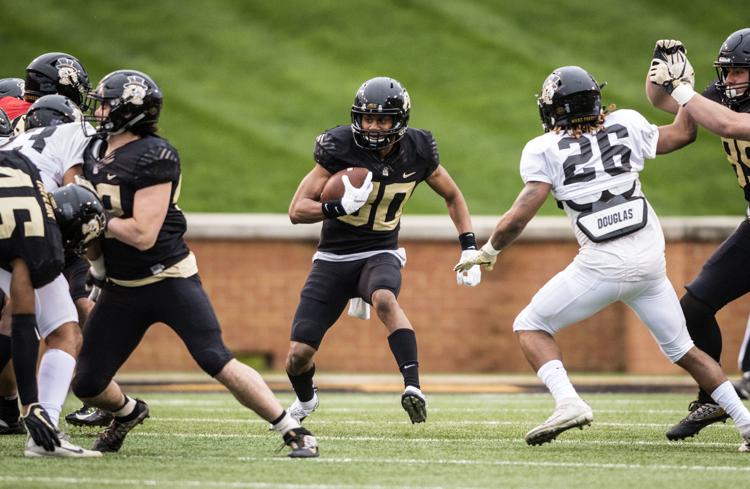 Wake Forest needs somebody — anybody — to emerge as the No. 4 outside receiver in the next week.
Jones gets the nod here because his performance in Sunday's practice was better than anything from A.T. Perry, Donavon Greene or Nolan Groulx in fall camp.
"That's one of the great things about camp, like spring, that you see some guys take that step and emerge and (Jones) quietly is having a real good camp for us," Clawson said Sunday.
It's worth pointing out, though, that Jones didn't have a catch in the scrimmage, and Perry had four for 30 yards.
10. Slot receiver/returner Taylor Morin
A wild-card entry, but a well-deserved one.
Morin is carving out value as a punt returner — Clawson said he's third in line, behind a limited Hinton and Sage Surratt — and seems to get more comfortable in the slot with each practice.
Perhaps glazed over because the other two freshmen receivers were four-star prospects, the 5-10, 175-pound Morin came in as one of the most decorated members of the freshman class.
His senior class at Westfield High School (in Centreville, Va.) went 55-4 with three state championships, and Morin played slot receiver and safety — and returned punts and kicks.
On that level, he shouldn't be a forgotten man of the receiver corps.