My Take on Wake (and Others): It's finally not too early to vote for the preseason All-ACC team
The Birmingham Bowl was how long ago?
Sometimes it feels like last week, other times it feels like two years. Perspective matters little now, though, with football upon us again.
The ACC's media days are slated for next week, the bulk of the action set for Wednesday and Thursday. Wednesday is the Atlantic Division's day in the spotlight, so that's the day I'll be in Charlotte.
Amid the circus that Clemson will bring to the Westin Charlotte, the rest of the division will be there, too. That means it'll be the day to talk to Coach Dave Clawson and seniors Cade Carney and Justin Strnad about the upcoming season and all things Deacons football.
ACC media day also means it's time to vote for the preseason All-ACC team and pick a predicted order of finish in the league. Voting opens Tuesday, but when you've had magazines from Phil Steele and Athlon sitting in your living room for a month (and haven't played enough golf), you don't need to wait until next week to formulate your picks.
So here's how I plan to vote next week:
Atlantic Division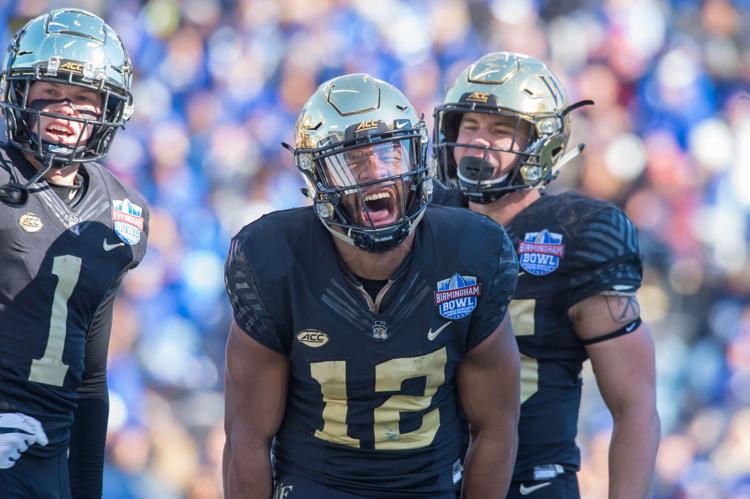 The order of finish:
1. Clemson
2. Syracuse
3. Boston College
4. Florida State
5. Wake Forest
6. N.C. State
7. Louisville
The reasoning: The first and last spots were easy. Scott Satterfield seems like the right fit for the Cardinals, but the smoldering cupboard left behind by Bobby Petrino won't be restocked overnight. Clemson is the class of the ACC, and more than ever, it appears the Tigers don't have an equal in the league.
Picking the rest of the division is tricky, per usual.
Syracuse has to replace quarterback Eric Dungey, but a defense led by two players who had 10 sacks apiece last year (Kendall Coleman and Alton Robinson) should help the offense find its footing with Tommy DeVito.
Florida State's offensive line can't remain as bad as it's been, right?
Wake Forest has the best non-Trevor Lawrence quarterback situation in the league, with two capable starters in Jamie Newman and Sam Hartman, but has question marks to fill in on defense.
N.C. State loses a quarterback who nearly threw for 4,000 yards, a 1,000-yard rusher, two 1,000-yard receivers and the offensive coordinator who guided them to those marks. The Wolfpack's reload is significant.
Coastal Division
The order of finish:
1. Virginia
2. Miami
3. Virginia Tech
4. Pittsburgh
5. Duke
6. North Carolina
7. Georgia Tech
The reasoning: In the Bryces I trust. Bryce Perkins and Bryce Hall, Virginia's quarterback and cornerback, respectively, are the two best players in the division. The Cavaliers get a week off before their trip to Miami (Oct. 11), a game that could wind up determining the division champ.
Miami is the only one of the four ACC teams with a new coach that I don't have at the bottom of the division (Louisville, North Carolina and Georgia Tech are the others), and I don't feel great about the Hurricanes' offense.
The defense, though, led by senior Shaquille Quarterman, might be the best in the ACC.
Pittsburgh loses both of its 1,000-yard rushers, and Virginia Tech has an experienced defense that should help Bud Foster make last year look like an aberration.
Duke has a new quarterback, North Carolina has a new coach and Georgia Tech has a new everything as it shifts away from the triple-option.
ACC champion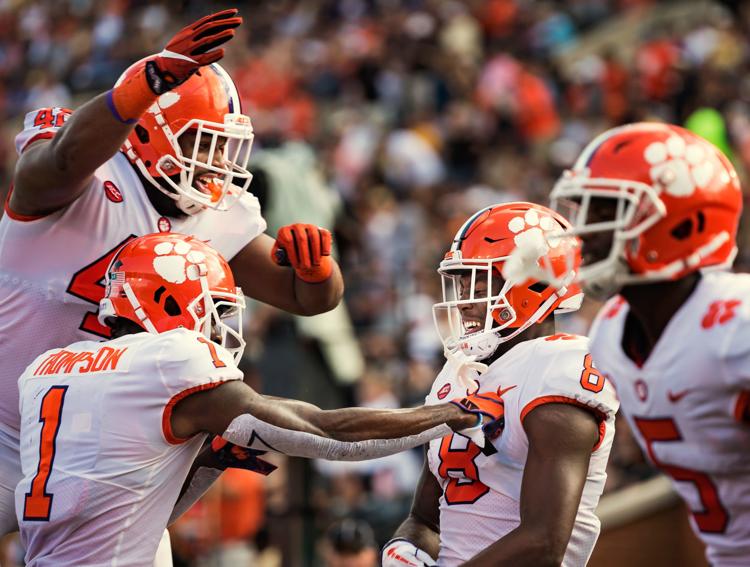 My pick: Clemson
Reasoning: How could you pick anybody else?
(this is the same thing I wrote in this space last year and — incoming hot take — it probably will be the same thing I write here in 2020)
Preseason POY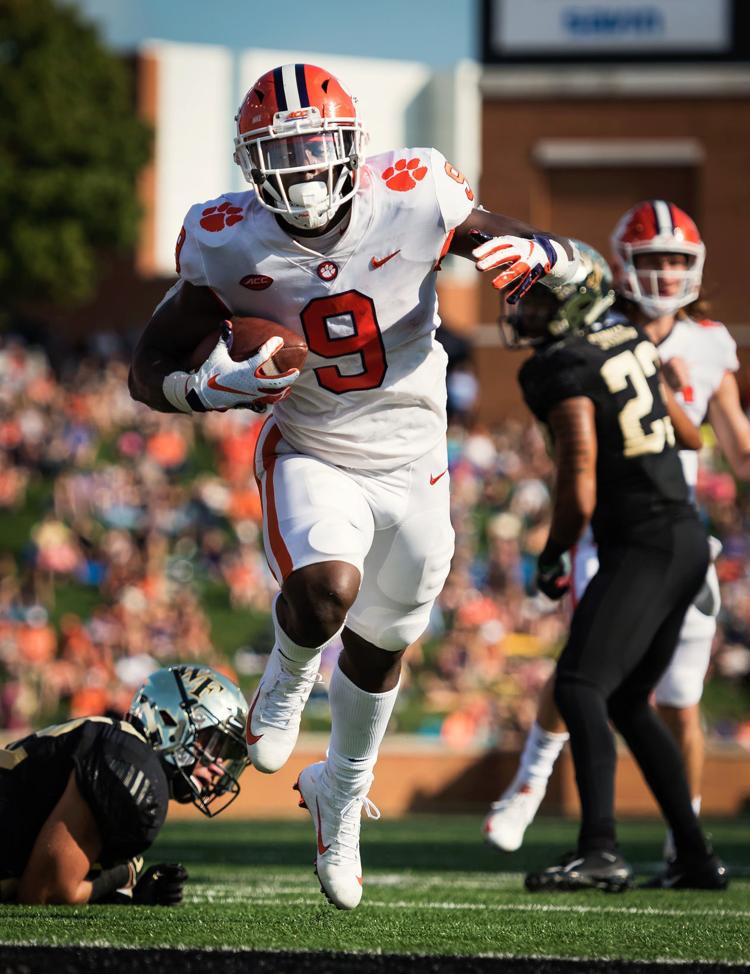 My pick: Travis Etienne, Clemson
Reasoning: I know Lawrence and Ross are the shiny sophomores, but Etienne averaged 8.1 yards per carry last season with 24 touchdowns. That's why he was the player of the year, and I don't think that'll change.
Offense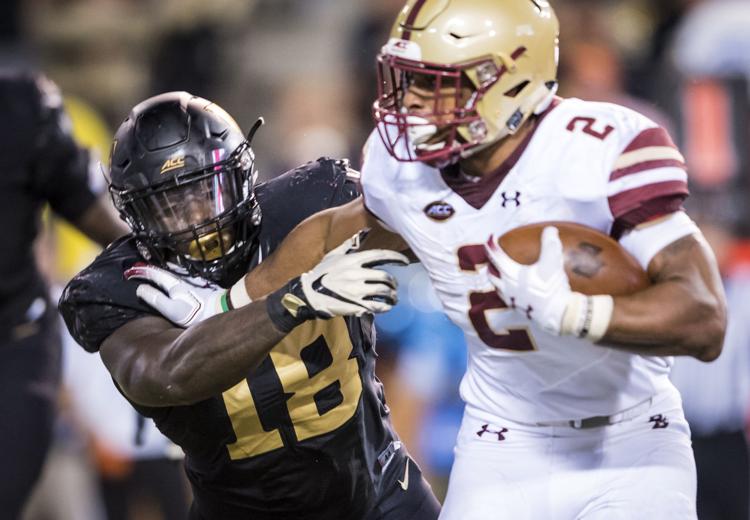 My picks:
Quarterback: Trevor Lawrence, Clemson
Running backs: Travis Etienne, Clemson; AJ Dillon, BC
Wide receivers: Tee Higgins, Clemson; Justyn Ross, Clemson; Tamorrion Terry, FSU
All-purpose: Maurice Ffrench, Pitt
Tight ends: Brevin Jordan, Miami
Offensive tackles: Mekhi Becton, Louisville; Tremayne Anchrum, Clemson
Offensive guards: John Simpson, Clemson; Rakavius Chambers, Duke
C: Jimmy Morrissey, Pitt
Reasoning: Heavy on the Tigers, as should be expected. Picking Terry over Damon Hazelton of Virginia Tech was a tough choice, but Terry's 21.3 yards per catch last season is reason to think, with better O-line and QB play, he could lead the league in receiving. Jordan is the next star tight end from Miami. Ffrench becomes Pittsburgh's most-dangerous weapon, and quarterback Kenny Pickett will have to get him the ball more often.
Defense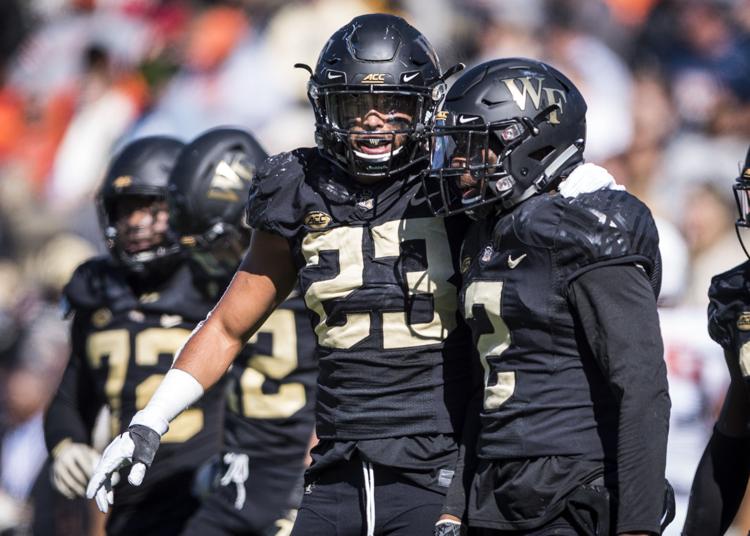 My picks:
Defensive linemen: Alton Robinson, Syracuse; Kendall Coleman, Syracuse; Jonathan Garvin, Miami; Marvin Wilson, FSU
Linebackers: Shaquille Quarterman, Miami; Isaiah Simmons, Clemson; Justin Strnad, Wake Forest
Cornerbacks: Bryce Hall, Virginia; Essang Bassey, Wake Forest
Safeties: Andre Cisco, Syracuse; Damar Hamlin, Pitt
Reasoning: The most-difficult position to pick on the entire team is defensive line. Xavier Thomas is probably going to be better than the four I have, but picking the others is based on what they've done already, not what I think their potential is. Quarterman and Simmons are obvious picks at linebacker, and Strnad recorded 105 tackles last season — his first as a starter. Cornerback is another tough position to pick because Hall is a no-brainer, and then there are three others that can easily land at the other spot. I picked Bassey because he had the second-most passes broken up last season and has been one of the league's best cornerbacks for the last two seasons.
Specialists
My picks:
Kicker: Andre Szymt, Syracuse
Punter: Sterling Hofritcher, Syracuse
Returner: Joe Reed, Virginia
Reasoning: Syracuse is the new Virginia Tech, at least in Beamer Ball terms. Szymt and Hofritcher were first-team picks last season at the end of the year. Reed had the second-best kick return average last season (27.2 yards), trailing Ffrench (27.3).