Who is Steve Claude?
To teammates on Wake Forest's football team, Claude is the wide receiver who just turned 23 and has the maturity to back up his standing as one of the oldest players on the team. Claude is also the one who rejoined Wake Forest about one week before the 2017 season started and by the end of that season, made three special teams tackles in the Belk Bowl.
"I mean he's one of those kids, he's just easy to fall in love with," Coach Dave Clawson said.
That's because there's so much more behind what's on the surface for the senior wide receiver.
"It's cool, not a lot of people know. Of course my best friends, they know what I've been through and how I grew up and stuff," Claude said. "But if you just see me, I don't show it because I want you to see a happy person at Wake Forest, living life.
"If I go back home, everybody knows, 'Oh, Lucky,' — that' s my nickname — 'He made it out of this, he made it out of that, that's Lucky.'"
But no, not a lot of people know Steve Claude outside of being the wide receiver who's been thrust into a larger role in the past couple of weeks for Wake Forest.
Not a lot of people know that Claude was born without a stomach and had to have one built for him, undergoing four surgeries before his first birthday; or that he had heart murmurs as a baby, at one point causing his heart to stop; or that he grew up in the Graveyard Projects of Little Haiti in Miami; or that his mother was diagnosed with uterine cancer when he was 12 and still deals with everyday pain; or that, when Claude left Wake Forest in 2017, he was in Savannah, Ga., cutting grass and driving for Uber to help pay bills because he feared a kidney disease would claim his mother's life.
Through it all, Claude is able to project the image of being a happy person — and even the shortest of conversations with him will be genuine — because of a decision he made in January 2017.
It wasn't much of a choice. He just couldn't tell his mom, Latrebah Dixson, that he was leaving Wake Forest to move to Savannah to be with her after she was diagnosed with a potentially fatal kidney illness.
He knew what her reaction would be.
"I would've told him no," Dixson said. "We're kind of two of the same people because he tries to do what's best for me and I try to do what's best for him."
After Wake Forest won the Military Bowl in December 2016 and its football program had finally emerged from the depths of seven straight losing seasons, Claude moved to Savannah. That's where Dixson had gone to live with one of Claude's aunts after she was diagnosed with a kidney illness — complications stemming from uterine cancer.
While Claude officially left the team in January 2017, less than a month after the Military Bowl, the reality was he was figuratively absent before the bowl.
"I was consistently going to talk to (assistant head coach/receivers Coach Kevin Higgins) every day like, giving him updates, telling him what was going on and stuff," Claude said. "He was asking me like, 'What do you plan on doing? We want to be prepared to hold your scholarship and stuff in case you change your mind or in case you do want to come back.'
"But at that time in my head, I was like, 'No, I want to be there for my mom.' Football was the last thing on my mind."
'Lucky'
The nickname's origin is simple: Claude is lucky to be alive. The specific event, as Claude says, was when he was a baby and his heart stopped for a few seconds. Dixson revealed, though, that he was born without a stomach and that he had to have one built for him.
"He had four major surgeries by the age of one. And that's how he earned his name," she said.
Claude turned 23 on Thursday. He's one of the oldest players on the roster, and so of course teammates joked that it was like he was turning 30.
That's also derived from a maturity that was only enhanced — not created — when Claude stepped away in 2017. And while leaving Wake Forest to care for his mother involved a chunk of the working world that he wasn't fond of, Claude has never given those around him the impression that he was immature.
"Kind of exposed him to real life fast, so it kind of left him numb to a lot of things after having to grow up and hear his mom say she may die," Dixson said. "And it kinda numbed him to other things around after that."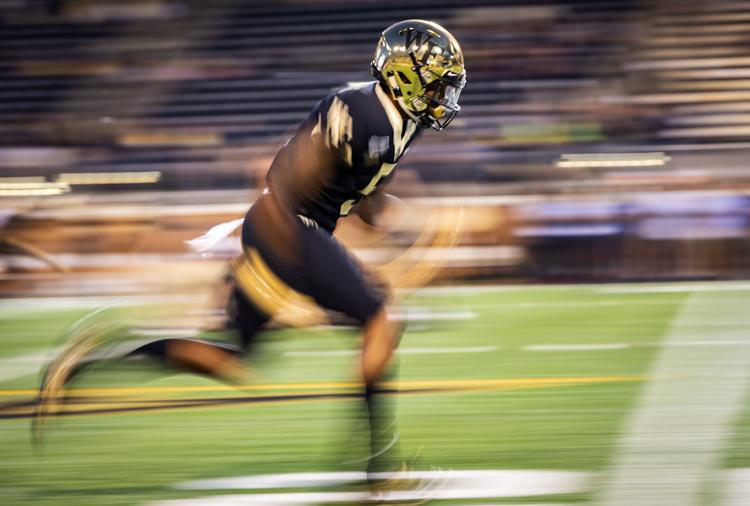 Claude was forced to grow up quickly at that time, and so he was prepared in 2017.
"So we had a big talk about how she could pretty much, could like, die. We had a talk about that, so that matured me quick," Claude said. "When she got sick again, it was like wow, life's hitting. Life's hitting hard."
It wasn't the first time.
Claude's birthday Thursday also was the 10-year anniversary of one of his best friends being shot and killed in Miami.
"Once you have death around you 24-7, all the time, it's like, 'OK. Oh, such and such died.' You're like, 'Man that's crazy,' and you just move on about your day," Claude said. "You just look at it as we all just have to die one day, and that was just their time. Your time is going to come at some point.
"You can't sit back and dwell over their passing, you've gotta live your life to the fullest while you can."
Claude wasn't head and shoulders faster and more athletic than others where he grew up — but his mentality was different, and that's one reason he's not still there.
Or worse.
"When they see you trying to make it out and trying to make a way for yourself in life, they actually like, push you to be greater, push you to do more," Claude said. "My neighborhood and the people I was around, they always said like, 'We want you to be different from everybody else, we want you to go and make it.'"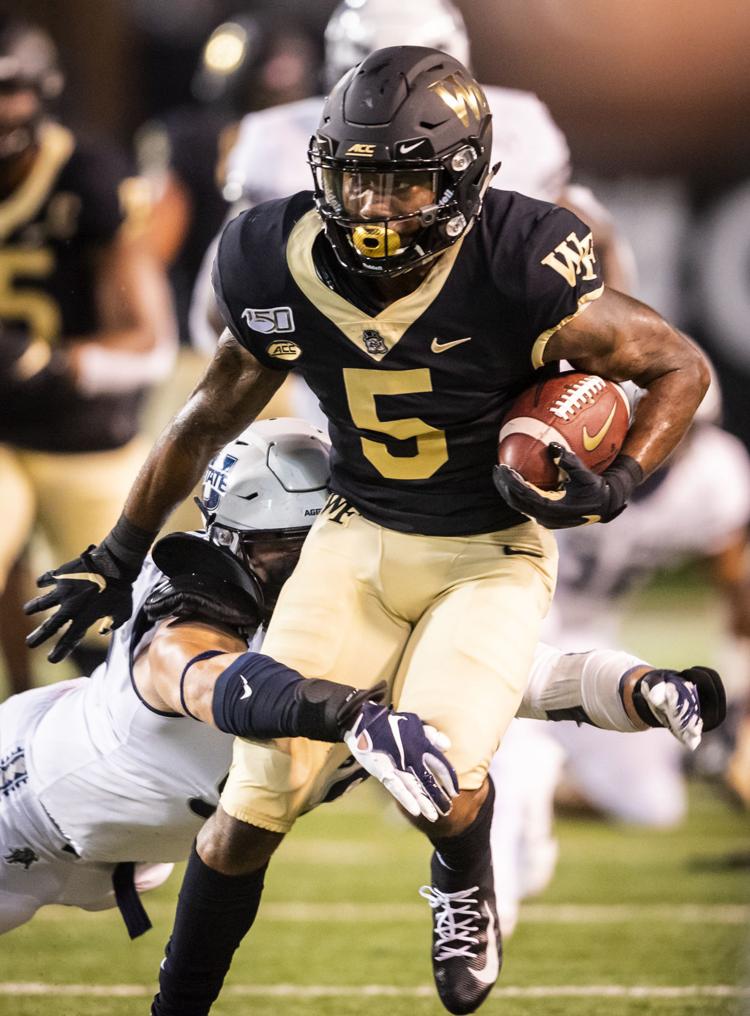 It helped that Claude was indirectly exposed to the dangers of his environment.
"I was never into drugs like smoking or drinking and stuff because I saw the effects it had on people firsthand; I saw it — you see it in your face like every day," Claude said. "With homeless people and crackheads going to the store every day and like, and just to see them drunk and see people get killed because they said the wrong thing while they're drunk, or people get drunk and shoot up clubs.
"You see the effects of it and you're like, 'Yeah, I don't want that life. I want to live and have a prosperous life, I want a family, I want a wife and kids.'"
Senior Day
If there are any tears during Saturday night's Senior Day celebration, they're likely to be from Dixson and they'll be tears of happiness and joy.
"He's a kid with very little emotion, I don't know why. Well, I know why. But he doesn't like displaying his emotions," she said.
So many members of Wake Forest's senior class represent incremental growth that's a staple of being a developmental program. Offensive linemen Jake Benzinger and Nate Gilliam carved out larger roles from redshirt seasons to backups to starters; that was the path for cornerbacks Essang Bassey and Amari Henderson and linebacker Justin Strnad, too.
But Claude's path has been anything but conventional — and he has company there, with a teammate who's also a roommate.
"When Steve came in, we were young and naïve and yeah, Steve's path kind of took him a different way," fellow senior receiver Kendall Hinton said. "He had a lot of responsibilities back home and even here that he had to take care of and kind of made him grow up kind of fast.
"Thankfully he was able to get back here with us and finish out his eligibility here. Steve is my roommate now, and we're able to talk about that and the things we've been through, how it's made us who we are today and how grateful we are for it."
As Wake Forest heads into its final home game of the 2019 season, Clawson has reflected on how important this senior class has been for his program to climb the ladder of the ACC. This season has seen the Deacons nationally ranked for the first time since 2008, appear in the College Football Playoff rankings for the first time in school history and if the Deacons win their final three games, the senior class will leave Winston-Salem with the second-most wins in school history.
It's a class that has already wrapped up its fourth straight winning season — the first time since 1948 that a group of seniors leave Wake Forest without being on the field for a losing season.
Claude was part of a program-building undertaking at Champagnat Catholic School in Miami and he wanted a similar aspect in his college choice, along with the value of a Wake Forest degree.
"When it came down to it, he picked Wake Forest, and I asked him: of any school that he would've picked, why did he pick that school?" Dixson said. "He said the academics for one, and then he said that he sees that they're trying to build their program.
"So he wanted to be a part of it."
Claude is among the group that Clawson has lauded this week for committing to Wake Forest when success was only an idea, not quantifiable in wins or bowl berths. It's a unique class for the Deacons — every player either spent a redshirt season as the Deacons went 3-9 or committed to the program off such a season.
Claude's path through his college football career was certainly unique, too.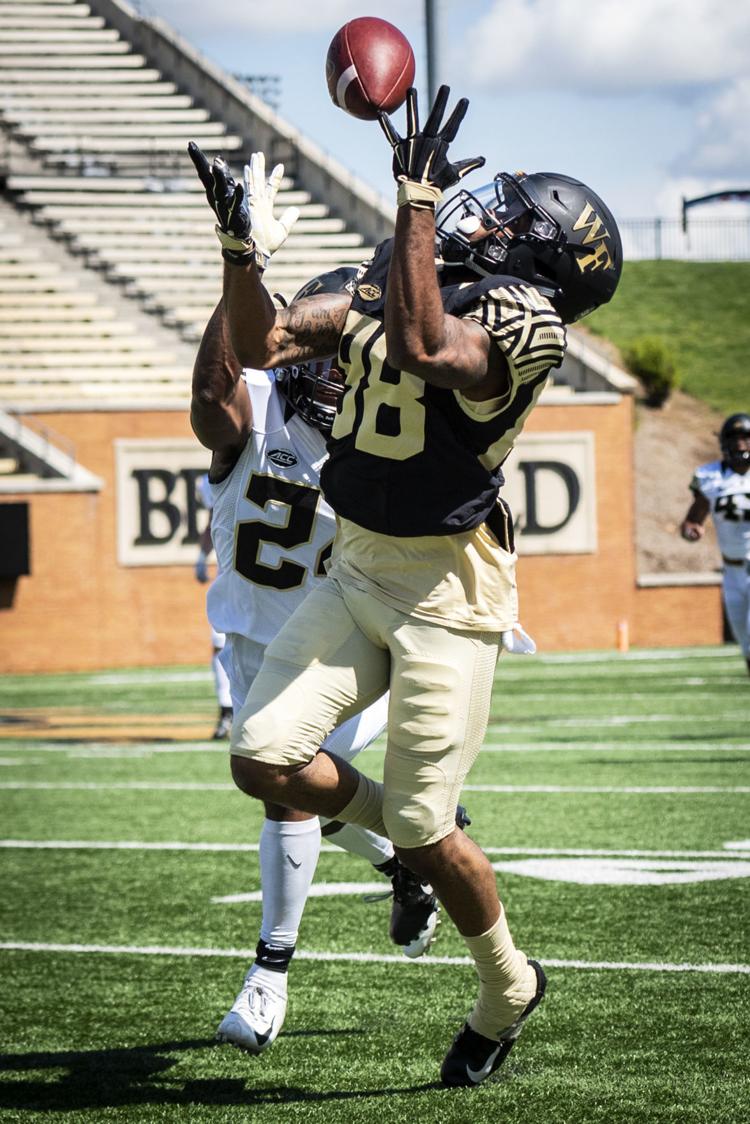 Leaving and returning
If he had to do it all over again, Claude would still leave Wake Forest in 2017 — despite it putting him back at ground zero in his football career for the Deacons.
It didn't sit right with Dixson, though.
"He was sad, he didn't like it," she said. "And I didn't want him to be unhappy. I would prefer him to not being there with me and being happy than to be there with me and not, you know, feel comfortable in his surroundings."
And Claude wanted to return to the team. He just couldn't tell his mom that — though she eventually wore him down and convinced to come back.
"When I got there, she knew that I missed Wake. I missed my teammates and my coaches and my friends here, I missed playing football there. The culture at Savannah State just wasn't for me," Claude said. "… I just went there, and it was just a big shift. Yes, I was dealing with it because I knew I was home for a greater purpose, but … I just couldn't do it."
Dixson convinced Claude to return to Wake Forest. That wasn't going to be easy; Wake Forest gave away his scholarship because he had been sure he was leaving.
There wasn't a spot for him with the Deacons, and it was too late in the process to join a team that had gone through spring practices, summer workouts and was into fall camp.
Claude was working out with Savannah State's football team, and a turning point came quickly.
"One day I just had enough. It was like a morning workout, and I guess three or four other players were there for the morning workout. Like, the rest of the team was like — skip it," Claude said.
"I just had enough, so I was like — I called up Coach Clawson and I was just like, 'Coach, I can't do it, I want to come back.' … Coach Clawson was like, 'I understand, but that scholarship is gone.' So I was devastated."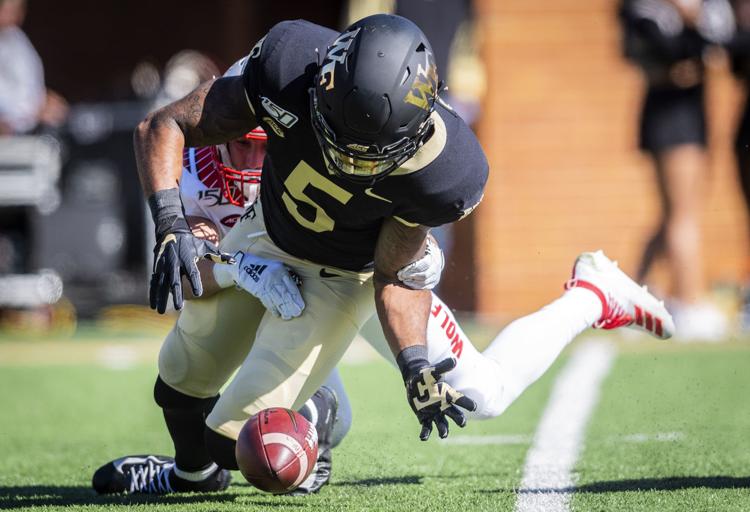 Though it might have felt like it then, the door wasn't closed for Claude just yet.
"He left because his mother was sick," Clawson said. "… And we didn't have a scholarship. I said, 'Steven, I'd love to have you back. The second we get one,' and we got one. 'Would you like to come back?'
"I think he appreciated Wake Forest more after he came back than he probably did before he left."
Dionte Austin, a cornerback and close friend of Claude's, decided to transfer during fall camp in 2017. It opened a scholarship and led to the phone call Claude didn't know he would get.
Once Claude rejoined Wake Forest about one week before the 2017 season started, it brought forth a new set of challenges.
Claude had missed seven months, a crucial time for receivers and quarterbacks to develop chemistry. And despite Claude working out and staying in shape while he was away, he came back to Wake Forest weighing in at about 206 pounds — he left at about 193.
"I was back, I was heavier," he said. "Because I was working out and I was running and stuff, so I wasn't conditioned like (strength and conditioning coach Brandon Hourigan) has us conditioned. I was heavier, so coming back — I was like, 'Wow, I need to get back into shape and stuff.'"
Claude caught one pass that season, a 13-yarder in a rout of Utah State. His impact on the field came on special teams, and his impact in the locker room and receivers' meeting room was made mentoring teammates based on his life experience.
"I felt great, like I had an impact during that season," Claude said. "It was a lot to get pumped up and go out and do those things because in the back of your head, you're like, 'Man, I wish I was playing and stuff.'
"But at the end of the day … I had in my mind, 'Yo, on these units, make an impact wherever you can.'"
His impact on special teams came as no surprise to Higgins, his position coach.
"Steve is a quintessential team player. He's going to do whatever we need to be successful, he's worked extremely hard with Atorian Perry, just being a big brother, if you will, to him, helping him find his way," Higgins said.
There's still time
Dixson knew Claude needed to go back to Wake Forest, he needed to be with the Deacons.
Now the Deacons need Claude.
Claude had seven catches in his first three seasons at Wake Forest, and then opened this season with six catches for 70 yards against Utah State.
But he's had only five catches since then, three of which came in the blowout of Elon. Claude's promising first game faded from focus with the stellar seasons of Sage Surratt and Scotty Washington on the outside, and then Hinton in the slot once he was healthy.
With Surratt out for the season and Washington missing the last two games, the Deacons are in desperate need of a playmaker or two on the outside.
"When those guys went down, we kinda hoped that he'd be the stable, consistent one …" Clawson said of Claude. "He's assignment-wise and all that, he's good. It'd just be great to see him make a few more plays."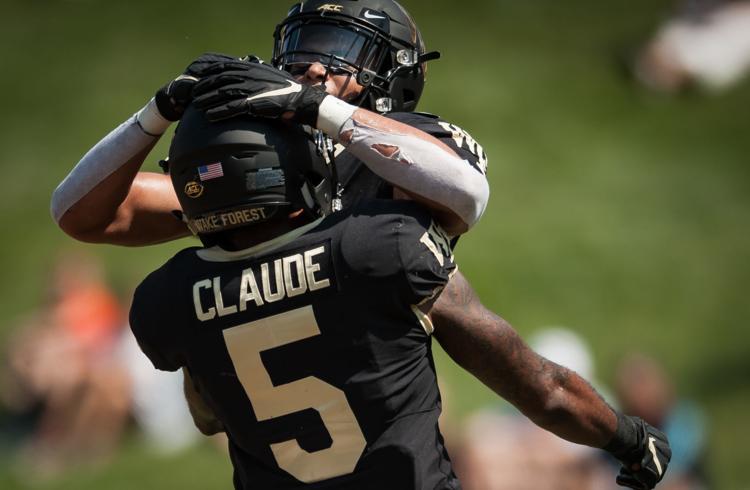 Claude knows that's the case, too.
"I still feel like I have more to prove, more I can give to the team and stuff," he said. "And I feel like there are still plays out there on the field to make, and I'm gonna do my best to make them." 
Claude will be joined on the field for Senior Day festivities by four of the people he credits with keeping him on course — mom, dad, stepmom, stepdad.
"Although you see the struggles they go through, you see all this and you offer to help, they're like, 'No, we're the parents, we've got it. Go do what you've gotta do on the field and in the classroom and we'll handle the rest,'" Claude said.
He was able to break through and help when he went to Savannah and was cutting grass. The past two-plus years have been about a return to focusing on football and school.
Claude will graduate in December with a degree in communications. His NFL aspirations are apparent and he'll spend the months between Wake Forest's bowl game and Pro Day training in Winston-Salem and Miami. After football, whenever that time comes, he'll have his degree and a plan. Claude has been working with former Deacon Elontae Bateman, who works in student-athlete development at Wake Forest, and thinks a career in insurance could be the path.
"I feel like me making it to play college football, getting my degree in a couple of weeks, it's like … I feel like I've fulfilled what they've dreamed of from the beginning," he said.
Indeed he has. And there are three games left for Claude to fulfill more dreams.
He's Lucky.