Leftover notes from Wake Forest's time at the ACC Kickoff. Getting better on defense, facing UNC and playing on Fridays.
The annual ACC Kickoff event was last week in Charlotte. Here are a few items leftover from Wake Forest's session July 18 at the Westin Charlotte.
The Deacons open fall camp Aug. 1, and their season opener is Aug. 30 against Utah State at BB&T Field. 
Measuring defensive improvement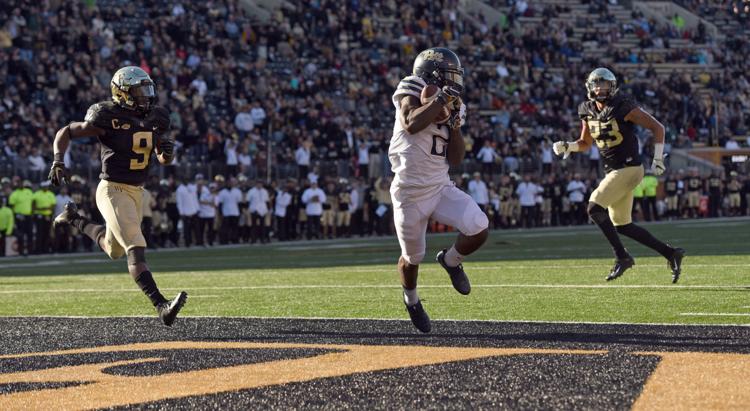 The only team in the ACC that gave up more yards per game last season than Wake Forest was Louisville.
That's why it's not a surprise when Coach Dave Clawson says this of his team's defense: "Improving statistically, that's a low bar. I expect us to be a lot better."
Of course, the story within of the Deacons' defense a year ago comes with two vital notes: Defensive coordinator Jay Sawvel was fired after four games and the unit improved afterward, and the defense was hit hard by injuries that ravaged the entire roster.
Wake Forest is working to decrease the likelihood of such injuries — just as its defense is working to achieve more than statistical improvement this season. Lyle Hemphill was co-defensive coordinator with Dave Cohen in the wake of the change last season, and Hemphill now takes the reins (while Cohen becomes assistant head coach for defense).
"I think just the spring, along with this summer, it's been good to understand more the scheme as opposed to technique," senior linebacker Justin Strnad said last week at ACC media day. "We've thrown in some change-ups, some calls that I think are going to help us, big situations this year on third down, stuff like that.
"I think overall as a defense, I like the way we're heading into this season."
Playing the Tar Heels (finally)
Wake Forest and North Carolina won't play an ACC game against each other until 2022 — meaning a senior like Cade Carney would need to redshirt for the next three seasons to play a game against the Tar Heels that counts in the ACC standings.
So at least Carney, who's from Advance, won't go his entire Deacons career without playing North Carolina, which visits BB&T Field on Sept. 13 for a nonconference game.
"I'll play Carolina tomorrow in the backyard just to play them. … Conference, not, I don't care. … It's a rival, we both get excited to play this game and like I said, I'd play them even if it didn't even go on the record," Carney said.
Carney's class arrived at Wake Forest a year after the Deacons and Tar Heels last met — a 50-14 win for North Carolina in the middle of the Tar Heels' 11-win season in 2015.
"We played Carolina when they had a good season before I got to Wake, and it would've stunk not to play them because I want to be able to say — I want to be able to say that I beat Carolina, and that's the plan," Carney said. "But it's fun to be able to play them. When you talk to people in the area, they want to know if you played Carolina or how that went."
Wake Forest and North Carolina will play nonconference games this season and again in 2021, which will be in Chapel Hill.
"Our kids want to play Carolina, our fan base wants to watch Carolina. We did this because that's an important game to our fans, to our players and to our program," Clawson said. "We're not going to do it every year, but if we can just schedule that game every so often so we play them more often than once every six (years) and host them once every 12, I think it's worth doing."
Friday night lights for the Deacons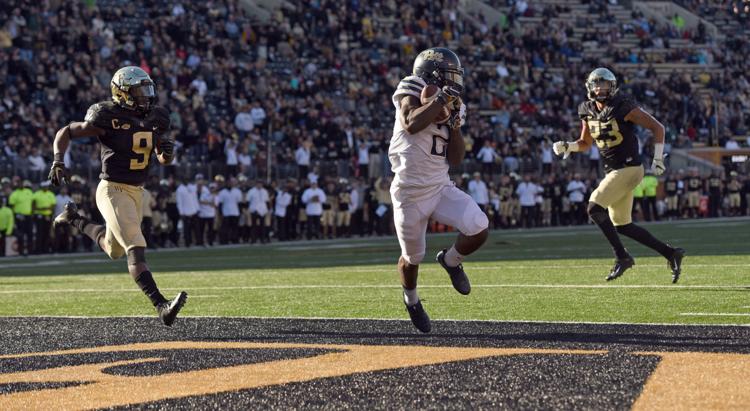 Playing the schedule of a high school team — meaning day of the week, not the level of competition — won't require much of an adjustment for Wake Forest's players this season.
After all, opening with three straight games on Friday nights is certainly better than playing a Thursday night game after playing on the previous Saturday — which the Deacons did twice last year.
"It's going to be easy for us to get in the rhythm, I'm not worried about that at all," Carney said. "We start with a Friday night game, we cut camp one day and we get into game week a day earlier. It's going to feel like a regular schedule for us and then the day after it's going to be nice, from a players' standpoint."
But Carney's parents aren't as happy. Carney's younger brother, Tate, is a rising sophomore at Davie County.
"My parents are not happy about it. They (have) to choose whether they go watch Tate play or watch me play, and they're not happy for three weeks in a row," Cade Carney said.