Five things to watch this week with Wake Forest baseball in the ACC Tournament
It's all unraveled to the all-too-familiar cliché of college athletics for Wake Forest's baseball team: Win or go home.
Just how many wins the Deacons need in Durham this week at the ACC Tournament depends on who is asked, but four wins would give Wake Forest a league title and an automatic bid to the NCAA Tournament — putting to rest any concern about moving off the bubble.
Wake Forest enters the ACC Tournament at 57th in the RPI, having dropped as low as 61st this past weekend after losing the first two games at Clemson. A 14-5 win in Saturday's series finale at least gives the Deacons some momentum as they head to Durham.
Here are five things to watch for the Deacons this week at Durham Bulls Athletic Park:
1. Colin Peluse and who else?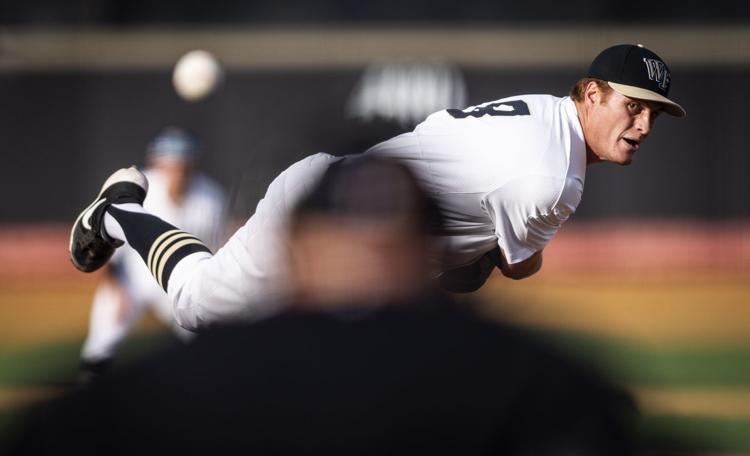 Peluse, the junior right-hander, will start Tuesday's game against Florida State. He's 3-8 this season with an ERA of 5.52 — which is the best ERA of any pitcher who's started multiple games for the Deacons this season.
Peluse gave Wake Forest a chance to win in his last start, going six innings and allowing four hits and four runs in Thursday night's 4-3 loss at Clemson.
Because the Deacons need to win both pool games to advance to the semifinals, it's likely to be an as-needed effort for pitchers after Peluse starts Tuesday's game. Morgan McSweeney and Jared Shuster could be used in relief, and Wake Forest won't commit to naming a starter for Thursday night's game until Wednesday.
2. Keep hitting
Wake Forest's 14-run performance in the finale against Clemson is the latest in a season full of gaudy run totals. It was the 15th time this season Wake Forest has scored double-digit runs, and the Deacons have won all of those games — accounting for half of their total wins this season (30).
Wake Forest is ninth in the country in runs scored, with 435, and trails only Louisville (441) in the ACC.
3. Friendly confines
Almost two months ago, Wake Forest won two of three games at Durham Bulls Athletic Park against Duke, both coming in dramatic fashion.
The Deacons won the middle game of the series 9-8 after facing three multi-run deficits. And then the
4. Rest of the bubble
Wake Forest controls its destiny as long as it's alive in the ACC Tournament, but a few other teams in Durham this week are also fighting for at-large bids to the NCAA Tournament.
Clemson helped itself by winning two of three against the Deacons last week, and the Tigers are in a pod with top-seeded Louisville and last-seeded Boston College. Duke is in a pod with Georgia Tech, the No. 2 seed, and 11th-seeded Notre Dame. Virginia is in a pod with No. 4 Miami and No. 5 North Carolina.
5. RBI watch
Wake Forest sophomore first baseman and cleanup hitter Bobby Seymour drove in 10 runs at Clemson, bringing his season total to 92 RBIs. He's driven in at least one run in the last eight games, and has 20 RBIs in that span.
The 92 RBIs are most in Division I baseball since Buster Posey drove in 93 in 2008 — which was before the shift to BBCOR bats.
Seymour is two RBIs away from tying the program record for most in a season, set by Jon Palmieri in 1999. It might take Wake Forest reaching the weekend, but Seymour is also within reach of recording the fifth triple-digit RBI season in ACC history — all of those came between 1994 and 1999, by Florida State's Jeremy Morris, Marshall McDougall and J.D. Drew and Georgia Tech's Jay Payton.