Deacons Notes: New center Zach Tom holds vital key to Wake Forest's offensive success
During the grind of Wake Forest's fall camp, center Zach Tom carved out the time to watch film from his first season with the Deacons.
Tom, now a redshirt sophomore and entering his first season as a starter, didn't recognize himself.
"It didn't look good," Tom said with a laugh. "To see where I was then and see where I am now, yeah, it's getting better every practice and stuff, and I think I've improved a lot."
Tom's growth can be part of the bigger picture with Wake Forest as a developmental program as it tries to climb the ladder in the ACC.
But in specific terms, Tom's growth is paramount to Wake Forest's offensive line maintaining a standard set over the past few seasons.
The 6-4, 290-pounder from Prairieville, La., is taking over at center for Ryan Anderson after spending the last two years learning from him. Wake Forest's offensive success and speed is closely tied to the center's ability to identify coverages and blitzes, and that means Tom — with one start and 326 snaps in his career — is tasked with stepping into one of the most important roles for the Deacons' offense.
"I feel like I'm getting better at seeing the whole field, instead of just seeing the guy I'm trying to block," Tom said. "Part of what Ryan taught me is seeing what the defense is doing, and that'll give you a tip like what the D-line will do.
"Gradually I've gotten better at just … letting the defense talk to me."
Radio show hits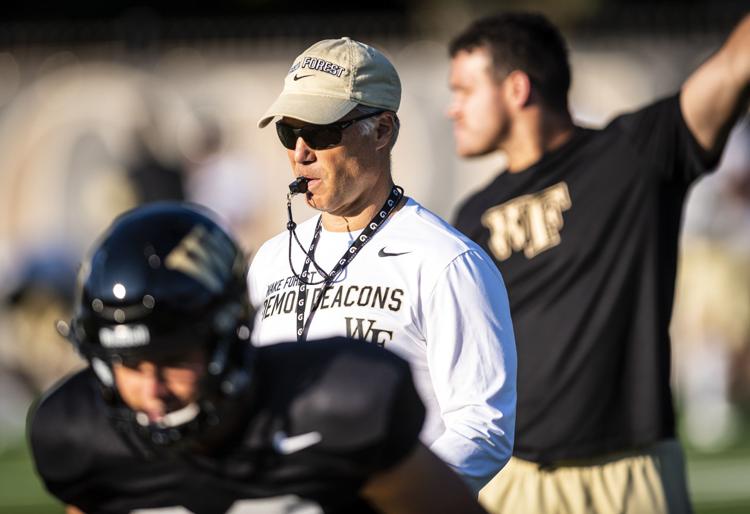 Coach Dave Clawson's first of 14 radio shows hosted by Stan Cotten was last week, and he touched on a few things that weren't covered in the midst of fall camp ending last week. They were:
• Clawson said that, after naming Jamie Newman the starting quarterback for the Utah State game, that "maturity and team-first mentality of Sam (Hartman) was mind-blowing."
• The facilities, with the new Sutton Sports Performance Center, have made this the first time that Clawson and his staff feel like Wake Forest is a Power 5 program.
• Clawson didn't like where the program stood last summer, pointing out a stagnation that had come with seven wins in 2016 and eight in 2017. He's much more encouraged now, and that's reflected in how many more younger players are in line to hold key roles entering the season.
• Wake Forest "probably" will redshirt Nolan Groulx, a freshman receiver and one of two four-star recruits in this class — along with Donavon Greene of Mount Airy High School. Greene, Clawson said, "may end up playing this year."
• Michael Jurgens, a redshirt freshman, is the only freshman offensive lineman who appears in the depth chart. The Deacons' full depth chart will be revealed Tuesday.
• Clawson was asked to name one player the fan base might not be familiar with, but will need to know: His answer was Luke Masterson, a redshirt junior safety who had 52 tackles last season. Masterson seems certain to be the starter in the new rover position, which will essentially be a third safety in Lyle Hemphill's defense.
Aggies intel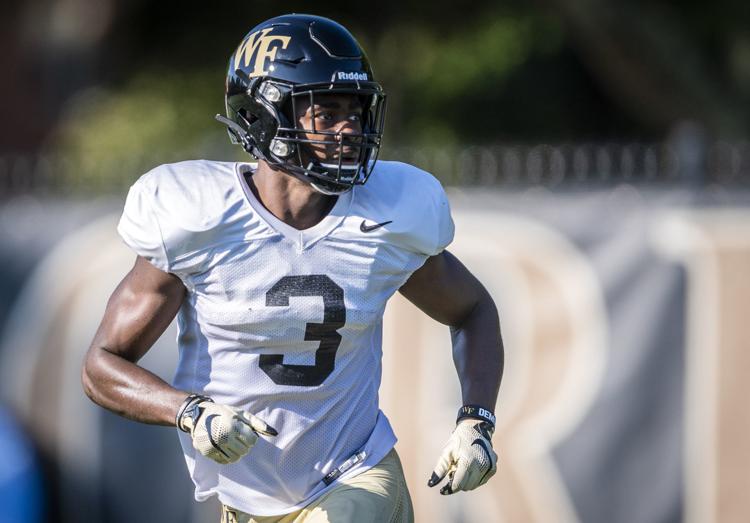 Wake Forest is now deep into preparation for Utah State, having ended fall camp last week and started game-specific practices Thursday.
Before the game-planning started to form, though, sophomore safety Nasir Greer knew the one essential thing about Utah State.
"Jordan Love," he said.
Love is Utah State's quarterback, one of only two returning starters for an offense that was second in the country with 47.5 points per game last season. The junior completed 64% of his passes (267-for-417) for 3,567 yards and 32 touchdowns last season, with six interceptions, and added seven rushing scores.
Utah State's visit to Winston-Salem also will bring Love full circle in a way. When the Aggies came to BB&T Field in 2017, the then-freshman Love replaced starter Kent Myers in the third quarter of the Deacons' 46-10 win. Love threw a 77-yard touchdown pass on his first series.