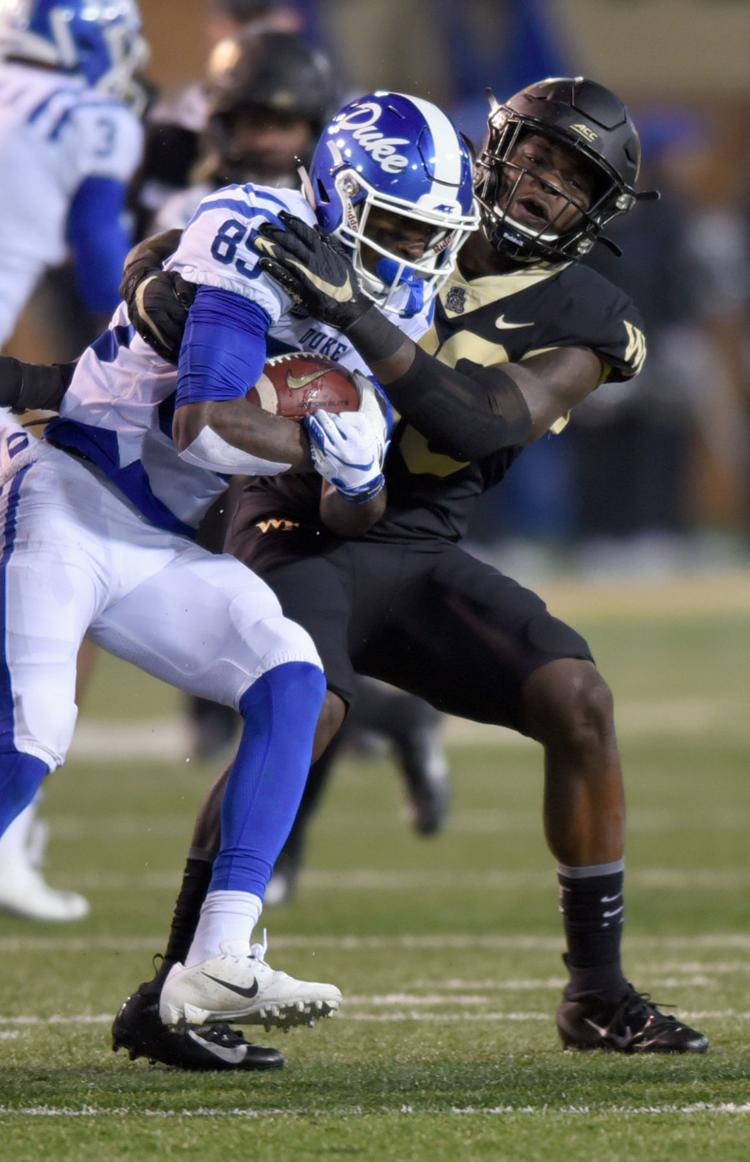 Wake Forest allowing two kickoff returns for touchdowns against Duke was "embarrassing," Coach Dave Clawson said Tuesday.
He also took ownership for the gaffes in what was otherwise a dominant performance.
Clawson said it was his decision to put too many inexperienced players on the coverage units, which led to the breakdowns.
"I wanted to get some guys involved that I thought were ready and I wanted to rest some of our defensive starters that I thought were playing too many snaps," Clawson said, "and there's a fine balance of getting those guys involved in special teams and taking it a step too far. …
"That is not our special teams coordinator's fault, that is not the fault of the coach who handles the kickoff team. Those personnel decisions were my decisions."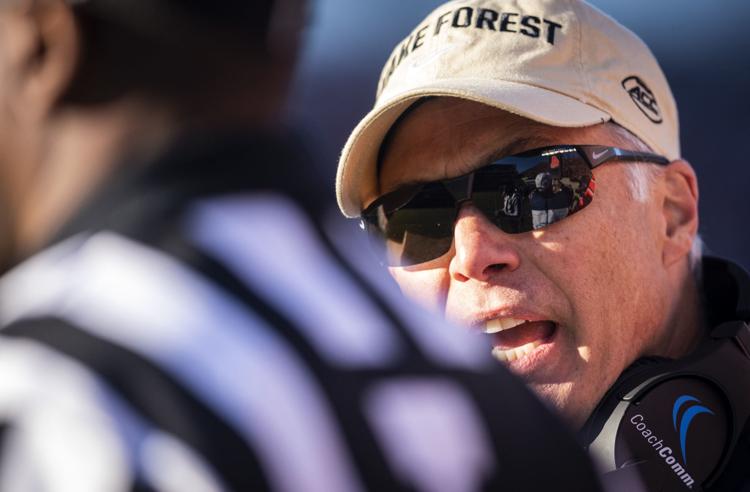 Wake Forest outgained Duke 618-290, doubled-up the Blue Devils in first downs (26-13), won the turnover battle 3-0 and held an outstanding advantage in third-down conversions — the Deacons converted 10 of 21 third downs and held Duke to a 1-for-11 clip.
And yet, there was Duke leading 27-26 in the fourth quarter after Damond Philyaw-Johnson's second kickoff return for a touchdown.
"To dominate the statistics the way that we did and to still be down one point in the fourth quarter because you can't cover kicks … I have to take responsibility for that," Clawson said.
It wasn't the first time the Deacons were gashed on kickoffs. Louisville scored a touchdown on one kickoff return and brought another back to the 15-yard line, scoring on the first play of the second half.
This time, the Deacons are addressing special teams blunders after a win instead of the loss to Louisville — but that doesn't mean film review was all that palatable Sunday.
"When you go in and watch film, you're like, 'Man, it looks like we didn't even try. It looks like we just sat there and got blocked,'" sophomore linebacker Ryan Smenda Jr. said. "And that's probably what it looks like to you guys, but yeah, we've just gotta get off blocks and win.
"That's the big thing, you see your block coming, win your block and just go make the play."
Sophomore safety Nasir Greer was also on the kickoff unit; he said the same thing of winning blocks.
He added a hint at the personnel issues, saying that the Deacons need players on the coverage unit willing to make plays instead of waiting on teammates to do so.
"We've just gotta get some guys that want to run down the field and make plays. We can't have people run down the field waiting for somebody else to make a play," Greer said. "That's really the bottom line. Everybody that runs down on the field has to have the mindset that they're going to make the play."
Injuries affect everything, and special teams units aren't exempt. Luke Masterson and Justin Strnad were lost in consecutive weeks, and then DeAndre' Delaney sustained an injury at Virginia Tech — those were three key members of the coverage unit.
Now the task becomes fixing the issue, which won't be easy against Syracuse.
"I think every year Syracuse is one of the best-coached special teams units that we face," Clawson said.
And it's not like they're oblivious to the success Duke had against Wake Forest.
"Oh, I'm sure they're salivating. I'm sure, if we would ever kick the ball a yard into the end zone or even 10 yards deep, they're probably telling their guy, 'Listen, find where your back foot is, go backwards and against these guys, return every one,' no matter where you kick it," Clawson said. "I mean, they're really good on their return units.
"They made a change in their kick returner, they're playing the young freshman running back (Jawhar Jordan) and their kickoff return game against Louisville (last week) looked great."
The Deacons would obviously prefer that to not be the case this week, which means fixing what's been a flaw. 
"Kickoff basically is like a man-to-man scenario, there's a double-team here and there, but other than that we've just gotta get off blocks and make plays," Smenda said. "That's the end of that."