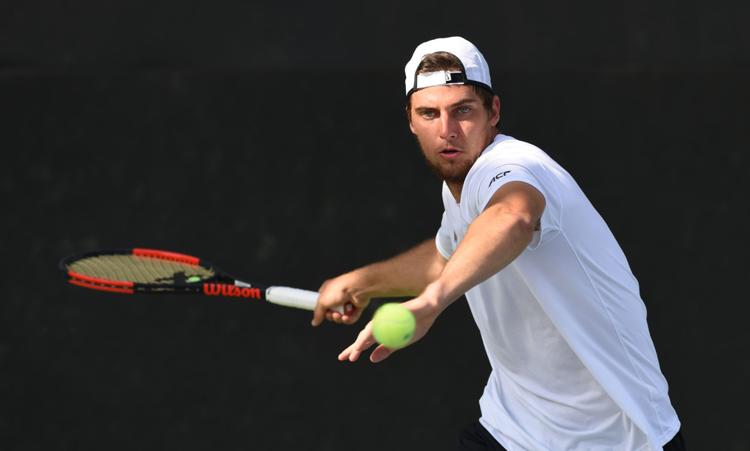 Wake Forest is one win away from extending its reign as the top men's tennis team in the NCAA.
The No. 4 Deacons won 4-3 against the No. 9 North Carolina Tar Heels on Saturday in the national semifinal of the NCAA Men's Tennis Championship, which is being played in Orlando, Fla. Wake Forest (34-3) will play No. 2 Texas at 3 p.m. Sunday in the championship match. The Longhorns (28-3) defeated the No. 3 Florida Gators 4-2 in the first semifinal match.
Coach Tony Bresky of Wake Forest said the Deacons' plan for Saturday night was all business — ice baths, dinner, rest and a little scouting. 
"Obviously Texas is having a great tournament, a great season," Bresky said. "We haven't played them this year. The only time we saw them was at National Indoors. I know they have a bunch of really good players."
The semifinal between the Deacons and Tar Heels came down to the No. 1 singles match between Wake Forest's Borna Gojo and North Carolina's William Blumberg. The two juniors split the first two sets, and both players broke their opponent's serve in the first two games of the third.
The fifth and sixth games of the third set were the turning point for Gojo. After being down 15-40 in the fifth game, he battled back and held serve to take a 3-2 lead against Blumberg. Gojo then broke Blumberg's serve in the sixth game to take a 4-2 lead.
He won two of the next three games to clinch his victory in singles and send the Deacons to the championship match.
With the 4-6, 6-2, 6-3 victory, Gojo improved to 3-0 this season in matches against Blumberg.
"It's always been a tough match, it's always three sets," Gojo said. "I know he's a great player. It's always about giving it my all out there and that's what I did today. Sometimes it turns your side, sometimes it doesn't. But I'm happy it was my side today."
An overhand winner from freshman Siddhant Banthia, playing at No. 6 singles, clinched a 6-4, 6-3 victory in that match and put Wake Forest, which is ranked No. 3 in the country, one point away from a berth in the national championship match.
Wake Forest freshman Melios Efstathiou lost 6-2, 6-3 against North Carolina senior Blaine Boyden in the No. 5 singles match. Efstathiou's loss tied the Deacons and Tar Heels at 3 points apiece and put the onus on Gojo and Blumberg.
The Tar Heels won the doubles point against the Deacons on Saturday — the 13th time this season Wake Forest failed to earn the doubles point. Saturday's match marked the 12th time this season Wake Forest won the overall match after losing the singles point.