The ACC's next two men's basketball tournaments are booked: Washington in 2021 and Brooklyn in 2022. Charlotte is back in the rotation as perhaps the state's trendiest location, and other cities that have hosted the tournament before would love to be involved again.
But one thing is certain: Other cities would like to get in on the action whenever the league announces sites beyond the next two. Besides previous hosts, Pittsburgh would like to have its chance.
"Pittsburgh has expressed interest in hosting the ACC men's basketball championship since it was announced the University of Pittsburgh would join the conference," said Jennifer Hawkins, executive director of SportsPITTSBURGH, which handles sports developments and tourism for the city. "With the success of the athletics programs and the leadership of director of athletics Heather Lyke, it's not a surprise the University of Pittsburgh is a player in the conversation.
"And, with the quality of events hosted at PPG Paints Arena, centered in a walkable metro area, Pittsburgh is a great option to provide a new experience to the teams, sponsors and fans of ACC men's basketball."
Furthermore, why not consider Boston and TD Garden? Once upon a time in 2010, the conference was going to take its baseball tournament to Fenway Park before fiscal practicality brought it back to Greensboro.
According to Stephanie Pappas, director of international meetings and sports sales for the Greater Boston Convention and Visitors Bureau, it doesn't appear likely, even with a member school in town.
"There have not been any recent discussions involving the CVB to host a future ACC Men's Basketball Tournament," Pappas said.
Whether the league will continue to test new markets or return to familiar places, here's a look at nine cities that will that have the ACC's attention:
Greensboro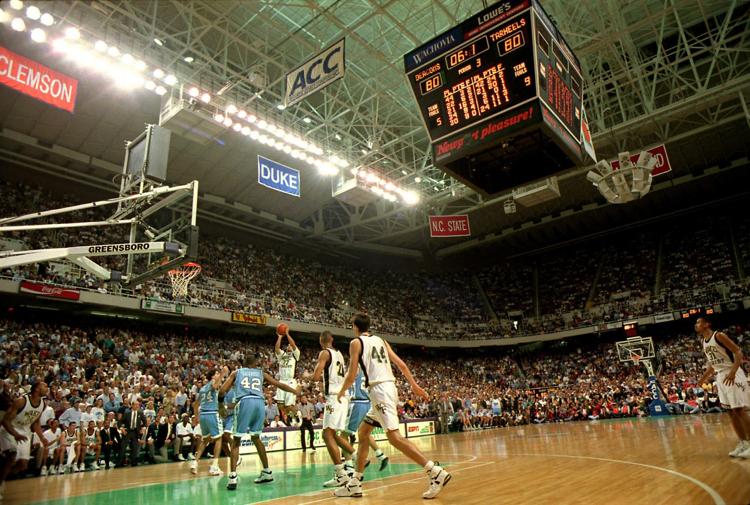 Quick facts
Population 287,019 | Established in 1808
Venue
Greensboro Coliseum (22,000 capacity)
ACC hosting history
This season's tournament will be Greensboro's 28th but the first since 2015, which capped a run of three straight and five of six.
Fun fact
The tournament's first Greensboro appearance happened in 1967, where North Carolina beat Duke 82-73 in the final. Larry Miller, a two-time ACC player of the year, earned tournament MVP.
Case for
The nostalgic roots, as well are the ACC's headquarters, are still in the Gate City. The tournament and Greensboro are a natural pair, like Stamey's dip on some chopped pork.
Case against
As the ACC has pursued a nationwide presence, the interest in taking the event to larger cities has grown. The draw to places with more attractions is hard for the ACC and its schools to avoid.
Washington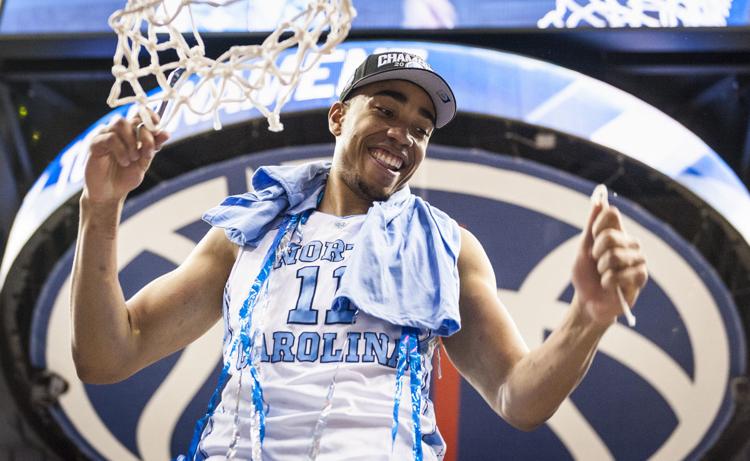 Quick facts
Population 702,455 | Established in 1790
Venue
Capital One Arena (20,000)
ACC hosting history
The D.C. area has hosted the tourney five times, the first three coming at the now-defunct Capital Centre in Landover, Md. The ACC will return to Washington in 2021.
Fun fact
Virginia notched its first ACC tourney title in Landover in 1976. It took almost 40 years for the Cavaliers to win their next one, in 2014 in Greensboro. But the last decade has been pretty good to them – two ACC titles and a 2019 national title – so they're doing just fine.
Case for
This site caters to the more northern schools – Virginia, Boston College, Pittsburgh, Syracuse and Virginia Tech – and in the end, it's the nation's capital.
Case against
A tourney in D.C. pokes at the wound still healing from Maryland's departure from the ACC in 2014.
Brooklyn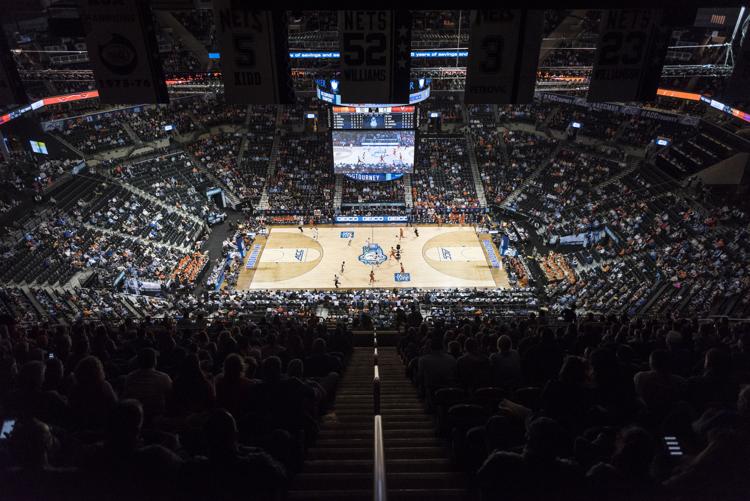 Quick facts
Population 2,582,830 | Settled in the 17th century, officially established in 1898
Venue
Barclays Center (17,732)
ACC hosting history
2017 and 2018, and the tournament is going back in 2022.
Fun fact
The Barclays Center is home to the Brooklyn Nets, a team that has a few ACC connections. Duke's Kyrie Irving, UNC's Theo Pinson and Virginia's Joe Harris play for the franchise.
Case for
It's New York!
Case against
It's New York, which has swallowed up both the ACC Tournament and the NFL Draft in the last few years.
Charlotte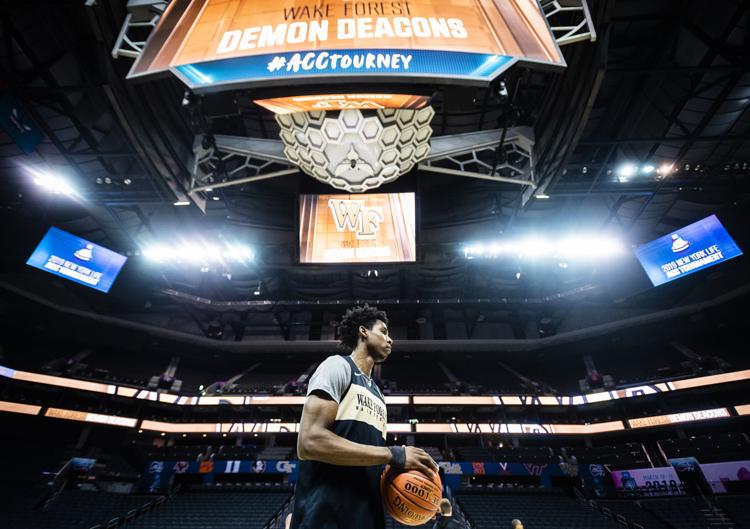 Quick facts
Population 872,498 | Established in 1768
Venue
Spectrum Center (17,000)
ACC hosting history
Charlotte has 13 times, the last two (2008 and 2019) at the Spectrum Center.
Fun fact
The Spectrum Center's event calendar in 2019 included not only the ACC Tournament but Cher, Elton John and Fleetwood Mac, among others.
Case for
Charlotte's got a lot, including a sweet ESPN hub and an airport that connects easily to the country's significant cities. It's also a good mixture of bigger-city feel while shining a spotlight on the tournament.
Case against
The more the tournament starts popping up in Charlotte, the less Greensboro's foothold becomes. The appeal of upgrading to the new trendy model is real.
Atlanta
Quick facts
Population 498,044| Established in 1847
Venue
State Farm Arena (16,000)
ACC hosting history
Six times, with State Farm Arena (formerly Philips Arena) hosting the last one in 2012.
Fun fact
Of the six MVPS in the Atlanta-based installments of the tourney, former became coaches: Former N.C. State coach and current Detroit Pistons assistant Sidney Lowe (1983, N.C. State), former Charlotte coach Mark Price (1985, Georgia Tech), current Monmouth assistant J.R. Reid (1989, UNC) and current Duke assistant Jon Scheyer (2009, Duke).
Case for
A major city in ACC country provides one of the best surroundings for the tournament.
Case against
The tournament is merely a blip in a city with so much going on.
Tampa
Quick facts
Population 392,890 | Established in 1849
Venue
Amalie Arena (20,500)
ACC hosting history
The ACC Tournament has been to Tampa once, in 2007.
Fun fact
2007 featured a near-magical run by No. 10 seed N.C. State. The Wolfpack entered the bracket with a 15-14 record and nearly pulled off an NCAA Tournament bid. State won three games – against Duke, Virginia and Virginia Tech – before losing to North Carolina in the finals.
Case for
A nice and warm place to visit while North Carolina and some of the other northern states are still battling the cold.
Case against
Unless Florida State and Miami are both playing well, poor attendance could be an issue.
Manhattan
Quick facts
Population 1,628,701 | Settled in the 17th century, officially established in 1898
Venue
Madison Square Garden (19,812)
ACC hosting history
None
Fun fact
There have been 40 Big East Tournaments, and MSG has hosted the last 37.
Case for
Getting to Brooklyn was a big step. But getting into The Garden? That's a different level of relevance for a mostly southern conference.
Case against
To get into MSG, the ACC would have to play second fiddle to the Big East tournament. And that just doesn't fly if you're trying to be the premier basketball conference in America.
Pittsburgh
Quick facts
Population 301,048 | Established in 1758
Venue
PPG Paints Arena (19,100)
ACC hosting history
None
Fun fact
Two big ACC figures called Pittsburgh their hometown: Former Wake Forest coach Skip Prosser and former Duke coach Eddie Cameron. The Blue Devils' home venue is named in Cameron's honor.
Case for
A new city for the tourney to dip its toe in, near three rivers, in fact.
Case against
The ACC would shoehorn its tournament into the middle of the NHL Penguins' playoff push, a logistical problem to figure out.
Raleigh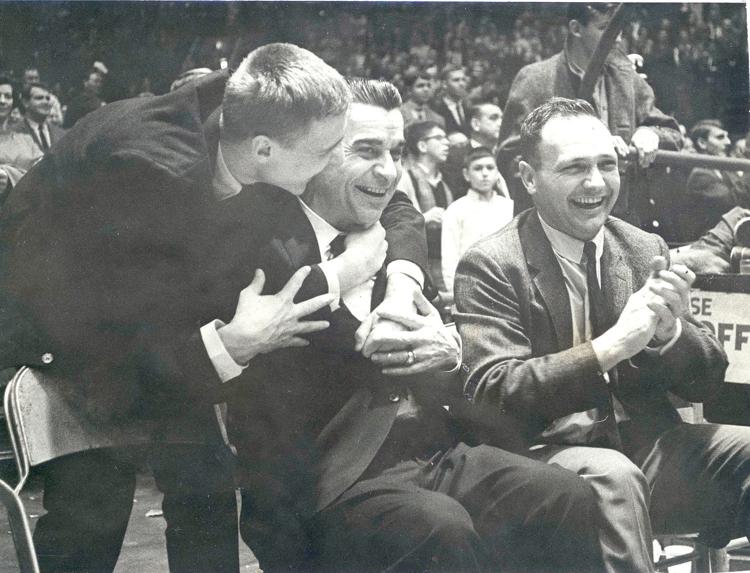 Quick facts
Population 469,298 | Established in 1792
Venues
Valvano Arena at Reynolds Coliseum (5,500) and PNC Arena (19,700)
ACC hosting history
Reynolds Coliseum hosted the first 13 ACC tournaments.
Fun fact
Reynolds, which opened in 1949, once was home to 12,400 seats.
Case for
Luke DeCock of the (Raleigh) News & Observer made the case a couple years ago for a return home to Reynolds to host the tournament's Tuesday games on the 75th anniversary in 2028. The remainder of the games would be in PNC Arena.
Case against
ACC head coaches' heads might pop off if they had to play in an arena that is home to one of the teams.