Updates time elements on March 10:
GREENSBORO — We live in a college town, in the heart of a state crazy for college sports, a place where college basketball is king.
Now, after five years away, the ACC Men's Basketball Tournament is home at the Greensboro Coliseum for a record 27th time.
And the Coliseum is playing up its college ties.
"We will spend more money, time and effort this year to promote this concept that we are proud of being a college-atmosphere venue," Coliseum managing director Matt Brown says. "We are not D.C. in an NBA arena. We are not Brooklyn in an NBA arena. And even though we have some shared history, we're not Charlotte in an NBA arena. We're the only ones who have a college atmosphere."
Greensboro is different.
And different, Brown says, is good.
The competition
The last time the tournament was in Greensboro, the Coliseum was wrapping up a run of hosting the ACC's marquee event five times in six years.
Those days are gone. The league that grew up here has expanded, and it took its show on the road the last four years to downtown NBA venues.
The next two years, the tournament will go back to Capital One Arena in Washington and Barclays Center in Brooklyn.
"We like to say that we're in the big-event business," Brooklyn's Keith Sheldon says. "Any time you can look around the world and see that you have one of biggest, if not the biggest, events going on in a particular day, it's mission accomplished for us. And certainly the ACC Tournament fits that bill."
Sheldon is the executive vice president of programming & development for BSE (Brooklyn Sports & Entertainment) Global. His title is a mouthful, but his job is straightforward: Get events in Barclays Center.
The venue is home to the NBA's New York Nets and WNBA's New York Liberty. BSE Global also runs the NBA G-League's Long Island Nets, and Barclays Center hosts around 40 college games per year.
"Basketball is really at the core of what we do," Sheldon says. "…We're well versed in hosting quality basketball games. But when it comes to an ACC Tournament, the amount of media is truly astounding. What ultimately ends up happening is the venue gets set up a little bit differently to accommodate all these folks who are coming in from all different areas. We create a home base for media, create great activities so fans can enjoy the experience. At the end of the day, something like the ACC Tournament is a destination event."
That's true in Washington, too. Dave Touhey, president of venues for Monumental Sports Group, oversees Capital One Arena.
Touhey's building is home to the NBA's Washington Wizards and the NHL's Washington Capitals, as well as the Georgetown Hoyas of the Big East.
"It's obviously a lot of planning when you're putting on a week-long tournament," Touhey says. "The folks at the ACC are pros, and that makes the process a little easier. Look, we do 200 events a year here in D.C., so we have good systems in place in our building. …
"I'll be honest: There are no minuses for us. Some of our teams might not like having to be on the road for a week, but the fact is pro teams play as many road games as home games anyway. When we do a tournament, it just tells them when some of their road trips are going to happen. But that's the same with Disney On Ice or any other event."
Off the court
The venues in Washington and Brooklyn are modern NBA arenas.
But the buildings are only part of the draw.
Back in 2015, the last time the tournament was in Greensboro, the ACC moved its semifinals to Friday night and its championship game Saturday night. It got the title game away from Selection Sunday and put it in prime time for TV.
That shift also created daylight down time for its fans.
"The ACC brings a lot of people to D.C. who travel in for it," Touhey says. "It does great for the city simply because it's March Madness, and to be a part of March Madness and part of that narrative is good for the city. And it's good for the attendees, who get to see the city. March is a nice time of year in D.C. and all that D.C. has to offer. Capital One Arena is right downtown. The hotels are walkable. The monuments are walkable. The museums are walkable. Everything is right at your fingertips. …
"We sit right on top of a Metro station, so it's very easy for folks to get around. It's easy to travel into the city. There are three airports, so you choose your airline and you can get to Reagan, Dulles or BWI (Baltimore/Washington International). You can take the train; Amtrak comes in from the north and south. There are a lot of travel options."
In Brooklyn, Barclays Center hosted back-to-back years and used lessons from the first year to improve the second, Sheldon says.
"We found out the tournament ultimately sells itself," Sheldon says. "You have some of the best of college basketball descending on one location. So rather than it being strictly about ticket sales, we've learned that what's going to be most critical to creating a successful tournament is making sure that the ACC has a branding presence throughout the New York market and beyond. …
"When we think about that branding presence it's Times Square billboards, it's getting the mascots to appear throughout the city on a double-decker bus, it's subway advertisements, it's appearing on the Jimmy Fallon Show — things that are really unique to New York that elevate the ACC brand and allow the tournament to draft off the benefits of being in Brooklyn and the 'cool factor' of the borough."
Tradition's role
And yet, the Coliseum is cool, too, Brown says.
College cool.
"How else do we differentiate ourselves from D.C., Brooklyn and Charlotte?" Brown says. "All three are NBA arenas in the hub of downtowns. Well, in the blink of an eye you can get downtown from here. But we have the unusual feature of on-site parking that nobody else has.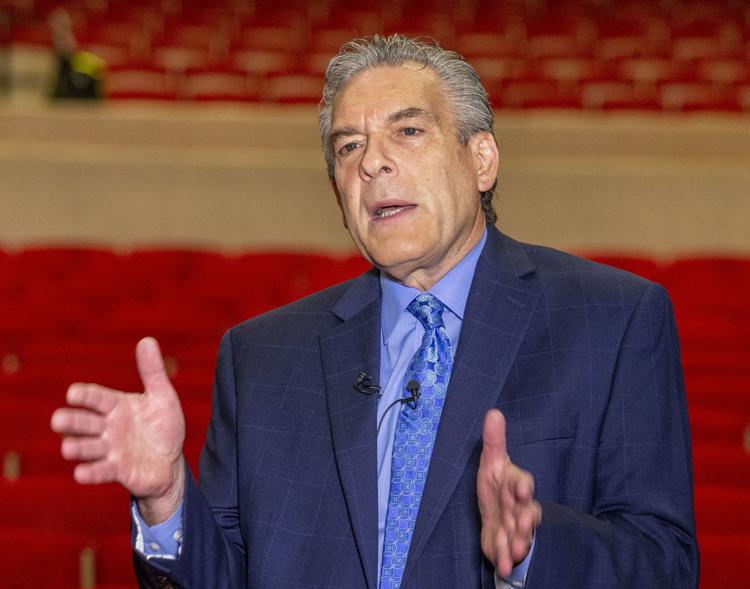 "We're the only ones who can accommodate tailgating, the only ones who can have RVs, the only ones who can create a regional traffic appeal to people. We have fan bases in Virginia, Virginia Tech and Clemson who already love us, and obviously the four local schools. But we want the rest of the footprint that has changed so dramatically in our lifetimes to understand and feel the sense of tradition. Let's respect and appreciate why this affinity exists."
Greensboro's organizers understand tradition alone won't keep the city in play as a future host, Brown says.
With that in mind, the Coliseum has brought back its ACC FanFest at the Special Events Center, and also added a "Tailgate Zone" at the new Piedmont Hall venue on the complex's grounds. That area features food trucks, live music, video boards showing live sports, and — for the first time at an ACC Men's Tournament here, Brown says — alcohol sales.
"As a committee, we went to the Final Four last year," Brown says. "What we saw in Houston was a stage over here and a stage over there. So we picked up on that idea. We're going to do that here, just walk over to Piedmont Hall. And we're also going to go downtown with it, creating activities there to draw people in to enjoy our downtown during the day. …
"We're trying to create a Final Four atmosphere, because that's how much we respect the ACC Tournament. To us, it's our Super Bowl. To us, this is our Final Four."
The goal, Brown says, is to get the tournament back in 2023 or '24. To impress the league's new faces and become part of the regular rotation of host sites.
"Yeah, it is an audition," Brown says. "We're trying to portray ourselves as what we are and showcase who we are: We love the ACC, and we want them to feel welcome here. We're a great collegiate setting, and we're proud of that. Our hospitality is unmatched. … We want them to feel like they're at home with us."