What a path Caleb and Cody Martin took to get to Winston-Salem on Friday night.
The Davie County twins went from Cooleemee to Raleigh to Reno, Nev., and — finally — to Charlotte. The two are now first-year players for the Hornets and in the midst of their first preseason, which brought them even closer to the area where most of their family still resides.
Before the team's game against the Philadelphia 76ers at Joel Coliseum, both talked about the luck they had to get this far together.
"It's funny, I was telling somebody that we lived probably like 12 minutes from here," Cody said. "Where we grew up is probably like 30. It's just crazy to think that, especially for both me and my brother at the same time, and now just experience this."
Added Caleb a few minutes later: "I'd have never thought that it would happen like this. But it's just one of those things that God's just saying, 'Hey, it ain't y'all's time to split yet.' So I mean, I'm just trying to take advantage of the opportunity."
Basketball has never separated the twins.
They played together for Davie before spending their senior season at powerhouse prep program Oak Hill Academy in 2014. They attended N.C. State for their first two college seasons before they transferred to Nevada in 2016. And they braced for the possibility that the NBA would change that.
Cody became a second-round pick during the draft in June. Caleb, however, went undrafted, but it just so happened the Hornets presented the best situation for him. From the moment they signed with the organization on July 31, they've spent almost all their time in Charlotte working with the team. That allowed Caleb to get over initial disappointment about not being picked.
"I think the biggest thing with me, now going through the process, is trying to make myself not dwell on stuff that didn't happen for me — instead of thinking about stuff that didn't happen — think of more stuff that I could make happen, you know what I'm saying?" Caleb said. "Just make the best out of it. People get drafted, and you've still got to prove yourself.
"After the draft, everybody's on the same level, so it's no different. You've just got to come and hoop, and they're going to take the best people that's playing the best."
The biggest thing that's come from their time in Charlotte — something both alluded to on Friday — is the chance to adjust to like playing professional basketball. That includes the chance to travel and see how an NBA team operates on game day.
Both appeared in the Hornets' first preseason game Oct. 6 in Boston against the Celtics. And as Cody has battled a right ankle sprain that's lingered from before the preseason, Caleb has gotten a chance for more playing time. Against the Celtics, he scored 13 points, grabbed four rebounds and had two assists in 24 minutes.
The Hornets are in the midst of a youth injection. Former start point guard Kemba Walker opted to join the Celtics in the offseason, leaving a massive hole in point production for young players to fill. Players like second-year forward Miles Bridges and third-year forward Dwayne Bacon will be two of a few players expected to fill that void.
James Borrego, Charlotte's second-year head coach, realizes the importance of player development, especially for players like the Martin twins. Borrego said he wants to see their shooting improve, much like he would for the whole team, but they already have the size (both are listed at 6-foot-7 and 205 pounds), drive and competitiveness that he wants to see.
Borrego said he's also had enough time to start telling the Martin twins apart. The numbers make it easier for him, but the twins don't.
"(I'm) getting better. Getting better," Borrego said. "I cheat now — 10 (Caleb's jersey number) and 11 (Cody's). So I know by the number, but they try to trick me when there is no number.
"They're testing me, but I'm getting better."
On Friday, Cody's ankle injury prevented him from playing in front of the home crowd. And Caleb scored seven points and had five rebounds during a 100-87 loss. But before the game, both players beamed about the familiar faces they might see.
Should they both keep their spots when the Hornets finalize the roster, Caleb and Cody might get to see those same faces in Charlotte. If they're sent to the team's G-League affiliate for more playing time, they'll be even closer in Greensboro with the Swarm.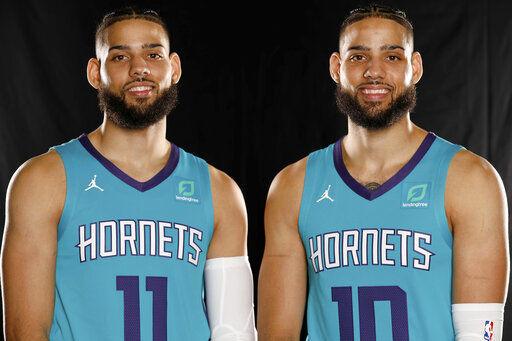 The two had no idea a game in Winston-Salem might even happen until it was announced in mid-July. When he learned about it, Caleb had one thought.
"'Man, we're going to have all these people coming out of the woodwork, asking for tickets and all kind of stuff like that,'" Caleb remembered. "We definitely had a decent amount of people doing that, and we only get so many, but just seeing people hit us up about ticket stuff, knowing that people want to still keep us relevant and still come watch us play and stuff, so that's pretty cool."
And the nostalgia hit Cody as he wondered how many people would attend to watch the twins. He joked that some could head to the Dixie Classic Fair instead. The twins didn't have time for that though; they hopped on the first team bus back to Charlotte.
Caleb and Cody are back on the path and thankful it just led back here again — even if only for one night.
"It is exciting to be back home and right now the street," Cody said. "Just looking forward to playing this one and having my family here and stuff like that.
"It's a cool experience that we even have this opportunity to be here."