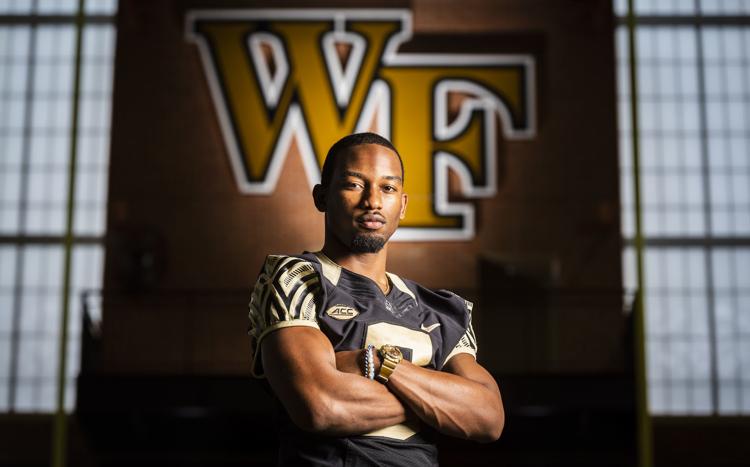 Kendall Hinton takes the notepad and spends about 20 seconds examining the hastily scribbled list. There are 10 items on it, all of them events that have happened in the last 12 months, all of them representing landmarks for the 22-year-old man.
Some of them good, some of them bad.
Here we sit in McCreary Field House on Wake Forest's campus. A trio of Deacons receivers is nearby, catching balls rapidly spit out of a machine. A little more than a year ago, Hinton might have been throwing to them.
Now he's one of them, a slot receiver for the Deacons. He's entering his fifth season in the program, but first as a full-fledged slot receiver. These days Hinton is as much of a Deacons quarterback as he is the man who put himself in a position to be suspended — which is to say, neither.
Back to the list. Inhale.
Hinton was suspended for the first three games of last season for a violation of team rules.
He changed positions, moving from quarterback to slot receiver.
He dealt with injuries during the season.
He went through Senior Day festivities before the game against Pittsburgh, with Coach Dave Clawson calling his status to return to the Deacons "in limbo."
A week after that, Hinton scored the final touchdown in Wake Forest's rout at Duke — in his hometown of Durham.
He entered the transfer portal shortly after.
Next came the Birmingham Bowl and, more specifically for Hinton, practices in which he was finally healthy and able to excel as a slot receiver. That gave way to the next step, deciding to remove his name from the portal and return to Wake Forest.
Hinton went through spring practices as the Deacons' top slot receiver.
And for the cherry on top of this rollercoaster of a year for Hinton: He graduated last month with a degree in health and exercise science.
But Hinton makes one clarification: "Changed position three times."
Hold up, three times? There was the switch from quarterback to receiver and …
"We tried rover, or I guess outside linebacker, for probably a week, or like three days," Hinton said. "I ended up tweaking a muscle and they set me out, and then moved me back to the receiver room."
Friday marked one year since Hinton's three-game suspension was announced. After a year of twists and turns, he has emerged on the other side having learned a few lessons and become a different man.
"You know what they say, what doesn't kill you makes you stronger. And just mentally, I feel like I've grown so much," Hinton said. "Just understanding the things I'm able to get through, seeing how much adversity I can go through and seeing that I can come out the other side, it was — I surprised myself.
"I can say I'm a better person for it."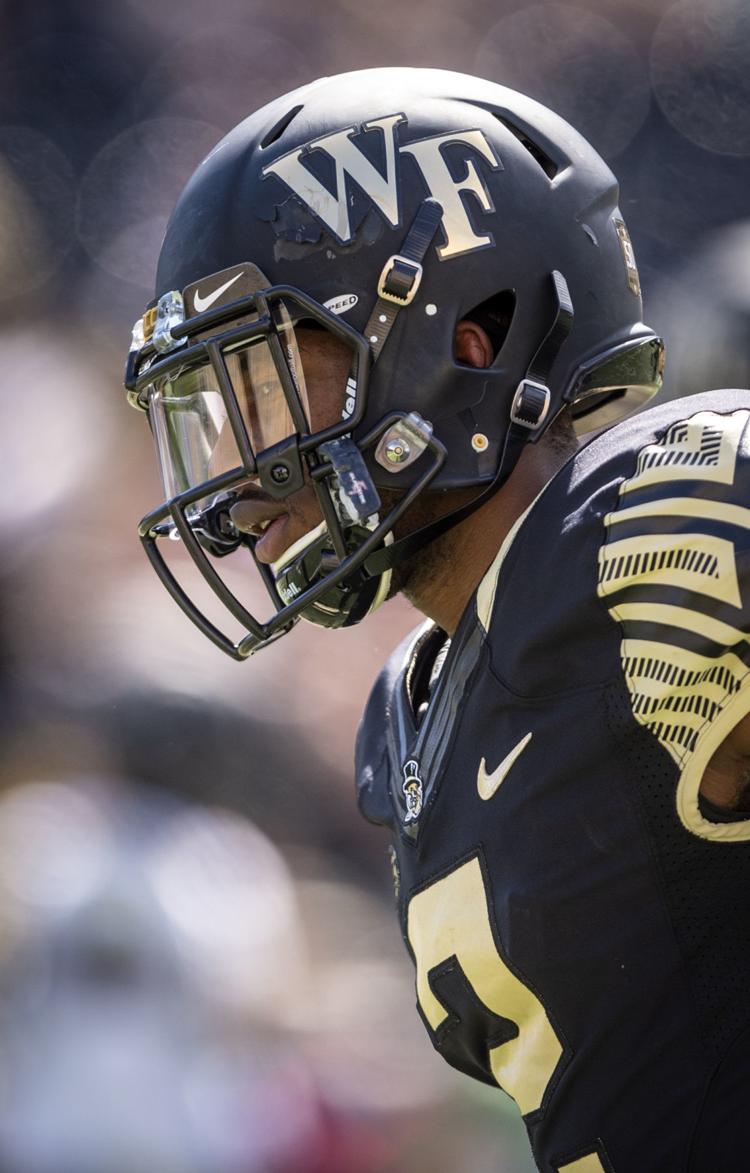 The suspension
Violation of team rules is still the most in-depth explanation Hinton is willing to give on his three-game suspension.
And at this point, his ownership of the situation is what matters instead of the reason.
"When I got the news that I had been suspended (it was) not only a wake-up call, but it hurt pretty deep," Hinton said. "Just knowing the position I had put myself in, what my teammates and fans, staff and just everyone involved in Wake Forest football, what they were expecting from a starting quarterback.
"But not only that, just, you know, the position I put myself in, knowing I was jeopardizing my future in football, my future with Wake Forest."
The initial conversation was one with Clawson and offensive coordinator/quarterbacks coach Warren Ruggiero. Hinton said he "pretty much knew what they were going to say."
It's probably safe to say players entering their fourth seasons in a program have almost heard it all, and they can accurately fill in the blanks on what they haven't already heard.
Clawson and Ruggiero weren't the only ones disappointed.
"Disappointed, me and Kendall are pretty close, he's from Durham, I'm from Raleigh," former Wake Forest offensive lineman Phil Haynes said last summer. "I know what he goes through at home, and I know that I want the best for him. Not necessarily as a player, but as a person off the field.
"I know that whatever he did isn't going to help him off the field. I know that Coach Clawson, like I said, he's developed me into a great man and the team rules are a big part of that. I think it's going to help Kendall out a lot with that."
There's not blame that Hinton is handing out for his suspension — only responsibility he's taken.
"I would probably say the worst part was letting down my family and having to tell these guys that, 'Hey, I won't be there these first three games,'" Hinton said. "You know, they're depending — you're the starting quarterback; they're depending on you, and so having to let those guys know — be a man and tell them face-to-face like, 'I made a mistake, I'm not going to be there those first three games,' (was the worst part)."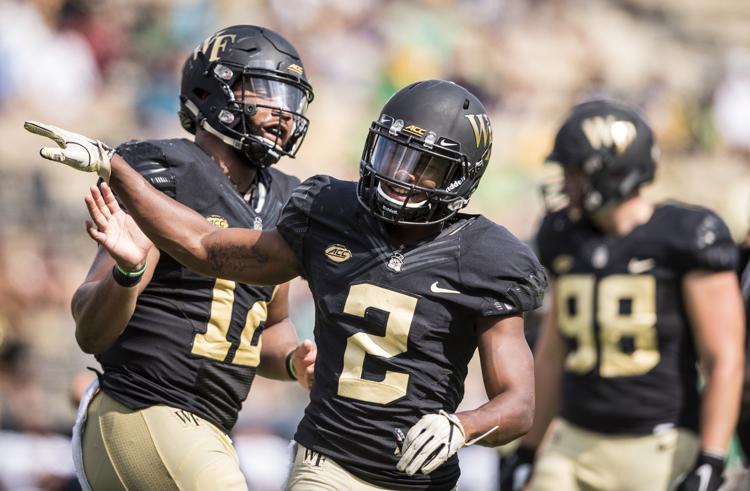 The season
After a few days of fall camp as a quarterback, Hinton moved to slot receiver and returner. Because Hinton wasn't going to be available for the first three games, the Deacons were pressed to find a solution at quarterback between Sam Hartman and Jamie Newman.
By the end of camp, he had shown explosiveness that Ruggiero remarked, "if that kid was actually playing receiver for two years straight, like every day, man," placing an emphasis on the last of those words that leaves Hinton's potential to the imagination.
Hinton's suspension meant that not only was he unable to play in the first three games, he was prohibited from being in the stadium.
His response was to basically put himself in solitary confinement for those games.
"Just me and my TV," Hinton said of watching games against Tulane, Towson and Boston College. "You know, I put myself in the situation. It was kind of more than watching a football game. That wasn't an experience that I wanted to share. I look at those games differently than somebody else would, so I just wanted to spend that time by myself."
When Hinton returned from the suspension, his season was a sequence of stop-and-go moments — in essence, symbolic of the way he's able to cut his way through opposing defenses. Newman's helmet popped off and he had to come out for a play against Notre Dame, and Hinton's first snap as a quarterback saw him dart through the defense for a 23-yard touchdown run. He added a 53-yard run against Clemson, with 92 yards total.
But he also bounced between the quarterbacks room and the receivers room, as he was first Hartman's backup while Newman was injured and then was Newman's backup after Hartman's season-ending injury. It became a football version of musical chairs with Hinton's brief move to defense.
Hinton went through Senior Day as a redshirt junior, signaling that his time at Wake Forest could be ending. When he sliced through Duke's defense for an 11-yard touchdown that day in Durham, it seemed only to solidify Hinton's future — or lack thereof — as a Deacon. Clawson told Ruggiero to call plays for Hinton and told Hinton "keep the ball in your hands and you go score."
"Yeah, I already had my mind set. I was going to transfer, start somewhere fresh and kind of see how that goes," Hinton said.
Healthier than he'd been all season and with Greg Dortch sidelined by a hand injury, Hinton shined before the Birmingham Bowl. And then he notched a three-catch, 38-yard performance that included a key third-down conversion when Wake Forest trailed by 18 in the eventual 37-34 win against Memphis.
"I think it was having some of that success that really kinda got Kendall thinking, 'Hey, maybe I do want to come back,'" Clawson said. "In my mind, you have this whole portal thing, grad transfers. We might have got the best grad transfer out there in the portal. And he never had to leave Wake Forest."
Dortch's early departure to the NFL in the days after the bowl widened the door for Hinton to step into a starting spot.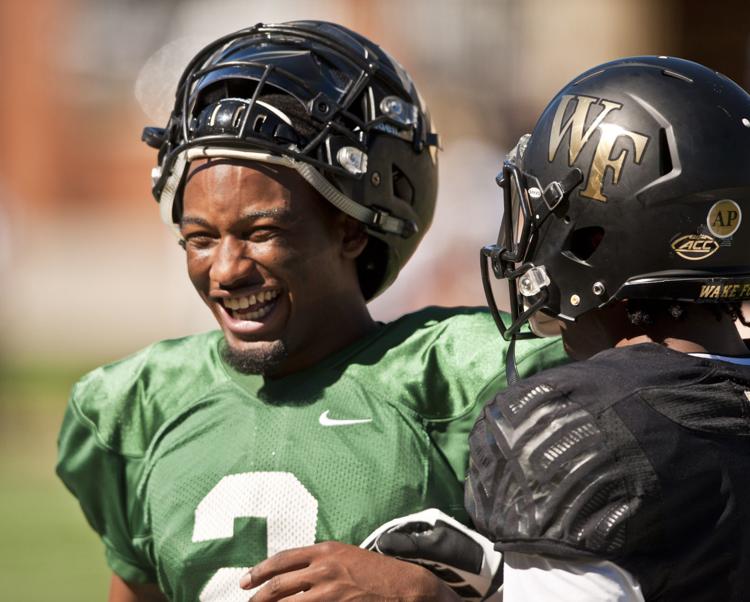 The future
Hinton looks back on the last 12 or so months and sees a wake-up call and adversity that has shaped who he is today. He sees a slew of position changes, necessitated by a simple mistake. He sees a third straight bowl victory. He sees how much fun football became in December when he gravitated to his new role.
"Just looking back, all the things I went through and just knowing through all that I was able to … frankly, finish what I came here for, was to get a Wake Forest degree," Hinton said. "Being able to walk across that stage felt amazing, being able to say I did it."
It's a span that saw adversity heaped onto Hinton, and he's comfortable taking responsibility for it.
Now that he's emerged on the other side, he's also comfortable enough to laugh at the suggestion that he wouldn't want to keep pushing his limits of how much adversity he can handle without buckling.
"Absolutely not. No. If I can avoid adversity, I will do the best I can," he says with a laugh. "It's inevitable, it's going to happen, so just knowing what you can withstand going into real life. Things are going to happen, so just testing your strength and kinda getting an idea of where you are."
Hinton didn't sit in his room watching those three games by himself and leave the second-guessing there.
"To this day, I replay those moments. They're still there. There's a lot of times where I think back, life could've been going so many different ways, positively and negatively," Hinton said. "Every decision kinda puts you on a different path. It's a lot of times that I think about what if, but like I said, things happen for a reason.
"You learn a lot from adversity, so everything I've been through I'm grateful, good or bad."