The NFL's marathon draft begins tonight in TV's prime time, and unlike recent years, no local players are set to make a splash near the top of the first round.
Instead, it'll likely be N.C. State center Garrett Bradbury first off the board, followed by quarterbacks Daniel Jones of Duke or Ryan Finley of the Wolfpack.
Beyond that trio, there are plenty of players from the state's ACC schools and otherwise who should have their names called.
---
First round
Garrett Bradbury | C | N.C. State
6-2, 305 pounds
Outlook: The state's best prospect in the draft, Bradbury will be plug-and-play starter and whichever team selects him should feel comfortable at center for the next decade. A former tight end, Bradbury has maintained his speed and agility despite packing on more than 60 pounds since he arrived in Raleigh as a freshman. Having played in a zone-blocking scheme at State, look for team with a similar approach to target him. In addition to his on-field abilities, Bradbury will be a positive addition to any locker room and a leader for years to come.
---
Daniel Jones | QB | Duke
6-5, 220 pounds
Outlook: Jones is one of the more polarizing prospects in the draft, with scouts salivating over his measurables and the flashes of brilliance he showed at Duke under quarterback guru David Cutcliffe, while others are left wanting more in regard to arm strength and decision-making. It's tough to get a read on exactly how good Jones could have been due to the Blue Devils' offensive line struggles over the past two seasons, but ultimately, he leaves Durham with a career completion rate of 59.9 percent, 52 touchdowns and 29 interceptions. In addition to his accuracy in the passing game, Jones proved himself a capable runner with 17 rushing touchdowns and six games with more than 75 rushing yards. Look for an established team to take him late in the first round or perhaps early in the second round with the goal of developing him long-term.
---
Second round, Friday
Ryan Finley | QB | N.C. State
6-4, 215 pounds
Outlook: Though he could be chosen behind Jones, the 24-year old Finley is more prepared to play in the NFL next season after three straight 3,000-yard seasons at State, completing 64.5 percent of his attempts. Already known for his accuracy when he arrived in Raleigh, Finley improved his completion percentage every season and developed a reputation as one of the best in the nation at reading and understanding defenses. Though he rarely rushed for major yardage, Finley has exceptional mobility within the pocket, allowing receivers to get open as they continue working and he's certainly not afraid — usually for better, occasionally worse — to trust his receivers and attempt a risky pass. Finley is likely a second-rounder, a successful team could snag him late in the first round.
---
Germaine Pratt | LB | N.C. State
6-2, 240 pounds
Outlook: After beginning his career at State as a 190-pound safety, Pratt made a switch to linebacker for his junior season and quickly showed his potential as a backup. As a senior, Pratt's stock exploded as he piled up 104 tackles — 10 for loss — and six sacks. The High Point Central graduate didn't put up big numbers as the combine, but his size, speed and production at linebacker over just two seasons make him an exciting prospect, likely making his potential worthwhile for a team picking in the second or third round.
---
Kelvin Harmon | WR | N.C. State
6-2, 220 pounds
Outlook: A major beneficiary of Finley's accuracy and trust, Harmon wasn't a darling of the combine with spectacular measurables, but it's hard to doubt his production after back-to-back 1,000-yard receiving seasons. A big, physical wideout, Harmon has exceptional hands and does and excellent job of using his frame to complete tough catches in traffic. A lack of top-end speed will likely prevent him from being an elite deep threat in the NFL, but his ability to find space and use his body effectively as a receiver mean a team will likely grab him in the second or third round with every opportunity to start as a rookie.
---
Rounds 3-7, Saturday
Nate Davis | G | Charlotte
6-3, 315 pounds
Outlook: Projected as a third-round pick, Davis starred at right guard for his first two seasons at Charlotte before moving outside to tackle as a senior, where he was still able to earn All-Conference USA honors. Davis has ideal size at guard and is viewed as a solid run blocker.
---
Jakobi Meyers | WR | N.C. State
6-1, 205 pounds
Outlook: A former quarterback, Meyers made a seamless transition to receiver as a freshman and finished his career at State with 92 catches for 1,047 yards and four touchdowns as a senior. Meyers projects a slot receiver in the NFL with the size and strength to win battles over the middle and the ball skills to complete tough catches. The potential he's shown as a receiver will give him an opportunity to be drafted around the fifth round.
---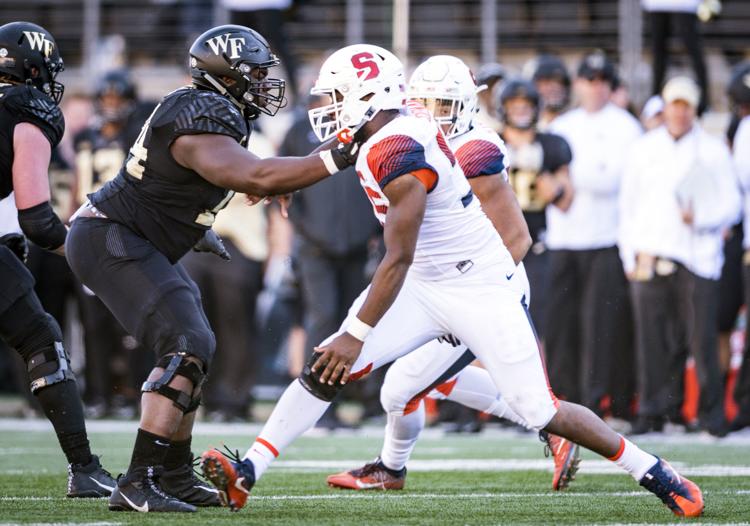 Phil Haynes | OG | Wake Forest
6-4, 320 pounds
Outlook: A four-year starter for the Deacons, Haynes has excellent size for an NFL guard and should parlay his production at Wake Forest into being chosen in the middle of Day Three. 
---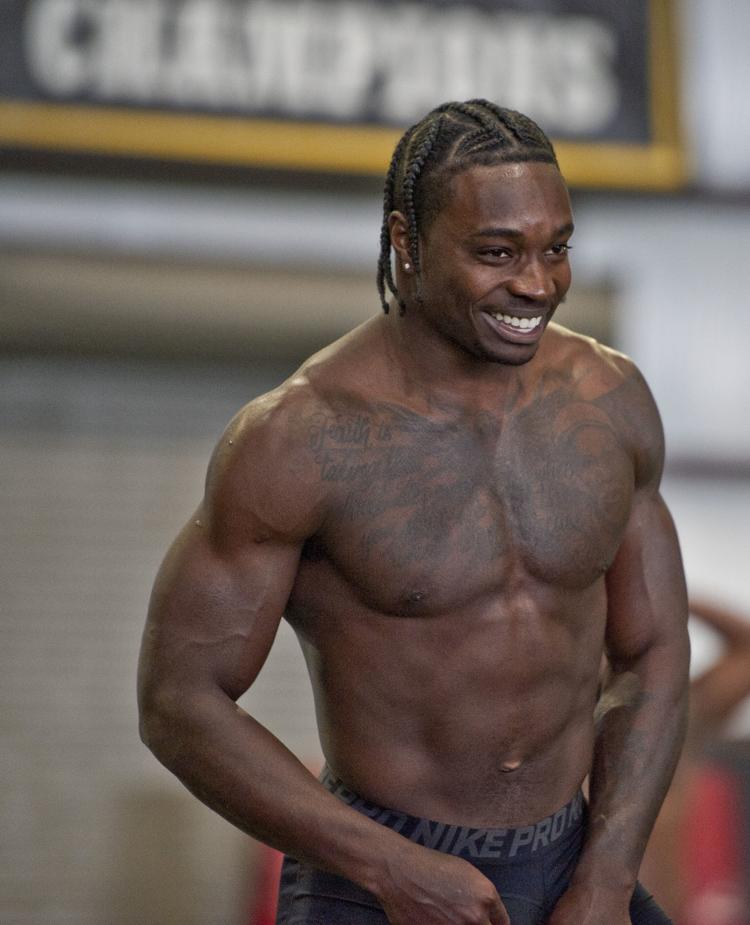 Jalin Moore | RB | Appalachian State
5-10, 210 pounds
Outlook: Still recovering from a season-ending ankle injury suffered in October, Moore is still likely a mid-round pick thanks to a physical running style and productive career in Boone that saw him finish with 3,570 yards and 33 touchdowns, averaging more than six yards per carry. He's not the biggest or fastest guy in the draft, but Moore runs hard and has a body built for the NFL grind.
---
Oli Udoh | OT | Elon
6-5, 325 pounds
Outlook: Udoh showed decent athleticism at the combine, and with that added to his massive frame and potential to continue improving, Udoh is one of the more intriguing developmental prospects in the draft. A reported Wonderlic score of 27 doesn't hurt things either, showing the potential to continue grasping advanced concepts.
---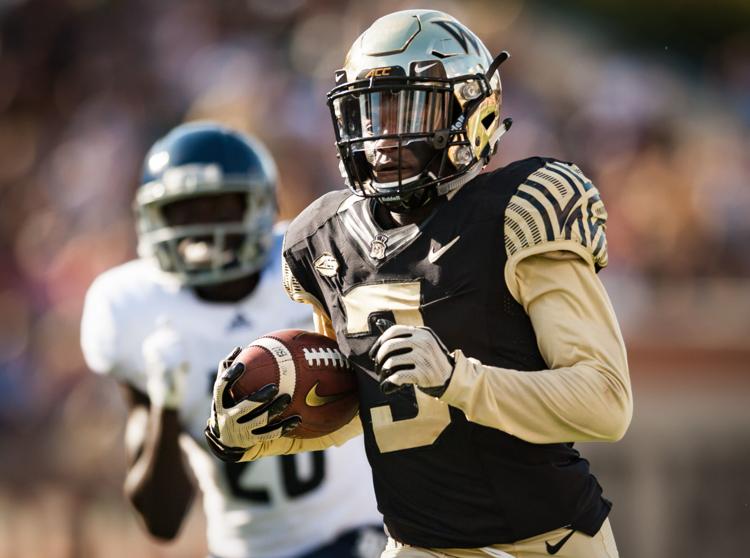 Greg Dortch | WR | Wake Forest
5-7, 175 pounds
Outlook: One of the most exciting players in college football over the past two seasons, Dortch clearly has the speed to succeed as a pro. He'll get an opportunity to contribute next season because of his skills in the return game, and it'll be up to Dortch to develop his abilities as a receiver to stick around as a receiver, utilizing excellent hands and the outstanding toughness he's shown.
---
Tyler Jones | OG | N.C. State
6-3, 305 pounds
Outlook: The Wolfpack's left tackle for the past two seasons, Jones is a little small by NFL standards at the position and likely moves inside to guard. A key member of one of the nation's stronger offensive lines in recent seasons, Jones has solid athleticism and his potential likely gets him drafted late on Day Three.
---
Malik Carney | DE | North Carolina
6-2, 250 pounds
Outlook: A strong athlete, Carney was able to cause havoc on the edge for the Tar Heels over the past three seasons, finishing his career with 17 sacks and 32 ½ tackles for loss. His potential to continue developing likely gets him a shot late on Day Three.
---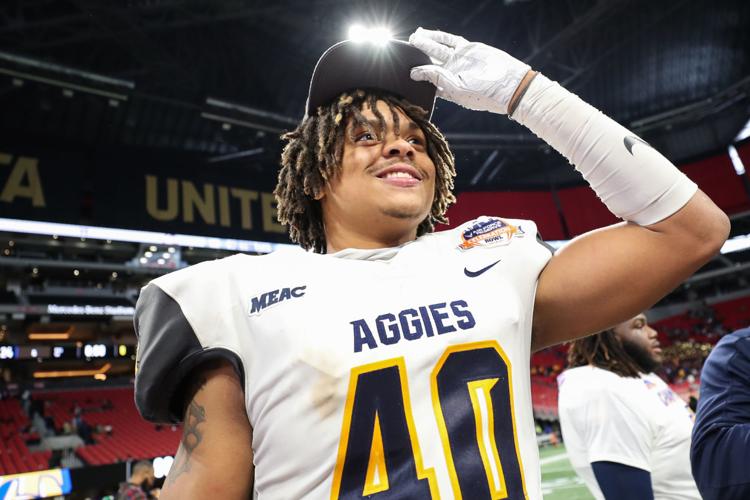 Darryl Johnson | DE | N.C. A&T
6-6, 250 pounds
Outlook: Johnson's accomplishments as an Aggie are undeniable as the MEAC's defensive player of the year and an All-America pick after piling up 10 ½ sacks and 50 tackles last season. Add that to his incredible size, and Johnson is an intriguing prospect, despite the fact that some view his skillset as limited, strictly making him a pass-rusher. Given A&T's recent run of success in the NFL, someone could be willing to take a shot in the seventh round and give Johnson a chance to develop his game.
---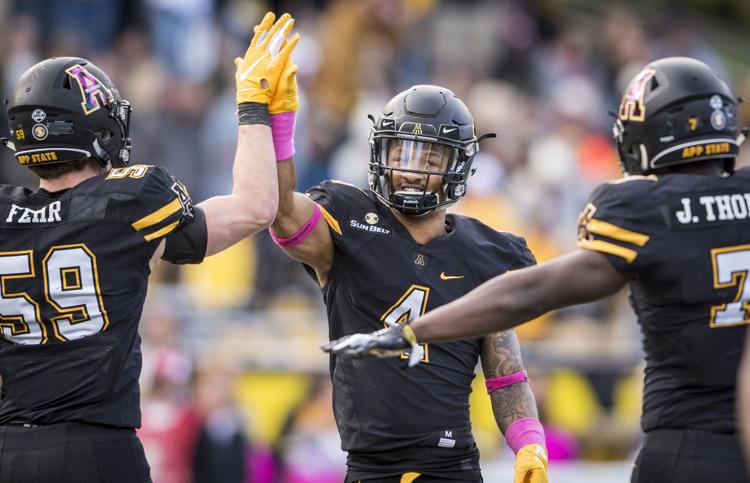 Clifton Duck | CB | Appalachian State
5-10, 175 pounds
Outlook: After intercepting 11 passes over his first two seasons, opponents stopped throwing at Duck as a junior. He's got the football I.Q. and ball skills to make it as a pro, but his size and lack of elite speed will be a concern for NFL teams. He'll have to prove it as an undrafted free agent in training camp.
---
Daniel Helm | TE | Duke
6-4, 250 pounds
Outlook: A solid athlete, Helm finished his career with 75 catches and six touchdowns. He'll likely get a shot somewhere as an undrafted free agent.
---
Joe Giles-Harris | LB | Duke
6-2, 235 pounds
Outlook: A ball-hawking tackling machine at Duke, Giles-Harris made up for his lack of size and strength with an outstanding understanding of the game. He'll likely have to prove he can do the same at the NFL level in training camp as an undrafted free agent
---
Anthony Ratliff-Williams | WR | North Carolina
6-1, 205 pounds
Outlook: Ratliff-Williams was among the best returners in college football over the past two seasons and that will likely earn him an invitation to training camp as an undrafted free agent. He's got the speed to become a deep threat, but his skills as a receiver must improve.
---
William Sweet | OT | North Carolina
6-6, 315 pounds
Outlook: Sweet started 13 games for the Tar Heels, and thanks to his size and potential, he'll have an opportunity to make a team as an undrafted free agent.