DURHAM — Mike Krzyzewski has long held the belief that his teams are like family. And now, after all these years, the 72-year-old Duke basketball coach will actually have a family member on the bench.
Freshman walk-on Michael Savarino will have the unique experience of playing for his grandfather this season, and the new family dynamic has already changed how Krzyzewski coaches.
For the first time, he's getting feedback from a player's grandmother.
Mickie Krzyzewski has already started looking at performance charts, checking to see how her grandson is doing and chiding her husband for not letting Michael do more.
"It's the first time a grandmother has given me a hard time about playing time," he said.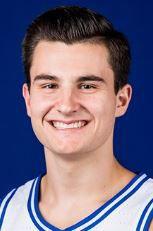 Savarino is the younger son of the Krzyzewski's oldest daughter, Debbie. He grew up watching his grandfather from behind the Duke bench, learning basketball, learning how a team dynamic works and how to curse.
"I've heard it all," Savarino said. "Nothing shocks me anymore. It goes in one ear and out the other."
He calls his grandfather Poppy, or at least he has all his life. Now he's careful to never call him that.
"I couldn't imagine the repercussions that would happen if I said something," he said. "It's always Coach now."
Savarino was a pretty good basketball player at Durham Academy, and he got offers and made visits to other schools. He considered the U.S. Military Academy, where his grandfather attended, played and coached. And he considered Columbia.
But when he was honest with himself, he knew where he wanted to go to school, where he wanted to play and for whom.
"I knew this was where I wanted to be," Savarino said. "The last couple of years I just knew I needed to be here, to come here and play for my grandfather."
Krzyzewski said he earned his way onto the team.
"He's not on the team because he's my grandson," Krzyzewski said. "He'd be a pretty good Division II player, but he wanted to come to Duke if he could get in.
"He knows the lay of the land. He's really helped us, and he's been accepted by his teammates as Michael. Or Mike. Or whatever the hell they call him. Knucklehead probably sometimes."
He'll be way down the bench, and he said he'd be nervous if he sees his grandfather walking down to his end. But he knows eventually that will happen.
Savarino said just walking around the campus at Duke, his dream has already come true. And knowing that six weeks from now he'll be sitting on the bench he sat behind as a young boy, watching his grandfather coach and learning a new curse word every night, will be something else all together.
"I'd heard everything by the time I was 12," he said. "Now some of the people around us were mortified."
His teammates around him were fascinated by the dynamic at first. Now he's just one of the guys on the team.
That's not necessarily true at home. At the Krzyzewski household, the coach has already told his wife that she can't ride him all season about their grandson's playing time.
"We're not doing that," he told her.
But for Savarino, he knows his grandmother "Minnie" will have his back.
Asked if he'll be listening for her voice inside Cameron Indoor Stadium this season, he laughed and said he'd definitely be able to hear his mom's.
That's something the Krzyzewskis of Durham haven't yet considered.
"The mother, so far, has been OK," Krzyzewski said. "But we haven't played any games."
Mike Krzyzewski isn't the only family member on the Duke bench now. In that sense, he's just one of the guys. At home anyway.