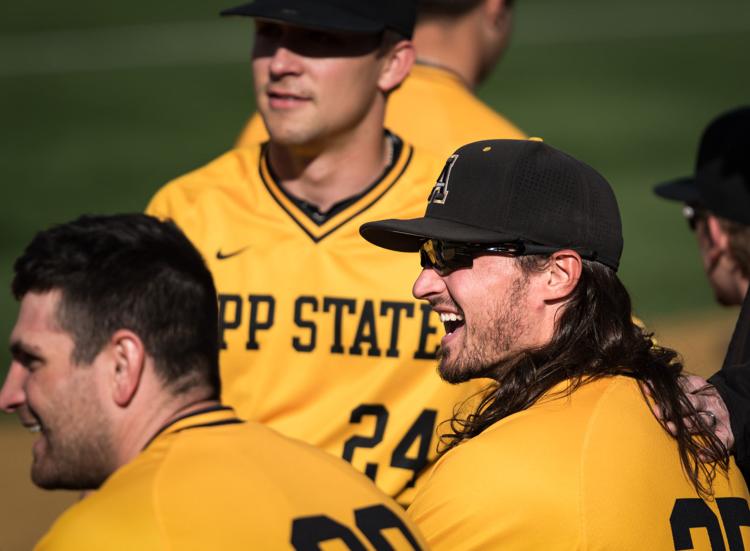 Kaleb Bowman's hair draws attention.
The wavy brown locks hang out of his ever-present baseball cap, trickling over the top of the No. 25 on the senior pitcher's Appalachian State baseball jersey.
He's grown it for more than two years now — pulling out way too many tangles and clogging far too many drains — for what could likely be chalked up as a product of college. That's what most people assume at least, according to Bowman, who rocked buzz cuts for most of his life.
"I haven't told many people about it," Bowman said. "People just think I'm growing my hair out just because of it. My team knows. A couple of my very close friends, close family friends know about it.
"But everyone else thinks I just started growing it out."
Bowman started growing his hair in a bet with his dad. He quickly bowed out of that contest for a bigger purpose: Bowman will eventually cut it off and donate it. Specifically, he wants his hair to become part of a wig for a child battling cancer. He made the choice to honor his mother, Shawn, who survived two battles with cancer after being diagnosed with two different types of the disease in the same calendar year.
"Without how positive she stayed, I don't think our family would've stayed that positive," Bowman said. "Even though she was the one going through it all, me and my sister and my dad were fine, but she was the happiest one of them all.
"And it's hard to see, but it was so cool to see."
Two diagnoses, one year
In 2012, Bowman's life was starting to pick up. Living in Purcellville, Va., located about 50 miles northwest of Washington, D.C., he was getting into the thick of his travel baseball career. A year later, as a high school sophomore, he would commit to play baseball at South Carolina. He was already getting excited about pitching at the next level.
But in January of that year, the Bowmans had a family meeting. Shawn had been diagnosed with colorectal cancer. Luckily, doctors caught it so early that she went through radiation and at-home chemo and was cleared of it by June. But in her PET scans during that time, doctor noticed an ovarian cyst. They removed that ovary and sent it off for testing. Two weeks later, Shawn found out that mass was cancerous too. She also learned that it was clear cell ovarian cancer, which can be aggressive.
Shawn speaks with an almost grateful tone about it now. The two cancers weren't related, but without the first, she said the second would've sat dormant. If that ovarian mass had kept growing, it could've been much worse.
"The praise is that they would never have found that had it not been for the first cancer," Shawn said. "I really just thank the Lord for that because ovarian is called the silent killer. And most people that find out they have ovarian, they're at Stage 3 or 4. I was Stage 1 and didn't spread anywhere."
The Bowman family is deeply religious. Kaleb's father, Kurt, is the family pastor at Purcellville Baptist Church. They've lived in that community for 16 years now. The Bowmans leaned on their faith, praying together often, as Shawn fought through treatments.
Ovarian cancer, however, brought forward another challenge. Shawn didn't lose her hair, which is dark brown like Kaleb's, during her colorectal cancer treatment. She was told that she would definitely lose it while going through treatment for the ovarian cancer. She dreaded that, and Kaleb did too. It would make the situation all too real.
Being an inspiration
Before her ovarian cancer treatment started, Shawn remembers sitting in her home office around January of 2013. There was snow on the ground, and in the harshness of the winter around her, she heard a bird singing. She began to pray, and she felt this overwhelming sensation that she was healed. While continuing to pray, she considered forgoing her treatments all together. She'd get to keep her hair that way. All of a sudden, she felt the pull to face chemo and radiation another time.
"If I need to lose my hair to also be a witness to other people that it's OK, then I'm all for it," Shawn said she prayed. "And it released me to being OK. And as my hair started to fall out, I would just look at how much was falling out each day, and it was a very easy decision to have my daughter cut it."
Shawn eventually let her daughter, Kaelin, cut her hair and let Kurt buzz cut her head clean. Later on, Shawn tried on wigs and sent her family silly photos that brought on some laughter.
As her treatments progressed, things started to feel normal again. That was aided, Shawn said, by the family's decision to stay away from Google or anything else that could provide too many answers.
"All you hear on the Internet is mostly all the horror stories of stuff, and we didn't want to put that into our life, and so I think that you'll hear that we pretty much just went along with whatever came and we just did it," said Shawn, who is 58 years old now. "But sometimes life was so normal that I would basically go — whatever we were doing, I'd finally just say, 'Hold on, I have cancer, I'm playing the C card, y'all stop it,' whatever it was, and we would just laugh and it kind of brought them back down.
"So I used it every once in a while because they looked at me like everything was fine. And that was good. I liked that."
The bet
Kaleb did the best he could to support his mother. He admits that while he doesn't like doctors and it was too hard for him to go to the chemo and radiation appointments, he kept his mother in the forefront of his mind. Pretty soon, he'd need the same type of support, too.
Before his junior season pitching for Woodgrove High School, Kaleb got pitcher's elbow, which is caused by the enlargement of the ulnar collateral ligament on the outside of the elbow. He said he pitched only 20 innings his junior season and 10 the following year. South Carolina pulled its scholarship offer and gave him a chance to walk-on instead.
Kaleb ended up at Spartanburg Methodist College in South Carolina with the hopes of drumming up recruiting interest. And during Christmas break of his sophomore year, Kaleb went home with is hair looking a little shaggy.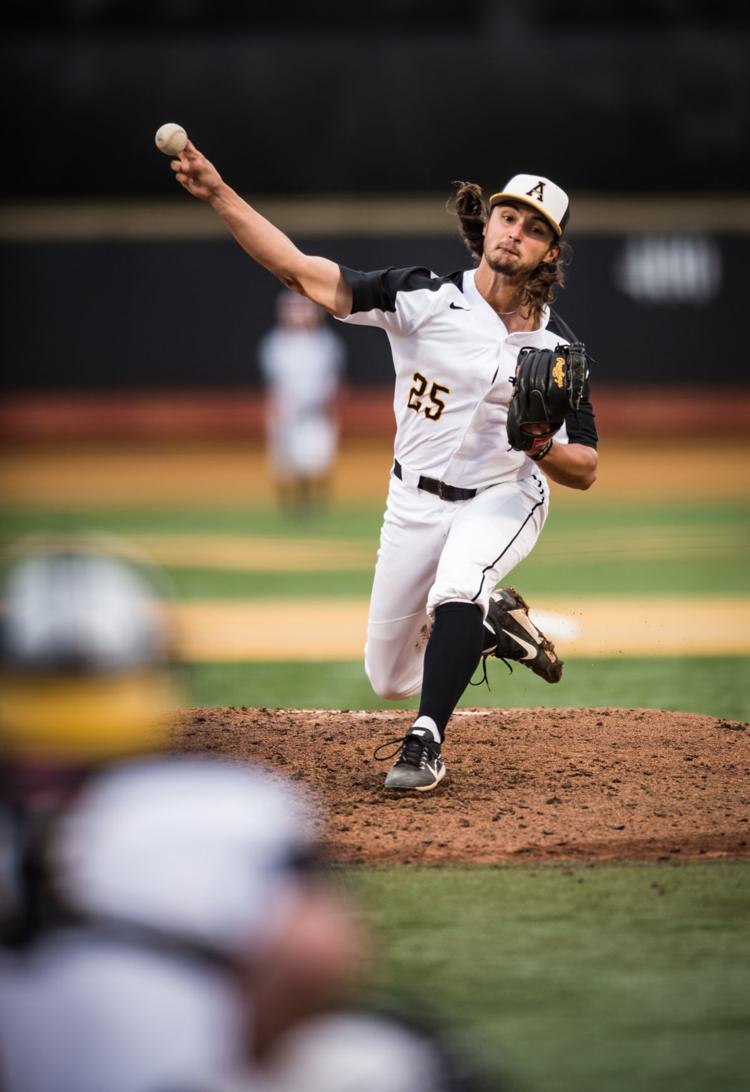 There, Kaleb said, his father, Kurt, bet him $100 that he wouldn't let his hair grow for more than a year. Shawn contests that it was more of a joke that Kaleb took too seriously. Either way, the seed for his long hair was planted.
"By January or February, I was like, 'Honestly Dad, I don't care about it,'" Kaleb said. "'What if we grow it out for Mom?'"
Kaleb did some research and learned that he needed to grow his hair at least 8 inches. He thought that would be doable in a year, a notion he laughs at now considering how long it's been. He originally planned to cut his hair last December before changing his mind. Part of the reason, Kaleb said, was that his mother wanted him to keep the locks for his final baseball season.
Kaleb came to App State because it reminded him of his home near the mountains in Virginia. It also put him on a campus that features plenty of male students with long hair.
Walk-up songs and catcalls
During his two years at Appalachian, Kaleb has been stellar.
This season alone, he has struck out 33 batters in 37 innings as App State enters its weekend series against Troy. Kaleb has four wins and a 1.46 ERA.
His hair has prompted some goofy walk-up songs — like Aerosmith's "Dude Looks Like A Lady" — whistles and catcalls at opposing baseball fields. And while Kaleb kept the reason for his hair more private, App State coach Kermit Smith had no problem telling anyone who had questions about it.
"You've got a really good kid who's having a really good year. Who cares if he's got long hair?" Smith said. "Because I mean, at the end of the day it is a great message, but you know, what's the big deal?
"I do take time to extend that because if there is any ill intent on the other side of it, that person has the chance to eat crow pretty quick."
Kaleb's hair will be gone sooner rather than later.
He chuckles at his teammates' bewilderment while thinking about how he'll look with short hair. But when his mission is complete, Shawn said it will just provide further proof to the type of person he is.
"He tends to keep stuff inside, stuff like that," Shawn said. "He's fun and games all the time, and he can make you laugh and make you cry, but he's a very sensitive kid and not everybody sees that side.
"And it's really cool when he shows it to you."