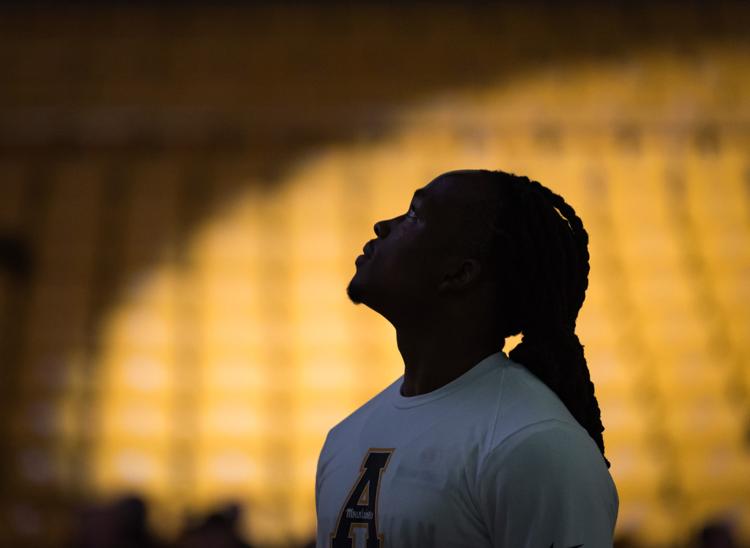 Dustin Kerns and his staff are still getting settled in. 
Some boxes are in need of unpacking, and some photos could be hung up for the Appalachian State men's basketball coach. In the program's section of the Holmes Convocation Center, walls have been repainted in the staff offices. Others have been given the whiteboard treatment, giving coaches the space to scribble from floor to ceiling.
There's plenty left to do thanks to the grueling process of moving in, but the essential tasks, Kerns said, have already been taken care of.
"I just think in 2019, in this era, everything is very visual," said Kerns, who was hired on March 28. "Kids resonate with visual.
"People resonate with visual, with things they see. Sometimes change can just occur by things they see."
It's why when players returned earlier this month for individual workouts, their eyes were greeted by new items they will now see every day. First, in the locker room, new team slogans are all over. The entryway has a sign that reads, "Believe There Is Good In The World," highlighting the phrase "Be The Good" with yellow letters inside of that message. Other thoughts, in both white and gold, adorn the walls.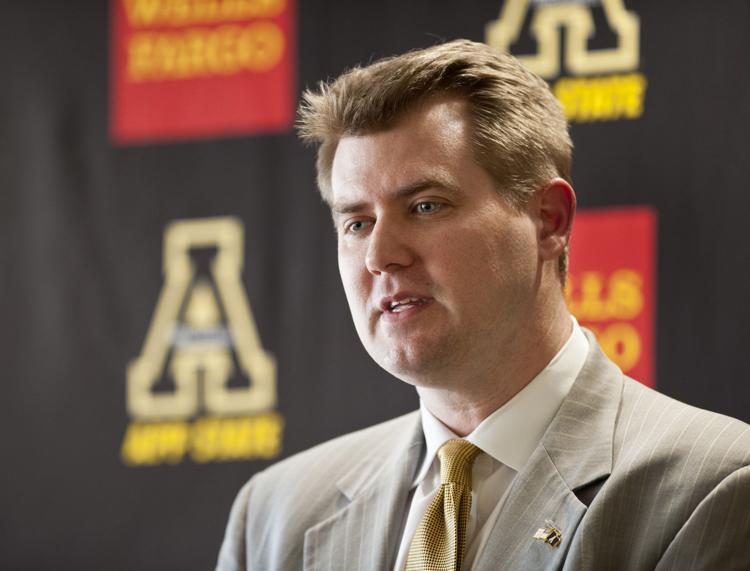 Two mannequins in Mountaineers jerseys used to await players in the hallway that leads to the court. Now a trophy case sits there, housing the hardware from conference championships and memories of NCAA Tournament berths.
To the left, a blown-up photo of game action has been replaced by a board that will be used for past players to sign when they visit. Kerns wants to get as many former Mountaineers back to Boone as possible.
This is the groundwork of changing a program that has registered eight straight losing seasons. And at least at the start, it's working on the players. Seniors O'Showen Williams and Hunter Seacat, two players who transferred into the program during Jim Fox's tenure, have enjoyed the new surroundings.
"I love the trophies outside of the door. It gives you something to see every day on your way in and out of practice, on your way in and out of class," Seacat said after a workout. "It's there for you to see your goals that have been achieved by other people and give you that visual that you can do it if you work hard enough and you play well enough."
Added Williams: "It's just good vibes, positive vibes."
Kerns is using the summer to focus on individual skill work, opting to dive more into the playbook and team drills closer to the start of the season. In the end, Kerns said, player improvement is the engine that drives team success, especially if those players have bought into working for each other instead of themselves.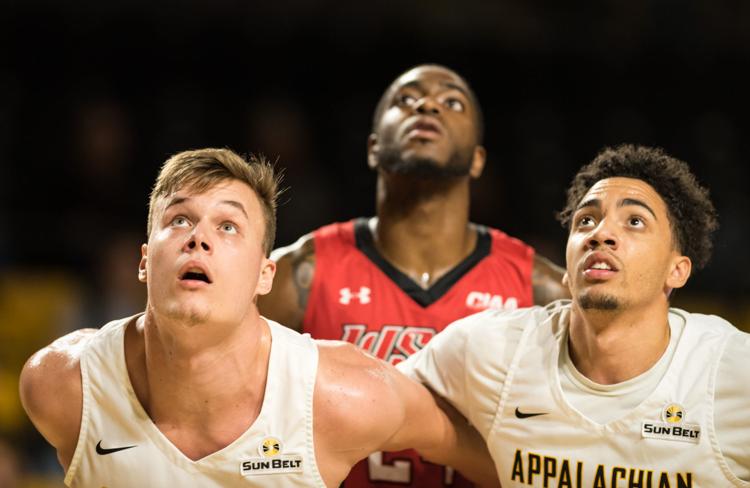 As players worked out in groups Monday, occasionally Kerns or one of his assistants stopped drills to teach. Guys were trying skillsets outside of their comfort zones — Seacat when through ballhandling drills with the fellow bigs, followed by some long-range shooting exercises.
As a senior, Williams is, not surprisingly, placing a premium on his final college season. He doesn't want it to go to waste. 
"Every day you feel like you're working on your individual game," Williams said. "We're actually doing stuff that we're going to use in the game.
"...They're letting us play with freedom, and I think that's the best way to let everybody play."
In the team's video room is a whiteboard. Kerns recently asked the players to define the traits of a loser. The Mountaineers made a list they now look at every day.
Kerns is hoping to change the perception of the program. And with exercises like that, Williams said, he's letting players have a say in the standards that they keep. And it's been a refreshing change.
"When they ask for your opinion, they understand where you're coming from and that just gives you confidence," Williams said. "They've just been getting a lot of confidence lately. Everybody on the team has been playing with confidence, from the walk-ons to the newcomers to me, to the vets, seniors.