BOONE — Appalachian State cruised in Coach Dustin Kerns' first win with the Mountaineers.
App State (1-1) handled Ferrum 83-56 on Thursday night. The victory comes two days after the Mountaineers clawed their way back from a 30-point deficit at Michigan in a 79-71 loss.
Justin Forrest led Appalachian in points with 17. He was one of five guys in double digits along with Isaac Johnson (15), O'Showen Williams (13), James Lewis Jr. (10) and Donovan Gregory (10).
Here are three takeaways from the game:
1. Acclimating to positionless ball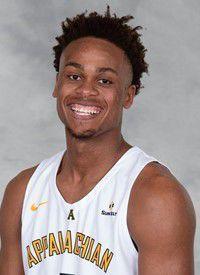 When Kerns was hired, he mentioned playing positionless basketball. Through two games, App State is starting to show what that means.
A clear example is Johnson, a senior forward who spent most of his career in the post. Johnson spent his playing time against Ferrum floating out to the perimeter. He hit a 3-pointer early in the first half and flashed his passing ability. He also made time to bang down low, grabbing nine rebounds.
"I think he's got great versatility, and I think he's been one of our more consistent shooters," Kerns said. "And I think when you've got a big that can step out and shoot the ball and stretch the floor and gets the big away from the basket defensively for them, it really opens the lane up for other players to drive and get the lane."
Another player who's conforming to new tasks is Williams, who has handled the ball often since arriving in Boone. Williams was frequently in the corners, getting shots off of drives. He hit two 3-pointers.
"That's something that I'm trying to get used to but I think tonight helped a lot," Williams said of having the ball out of his hands. "I just need to be more aggressive, and my teammates have been kind of on me, kind of keeping my head in the game 'cause they know I've been bringing the ball up, even last year."
2. Lewis in the lineup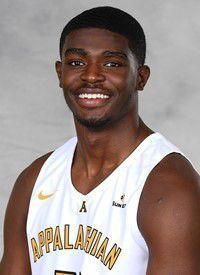 The starting lineup featured a new piece.
James Lewis, a transfer from Chattanooga who sat out last season, is a a 6-foot-8 forward. He had five points in the first half and put a couple quick pivot moves on defenders.
Johnson said the team had looked forward to Lewis getting playing time this year after bothering them in practice all of last season.
"James is a great post player," Johnson said. "(If) two people collapse on me, I can get an easy dump down to him. The same thing with him.
"We have that connection, that chemistry. It's his first year so he's trying to get his legs back, so we're just trying to help him out."
Lewis played in the place of Hunter Seacat, who started against Michigan. Seacat came off the bench to chip in three points and three rebounds. Kerns said he felt he needed to make the change.
"James has been very consistent," Kerns said. "James has been somebody I've addressed with our team is really an everyday guy.
"I'm all about finishing. I always tell them, 'Who care who starts, who's going to finish?'"
3. Feeling the 3-pointer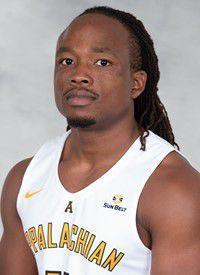 App State played with a freedom to shoot 3-pointers against Ferrum. They went 5-of-20 from that range, shooting them at many different points in the shot clock.
Williams said they're given that trust under one condition.
"As long as we attack and get paint touches," Willliams said.
Kerns said it doesn't have to be the case on every play, but he prefers when the offense gets the ball into the paint first. The Mountaineers, he said, has athletic guards — players like Forrest, Gregory and others — who can attack downhill. That aggressiveness forces the defense to collapse and gets shooters open.
"I just think for us, the best open 3 to get the defense into a long close out, play to one more, maybe drive that one, we're going to get a more cleaner, open like if that ball hits the paint," Kerns said. "I think if the ball doesn't hit the paint, and it's going around the perimeter, we're not going to get as good of a shot.
"But it's not an absolute. I think that's difficult. I really want them to have some freedom and play and not think so much. But if we can, I do like the ball to touch the paint before we get a 3."