ATLANTA — What was the biggest takeaway from Appalachian State's 56-27 victory against Georgia State on Saturday?
All the stellar performances.
First off, the Mountaineers (9-1, 5-1 Sun Belt Conference) pulled themselves out of an early hole to distance themselves in the East Division race. And they did so with the help of four players who picked different moments to thrive.
Most of those — three of the four that will be mentioned — were offensive, with their successes building on top of each other. But App State's surge of points, scoring 49 unanswered, wouldn't have happened without any of them.
Here are a few guys who stood out.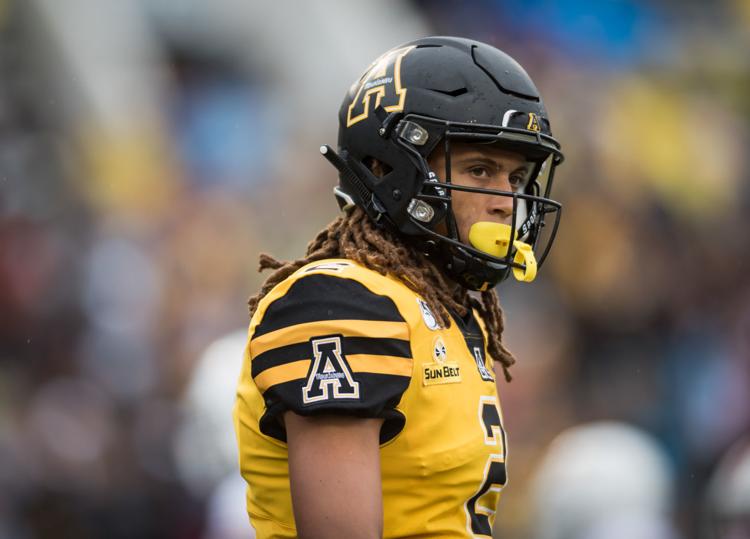 Corey Sutton — eight receptions, 173 yards, three touchdowns
This season's passing attack has featured balance at the receiver position. Corey Sutton, Malik Williams and Thomas Hennigan entered the Georgia State game with at least 31 receptions a piece.
But it was Sutton who thrived on Saturday, finding avenues for big plays that punished the Panthers' secondary. He caught passes of 27, 20, 50, 40 and 24 yards during the game. The 20-yard and 24-yard plays represented two of his three touchdowns.
"We felt like he was a good matchup today, and we've been talking about all week that we needed to play it big," Coach Eli Drinkwitz said. "Credit Zac (Thomas) for finding him, offensive line for protecting him, but he did a great job tonight."
Sutton and Thomas, App State's starting quarterback, displayed a strong connection last year. Sutton caught 10 touchdowns passes, and with two games left in the regular season, he has six. Thomas said Sutton's Georgia State performance was the best he's seen from his fellow junior.
"I mean, you look at it and, if they're not going to stop it, you've just got to keep giving him the ball," Thomas said. "They weren't doing anything to stop Corey, and I knew you've just got to keep getting him the ball because he was making the plays he needed to make."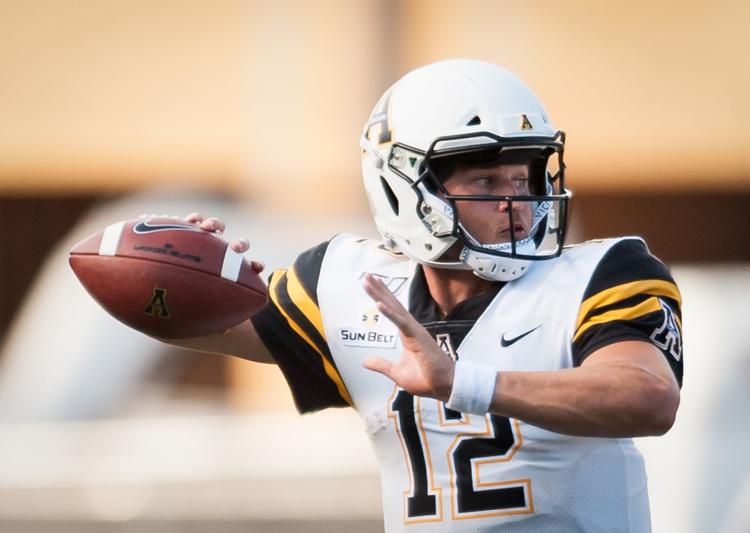 Zac Thomas — 19-of-31 passing, 256 passing yards, five total touchdowns
Thomas' play was more impressive due to the way he rebounded.
After completing one touchdown pass during the first quarter, he watched the Georgia State offense respond and go back up, 14-7. When the Mountaineers trotted out for the following drive, it soured quickly. Thomas threw an interception that Georgia State's Chris Bacon returned for a 30-yard touchdown.
App State found itself down two touchdowns quickly. And Thomas said he could only respond one way.
"You've got to forget it as soon as it happens," Thomas said. "I think that was a big part of the game right there, and obviously throwing a pick-six and responding and scoring like that, I think that's a big momentum booster not only for your offense, but your defense.
"It sucks you throw a pick-six, but also you've just got to get back out there and keep competing."
Thomas pivoted away from that interception to link up with Sutton for a second score with nine seconds to go in the first quarter. He ran for a 3-yard score and also threw a 1-yard touchdown pass to Darrynton Evans in the second quarter, the latter coming with 22 seconds left before halftime.
"This game is not without mistakes," Drinkwitz said. "You're going to make mistakes. There's going to be things that happened.
"I mean, there's never been a guy that doesn't throw an interception. He bounced right back, it didn't faze him, he said hey that's on me and learned from it."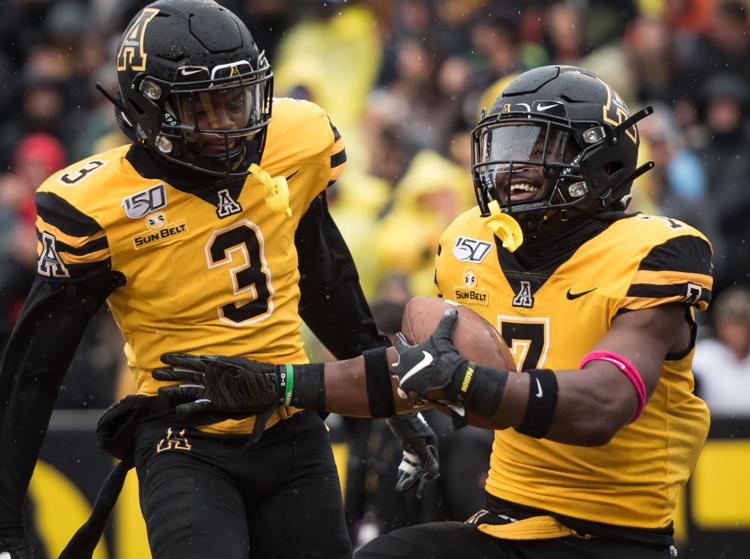 Shaun Jolly — two interceptions, three pass breakups
For the second time this season, Shaun Jolly ended up in the end zone.
Jolly nabbed a pick-six of his own, a score that put App State up for good as the Mountaineers began to leave the Panthers behind. His second interception ended Georgia State's next drive, allowing Thomas to find Evans for a reception touchdown.
The sophomore had an interception TD against Coastal Carolina on Sept. 28.
"It's great," Jolly said of his touchdown. "It makes you feel great to put points on the board for your team.
"Put your team ahead in a game. Just feels awesome."
Jolly said Georgia State ran the same route at him on back-to-back plays. He capitalized on the second play. Jolly intercepted a second pass on Georgia State's following drive, setting up another App State touchdown.
The secondary, along with the whole App State defense, had to deal with Dan Ellington's status questions leading into the game. Georgia State coach Shawn Elliott said throughout the week that Ellington wouldn't play due to a knee injury sustained in the previous game versus UL Monroe.
ESPN reported Saturday morning that Ellington would indeed play anyway. The senior quarterback went 12-of-27 with one touchdown and two interceptions.
Jolly said the defense was unfazed by the Ellington news.
"We weren't worried about it," Jolly said. "We were just prepared to play the team. Georgia State.
"It didn't matter who was at quarterback. "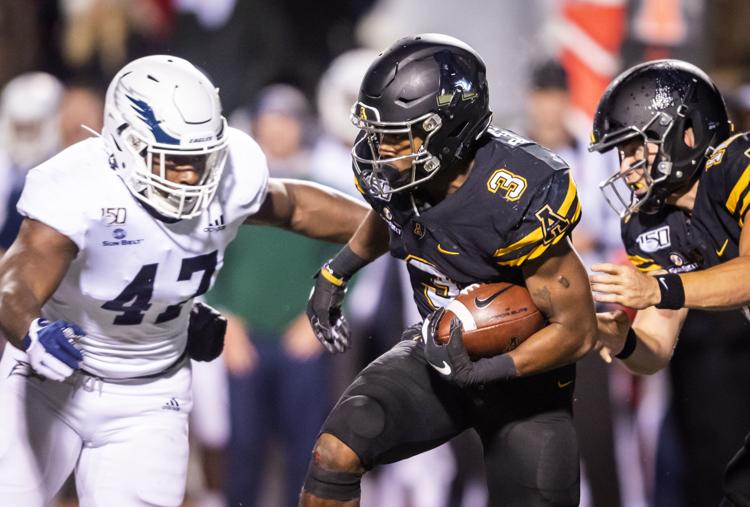 Darrynton Evans — 18 rushes, 131 yards and two total touchdowns
Evans dealt with a stiff run defense to start, netting only two gains of 10-or-more yards in the first two quarters of the game.
But things opened up later on, allowing him to help App State control the clock while providing more cushion to the lead. Evans ran for a 29-yard touchdown in the third quarter where he appeared stopped at the line. Evans took on two Georgia State defenders, keeping his knee from hitting the ground and catching them off-guard with a second serge.
The Mountaineers dominated possession with a 36:50-23:10 advantage, and the extra points didn't hurt either.
"You know the coaches, we come into the week, (with the) mindset keep your foot on their throat type stuff," Evans said. "You have that, but at the same time, you know, just staying balanced, be smart, but at the same time you want to keep pushing to get as much as we can get."
Evans also surpassed a special milestone. He registered his second straight season of 1,000 yards or more. The junior currently sits at 1,014 yards in 2019 with 11 touchdown runs.
"I would say the offensive line was more excited than I was once I got to the sidelines but that's a major accomplishment," Evans said. "Something you set at the beginning of the year, a solo goal, but it's really a team effort."