Four years of work was cut down in about 15 seconds.
It might've been longer. Who knows. But 14 inches of braided hair hung from the left hand of Alex Gulledge, my new barber.
"It looks like I'm holding a dead snake," Alex joked. It provided a good chuckle just after the sudden change had briefly staggered me.
I'd only cut my hair three times since I started growing my hair in 2015. Once before my wedding, after a year of no hair care whatsoever. The other two times actually happened on the same day — the first was so terrible that I needed an emergency shape up to save it — a few months before taking this job in 2017.
But on Thursday, I let it all go as part of a promise. Readers helped me raise just under $1,400 (after processing fees) for the V Foundation, a cancer-fighting cause in our own state. I put my old ponytail in an envelope and mailed it to Children With Hair Loss, an organization that makes free wigs for kids.
And Alex, one of the many good guys at Washington Park Barber Shop here in Winston-Salem, gave me the slickest hairdo I've had.
The reason I parted with my flow started with a friendly senior pitcher on the Appalachian State baseball team. Kaleb Bowman, a stud reliever for the Mountaineers, is in the midst of growing out his hair. He did so in honor of his mother, Shawn, a two-time cancer survivor. He plans to cut his hair after the season at a children's hospital in Washington D.C.
My job is to write stories. A journalist's job is to not become the story. But I kept listening to Kaleb and couldn't stop thinking about doing more. I should cut my hair too. Kaleb was OK with me joining him in donating our hair, and away the idea went.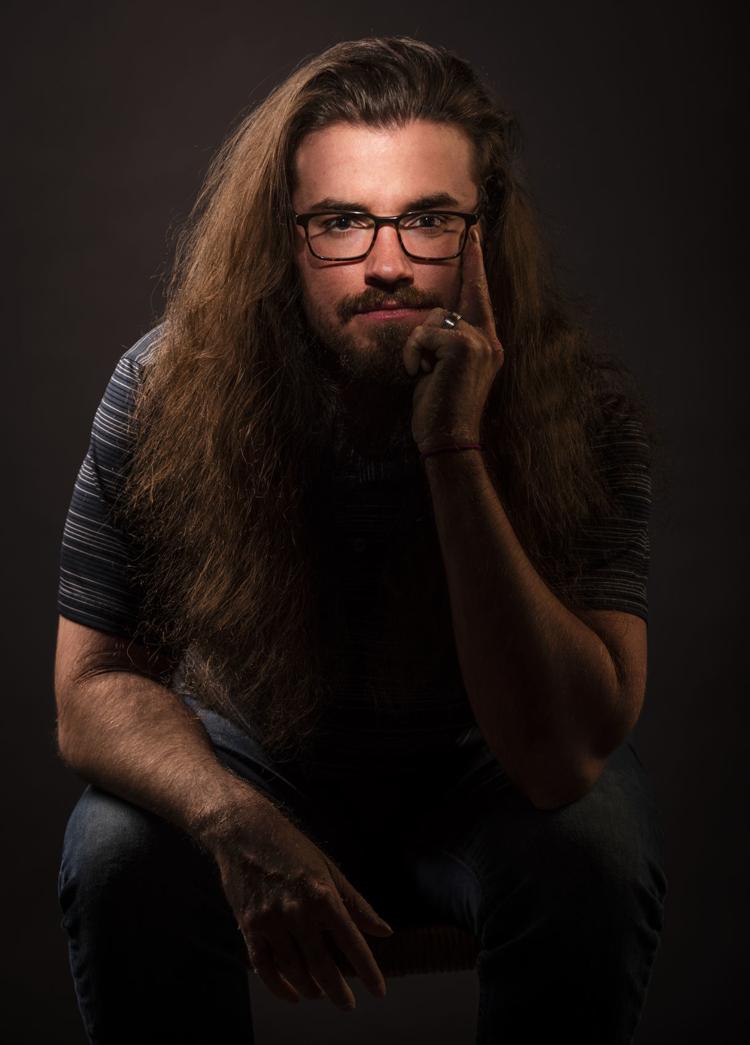 A GoFundMe page was set up with the goal of raising $1,000. I promised to cut and donate my locks, just like Kaleb wants to, if people helped me clear that threshold. That happened in roughly six hours, leading to Thursday's scene with Alex (an App State alumnus, by the way).
To me, all of this boils down to good faith. I err on the side of good faith with every decision I make. It's been a guiding life principle in decisions both little and big, and more often than not, it's treated me well.
Cutting my hair seemed like a big thing at the time. Now that it's over, it doesn't seem like it at all. But to the little boy or girl who wants a wig, it will mean the world. Knowing that my braid will become a wig or part of many wigs gives me more joy than that man bun ever did.
That doesn't happen without the good faith of readers. The ones that started reading my stories the moment I landed on the beat (my first game was Wake Forest vs. App State in September 2017 in Boone) to all the others I've fortunately gathered along the way.
So maybe my hair donation isn't a necessary contribution of a college beat reporter. But part of that extra effort comes back to good faith. I hope you can read that in every story I write, hear it in every video interview I share and notice it if you ever want to see me and say "hello."
I'm not a member of this fan base, but I'm definitely a member of this community. And to me, gestures like this are what journalism is about in the first place.
Four years of work was cut down in about 15 seconds on Thursday. It produced something that looked like a dead snake.
The feeling I got after that — when the donation was sent and the hair was in the mail — was something completely different.
I hope I can remember that feeling for a lifetime.