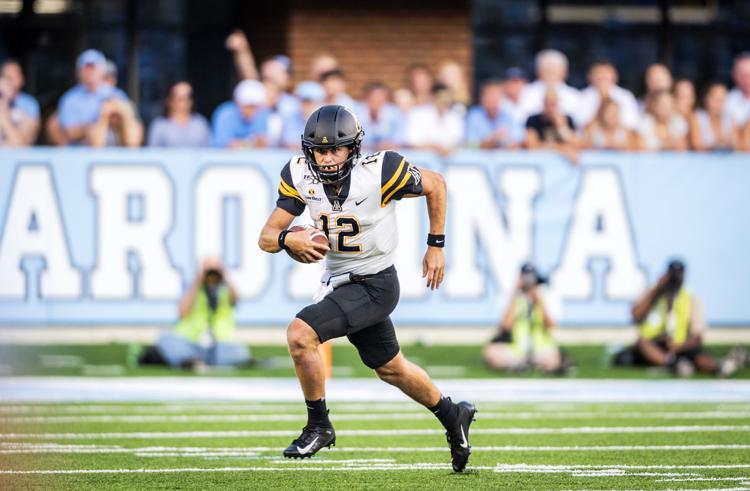 Conference play starts for Appalachian State on Saturday, and it will come with a big audience.
The home game against Coastal Carolina is a sellout, with all watching the Mountaineers' start their Sun Belt defense. It'll be the second sellout crowd they'll play in front of in as many weeks.
App State and Coastal Carolina each have a Power-Five win — Appalachian beating North Carolina, 34-31, last week, and CCU winning 12-7 against Kansas on Sept. 7.
Here are five things to know about the game:
1. Last year's matchup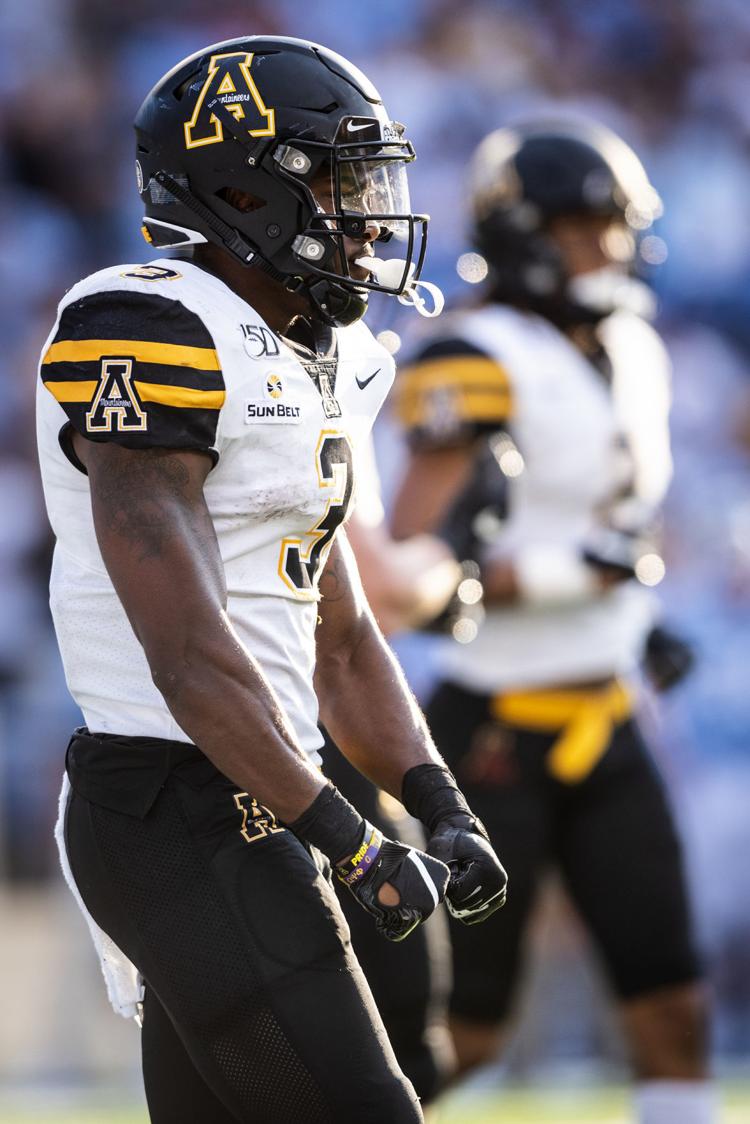 In 2018, this game was a slow-grinding slobberknocker in Conway, S.C.
The Mountaineers were without starting quarterback Zac Thomas, who was knocked out of the previous game after sustaining a concussion against Georgia Southern.
App State battled out a 23-7 win behind a touchdown throw by backup QB Jacob Huesman and a fourth-quarter safety.
A run-heavy game plan yielded 278 yards rushing — 159 yards from Darrynton Evans, and another 103 from Marcus Williams. Each scored a touchdown.
2. Time of possession
Coastal Carolina is averaging just over 35 minutes of possession per game, ranking No. 6 in the country. That's what happens when a team has run the ball 61.7% of the time through its first four games.
The Chanticleers have scored 24 times this season. Half of those (12) have come on drives of eight plays or more.
Against North Carolina, App State's defense contended with two drives that lasted 15 plays. Each turned into points for the Tar Heels. Coach Eli Drinkwitz of App State said the team has to handle that better this weekend.
"We've got to improve on third-down and fourth-down opportunities," Drinkwitz said. "Third downs, we've got to get off the field, and fourth downs, we've got to make those stops. You know, I think on two of those drives, we had third- and fourth-down opportunities to get off the field, and we didn't get it done. So we've got to get that done this week."
3. Health updates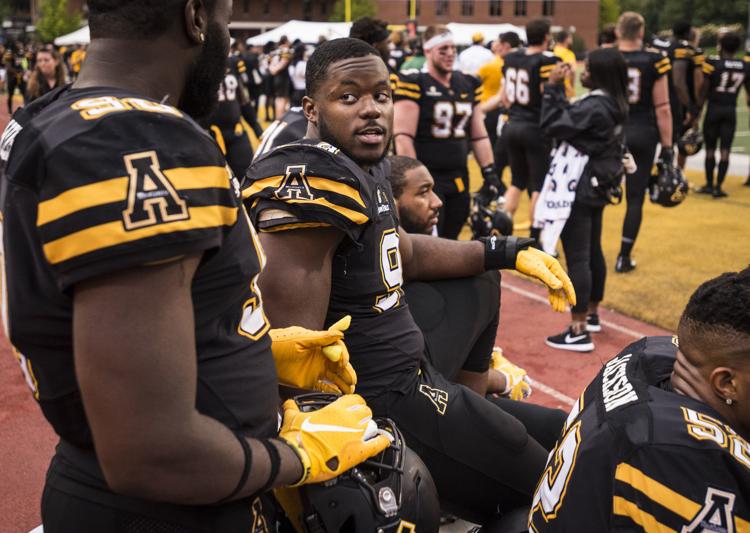 After Wednesday's practice, Drinkwitz provided injury updates for App State's players.
"Still questionable with some guys," Drinkwitz said. "We don't know. They were all there today trying to get ready and get back. It'll probably be more like a Friday, Saturday, game-time decision right now."
The biggest lingering questions are about defensive lineman E.J. Scott and safeties Desmond Franklin and Ryan Huff. Franklin starts alongside Josh Thomas, and Huff regularly enters the game as well.
Vic Johnson, who is recovering from an ankle injury, also rotated in and out of the game against UNC. A number of Mountaineers battled cramps Saturday against the Tar Heels, experiencing a hot day where heat radiated off the field turf and stadium.
4. Two quarterbacks
Coastal Carolina likely will play two quarterbacks against App State, something the Chanticleers have done all season.
The primary starter is Fred Payton, a sophomore who played in last year's game against App State. He's thrown at least one touchdown in three of CCU's four games, and he's completing 65.2% of his passes.
He is backed up by Bryce Carpenter, who is the second-leading rusher on the team (179 yards). C.J. Marable leads the Chanticleers with 398 rushing yards and four touchdowns.
Drinkwitz said he can see why both quarterbacks earn snaps, possessing similar qualities that can keep the CCU offense moving.
"I think they're both really good football players, and they both have the same kind of skill set," Drinkwitz said. "Both can run and throw and manage the offense, and that's probably why they still rotate both after four games."
5. A quarter of the way through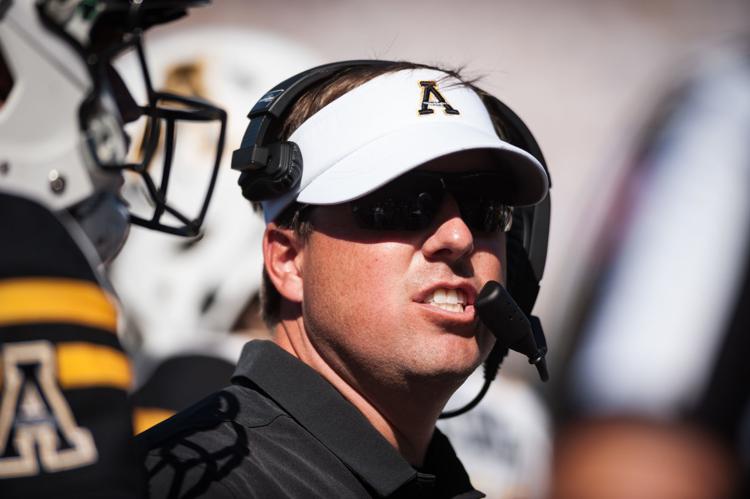 Drinkwitz now has three games in his college head coaching career. While he often brings up his time as a seventh-grade coach in Arkansas and the wealth of experience that came with it, the last month has immersed him into all the gameday responsibilities that come with being a head coach.
In all three games, the Mountaineers nursed leads. In the last two, Appalachian took on different counter strikes and managed to leave victorious in both.
For Drinkwitz, even now, there's still adjustments to be made.
"I don't know if you're ever comfortable with anything," Drinkwitz said. "Every game is different, every game has got new challenges, different things. I wasn't necessarily comfortable on the sidelines going through all the things we had to go through Saturday, but I just try to focus on the moment, be in the moment and prepare as best I can."