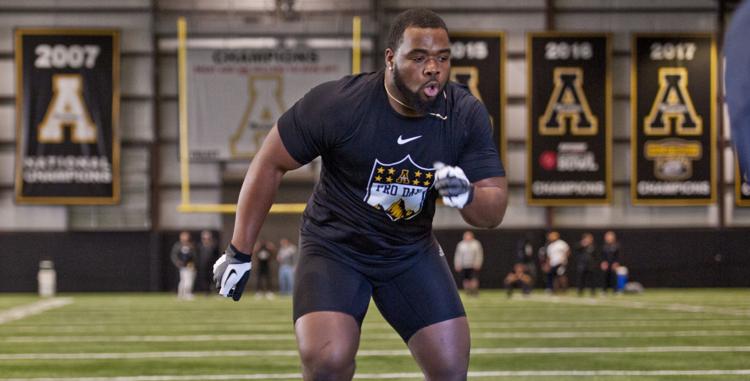 BOONE — Appalachian State's pro day wasn't just MyQuon Stout's chance to impress NFL scouts.
It also offered a break from the day job currently held by the former Mountaineers nose tackle.
App State's recent batch of seniors returned to Boone on April 4 after more than three months of training throughout the southeast. But since the 2018 season ended with the Mountaineers' win in the New Orleans Bowl, Stout's taken the that time to not only work out, but also set other groundwork if a career in professional football doesn't pan out.
Stout has been a strength and conditioning temp at Louisville, working with former Appalachian strength and conditioning coach Mike Sirignano.
"I know you can't play football forever," Stout said after pro day. "So if I get a call, that's a blessing, but if not, I got a job. I've been there working with the strength coach, working under Coach Mike. Kind of following in his footsteps, you know? Because he's been pretty successful."
Preparing for two potential futures has made for a busy few months for Stout. When he first arrived in Louisville and started working with players, Stout oversaw lifts throughout the day, beginning in the morning. Then, when his work day was finished, he had to work out himself.
After roughly a month of doing that, a change needed to be made to his schedule. It was too difficult to for him to lift after a full day of work. Stout then started showing up to the weight room at 4 a.m. before using the rest of the day to work with student-athletes, who started their workouts at 7 a.m.
"I wanted to put everything into it," Stout said. "... So it's actually helped me (become) a lot better. I feel a lot better."
Fortunately, Stout was familiar with that kind of schedule. During his senior season at App State, Stout was a student teacher. He would get up to work out with the Mountaineers' first lift group of the day, which featured mostly freshmen. He would sprint to his school to teach and get back just before football practices started in the afternoon.
The frantic nature of his schedule helped him get through App State's pro day, Stout said, where he weighed in 10 pounds heavier than his playing weight of 282 while still displaying his burst of speed.
"I felt like being on my feet all day is why I felt so comfortable moving around with my 292 pounds. You know what I'm saying?" Stout said. "While I was putting on that weight, I wasn't just sitting down on the couch.
"I was up on my feet working. Student teaching prepared me for where I'm at now."
Stout was an emotional centerpiece for championship-winning teams. He mentioned throughout his career that he'd be open to coaching someday. With Louisville, he opted to go the strength-and-conditioning route instead of a grad-assistant coaching position due to the relationship he built with Sirignano.
"You get to see your position coach throughout the fall," Stout said. "But with your strength coach, you're with him every day. That's who's getting you better, that's who's pushing you, develop you as a man and make you stronger.
"I came in at 232 pounds. I just weighed in at 292. And a lot of that is the program that I've been through. It's more of an impact. He had more impact as a man because you know, I didn't grow up — I didn't have a dad, really. So seeing someone like him as a father figure, and how he treats Dom (Sirignano's son), it kind of persuaded me more."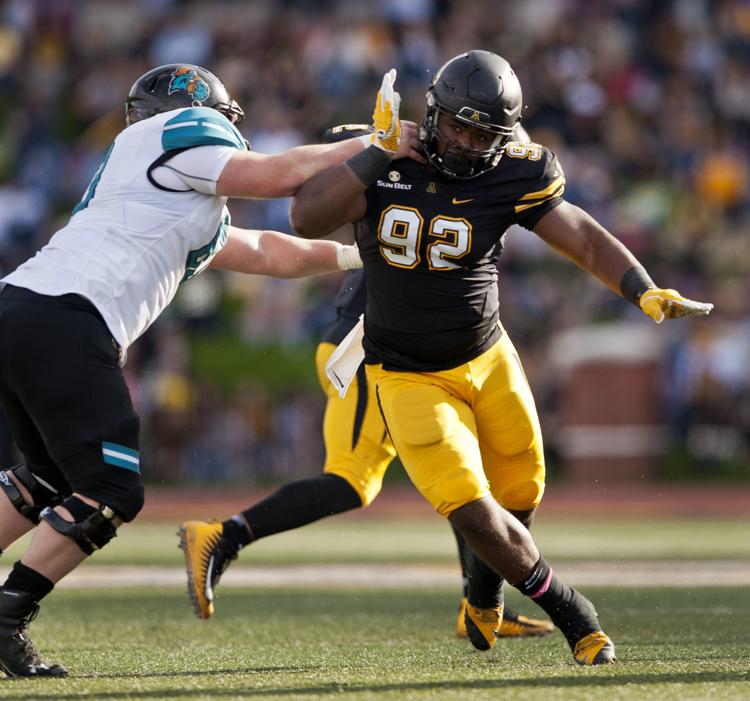 Stout had a solid performance April 4 at Appalachian's pro day, completing 28 reps on the bench press and working through drills alongside former teammates in the App State indoor practice facility. He said he would be heading back to Louisville that weekend to get back to the grind.
The job, more than anything, has been enlightening to Stout. He can remember how he'd shake his head at some of the things Sirignano would say or tell him to do. But now, on the other end of the relationship and working with players around his age, Stout understands what it takes for a coach to make players better.
"Watching the guys on the other side, like the players and stuff like that, you can always go harder than what you think you can go," Stout said. "Even when you're tired, you can always push through. Push through and get more."