Five things to know about App State's WBI Tournament final against North Texas
Regardless the result of the WBI Tournament final on Wednesday, it's been a strong season for Appalachian State women's basketball.
The Mountaineers (21-14) enter their final game of the season already assured the first 20-win season under fifth-year coach Angel Elderkin. But Appalachian is looking to end the season on a championship note.
App State plays host to North Texas (18-15) for a 6:30 p.m. game in Boone. Here are five things to know about the matchup:
1. The end of the story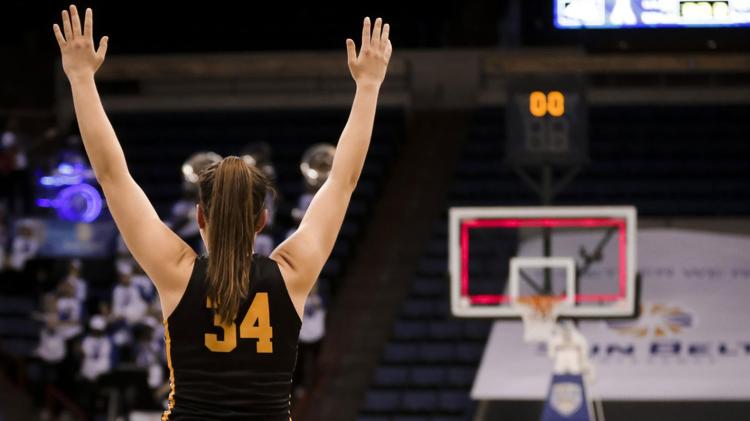 Madi Story will complete her college career on Wednesday.
She is the 25th player in App State women's basketball history to score more than 1,000 points. She's averaged 12 points or more in her last three seasons. And she became one of the first players (along with former teammate Katelyn Doub) to be named a team captain by Elderkin.
Story willed the team into the WBI championship game with her performance Saturday night. She scored 19 points, 13 of which came in the second half, to beat Campbell, 70-57.
If Story scores more than five points, she'll enter the top 10 of the program's career scoring list. If she scores more than 25, she'll become ninth all time.
2. A short bench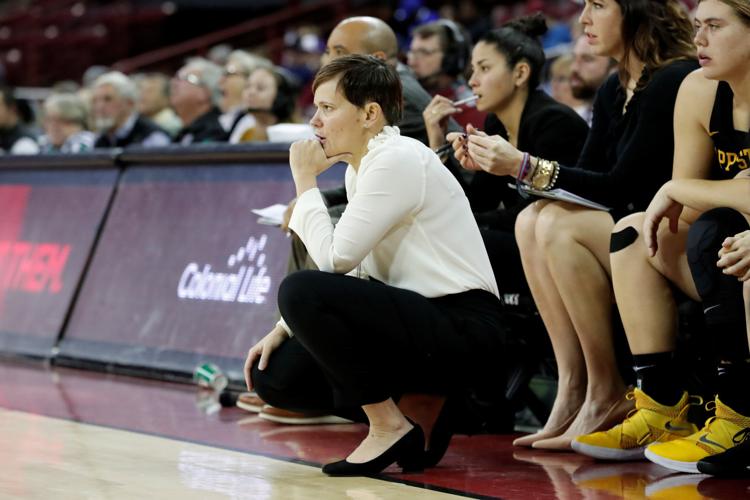 Angel Elderkin said after Saturday's game she's worked on shortening her bench for this postseason run.
Against Campbell, each starter played at least 32 minutes, and they combined to score 66 of the Mountaineers' 70 points.
Appalachian's reserves have registered six points or less in its last three games. The Mountaineers are overcoming that small bench production with players stepping up. Against Marshall on March 27, Pre Stanley went off for a career-high 28 points. Against Campbell, three starters scored at least 14 points — Story (19), Stanley (15) and Bayley Plummer (14).
3. Attendance bump
Saturday was proof that App State fans have gotten behind the women's basketball team.
Attendance at the Holmes Convocation Center against Campbell was 1,293, easily the highest attendance number of the Mountaineers' 16 home games this season.
According to the App State athletics website, a total of 8,299 fans have attended App State women's basketball games this season. That's an average of 519 per game. In its last six games, App State has registered attendances of at least 600.
4. A tall task for Bayley Plummer
With 20 rebounds against Campbell on Saturday, the App State junior post player set the single-season record for rebounds. Plummer now has 441 rebounds, breaking a record set by Valorie Whiteside in 1984-85.
Plummer will be responsible for limiting the scoring of North Texas's Anisha George, who averages 10.3 points per game to go along with 6.9 rebounds.
George, a 6-foot-2 junior, hasn't scored more than four points in her last two games. But she had 19 against Texas Rio Grande Valley in North Texas's WBI opener.
5. Rare air in a young tournament
If Appalachian wins Wednesday, it will become the second program to win more than one WBI title. Appalachian won the inaugural WBI title in 2010.
The first is fellow Sun Belt school Louisiana, which claimed consecutive tournament titles in 2015 and 2016.
That 2009-10 season signaled the start of a stellar run for the women's basketball program. It became the first of four straight 20-win seasons, the last three of which ended with appearances in the WNIT.