Eli Drinkwitz's opening season as head football coach at Appalachian State is within a month of its first kickoff.
But before that can happen, he has to face some more questions, literally. The Mountaineers host their media day on Thursday, with players reporting for the start of fall camp.
Drinkwitz inherits a program that's rolled through any potential roadblocks while acclimating to the FBS level — in App State's four eligible seasons, The Mountaineers have won at least nine games in each, claiming four straight bowl wins and three Sun Belt Conference titles.
He also gets to work with a group that's loaded with experience. The Mountaineers return 10 starters on offense and seven on defense.
Those players all took different paths to their starting roles. It begs the question: how do current Mountaineers feel like they changed the most by earning their starting nods?
The Journal spoke with five Mountaineers with varying starting experience during the team's spring practices in March. On the heels of the season opening, here's how those guys feel like they've changed.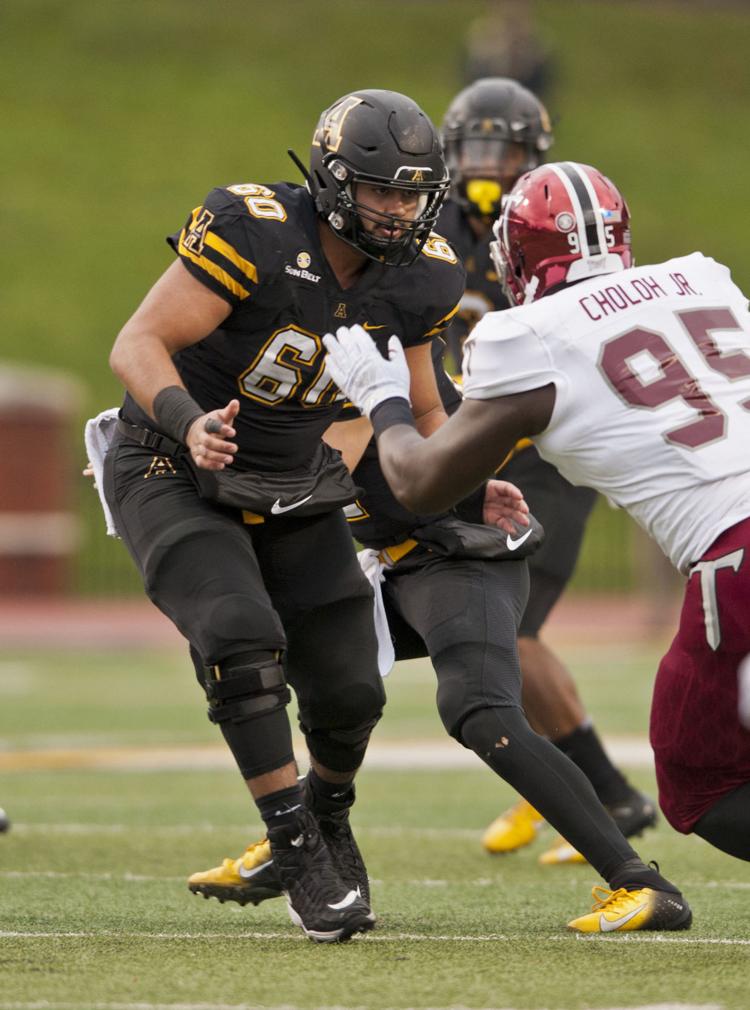 Noah Hannon
Experience: App State's starting center, he's commanded the position since the start of his true freshman season in 2017.
Hannon likes to tell a story about the opening game at Georgia. He settles for the first snap of his college career, and on that first play, he's drawn a one-on-one assignment. Pretty straight forward. The only problem was the guy across from his was Trenton Thompson, all 6-foot-4 and 290 pounds of him. Hannon fielded all kind of obstacles as he learned that first year.
Part of his evolution, Hannon said, has been an increase in size, but he also learned how to lean on the expertise of his older teammates, which he's now putting into practice with guys on the current roster.
"I think the one thing I can do to help them out is be clear and concise with my communication on the field," Hannon said. "Because they're great players and we've learned the scheme and everything and it's me articulating that scheme out while we're on the field. I think that really helps out with people who aren't as comfortable or aren't as used to being in the game."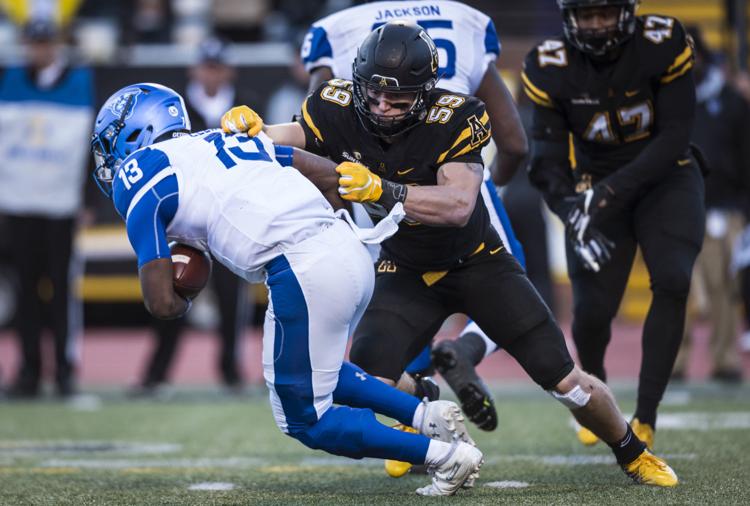 Jordan Fehr
Experience: After injury cut his 2017 season short, Fehr entered the 2018 season as an option at inside linebacker. He started all 13 games for the Mountaineers last year.
Fehr said for him, it was a rising confidence that boosted his play. He would be named the Sun Belt Conference's defensive player of the week twice, earning an all-conference first-team nod after accruing 86 total tackles and 5.5 sacks.
"You know a lot of times, they're saying you'll get butterflies before the game? Then you make a hit and all those are gone?" Fehr asked. "That's kind of how it was. So once I knew that I could play, like after that first snap at Penn State, I was like a 'I'm made for this, I can do this,' type deal. And I continued to grow."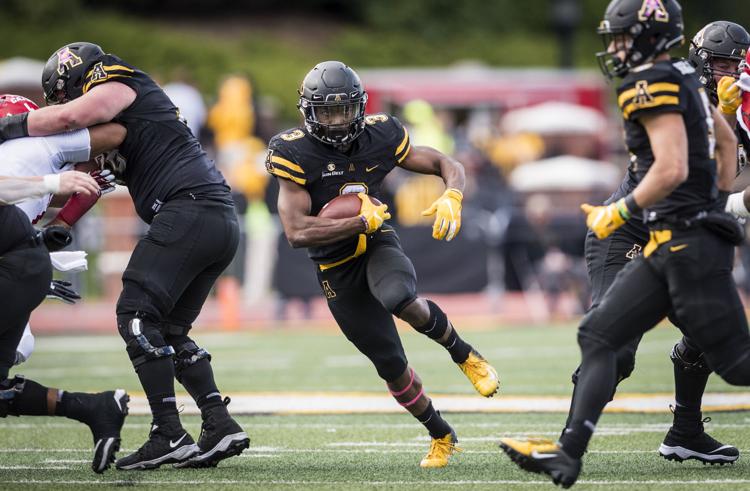 Darrynton Evans
Experience: After appearing in App State's first five games of the 2018 season (including one start), he took over the starting running back spot when Jalin Moore suffered a season-ending ankle injury.
The running back spot was a position group of excitement last year, as it will be this year too. Between Moore, Evans, and the cluster of other guys who could chip in during 2018, App State felt comfortable in its ability to pound opponents with the run game. It's why Evans felt like he transitioned fairly easily into more responsibility. He rushed or 1,187 yards last season and earned a spot on the all-Sun Belt first team.
"As long as we know the plays, we all can produce. We all study film together, practice hard together, push each other," Evans said. "It's kind of a good competition to where everybody's getting better.
"It was just always be prepared, you know?"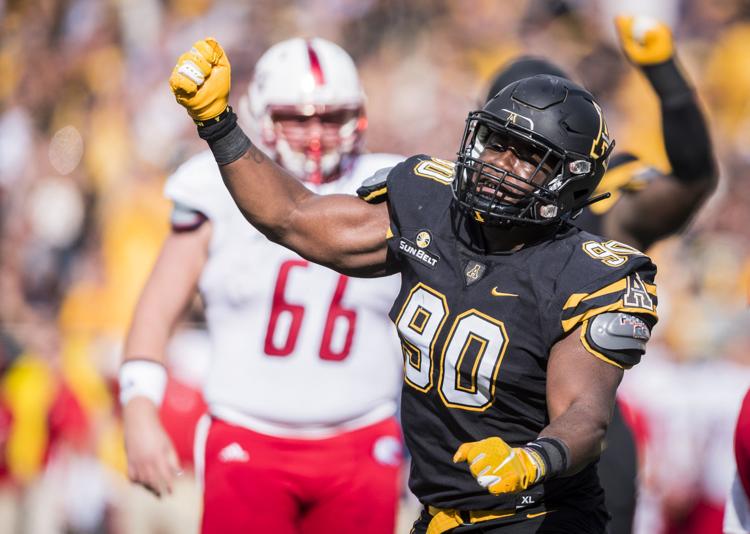 Chris Willis
Experience: Willis broke into the starting defensive unit about halfway through last season, starting five of App State's last six games.
Now, the defensive line group was a different animal. Former D-line coach Mark Ivey would rotate the defensive line three units deep, allowing at least nine guys to get regular playing time throughout the game.
But Willis earned a bump, stepping ahead of then-senior Okon Godwin at the position. Willis said he knew it be difficult to unseat Godwin at the spot, but he tried to focus on developing his skills to overcome his lack of experience compared to Godwin.
"It was really kind of hard to catch up to that," Willis said. "But once you realize 'Hey, I got a chance,' you'll go out fighting.
"At the end of the day, it's best for the team, best for D-line, so you always want to give your best effort. You never know what'll happen to move forward."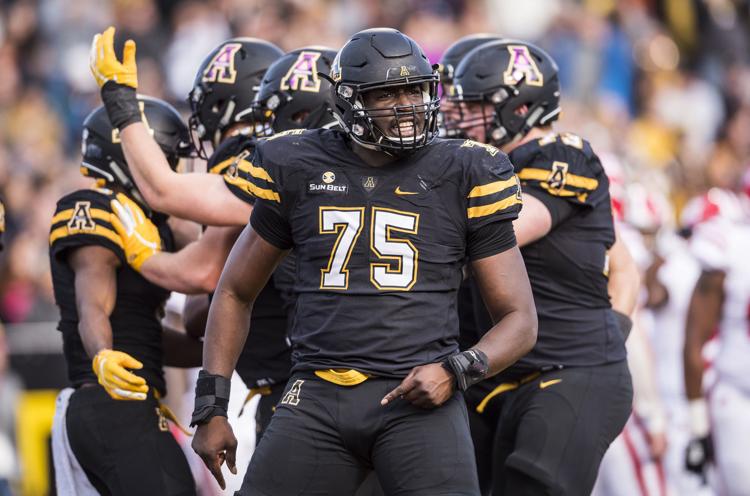 Vic Johnson
Experience: Johnson has played in 38 games, all at left tackle. He's started every game.
Much like Fehr, Johnson needed to get comfortable in his role. He joked that as a young player, especially as a redshirt-freshman starter for a team that won the school's first share of a Sun Belt title, his hands would get sweaty before games and his nerves would shutter.
That changed over time, in part due to the support he got from Shawk Clark through every practice. Clark became App State offensive line coach in 2016, Johnson's first year as a starter. But he also stopped complicating his playing style.
"I would watch film, I was like 'I already know what I was thinking on that play. I was overthinking. Oh, this guys is really good, he's going to do that,'" Johnson remembered. "But now I feel like I could block anyone, honestly ... I just don't panic about things anymore."