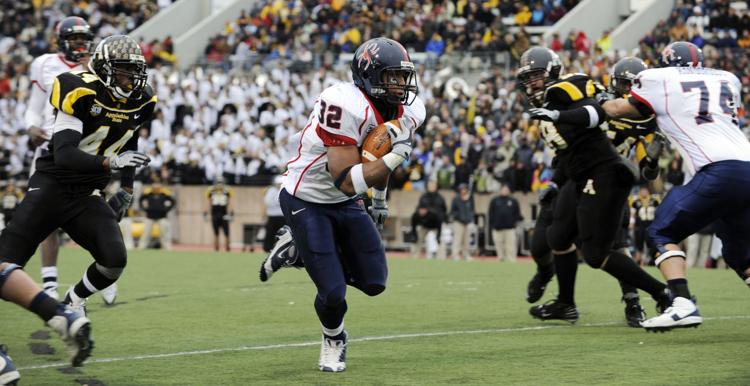 Will Healy has been to Boone multiple times, but one particular visit ended with a deflating Appalachian State defeat.
Before Healy was the head coach at Charlotte, which visits App State on Saturday, he was a backup quarterback for Richmond. And on Dec. 6, 2008, the Spiders ended the Mountaineers' championship streak. App State won three straight I-AA national titles from 2005 to 2007, and Richmond was part of that carnage -- Richmond lost to App State in the 2007 semifinals, 55-35. 
That changed in 2008, when Richmond handled App State en route to a national championship of its own. So what does Healy remember about that game?
"We played great," Healy said during his weekly press conference. "The year before, we were tied 35 all, it was about eight minutes to go in the fourth quarter and they ran away with it."
He also can picture a conversation between former App State coach Jerry Moore and then-Richmond coach Mike London. The two stood at midfield before the game. London looked toward the west-side seats at the still-under-construction Appalachian Athletic Center (now the Mark E. Ricks Athletic Complex), which opened in 2009.
"He (London) said, 'Man, I guess this is what you get when you win three straight national titles,'" Healy recalled. "And Jerry Moore said, 'No, this is what you get when you beat Michigan.'
"And (he) just talked about what that did for their program and how people thought of Appalachian State, nationally."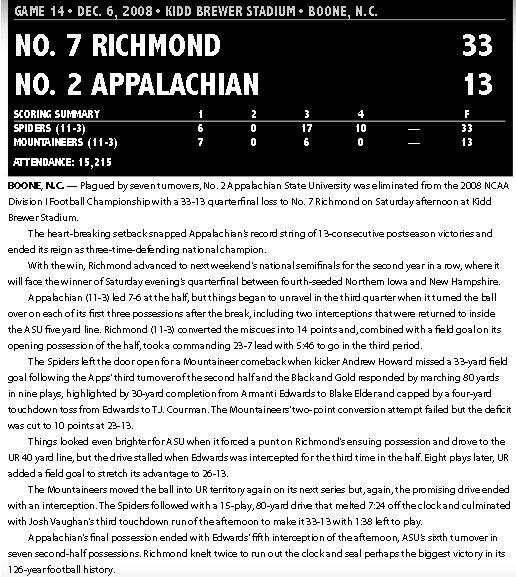 The day turned into a mess for the Mountaineers. Ahead 7-6 at halftime, the Mountaineers turned the ball over three consecutive times to start the third quarter. They finished with seven on the day. Even still, Healy said he couldn't shake the feeling that Appalachian was still threatening even as Richmond pulled away.
"When you play a team that has won as much as they have and has won three straight national titles, you can't let them feel like they've snuck back in the game," Healy said. ". . . And you've got Armanti Edwards on the other side of the ball."
Edwards went on to win the Walter Payton Award that season, the first of two that he would claim. The junior quarterback connected with T.J. Courman in the third quarter for a touchdown, but that was the last score the Mountaineers would see.
When the game ended, Healy remembered all the App State fans who already purchased national championship tickets giving them away to the few Richmond fans who made the trip. 
He would face App State again for years to come as a Chattanooga assistant for six years before moving on to Austin Peay and Charlotte. 
And now, as a head coach, he appreciates the confidence the Mountaineers' fanbase has, then and now, as he tries to build up the 49ers. 
"I would say that is the expectation of their fan base, which is a great expectation to have," Healy said. "They expected to be in the national championship and win the national championship, just like they expect to beat UNC Charlotte, University of North Carolina, and whoever they play against."