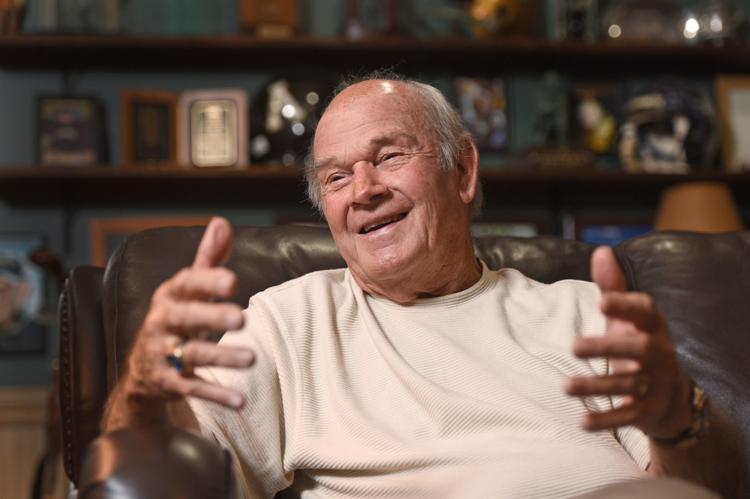 BOONE — When Jerry Moore answers his front door, he could easily pivot any guest right into his past.
The house, tucked into rolling hills off the Blue Ridge Parkway and surrounded by trees, is home for Moore, the former longtime football coach at Appalachian State, and his wife, Margaret.
"I don't have anything to do besides play golf and piddle around out here," said Moore, now 80 years old.
He is being coy in a couple ways. One, it's not a terrible place to piddle. And two, he keeps himself busy enough, going to high school and college practices and speaking when asked.
Coach Moore has come up a lot lately. App State will be honoring him Saturday during the season opener, remembering the 30th anniversary of his hiring. The university announced it would also build a statue and plaza outside of Kidd Brewer Stadium, enshrining the coach who helped put the Mountaineers program in the national eye.
It's why a tour through two rooms of Moore's house is necessary on a Friday morning, a couple of weeks before the Mountaineers start the 2019 season.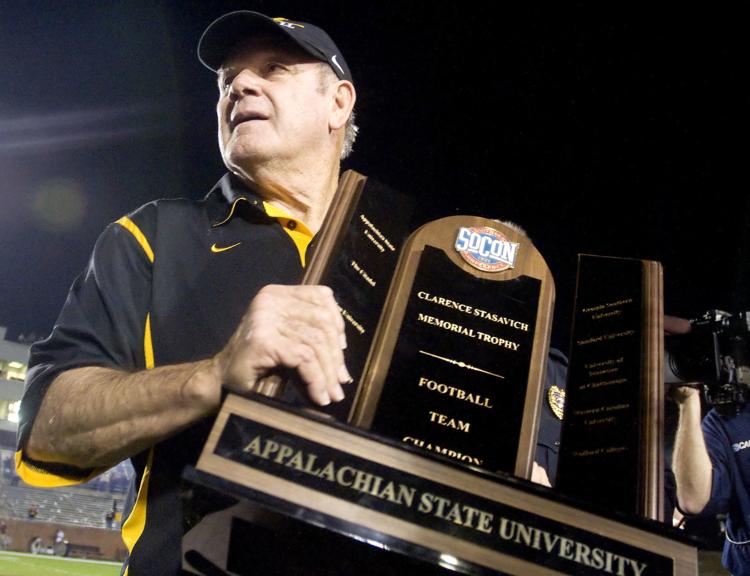 Whenever he wants, he can immediately dive back into his coaching life. Just inside the entrance is a stairway on the right. It leads down, turns to the left as pictures start populating the narrow space.
Moore points out one of his favorites, from App State's 2007 win at Michigan. The Mountaineers are taking a knee on the field, just after the biggest college football upset of all time, and former tight end Nic Cardwell stands in the middle of the huddle as onlookers hang around.
The stairs end and a den awaits, filled with commemorative footballs, trophies and photos. An office door is opened to the right with even more stuff from his 24 years in Boone.
Black and gold peek out everywhere.
All the praise, though, is not Moore's style. Anybody who's met him knows that. But he'll put up with it in order to be surrounded by beloved fans again.
"I love the people up here in the mountains," Moore said. "I'm going to tell you that now. There's people here that make a lot of sacrifices to go watch Appalachian football."
These rooms represent his entire career, a self-made salute to Jerry Moore the coach. But if you ask him, there are a few special items lying among all of the keepsakes that define Jerry Moore the man.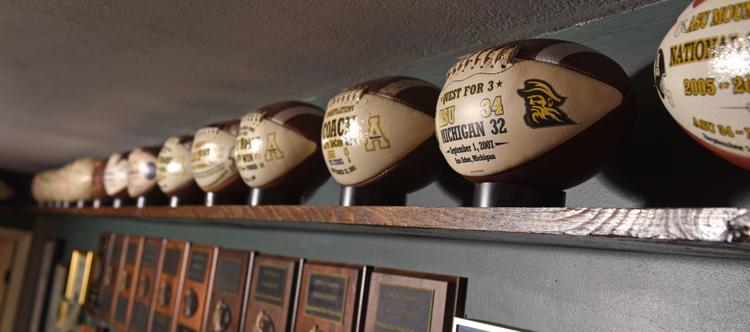 The football
Jerry Moore has a football. It's around here somewhere.
There are at least 50 of them in the den, sitting on a shelf out of reach, but he is looking for one in particular.
"It's probably the most prized ball I got on the wall," Moore said.
This one is old and dirty. It's the reason the rest of these balls — and everything else in here — exist at all.
Moore got it after his senior year at Bonham High School in Texas from a local doctor who won it in a school auction. It had the signatures of all of the Purple Warriors from the 1956 season, a team that turned around the program.
Moore's freshman season in 1953 was a calamity. It was a winless campaign with little to be proud of.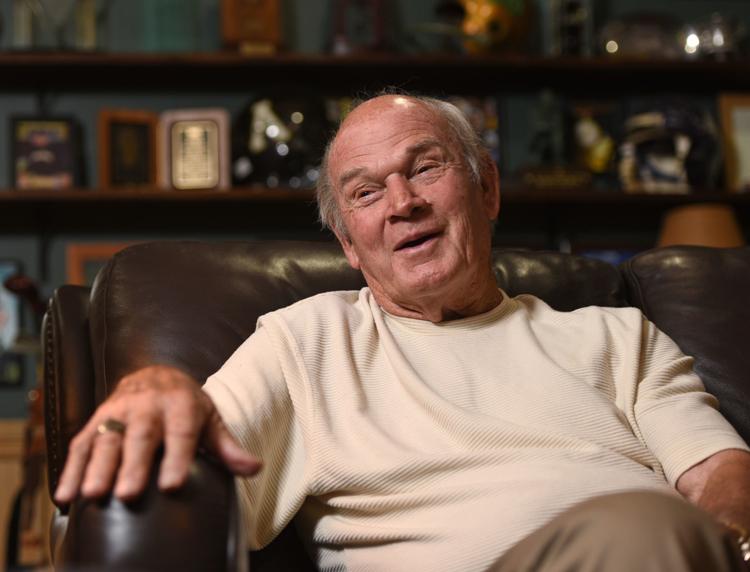 "I tell people we celebrated when we won the coin toss," Moore said. "And the sad thing about it for me was I was having fun. I didn't know how important winning was and what it took to win."
But after that season, Bonham went through a coaching change. That turnover introduced Moore to two of the most influential men of his life.
The first was M.B. Nelson, a soft-spoken head coach who once played for the L.A. Rams. The second was Jim Acree, Moore's brash position coach who had played at Oklahoma and won an AAU heavyweight boxing championship.
The two brought a level of discipline that Moore and his teammates had never seen before. That was affirmed at the start of Moore's sophomore season, when the Purple Warriors loaded up in a yellow school bus for a season opener at Dallas Jesuit.
The bus was in a full ruckus. Moore, a young wide receiver, remembers commotion and laughter, playing cards and comic books. All at once, the bus pulled off the road, and Nelson walked the aisle.
Moore said the bus got so quiet and still, it was easy to hear Nelson's piercing line: "No wonder y'all didn't win. You don't know how to get ready for a football game. You don't know how to prepare for a ball game."
That changed Moore's approach forever. And it's when his coaching hopes blossomed. Bonham would register double-digit wins in Moore's junior and senior seasons, and Moore became a major recruit in the state.
During his high school career, Moore also worked at a local iron foundry. If he wasn't there, he was serving as a lifeguard. Before his senior year, Nelson told Moore he could get a scholarship if he applied himself to football.
By the time his prep career ended, Moore could've gone anywhere. He considered Texas and Oklahoma before he decided Baylor was the best place for him.
The Bears popped up on Moore's radar thanks to a 13-7 victory against an undefeated Tennessee in the Sugar Bowl. It was also a smaller school that fit his personality.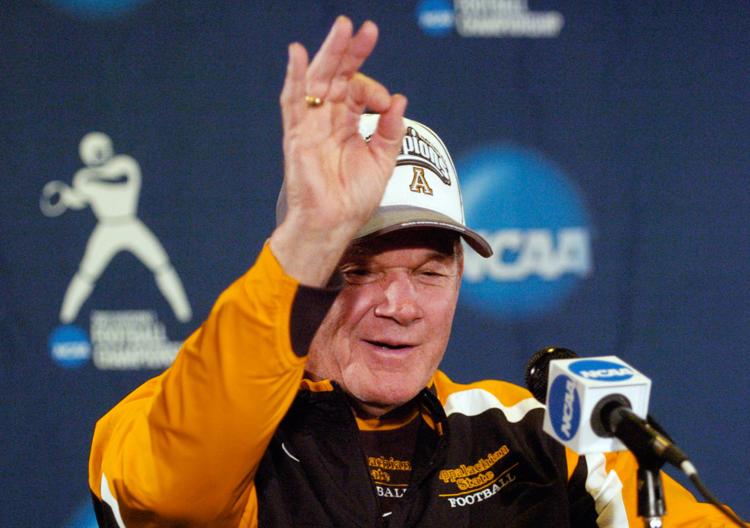 He would become a three-year letter winner with the Bears, playing for a 1960 team that rose as high as seventh in the AP Poll. He also met his wife, Margaret, during their freshman year.
Moore said Nelson became a father figure after his father, Almage, died of a heart condition while he was in college.
He was Moore's Sunday school teacher, and Nelson was the person Moore talked with about proposing to Margaret.
Acree, who took Moore and other high school teammates to watch the Sooners a few times, became Moore's shepherd into coaching. Moore worked under Acree at Corsicana High School, the first stop on a career that featured assistant jobs at Southern Methodist (1965 to 1972), Nebraska (1973 to 1978) and head coaching stints at North Texas (1979 to 1980) and Texas Tech (1981 to 1985).
On one of Moore's many shelves, there's a photo of him and Nelson. Both are wearing red, the moment captured during Moore's tenure with the Red Raiders. And in his office, there's a photo of Acree inset into a plaque.
The two men are the framework Moore tried to build on as he went through his coaching life.
"I wanted to coach like him, and I wanted to be a man like this one," Moore said, pointing first to the Nelson photo. "And I think I hit a pretty good blend in there."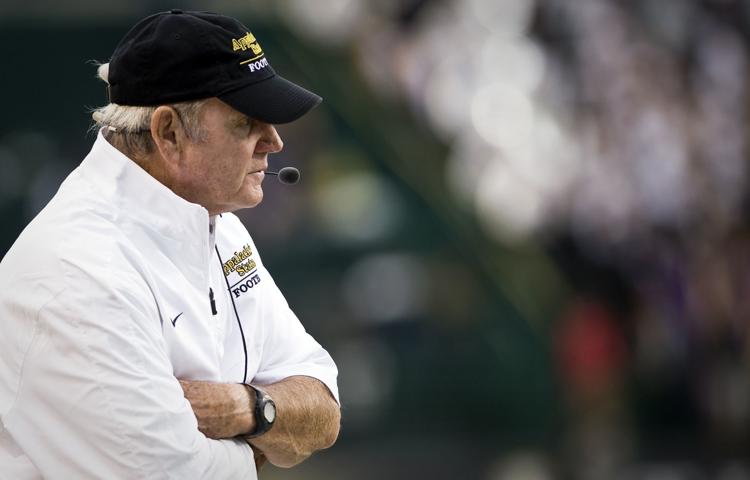 The business card
Jerry Moore had a business card. There's not one around here, but he remembers the job description having a nice ring to it.
It represents his almost-two-year hiatus from college football when he thought his dream was over. He worked for a company that turned land into housing developments. He would find properties, then look for small-outfit builders who needed more capital backing.
"I had a title, and it was kind of spiffy, but I don't remember what it was," Moore said with a laugh. " ... If I gave you my card, you'd be impressed with it."
It was a career that promised a good salary and more job security. But in reality, Moore was heartbroken.
He was hired as the head coach of Texas Tech before the 1981 season, wrapping up a two-year tenure at North Texas. He coached five seasons in Lubbock before he was dismissed near the end of 1985. Moore loved the school and the city. He loved the people around the program. He didn't want to leave.
Moore felt one more season could've saved his job. And he might be right — his replacement, David McWilliams, went 7-4 the next season and earned an Independence Bowl appearance. A 16-37-2 record, however, was too glaring to overlook.
Moore said he had a couple of potential coaching options after being fired by Texas Tech. His best was at Clemson, a job offer that emerged from an old friendship with former Tigers coach Danny Ford. Jerry and Margaret even made the trip to Clemson, looking around Lake Keowee for a new house.
But the Moores already had a house in Lubbock, plus two apartments in Dallas and Atlanta. And coaching salaries, Moore said, weren't the massive deals of the 21st century. On top of that, he didn't want to force his family to move.
So Moore took his job out of football, traveling around the nation to look for the next great suburbs. Every so often though, if he could swing it, Moore would go to football practices just to be around the game again. That included a few trips to check on Ford and the Tigers.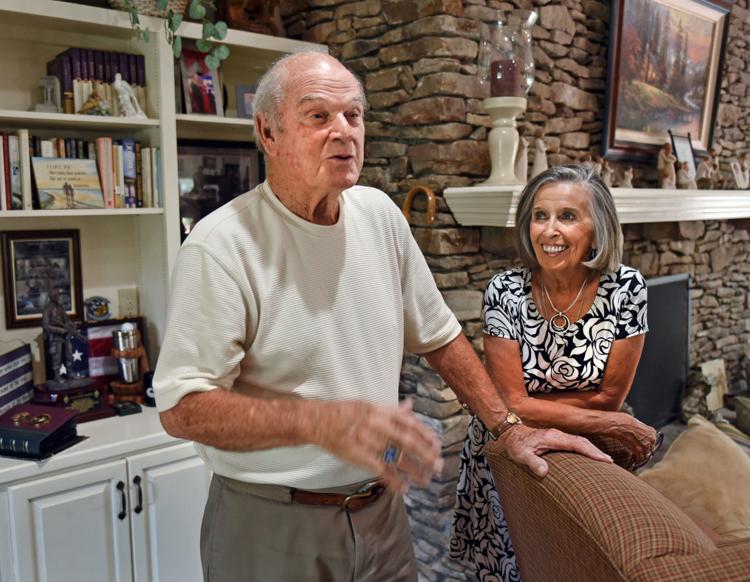 Margaret Moore enjoyed the regular schedule her husband had. They could go to matinee showings and play tennis together. Their children were moving out in the world. They finally had time for themselves. But Margaret could tell her husband was miserable without football.
"I knew from the get-go," said Margaret, also 80. "You just know that. You get that feeling."
And Moore eventually reached his tipping point. Clemson played host to Virginia on Sept. 10, 1987. Ford called Moore and told him to come for the game and a free meal. Moore watched the pregame and halftime speeches, as well as a 38-21 victory for the Tigers, and was reminded of his old locker rooms.
"That was probably the deciding factor, that ball game," Moore said. "Because I told myself as I was driving back into Atlanta, I told myself we weren't that far off at Texas Tech."
Moore made a couple of phone calls. He called Tom Osborne, his former Nebraska boss. He also reached out to Ken Hatfield, then the head coach at Arkansas. Hatfield offered Moore a volunteer position with his staff. Moore struggled with what to do. Margaret, then a school teacher, told her husband to pursue football one more time. It was worth the financial strain it might cause.
"Margaret said, 'Well, you're not happy. We'll make it work,'" Moore said.
The Moores said they were showered with acceptance and warmth by the Razorbacks staff members and their families during the 1988 season. Arkansas went 10-2 that season, winning a Southwest Conference championship. And Moore got a rejuvenation from the sport he loved.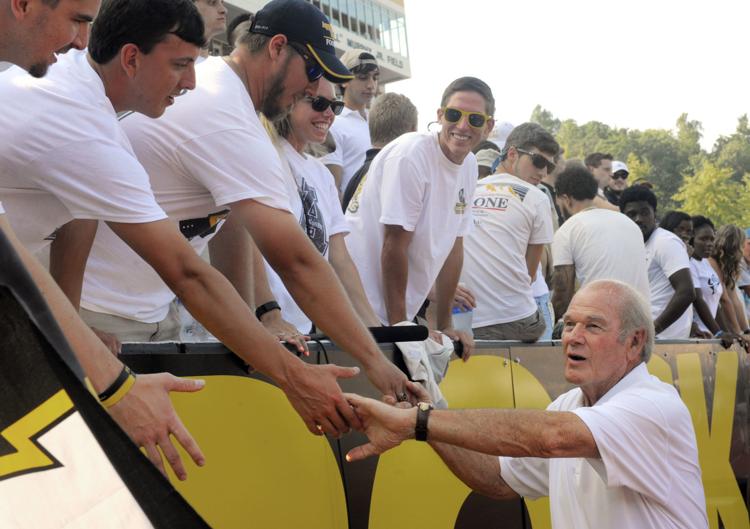 The photo
Jerry Moore has a bible. It's around here somewhere.
Inside, there's a photo waiting to be delivered to one of his fellow church goers. It's a shot of a young App State fan, a boy probably 8 or 9 years old at the time, Moore said. The young fan is about to start his senior year of high school now, and Moore plans to give that photo to the boy's mother the next time he sees her.
The wins and championships were great — and he saw a lot of them, racking up 215 victories in his Mountaineers tenure for a total of 242 in his career, and so were the 10 SoCon championships and three straight I-AA national championships from 2005 to 2007. But it's the people, like the small fan he posed with in the bible photo, that made his last coaching stop worth it.
He cherishes every fan, even now, that wanders over to him with the hope of an autograph or a conversation. The longer he was around Boone, the more those interactions happened. He loved it all.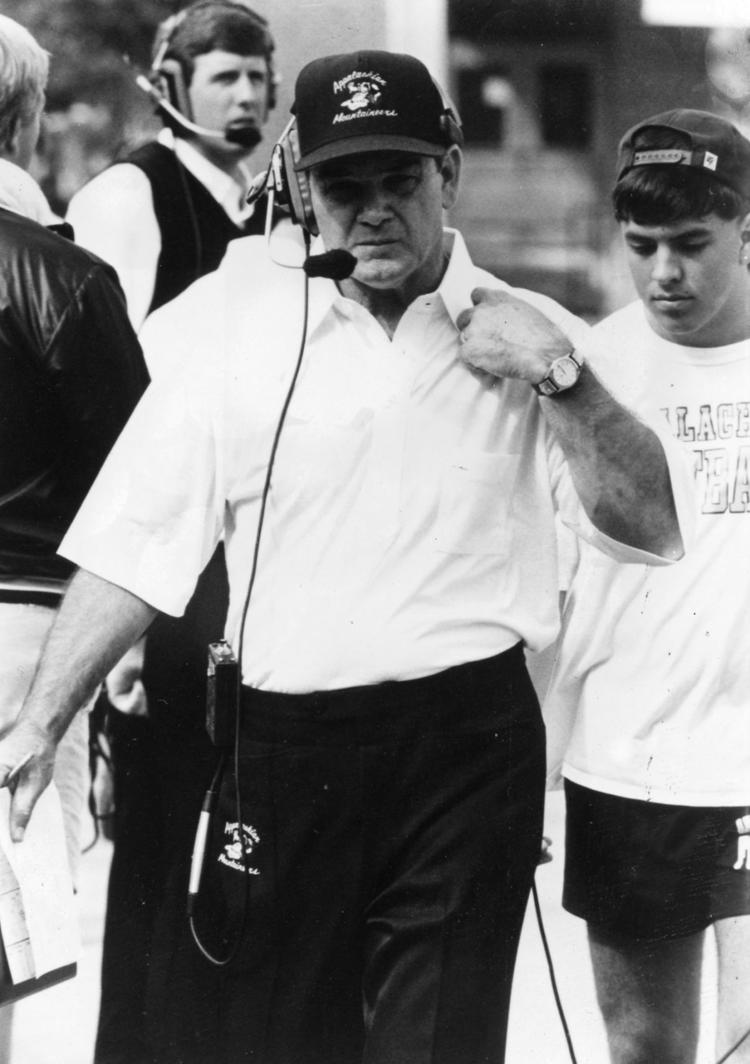 Moore was in line to join the Arkansas staff after the 1988 season when Jim Garner, a former athletics director at App State, called. Garner and Moore knew each other, having spent time together around college football in Texas, and Garner offered the job right away.
"He said, and Jim knew me well enough to say this, he said, 'Your life is not accounting for everything you want it to,'" Moore remembers. Garner offered the position over the phone, and after a couple trips into Boone, Moore accepted.
He inherited a solid Appalachian program — Sparky Woods, and Mack Brown a little bit too, had laid a foundation to work with. But the Mountaineers experienced player turnover when Moore took over. He said roughly 50 players ended up cycling out from the time he took the job to the first game of the 1989 season. It made Moore's task a little tougher during that first season.
But slowly, Moore and Appalachian started racking up big victories: beating Wake Forest, 15-10, in Moore's debut season; outlasting Furman in three overtimes, 26-23, aided by Steve Wilks' blocked kick to set up the Mountaineers game winner in 1991; and handling No. 1-ranked Marshall, 24-14, in 1994.
Fast forward to 2005, when Moore faced a contract year, and the Mountaineers responded with the program's first Division I-AA national championship. The three titles and the Michigan upset are only four victories in a legacy established by years of quality.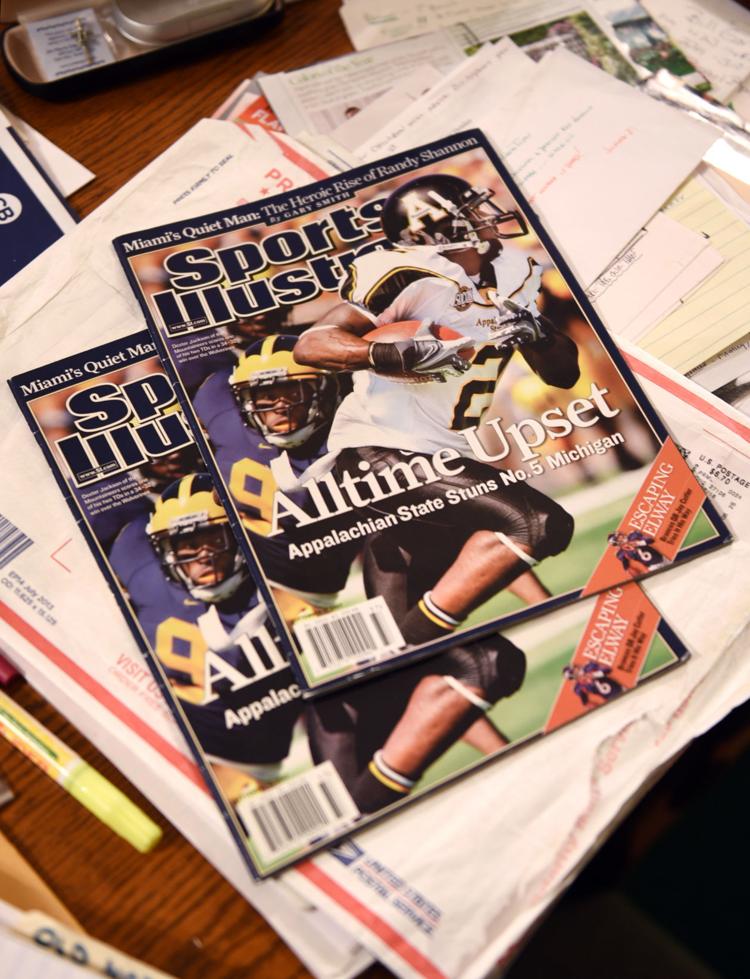 All of that made the coaching transition in 2012 even more jarring. It's a well-known story now: Former athletics director Charlie Cobb dismissed Moore after the regular season. Moore wanted to coach one more year. Cobb said the decision was made the year before. Moore disputed that.
It got messy, putting a strain on the relationship between Moore and a school he loved at the time. It also put his replacement, Scott Satterfield, in a weird spot. Satterfield went from former player and assistant under Moore to interim, then permanent head coach of a program jumping from the FCS to the FBS level. He wanted his old coach to remain around after the transition, but he didn't want to make it uncomfortable for Moore either.
"I mean, obviously, we wish that he could have come around more and been around us and our guys, but I understand too," said Satterfield, now in his first season at Louisville. "... And I know how he is. I was around him a long, long time, and I know what he wanted to be doing. He wanted to be up there coaching; he wanted to be up there influencing the young people."
Moore made a few appearances anyway — bringing biscuits to the coaches after a tough loss and making it to a fellowship meeting the coaches held off campus. Since then, App State has worked on mending the relationship. Moore likes where things stand now. Saturday will be another part of that.
He anyways will be bouncing around campus all day, first appearing at the Hall of Fame breakfast and football alumni tailgate before being recognized during the game. He and Margaret, now married for 59 years, will take their usual seats in the east side of Kidd Brewer.
But Moore is a man who loves people. He'll likely stop for anyone that asks for a picture or a signature. He'll probably even do it once the game starts, even if it means he misses a few plays.
The door to his former home is wide open again. Jerry Moore will be around here somewhere.