App State's Eli Drinkwitz served as a keynote speaker on Thursday. Here are five characteristics he looks for in quarterbacks and leaders
BOONE — Eli Drinkwitz appeared at the Harvest House on Thursday to talk about leadership.
He referenced mirror neurons (more on that later). He quoted former Secretary of State Colin Powell (more on that too). He joked about his speech being too long. He marveled at the small-town nature of Boone and how strangers knew when he had his air conditioning fixed.
The first-year football coach at Appalachian State served as the keynote speaker at the Watauga Leadership Challenge Alumni Dinner, an event put on by the Boone Area Chamber of Commerce.
Drinkwitz used football as a lens to reference the greatest leaders he's ever worked with to those in attendance. Not surprisingly for the offensive-minded coach, those players were quarterbacks, like current Carolina Panthers starter Cam Newton. Through his coaching career, he's learned that measurables don't matter when it comes to leading a football team.
"When we talk about quarterback play, we don't talk about height and speed," said Drinkwitz, who spent the last three seasons as the offensive coordinator at N.C. State. "Leaders come in all sizes. Quarterbacks come in all sizes, they come in all shapes, they come with all different talents."
Drinkwitz said he's found five common traits great quarterbacks and, in turn, great leaders possess. He shared those with the folks in the Harvest House on Friday night. Here are the characteristics Drinkwitz's looks at when recruiting a player, hiring an assistant and even evaluating himself.
1. Toughness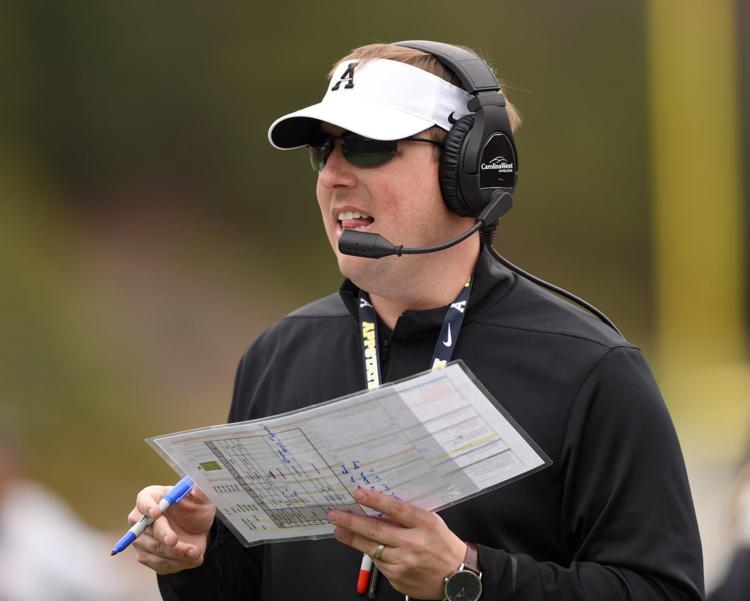 Drinkwitz said he values toughness above everything else. Mainly because even if a play breaks down, he still needs his QBs to handle the physical and mental adversity.
If the offensive line allows a blitz to break through, it doesn't matter. Drinkwitz wants his quarterback to deal with pressure, stand in the pocket and ultimately make the best decision.
"When we talk about toughness, we came up with our own definition," Drinkwitz said. "For the Appalachian State football team, for the quarterbacks and for the people, we're looking for toughness, we define as performing at your full God-given ability regardless of the circumstance."
That toughness sets an intensity that will hopefully rub off on others.
Drinkwitz brought up mirror neurons. The human brain has the natural reaction to attempt what it sees. It's why babies imitate their parents and why some think yawns are contagious. But more important, Drinkwitz alluded, that if the leader of a team or group is working hard, the rest will follow.
2. Preparation
"We believe the separation is in the preparation," Drinkwitz said. "We also believe that your confidence comes from your preparation."
The NCAA allows for 20 hours of athletically related activities per week. In that time frame, Drinkwitz said there's no way that coaches can fit in everything they need to teach their players. Because of this, Drinkwitz needs to see leaders make the effort to continue to grow and learn.
This is when Drinkwitz brought up Newton the second time. The coach called the quarterback one of the most dynamic leaders he's ever seen. But this point hearkened a story from Newton's college days. It was the summer of 2010, when Drinkwitz was an offensive quality control coach at Auburn. Drinkwitz was in early on a Saturday morning preparing the offense for a recruiting visit. The coaching offices overlooked the practice field. And as Drinkwitz, the first guy in the office that day, flipped the lights on, he noticed Newton and wide receiver Kodi Burns on the field. Both were drenched in sweat, and they were working on routes and timing together.
The Auburn Tigers would go on to win the national title that season, beating Oregon, 22-19, in the BCS National Championship. The game's first touchdown came from Auburn, a 35-yard pass from Newton to Burns. Drinkwitz said that was no coincidence.
"The separation was in the preparation," Drinkwitz said.
3. Decision making and trust
Drinkwitz said every offensive play, in theory, should work. It's the human nature and the need for synchronicity that can be the downfall.
"If the defense didn't move, I promise you we'd win every single football game," Drinkwitz joked. "Every one of them. But it does. So we give them a plan and then we go out on a football field, where there is 22 people moving at full speed trying to execute their assignment. It's the craziest thing I've ever thought about."
And he can coach his players as much as possible, but it's up to them to execute. And Drinkwitz has to be able to trust them, just like his assistants when they make substitutions or offer scholarships. This is where he quoted Powell, a four-star general.
"The commander in the field is always right," Drinkwitz said, echoing Powell. "The rear echelon is always wrong until proven otherwise."
4. Accuracy
Far too often, Drinkwitz said, a quarterback can be defined by his arm strength.
"I hear all the time 'Oh that guy has got a great arm, that guy has got a live arm,'" Drinkwitz said. "Well, I've never heard that there is no defense for the strong arm. I've always heard that there is no defense for the perfect throw."
Accuracy carries a direct line to purpose, Drinkwitz said. A leader with purpose and knowledge knows who they are and what they're about. To Drinkwitz, it means a good leader will be accurate in their aim toward goals.
It also means doing more than just your main responsibilities. Drinkwitz mentioned how he would prepare the office of Gus Malzahn, then the offensive coordinator at Auburn, and get his coffee ready. Drinkwitz said he always tried to get in before Malzahn and leave after him.
"If he left at 11:55 (p.m.), I'd leave at 12," Drinkwitz said. "Because there wasn't going to be a time where I wasn't there when he needed me to be there.
"I was always going to do more than expected. Consequently, when he got the job at Arkansas State and he gets introduced at 5 (p.m.), at 5:30 he calls and says, 'Eli, I'm offering you a job.'"
5. Set the tone and drive performance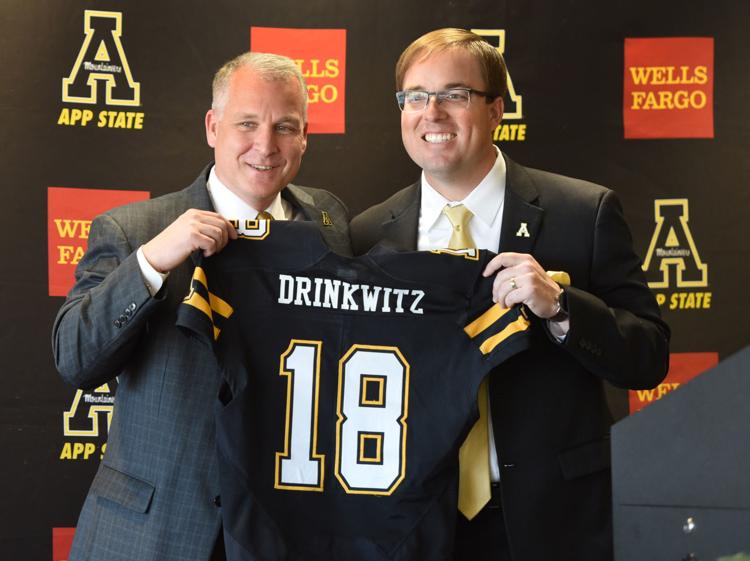 Drinkwitz told listeners if their team or business is not performing the way they want it to, then look in the mirror. That's why, Drinkwitz said, it's important to pick the right people and invest in them.
Drinkwitz said he's very picky about his quarterbacks. He wants to see the five plays after a quarterback throws an interception and gauge his response. When it comes to prospects, do they care more about football or about the thrill of recruiting? Is the player invested more Instagram or film?
On a bigger level, Drinkwitz said he should be looked at through the same prism. And if someone else makes a bad decision that affects the football program, part of that blame comes to Drinkwitz. It's the same way in the business world.
"If I don't like the team I got, that's my fault. I recruited them," Drinkwitz said. "You've got to be diligent not only in the talent phase, but also in the characteristic phase."