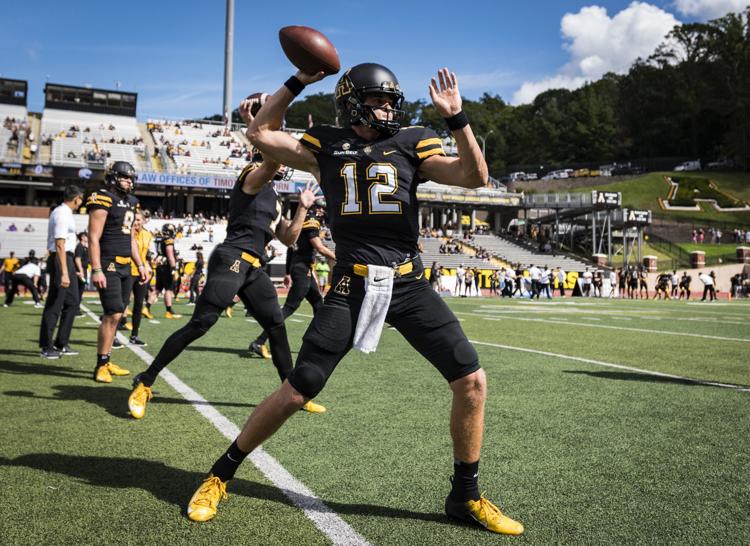 BOONE — Zac Thomas has no issue admitting he wouldn't be where he is without help.
And while the Appalachian State starting quarterback isn't one to laud or call attention to himself — which becomes difficult sometimes thanks to the spotlight that comes with his role — he has no problem talking about the guys who've taught him a thing or two.
Specifically, the walk-on quarterbacks who made the success he's having now possible. Because a lot of those times, Thomas said, those guys are either the ones acting as extensions of the coaches, sending in the signals from the sidelines, or both.
"I think from the outside looking in, I mean, if you don't really know a lot about football, they don't (realize)," Thomas said on the importance of walk-ons at his position. "They just think that's another kid on the team with no worth. But playing football, anyone that's ever played football, knows how important the signal caller is."
No doubt, last year turned into a triumphant one for Thomas. He entered the season as an unknown commodity and turned into the Sun Belt Conference's offensive player of the year. He threw for 2,039 yards and 21 touchdowns (with only six interceptions) to go along with 504 rushing yards and 10 more scores.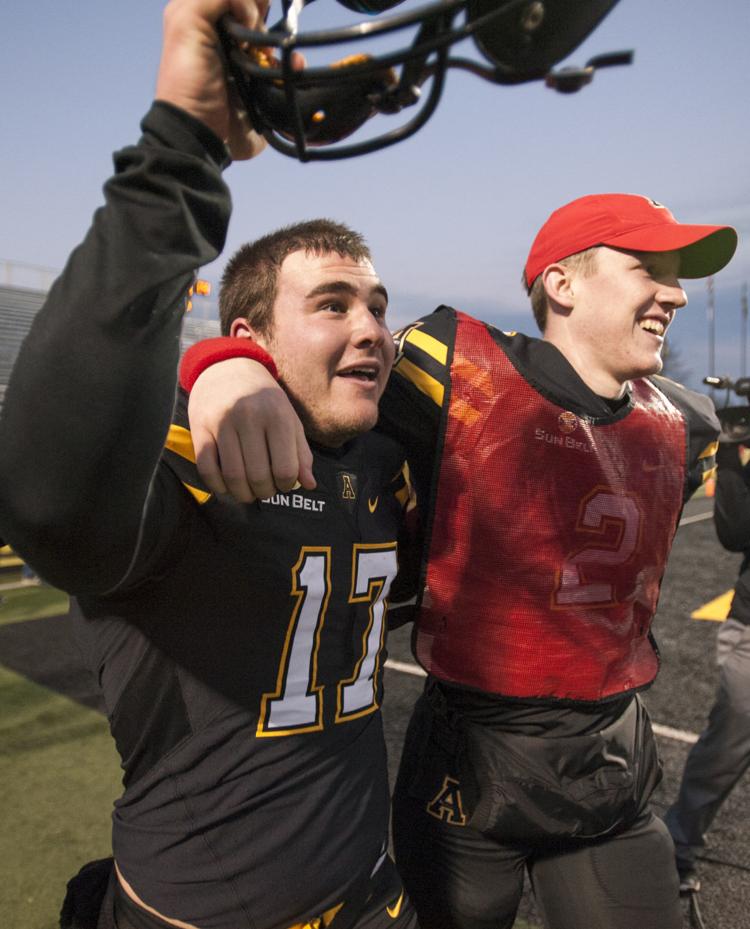 But ask Thomas and he points to former players like Curtis Fitch and Zeb Speir for the groundwork that allowed him to capitalize. Thomas arrived as a true freshman in 2016, redshirting that season to get stronger and learn the playbook of former head coach Scott Satterfield. That's where the constant work with Fitch and Speir started.
"We'd sit down and watch film," Thomas said. "They spent a lot of time with me, and that's what you've got to do.
"When you're an older guy, these young guys don't know what's going on. They come from a high school system where they're the man. You come in here, and you've got to have an older guy step into that role and just teach you the ins and outs of college football."
On top of their Thomas tutelage, Fitch and Speir also became the main guys who conveyed play calls on the field. Both would eventually go from walk-on to scholarship player, and not surprisingly, both ended up starting their coaching careers as soon as their Mountaineers days ended.
Fitch is now in his second season as an offensive grad assistant at East Carolina. Speir is in his first year in the same role at Louisville under Satterfield.
Some of their old responsibility now shifts to Tanner Wilson, a fellow walk-on quarterback who arrived in Boone a year after Thomas. Both say they clicked almost immediately, and Wilson provides a necessary perspective to Thomas as the latter tries to elevate his play even more under a new coach in Eli Drinkwitz.
In addition to signaling (a duty he will share with fellow quarterback Jackson Gibbs), Wilson keeps his eyes on Thomas constantly as practice goes on.
He's watching for a lot of things at once: if the pocket collapses and how Thomas reacts; if pressure comes around the edge and if Thomas steps away and up in the pocket; where the ball ends up if it gets out of Zac's view to have an idea of accuracy and timing; and if Thomas handed the ball off when he maybe could've tucked it.
Wilson, a former starter and state title winner at prep powerhouse Reidsville, admits he didn't realize the impact he could have while not being a scholarship player.
"Not at that extreme," Wilson said. "How important something like a signal can be. Without the signal, he couldn't get the play."
Wilson got in for two plays last season. One of them was for a hand-off late against Gardner-Webb. The play resulted in a 72-yard touchdown for former Mountaineers running back D'Andre Hicks. So App State scores 50% of the time Wilson is on the field, he likes to remind Thomas.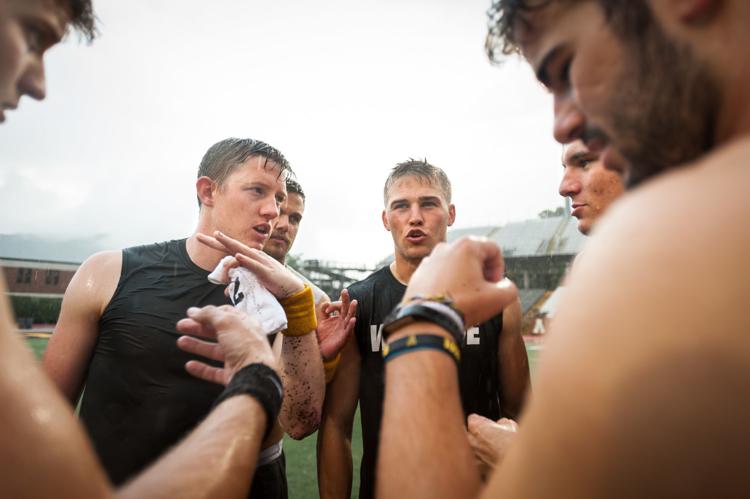 On top of comic relief, Wilson and the rest of the quarterback room have studied together in the hopes of memorizing every nook and cranny of Drinkwitz's offensive system. It's a study group for the weekly quizzes coming up, trying to find phrases and sequences that help them remember details a little easier.
So Thomas tries to make it clear when the topic comes up: The value of Wilson and his walk-on predecessors cannot be overstated. And just like Thomas, they can play big parts in App State victories.
"He's trying to do the extra mile to help me and get me to see things," Thomas said, "Because not every time the coaches can see something — and maybe a player sees something that maybe is right, maybe isn't right — but as long as you get that input, you're always just thinking about it and thinking about what you can do to better yourself."