Coach Eli Drinkwitz of Appalachian State spoke Monday with members of the media. During his weekly media session, the first-year coach of the Mountaineers provided updates on injuries following Saturday's season-opening win against East Tennessee State and announced that the suspension of receiver Corey Sutton had been extended another week. 
Here is that news and one other note from Monday: 
RB Peoples ruled out for Charlotte game, two starters' status will be evaluated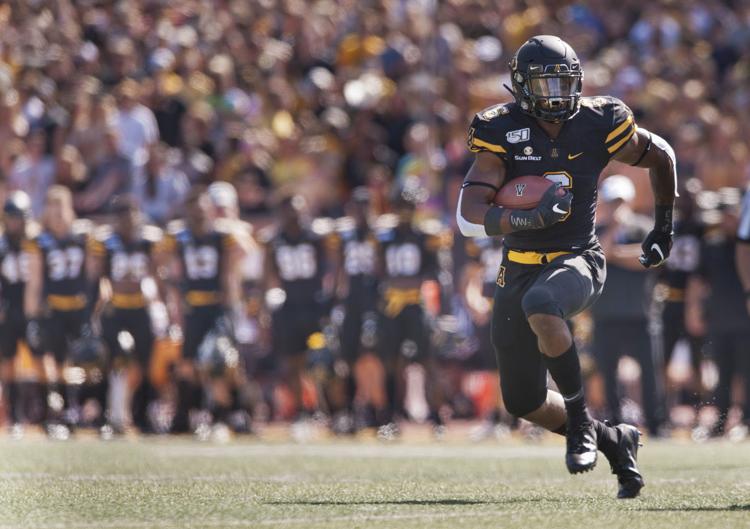 Appalachian State saw two starters and a promising backup exit Saturday's game against East Tennessee State early.
Drinkwitz announced one of those players would miss the upcoming game against Charlotte. Camerun Peoples, a redshirt freshman running back, has been ruled out for the Mountaineers' home matchup, according to Drinkwitz.
"We'll update that as we get more info moving forward," he said.
Peoples left the game after being tackled from behind on a 17-yard run during the third quarter. He was on the sidelines with crutches and his right leg wrapped up.
He appeared in four games last season, which preserved his redshirt.
Peoples ran for a 63-yard touchdown against Middle Tennessee State in the New Orleans Bowl. He was expected to be a significant contributor this season in a deep running back group, spearheaded by Darrynton Evans, the Sun Belt Conference title game's most valuable player.
On his Instagram page, Peoples posted a photo of him running against ETSU with defenders trying to catch him.
"1st Game of the season didn't end well for me but my Team got the W!!" Peoples' post said. "(I don't know) what God has planned but I'm trusting that I will come back stronger. All I ask is for y'all to not give up on me (I know) I had a lot going and a lot of y'all were expecting big things but I promise I'm going to give my all in being a great Teammate to my boys this season and I can't wait until I'm back on the field with them again."
On top of Peoples, Vic Johnson (left tackle) and Desmond Franklin (safety) also made early exits from the game, which became a 42-7 rout. Johnson has been App State's starting left tackle since the 2016 season. Franklin, meanwhile, entered the mix in 2017 after Josh Thomas was sidelined.
Drinkwitz said Franklin and Johnson will continue to be evaluated throughout the week.
"Both those guys are day-to-day," Drinkwitz said. "... Questionable would be 50-50, and both those guys will be questionable.
"They weren't able to finish the game. Getting them back and working with them this week, we'll see."
Sutton suspended for game against Charlotte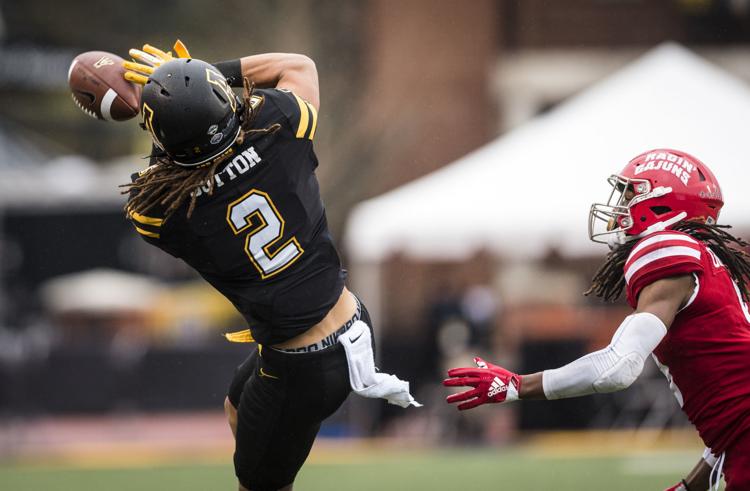 Drinkwitz also announced that wide receiver Corey Sutton would be suspended for the game against Charlotte.
Sutton was suspended for the season opener for a violation of team rules.
"It's not new," Drinkwitz said when asked if the suspension was for a different issue. "How we're going to operate is just a one-week-at-a-time-announcement scenario. This was just a continuation of what happened."
Sutton was charged with possession of marijuana in June. Drinkwitz announced his suspension for the ETSU game on Aug. 30.
The redshirt junior wide receiver dominated the 49ers defense last year, catching three passes for 155 yards and two touchdowns.
It was a homecoming game for Sutton, who grew up in Cornelius and played at both Cornelius Hough and Mallard Creek high schools.
E.J. Scott continues climbing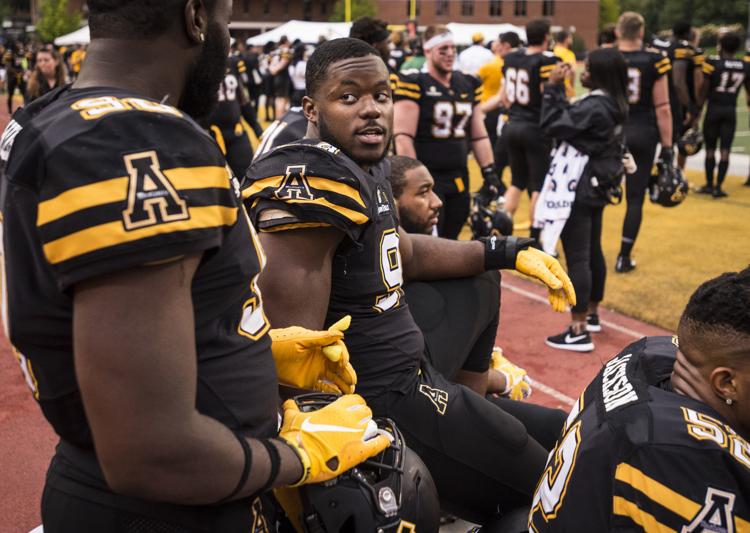 In his first game starting for the defensive line, E.J. Scott had a field day against ETSU.
Scott, a senior, finished with two tackles for loss against the Buccaneers, wreaking havoc in the ETSU backfield.
He was named App State's defensive player of the week, capitalizing on the coaches' challenge for the defensive line to be disruptive.
"In any run scheme, if there's penetration at the point of attack, it causes the running back to bounce, to move laterally," Drinkwitz said. "In this game, as long as they're moving laterally, your defense has a chance to rally to make a tackle."
Scott's story has been a steady climb in prominence, going from a player who showed up at walk-on tryouts in 2017, earned playing time last season and receiving a scholarship before this year.
Now, Drinkwitz said, he wants to see Scott establish that type of play through the whole season.
"That's the type of player he needs to be day in and day out, down in and down out," Drinkwitz said. "So the challenge for him now is not just to do it one game. It's to provide his dominance in every play he's in there and quite frankly, that's the question we have to figure out: is he going to do that every play?"