South Carolina and Appalachian State are coming into this Saturday's game in Columbia, S.C., under different circumstances.
The Mountaineers (7-1, 4-1 Sun Belt) have dropped out of the national rankings after losing last week against Georgia Southern. The Gamecocks (4-5, 3-4 SEC) defeated Vanderbilt on Saturday and look to get to .500 for the season.
Here are a few notes about the Gamecocks ahead of this weekend's nonconference game:
Striking a balance
South Carolina had one of its more well-rounded performances of 2019 against Vanderbilt.
The Gamecocks (4-5) leaned on a balanced offensive attack and a stingy defensive effort in a 24-7 victory. South Carolina's offense totaled 440 yards (235 passing and 205 rushing) while holding an opponent under 10 points for only the second time this season.
They're the next opponent for Appalachian State, which lost 24-21 against Georgia Southern on Oct. 31. Saturday's game will be the last of the nonconference schedule for the Mountaineers (7-1, 4-1 Sun Belt Conference).
There were still a few improvements Coach Will Muschamp of South Carolina would like to see. One of his main sticking points came around the red zone. Two drives died inside of the Vanderbilt 20 — one due to a fumble and the other due to a turnover on downs. Another also stalled at the Commodore's 22-yard line after four unsuccessful attempts at a first down.
Muschamp wanted to see more explosiveness in the run game too.
"We had some one-on-ones with our running backs in space we've got to win," Muschamp said on his Sunday teleconference. "There should of been some chunk, huge-yardage plays.
"You've got to win those one-on-ones down the field. In short yardage and goal line, we've got to find some answers."
Some big-time ballers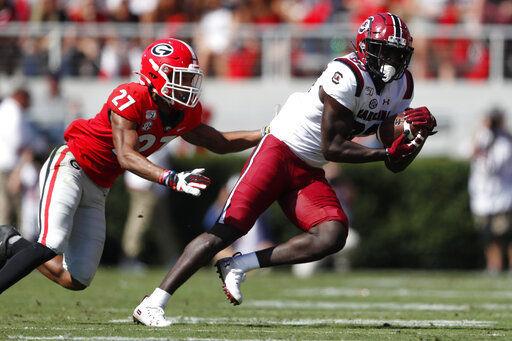 Muschamp said one of the Gamecocks' players of the week was Bryan Edwards, and rightly so.
Edwards, a 6-foot-3 senior from Conway, S.C., had 14 receptions for 139 yards and one touchdown. He was one of a few players Coach Eli Drinkwitz of App State mentioned during his Monday press conference.
Another was Javon Kinlaw, a 6-foot-6 defensive lineman out of Charleston, S.C.
"I believe Javon Kinlaw is one of the best defensive linemen in the SEC, which means he's one of the best defensive linemen in the country," Drinkwitz said. "He will be a first-round draft pick, there is no doubt."
The Athletic updated its top-100 prospects for the upcoming NFL Draft on Tuesday. Kinlaw was ranked No. 13, and Edwards was No. 80.
App State also had a player on the list: outside linebacker Akeem Davis-Gaither was ranked 96th. Davis-Gaither leads the team with 67 total tackles. He also has 9 tackles for loss, 2.5 sacks and 4 pass breakups. Davis-Gaither also blocked the field goal that sealed Appalachian's 34-31 win against North Carolina on Sept. 21.
Health resurgence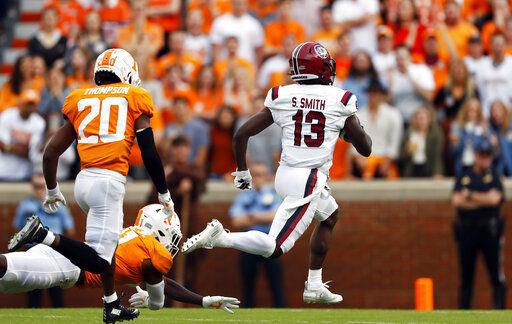 South Carolina should see many players return after recovering from injuries for this Saturday's game.
On the negative side, tight end Nick Muse is out for the season with an ACL injury, and running back Tavien Feaster, who transferred from Clemson before the season, is questionable for Saturday's game. Feaster is South Carolina's leading rusher with 625 yards and five touchdowns.
Other than that, most things are trending positive.
Muschamp said he expects six players back: running back Rico Dowdle, defensive end Brad Johnson, wide receiver Shi Smith, linebacker Damani Staley, defensive tackle Keir Thomas and offensive lineman Dylan Wonnum were expected to start practicing on Tuesday and play Saturday.
Dowdle has rushed for more than 2,000 yards in his career. Wonnum started seven games at right tackle last season and the first four of 2019. Thomas started 21 of 23 games during the 2017 and 2018 seasons but hasn't appeared this season.
What Muschamp had to say about App State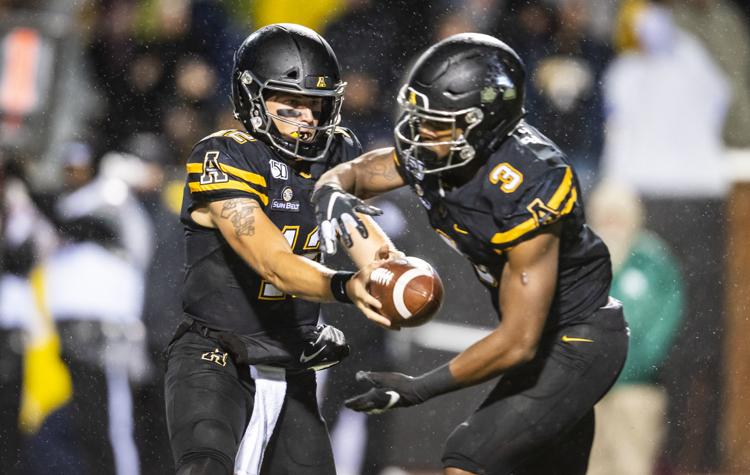 On Sunday, Muschamp was asked his opinion of App State.
Earlier that day, the Mountaineers had fallen out of both the AP and Coaches polls following their loss against Georgia Southern. They were ranked No. 20 in both polls coming into the game against the Eagles.
Muschamp said one thing stood out to him the most: the veteran presence throughout the team. Of App State's regular starters, 19 are either juniors or seniors.
"You know, I think you've got to credit Coach (Scott) Satterfield on the job they did recruiting," Muschamp said. "I mean, a lot of these guys are older players... So they've won a bunch of games and we've certainly got our work cut out for us.
"In the small glimpse, that's the one thing that jumped out at me — to see that 19 of their 22 starters are seniors and juniors and most of them have been redshirted. So you're talking about guys that are four- and five-year guys in their program, and that's always beneficial."