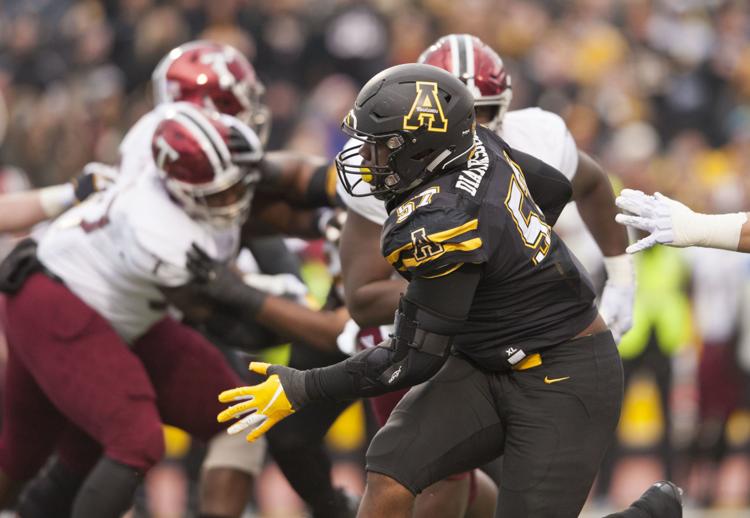 BOONE — MyQuon Stout didn't need to produce gaudy stats to convey the importance of the role he played on Appalachian State's defense.
He didn't need perfect measurables to serve as the Mountaineers' starting nose tackle for the past three seasons, where he became an all-Sun Belt first teamer.
Stout didn't need any of that because he had a ridiculous motor and drive, as well as a boisterous personality that manifested in a gargantuan voice.
With Stout having graduated and trying to stick with the New York Jets as an undrafted free agent, that voice might be to most difficult thing the App State defense has to replace in 2019.
"He was the alpha in the room," App State safety Josh Thomas said. "And when he talked, everybody listened."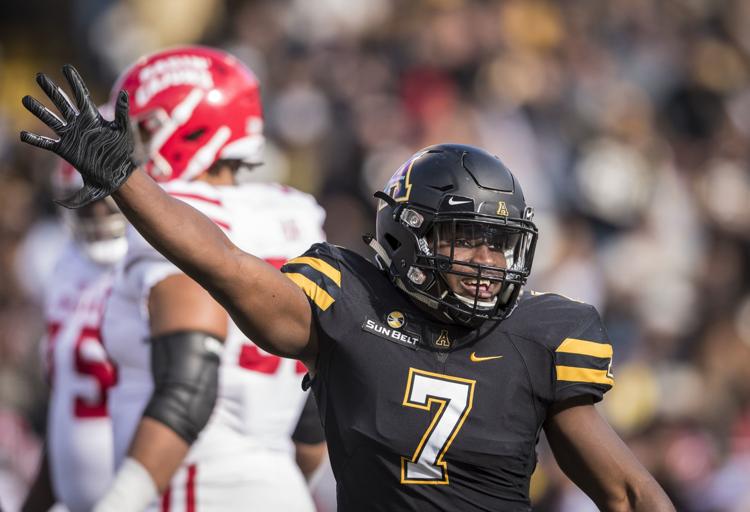 In the absence of that strong soloist, however, is a chorus of others starting to harmonize. A group of players from a unit that returns seven starters is emerging as the owners of the Mountaineers' defense.
Guys are taking over their positions groups — Elijah Diarrassouba for the defensive line, Jordan Fehr for linebackers and Thomas the defensive backs — and they're not having to do it alone either. According to the defensive players around App State media day Thursday, this wasn't a deliberate decision. Multiple people are stepping up as different situations arise.
"Everybody is being their own person. Nobody is trying to be something that they're not," defensive lineman Elijah Diarrassouba said. "So everybody has different ways of leading."
Noel Cook, one of two returning starters at outside linebacker, said it would be difficult to come up with a direct substitute for Stout's tone. Stout whispered on high volume. At App State's pro day in April, former running back Jalin Moore said all he needed to hear was Stout's voice bouncing off the walls of the indoor practice facility to get his mind right.
That's impossible to find with immediacy, just like Cook was talking about. But he also pointed out that when expectations are set with an assumption of responsibility, the actions can go without commentary. That makes this transition of ownership a little easier for Cook, who called himself more laid back and on the quieter side but is gladly pitching in his share. 
"I'm going to miss hearing his voice out there and him telling us what to do and getting everybody riled up and ready to go," Cook said. "At the same time, that comes with being a leader.
"People are just stepping up and just learning that voice in the right way and fueling that passion and learning to be more vocal. We've done a good job of replacing it and keep growing in that aspect."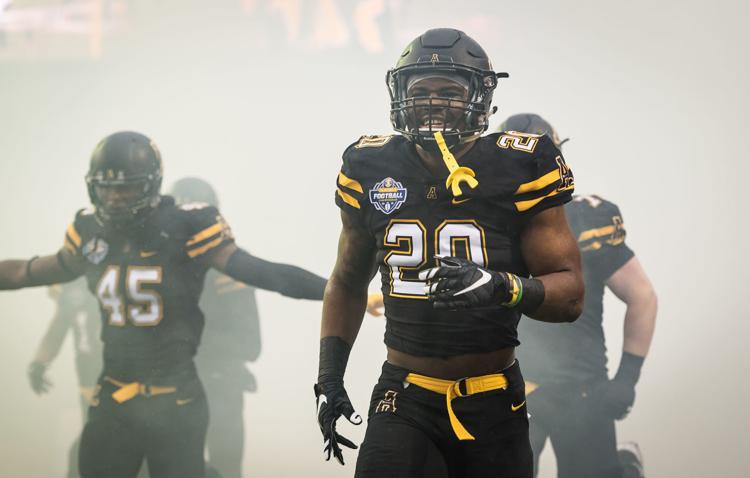 What's going to take some more time, Thomas said, is finding that alpha. That voice that can ring above the others when it's necessary. And while Thomas said he needed to see a few more practices to check out the pecking order, he had an early candidate suggestion: Diarrassouba.
When Diarrassouba arrived on campus from Page High School in Greensboro, it was Stout who latched on to him first, teaching him the nuances of college football and helping him navigate the initial shock of leaving home.
Diarrassouba sees this as his turn now to be the next pivot of knowledge. And he's trying to be exactly what his teammates need.
"That's my job, really — trying to impact my team and really try to get them boys going and let them know that there's always somebody out there who got it worse than us, so we've got to take advantage of this opportunity every second," Diarrassouba said. "Every time we get out there on the field, whether we're conditioning, running, playing or whatever it is, we got to attack it.
"We can't settle for nothing less."