GREENSBORO — Will Jones stood before journalists this morning in an idyllic setting outside Corbett Sports Center. People lounged in chairs and stood under trees and listened as he was formally introduced as head basketball coach at N.C. A&T.
Jones thanked his family and friends and mentors along with school administrators such as athletics director Earl Hilton, who sat in the shade and smiled a lot, making the scene feel more like a graduation ceremony or real estate pitch than an introductory press conference.
That's the new vibe at A&T, a school that believes it's on the verge of a national introduction as not just any HBCU but the HBCU in America. And basketball is part of it.
The usual chants of "Aggie Pride!" were somewhat muted under the tall oaks and flowering crape myrtles. And there was a theme, one that is recurring at the growing university that now identifies its place in the city as "East Greensboro."
"A&T is Greensboro," Jones said. "And we will protect our brand, and we will protect our turf."
He talked about basketball and recruiting and creating a culture, but this is a new day at A&T, and the university as a whole is moving toward becoming what Chancellor Harold Martin pledged last August, a "transformative" university in research and athletics.
Now it's time for basketball to transform under Jones.
"This is our time," Jones said. "There's no better time than now for us to take our place at the table, the largest HBCU in the world, the most progressive HBCU in the world. We are the HBCU that can sit at that table and bring those top talented athletes to our campus and allow them to be successful."
The process of hiring Jones took longer than expected, but Hilton said it was important to not hurry, especially once the world changed and A&T felt empowered to become part of a national movement of change and enlightenment.
"It took from December to last week to announce that decision," Hilton said. "It didn't take from December to last week to make that decision. We went through a deliberative process. We had time. We wanted to be smart. We took the time we needed."
He said he watched Jones and his team last season after the suspension of Coach Jay Joyner. Hilton liked what he saw.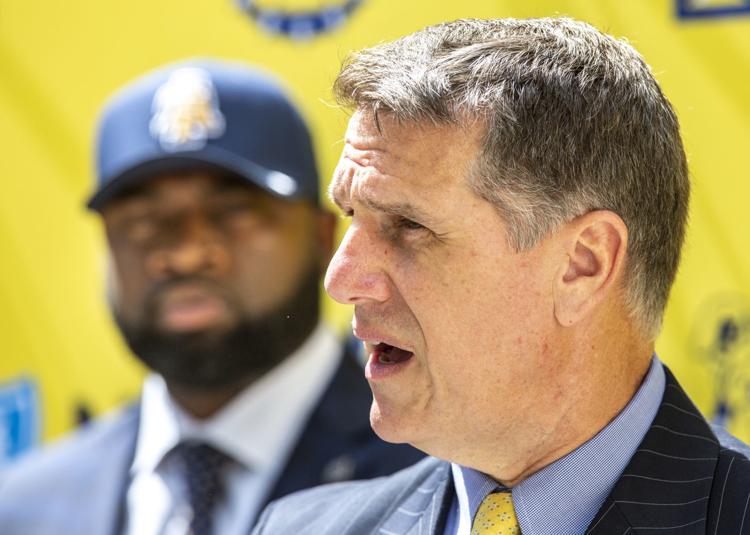 "Every decision we make at A&T has to do with the how it affects the student-athlete," Hilton said. "My interaction with my young men and my observation on their experience during the second half of the basketball season, how they felt, how they acted, how they responded, it looked like fun to me. That's what I expect our student-athletes to have. Fun. These are games. These are athletics. It ought to be fun. Yes, we're going to win. Yes, we're going to graduate. But this ought to be fun. And that's what I sensed and saw from Coach Jones."
Jones said the next season would be a continuation of last season, though the recruiting has been ratcheted up along with expectations going into the final year of A&T's membership in the MEAC.
"We're going to play fast, we're going to play together, we're going to play free, Jones said. "We're going to play tough. That's what we're going to be about on the basketball floor. Defensively, we're going to be tough. Teams are not going to want to come into Club Corbett and play N.C. A&T. We're going to be a gritty, grimy group."
The culture, he said, will come from the school.
"There will be no status quo here," Jones said. "We're going to recruit the best athletes across the country. We want those top athletes to come to A&T. We're not going to be about the lip service. We're going to be in the gym. We're going to recruit them and give them the opportunity to see what Aggieland's about. Any top recruit or any top student-athlete that's looking at N.C. A&T, if you're seeing this video today, it's time for you to represent for your culture, and N.C. A&T is the university, the HBCU, that welcomes you to our campus."
Jones signed a four-year deal that will pay him $190,000. He said he's looking far beyond that.
A&T has a new future, too. This is a different place than just a couple years ago, in fact, just a couple of months ago. The university is moving toward a new horizon, and basketball is part of it.