App Trail: Five young players who stood out in App State's spring football practices
Appalachian State concluded spring practices last week, the commencement of a season featuring heavy expectations.
After 11 wins, a Sun Belt Conference championships and a fourth straight bowl game victory, the Mountaineers bring back most of last year's successful core. Eliah Drinkwitz, App State's first-year coach, saw the team's defense continue to thrive and an offense build up quality as each day moved along.
Appalachian will be veteran heavy in 2019 — 17 starters are back, and all will at least juniors. But there are some young guys who seem poised to play big minutes next season.
Here are five players, either freshman or sophomore, that stood out in Mountaineers' open practices:
1. Trey Cobb, sophomore inside linebacker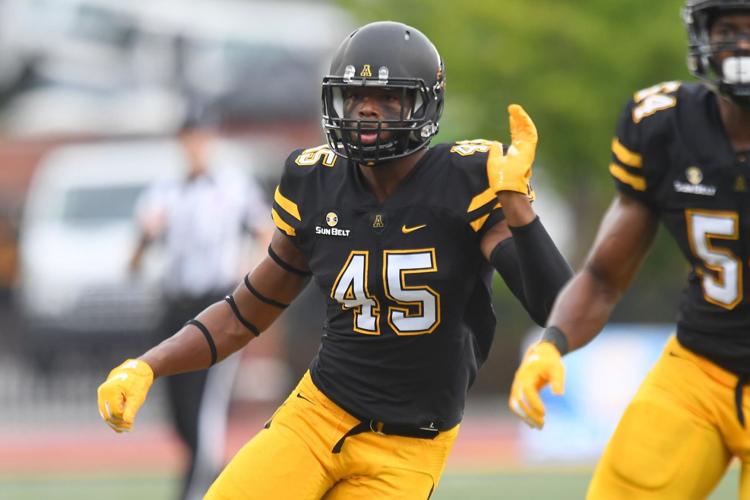 Cobb proved his value last season.
As one of four freshmen providing serious playing time at the inside linebacker position, he appeared in every game of 2018 besides the opener at Penn State. 
This spring, a stronger-looking Cobb worked often alongside returner Jordan Fehr. The Mountaineers lost four defensive starters from last year's team, one of which was inside linebacker Anthony Flory. Cobb provides length and strong pursuit to a unit full of sure tacklers, pairing well with the signal-calling Fehr. Cobb made one interception during a Mountaineer' Saturday scrimmage.
2. Cooper Hodges, freshman offensive lineman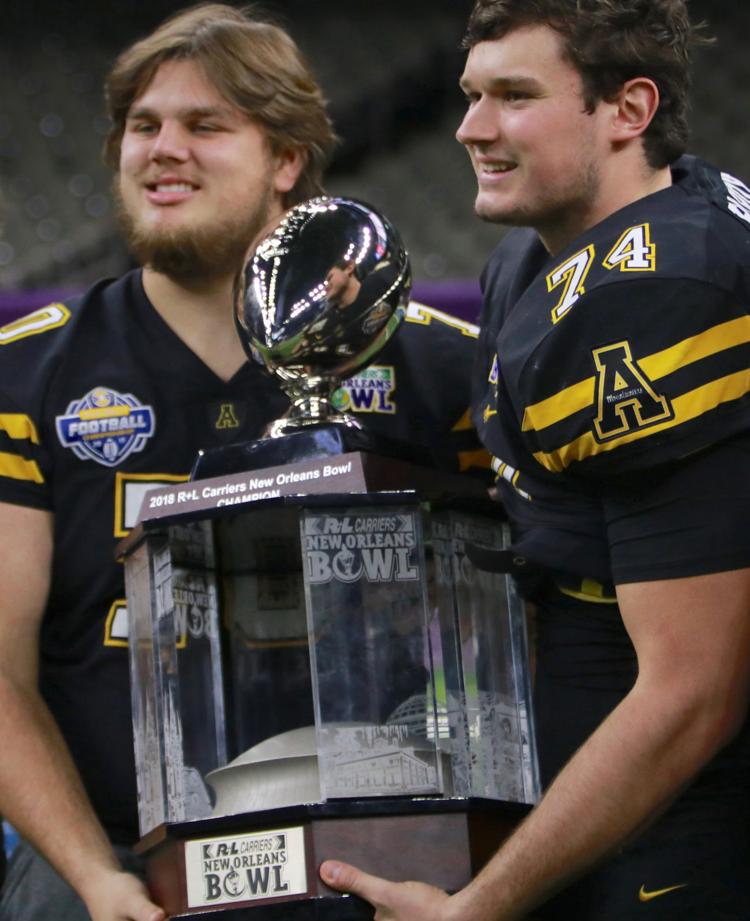 Hodges took available playing time and shined.
The freshman filled in all around the offensive line during spring practices. At 6-foot-4 and already listed at 301 pounds, Hodges ran with the first-team offense as both a left and right guard in place of Ryan Neuzil and Baer Hunter, respectively. Hodges earned praise from Drinkwitz throughout spring.
Hodges appeared on the season-opening depth chart in 2018. He did not appear in any games and instead used it as his redshirt season. Hodges now seems set up to add quality depth to an offensive line that returns four starters from last season — left tackle Victor Johnson, Neuzil, center Noah Hannon and Hunter. 
3. Shaun Jolly, sophomore defensive back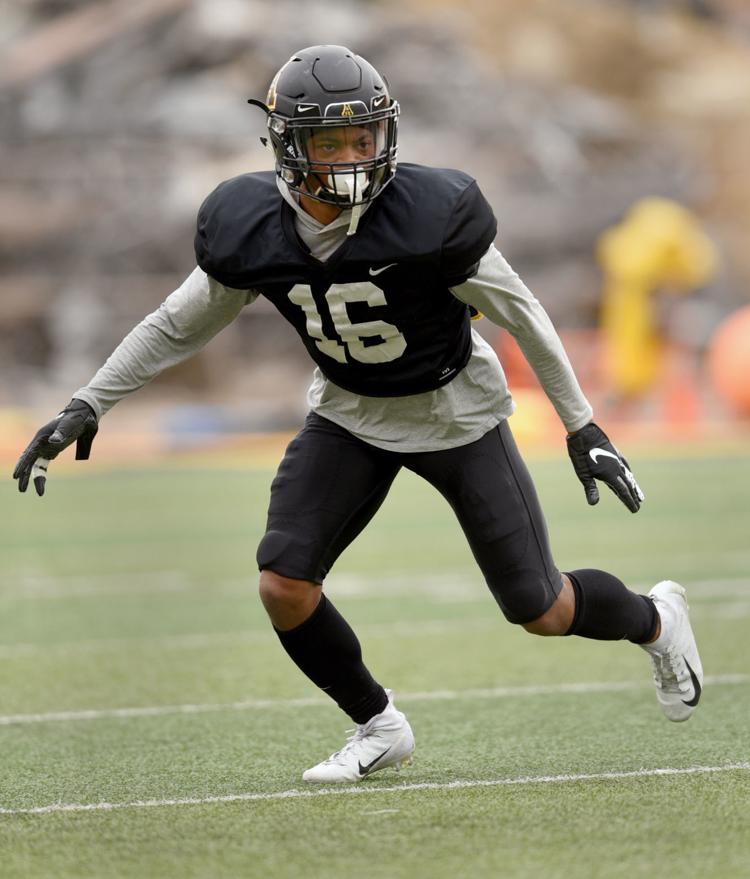 With both starting cornerback spots vacated, playing time was available in the position room. 
Jolly emerged as a player who could garner some responsibility. After appearing in 11 games last season and providing some havoc as a scout-teamer since arriving in Boone, Jolly provides some hard hitting from the cornerback position. In one spring scrimmage, Jolly wrapped up wide receiver Corey Sutton near the line of scrimmage and slammed him to the ground. The tackle drew chatter from both the offensive and defensive sidelines and set the tone for a dominant defensive day. 
Last season's starting cornerbacks, Tae Hayes and Clifton Duck, are currently chasing their NFL dream. And that pursuit has opened up opportunity for Jolly to potentially capitalize.
4. Camerun Peoples, freshman running back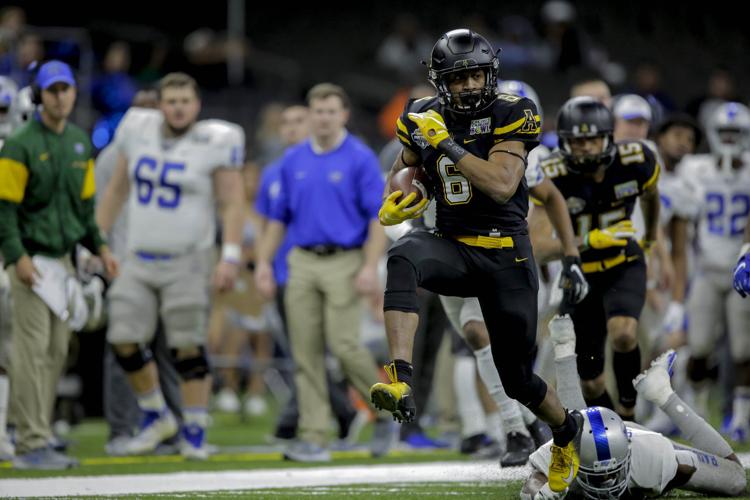 Peoples was heralded by the last coaching staff. That has not changed with this current coaching staff.
In a crowded backfield that returns an all-Sun Belt first teamer (Darrynton Evans), Peoples remains an intrigue piece to an offense with a ton of fire power. One of Drinkwitz's offensive plans is to utilize running backs in passing plays. 
Peoples showed some quality hands this spring. The 6-foot-2 freshman did well when pushed out wide, using his imposing frame to make catches while crowded by defenders. 
5. Nick Hampton, freshman outside linebacker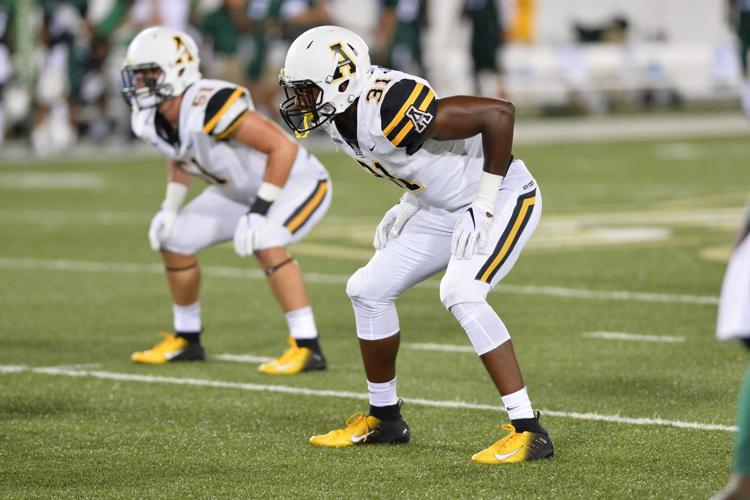 Hampton has earned the nickname 'Slink' around the App State football program. 
New defensive coordinator Ted Roof offered some explanation why: Hampton has a quick first step, and he pairs it with an ability to contort his body and slip off of blocks. This creates a danger combination for a young pass rusher. 
The hope, Roof said, is to put a little more muscle on freshman's sinewy frame. But Hampton showed an ability to disrupt the pocket throughout spring, and he's adding some competition to what was already one of the team's strengths.