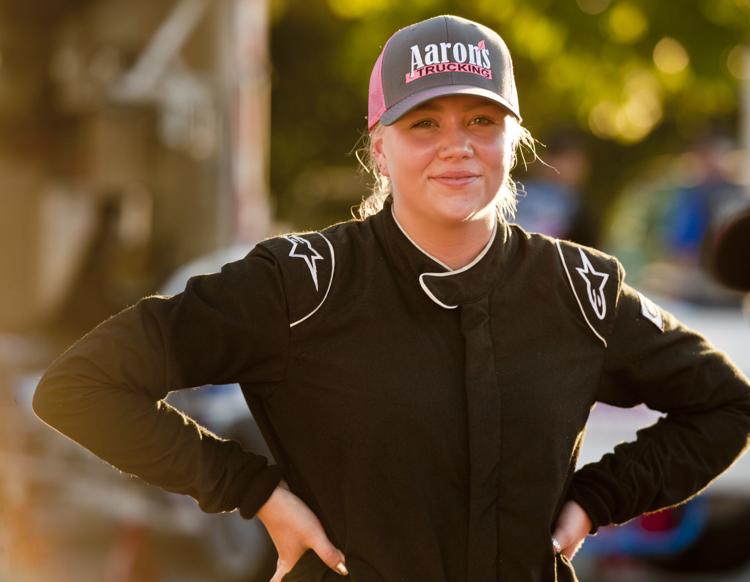 Amber Lynn Burchette, a frequent driver in the Sportsman Division at Bowman Gray Stadium, made a first appearance in court Monday morning following an altercation Saturday in which she allegedly assaulted an ex-boyfriend at the racetrack.
Judge Ted Kazakos of Forsyth District Court ruled that Burchette could be released from the Forsyth County Jail on an unsecured bond. She is scheduled to appear in court again Aug. 16. Jim O'Neill, the district attorney in Forsyth County, declined to comment on the case Monday afternoon.
"The victim went to the magistrate's office and swore out a warrant, and officers went back down to the track," Lt. J.S. Doss said Sunday afternoon. "They picked her up, arrested her without any incident."
According to Doss, the incident happened at 5:05 p.m. and is considered "a domestic violence issue." Attorney John Barrow, who is representing Burchette, said Newman is an ex-boyfriend of Burchette, and the former couple broke up about a year and a half ago. Burchette, the 20-year-old Walkertown native, was held at the jail over the weekend. 
On Monday, Newman filed a domestic violence protection order against Burchette in an ex-parte hearing. According to court documents, Burchette is set to appear in a hearing of that order on July 23 at 9 a.m. 
A narrative provided by Newman in the protection order described a possible attempt by Burchette to contact him prior to the incident. 
"Amber has tried contacting me through various forms of social media and I continue to block her," the document read. "On Saturday, July 13, 2019 she confronted me about that and I tried defusing the situation multiple times and she close fist struck me across the left side of my face."
The protection order does not prevent Burchette from being at Bowman Gray. Barrow said Burchette is allowed to race the weekend summer series at the track.
"As a matter of fact, the judge was very explicit in saying that she could race at Bowman Gray," Barrow said. "But not at any other tracks that this guy's a photographer at."
Loren Pinilis, the public relations director at Bowman Gray, declined to comment Monday on the altercation involving Burchette and Newman.
Burchette's arrest Saturday has since garnered the attention of racing enthusiasts on social media. Footage of the incident, which appears to have taken place adjacent to the stadium on pit row, appeared Sunday on Facebook. 
Jennifer Johnson, 36, of Winston-Salem posted a 45-second clip of the altercation to a public Facebook page totaling more than 1,400 members called "Bowman Gray Sportsman." It was uploaded in the comments section of a post pertaining to Burchette's arrest. The video was taken from a vantage point several yards away from the incident down what appeared to be pit row. 
Johnson's footage shows two figures appearing to be Burchette and Newman walking briefly down the asphalt strip next to the stadium. Both come to a stop and, at the 30-second mark, Newman gets in the face of Burchette.
Burchette then swings, appearing to hit him in the face.
It was one of two videos shot by Johnson — the other being a 23-second clip taken from under a tent in a pit stall, where Burchette and Newman were seen in a verbal argument just before the swing. 
Barrow, who has been a sponsor of Burchette's Sportsman and Street Stock division cars for about two or three years, said it was an argument pertaining to social media. 
Barrow said the swing from Burchette, shown in the video, was possibly provoked by Newman. 
"Now, it's my understanding that he spit in her face when he turns around," said Barrow, whose practice, the Law Offices of John Barrow, has its name on the Street Stock races at Bowman Gray this season and has kept an advertisement at the track for roughly 25 years. "That's not come out yet, and that's the reason for that. I didn't hear that from her, but that's what I've heard." 
According to the protection order, Newman looked to have Burchette barred from visiting his residence, work and Bowman Gray — where the document said he worked on Saturdays.
Burchette has been a regular at the track for quite some time. She won her first Sportsman race at Bowman Gray in May, after switching over from Street Stock following the 2017 season. According to Pinilis, she was the first woman to claim a victory in the division.
This is Burchette's third year racing the summer series at the track. She won her first race in Street Stock in May 2017 — at the time, one of just a few women to earn a win in the last few decades.