Hope Ride 2019 journal: Aug 14: The children come out to greet us
Hope Ride is an annual six-day, 600-mile bicycle trek led by Greensboro pastor David Crabtree that travels through four African countries to help raise funds in the support of missionary and humanitarian efforts. The News & Record will post updates during the 2019 Hope Ride, which begins in South Africa and includes the Chobe National Wildlife Reserve in Botswana, Namibia, which serves as a gateway to west Zambia and the Zambezi River. It ends near the town of Sioma.
Aug 14: The children come out to greet us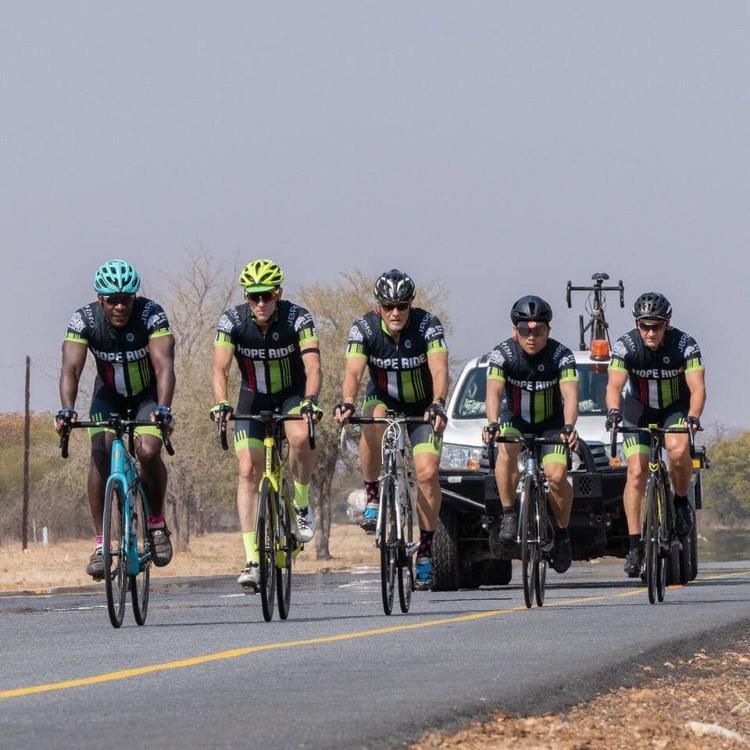 Our sixth riding day began with breakfast overlooking the Zambesi near Katima, Namibia. We racked the bikes and headed for the Zambian border with a reasonable expectation of clearing within an hour. Two hours later, with temperatures piercing the nineties, we passed through the gate onto Zambian soil and thus began the shortest portion of the journey, an eighty-mile test from Shesheke to Sioma.
The difficulty lies in the terrain – a relentless succession of moderate hills on roads the rattle your fillings. After four days of flat roads, the hills are a shock to the system. Add the rising heat and thorns that hide in the aggregate until stirred by the tires and draft from the bikes… thorns that pierce the toughest tires we can bring into this environment. Seven flats significantly slowed our progress and left us baking in the sun for at least an extra hour. None of these impediments were unexpected, and none of them were welcomed… Africa dictates.
Just ten miles inside the Zambian border, kids from our children's churches began to stream out to the road to cheer us on. The kids were sporting new Hope Ride shirts supplied by Reaching a Generation and waving Christian flags. It was incredible to see the impact the gospel has made in this long-forgotten region in six short years.
For more read here.
Aug. 13: A little help from the friends
Awakening in a tent in the Chobe Nature Preserve in Botswana takes the camper a couple of steps beyond KOA. Emerging from your canvas dome you look left and right, then all around to be certain that you are not going to startle an elephant coming in or out of the watering hole (not a good idea). The sun breaks the horizon and reaches its full rising in less than a minute. It's going to be a hot day… and windy.
After some preliminary packing and loading, a full breakfast is served by the lodge staff and Hope Riders eat as you might expect on the heels of three-century rides in the preceding days. After a hundred miles of gels, chewies, stroopwafels, hydration drink, bonk bars, cokes, and the occasional snickers bar (on breaks only), cooked food moves the soul to tearful gratitude. The team is fun, loose, talkative, and… sore.
Special thanks to Clifton and Breakthrough Nutrition for his NBS hydration formula – a life-saver! Thanks also to Chris Pieck at Greenboro Trek for clearing his shelves of product to make sure we had the essentials in our pockets to fuel the ride – even when the expected supply didn't make it on time. We are so very grateful. The heat this year has been brutal and for the most part, unexpected. Riding a century every day keeps the body in a constant state of need for the right kind and balance of calories and electrolytes. We've made it thus far by God's grace and a little help from our friends.
The road surface changes in the Chobe. It's the large aggregate stone that robs the bikes of a mile per hour. It rattles your joints incessantly and makes the rider hate the saddle. For the most part, the road is straight as an arrow. It gets into your head. It lulls.. it bores… it grinds. It's the only road, and so day four begins with the road, the wind, the sun, and a very sore team of riders.
Read more here.
Aug 11: It will be a test of endurance
Palapye, Botswana: 6:00 a.m.
A bitter wind greets us as we turn right out of the gate of our hotel. It's blowing down the straight road ahead. I know this road. It will not turn and neither will the wind. It is relentless.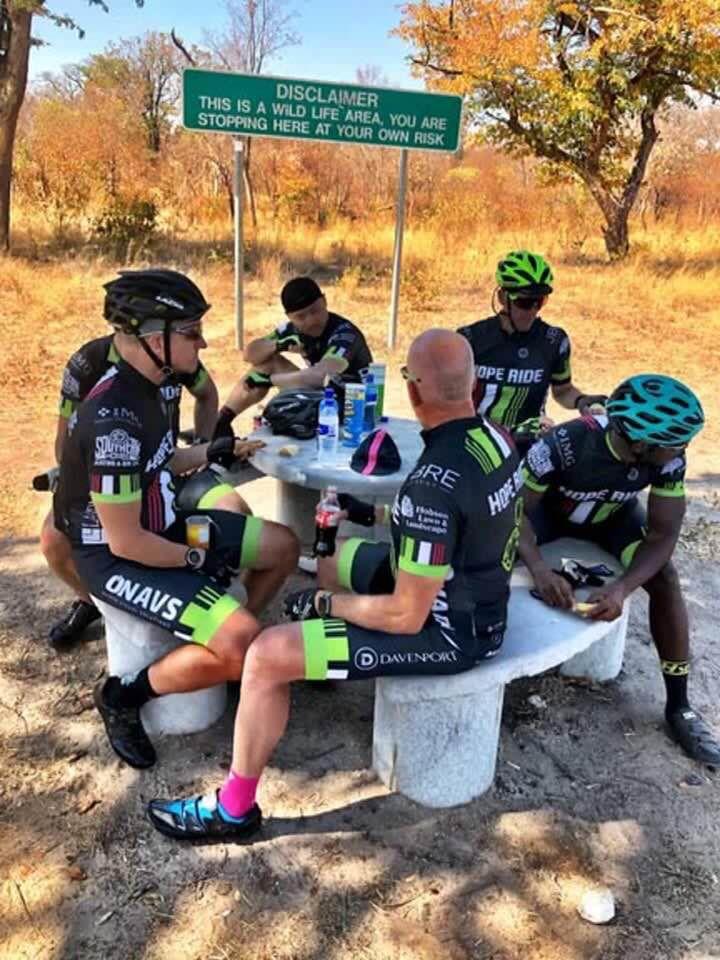 Our progress is painfully slow. When the weather breaks after noontime, the wind turns from cold to hot. I can feel the sun and wind burning my face and hastening the aging process that I have encouraged by far too many days in the African sun with far too thin an application of sunscreen.
As we begin the last twenty-five miles it seems that it will be a test of endurance, and I can tell by the way the team members are moving around on their saddles that they are feeling my pain. I'm thinking of three hundred more miles on this North leg of Hope Ride… another two to three hundred with the South squad… saddle sores and hot spots will be our portion. At the point of despair, somewhere around the ninetieth mile, the wind shifts. It's not a tailwind, but given the headwinds we have battled, it feels as though the heavens have opened… and we offer thanks with weary awareness that in all of these things we are blessed.
Read more here.
Aug. 9: Something beyond me fortified me...
After yesterday's sad post describing how my day ended in a ball of cramps, I thought it best to update you as to the efficacy of your prayers. Many of you prayed for me, and for us last night and today I suffered no ill effects on the bike and the team enjoyed a day that left us all smiling – in spite of a 90-minute border delay that interrupted he happy proceedings.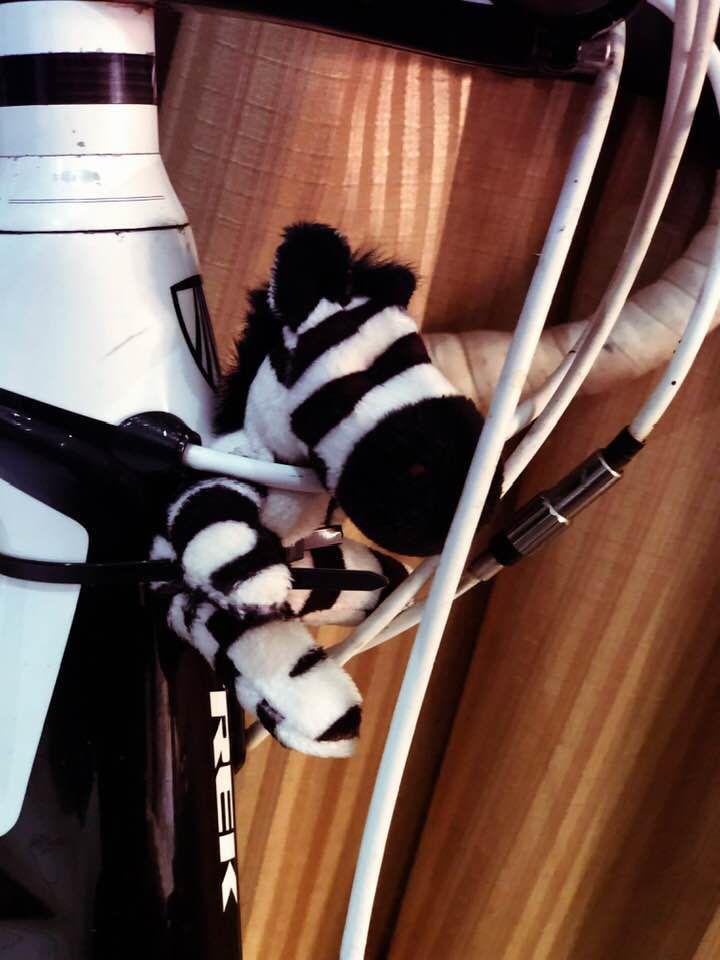 The border incident was made particularly interesting for the truck driver who left his truck blocking the one lane Groblers Bridge between South Africa and Botswana. When I said "left his truck" I mean just that – he disappeared for about forty-five minutes causing a traffic jam in two nations that was almost cartoonish.
We (the team) let Jacques muster the police, or border control, or whoever they were… while we gathered around our rig and snacked on Pringles and Snickers bars (don't judge) like guests at a lawn party. The truck driver returned… completely oblivious to the chaos the ensued. Before long we were over the bridge, suddenly under the direction of the local constabulary, and we rolled out our last forty-three miles to complete our century.
I felt great today.
Something beyond me fortified me. I certainly wasn't Superman, but if felt good to roll with the team for 100 miles in a headwind at 19 mph with an average heart rate of 113. I found breath and fresh strength and wondered at the mercy of God that has so deeply touched my life. Today was a good day. Moon, Brian, John, and Jeff shared the good vibrations and we were having fun, fun, fun… (whoops- beach boys songs in my head all day long… what was that about?) But I digress…
Read more here.
Aug. 7: I love it here because love is here
I am back in Africa again, my second home… back to the bush, and the dust, and people who have made a significant impact in my life. I love it here because love is here. But I don't love the wind so much, and the night wind on thatch was like a threat whispered low, "headwinds are waiting – get ready to suffer."
The wind also foretold a change. This morning that change was evident in a warm and steady breeze. Though we are at the end of the South African winter, the temperatures suddenly turned warm – unseasonably warm! Our plans and preventative preparations for cold morning riding are out the window. We stopped just short of ninety degrees this afternoon. It's going to be hot when we take leave of the Waterberg Mountains – hotter when we cross the Chobe in Botswana – hotter still crossing the Caprivi Neck in Namibia – and Zambia could be a smoker if the weather doesn't shift.
Our day followed a practiced pattern for Hope Ride teams. Breakfast at sunrise was followed by a drive out into the farm (game reserve) where we spotted impala, nyala, eland, giraffe, warthogs, sable, waterbuck, blesbok, wildebeest, kudu, baboon, and ostrich. Strangely absent were the zebra that roam these 2500 acres in substantial numbers. We then organized our team in assembling bicycles, sent a shopping team into the nearest town for supplies, organized the bike and cargo trailers, mixed NBS hydration formula (thanks Breakthrough Nutrition), prepared our daily ready-bags, connected with new and old friends, and enjoyed a wonderful braai (cookout) around a roaring fire after sunset.
Read more here.
Hope Ride 2019: Aug. 6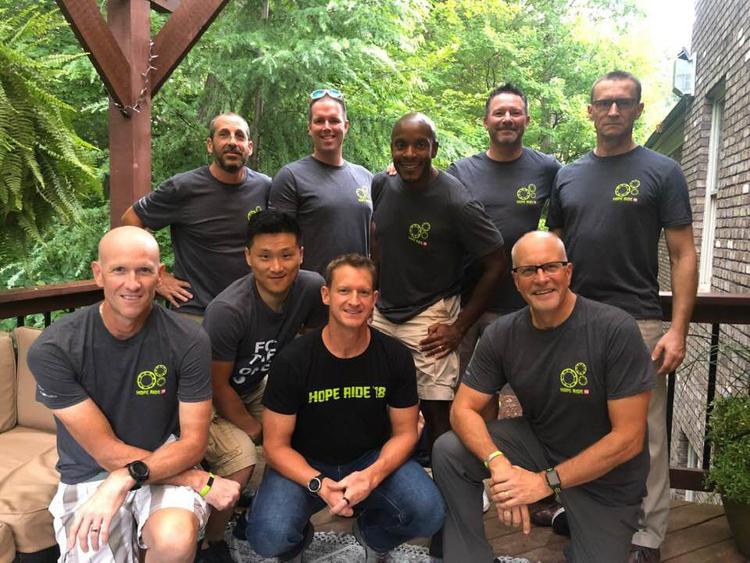 Bikes just want to take you someplace — it's what they do.
It's taking me to the wonders of Africa for a mission that makes life better for kids who need clean water, love, education, and hope for life eternal!
I never would have imagined that a bike could take you so far when I first felt the thrill of forward-motion. When I started (riding as a child), I only wanted to see a bit more of the neighborhood — now I want to change the world.
Pray for our team as we head out today!
  — David Crabtree
Day 11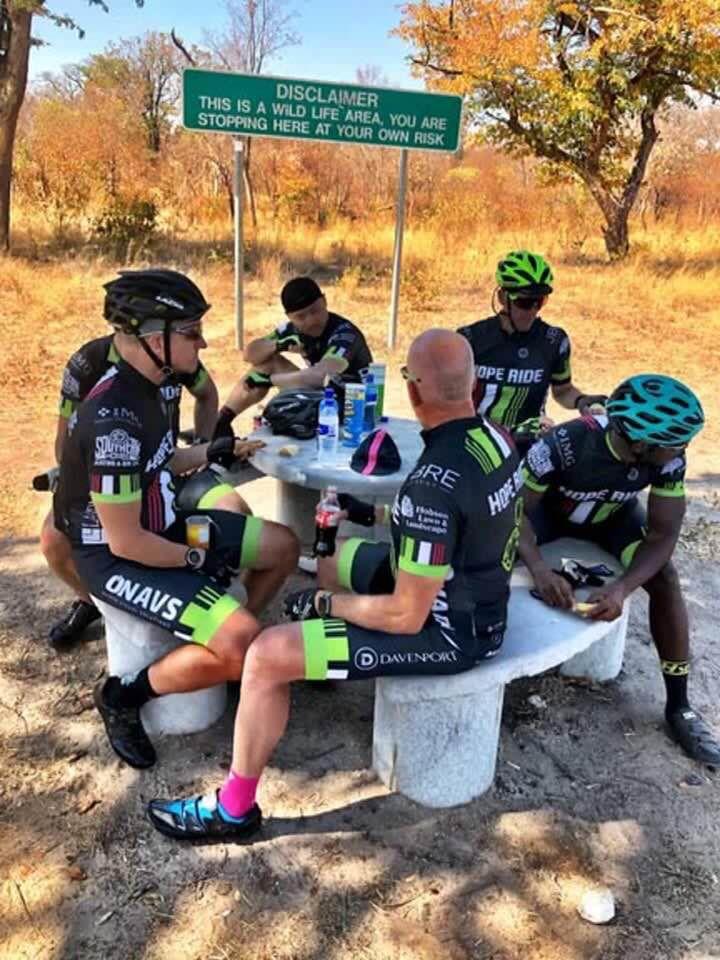 The co-pilot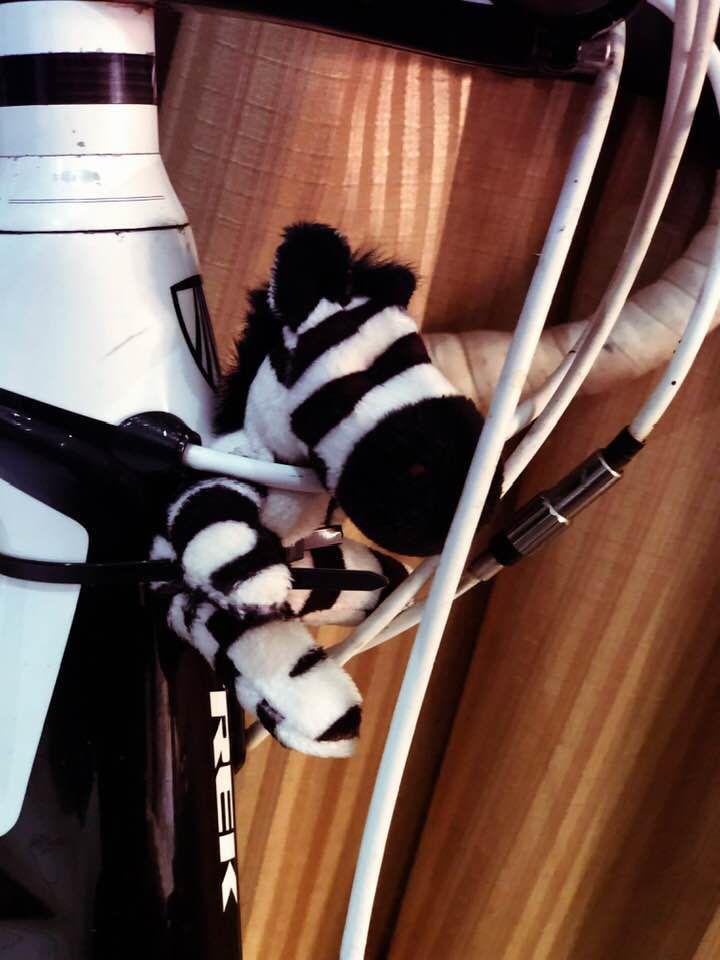 Team Hope Ride 2019
Hope Ride 2019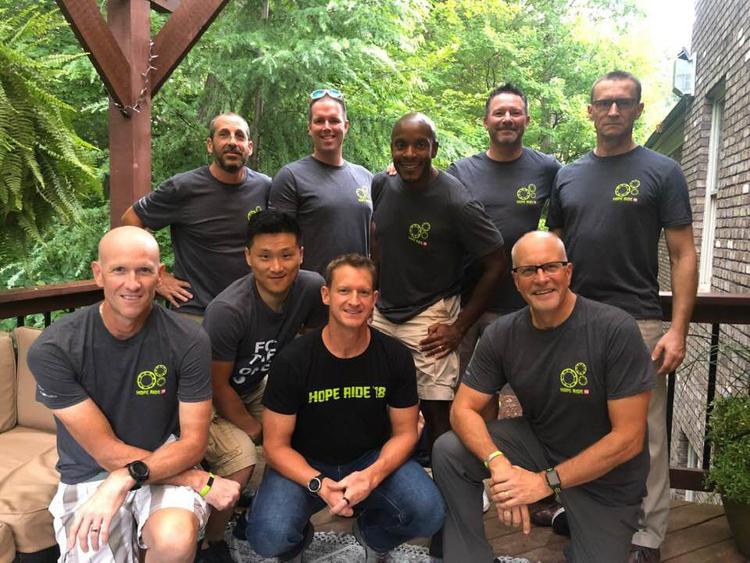 Hope Ride terrain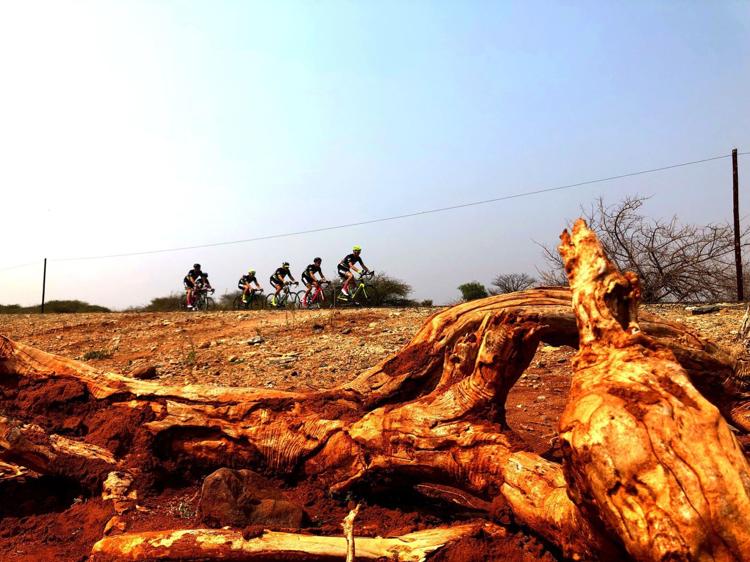 Hope Ride vista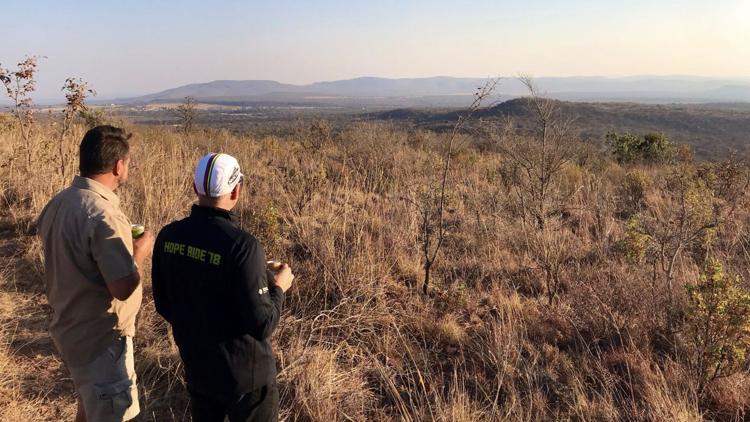 Hope Ride water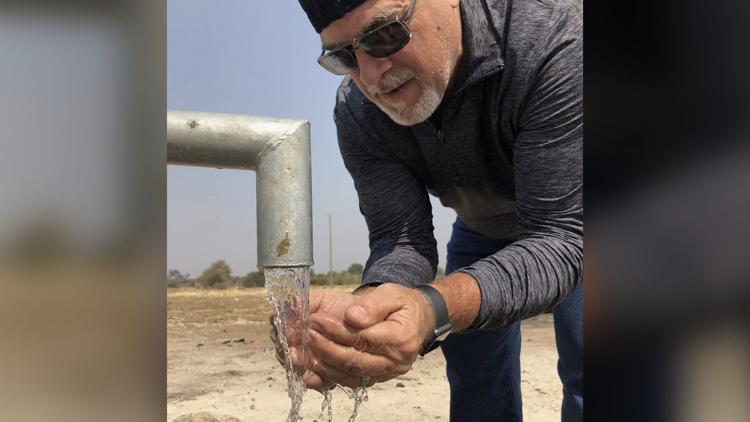 Hope Ride hug
Hope Ride rocky terrain
Hope Ride kids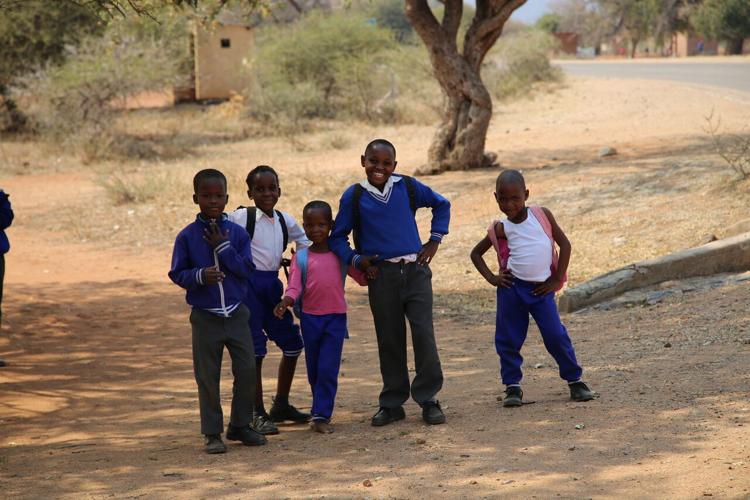 Hope Ride stuffed animal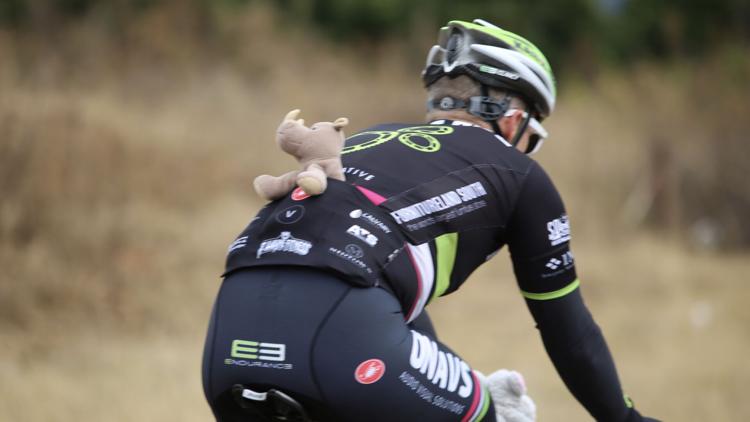 Hope Ride David Crabtree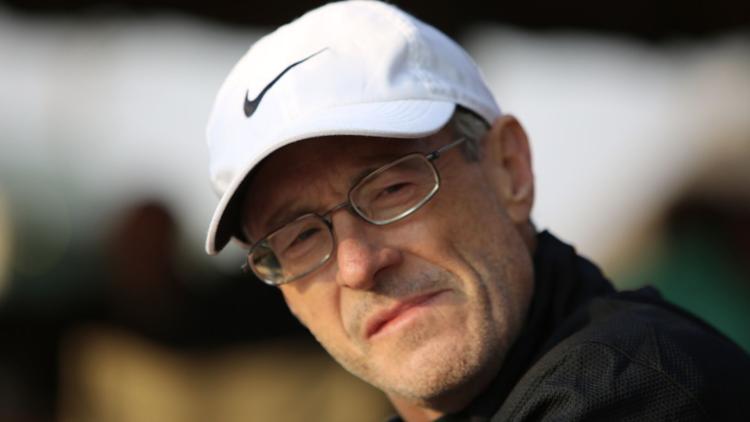 Hope Ride distance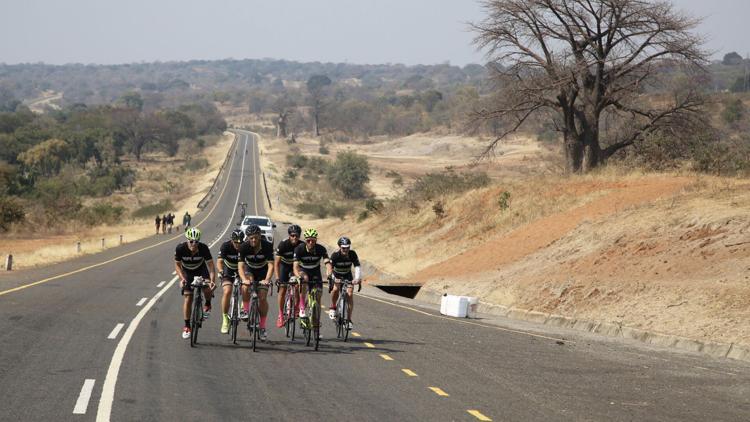 Hope Ride group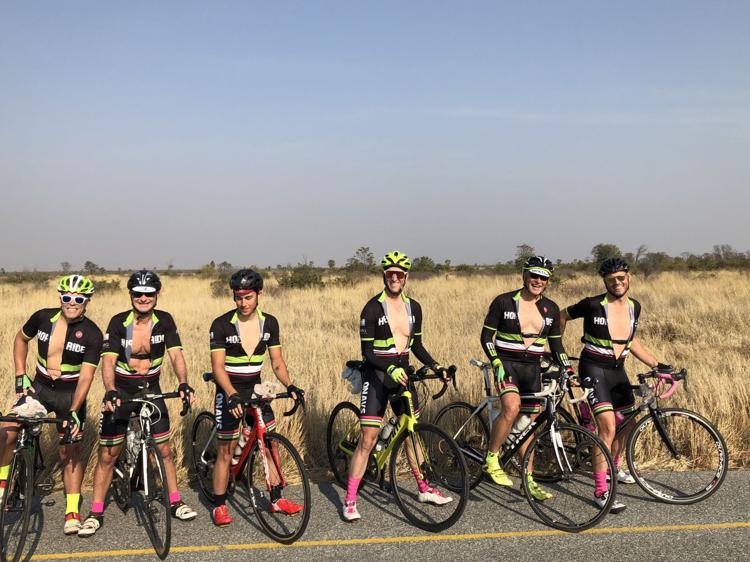 Hope Ride bones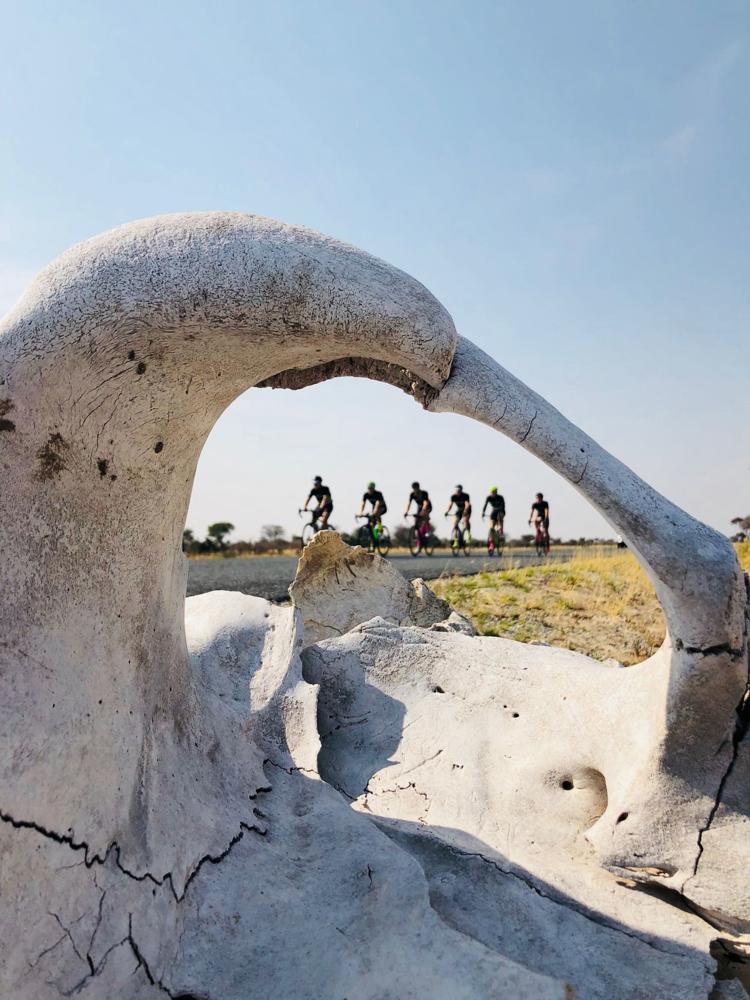 Hope Ride David Crabtree cycling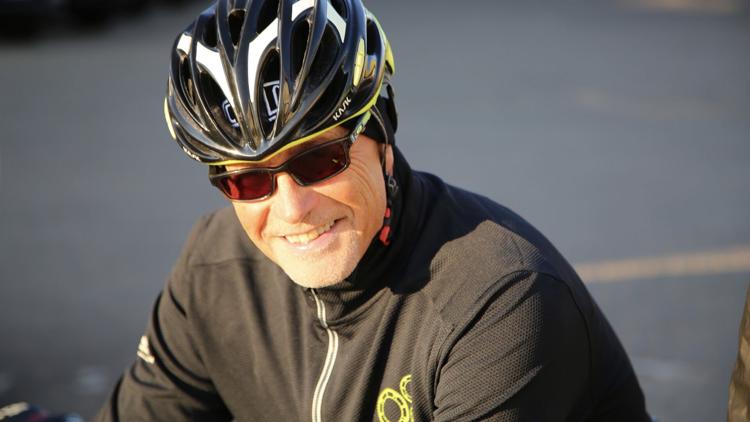 Hope Ride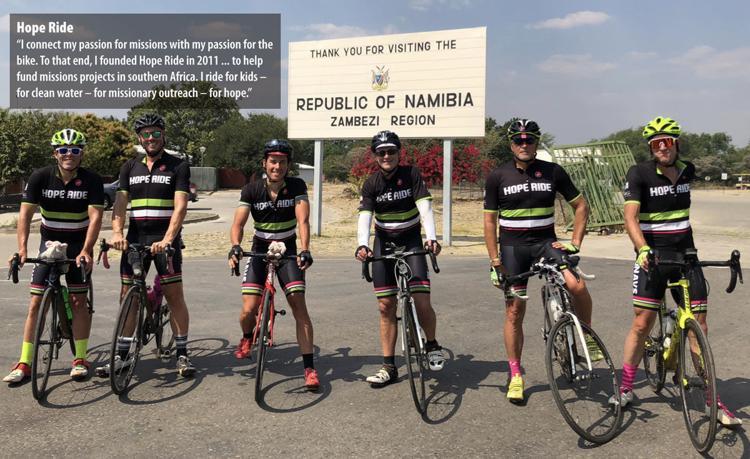 Hope Ride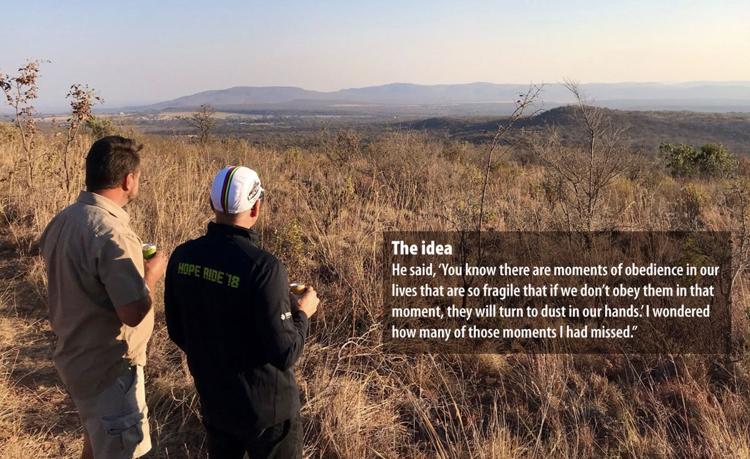 Hope Ride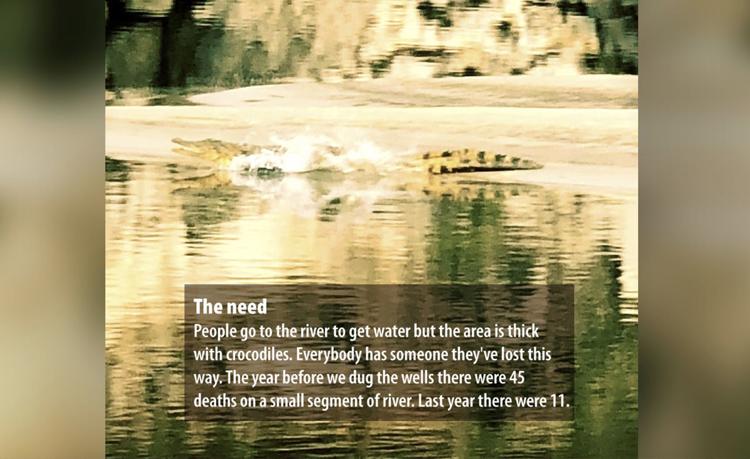 Hope Ride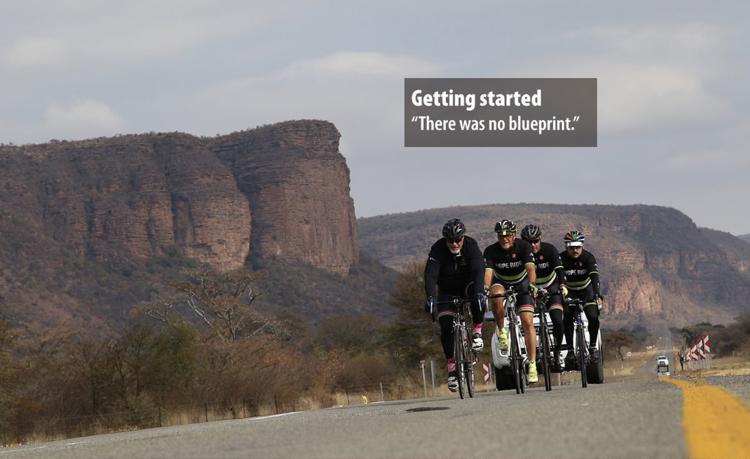 Hope Ride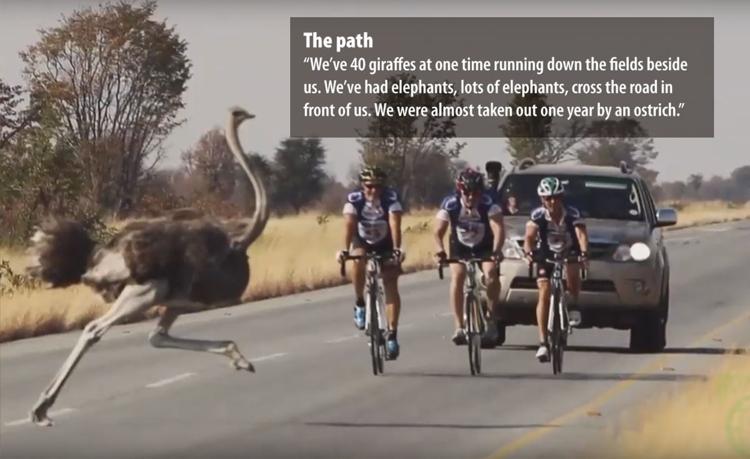 Hope Ride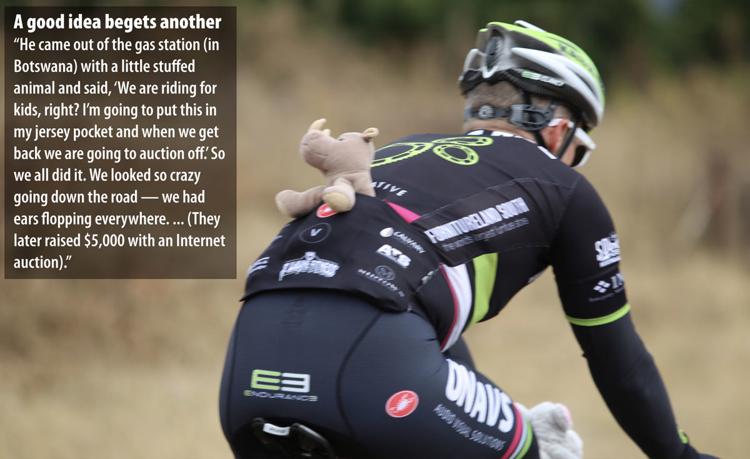 Hope Ride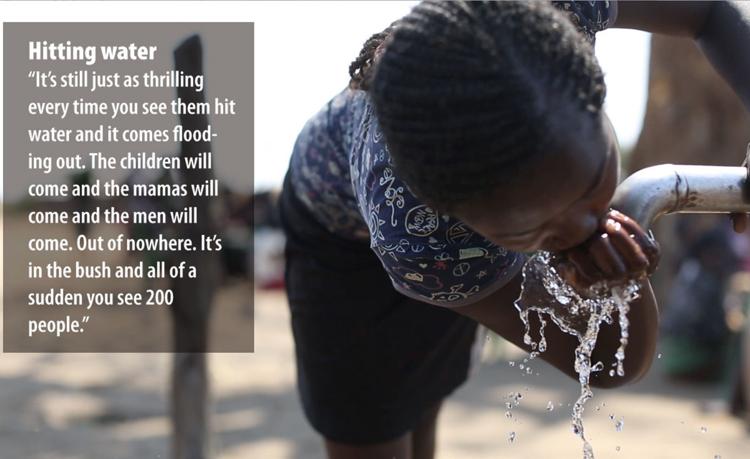 Hope Ride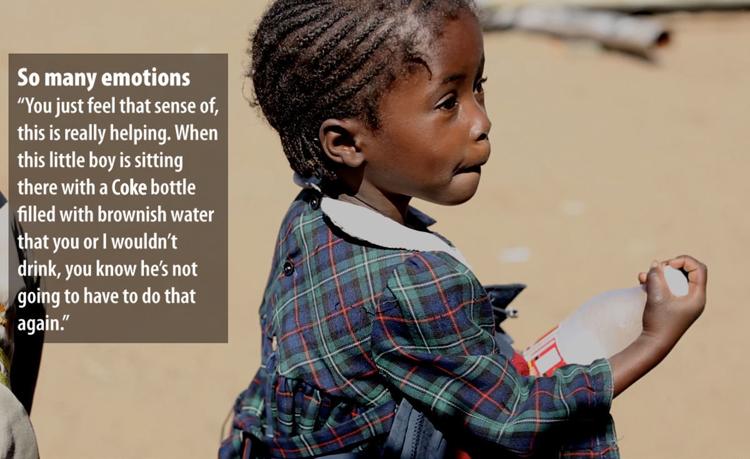 Hope Ride