Gov. Roy Cooper said Wednesday that the potential Phase Three reopening of the state's economy will be delayed for more than three weeks, to July 17.
The state could have entered that phase Friday evening.
Instead, Cooper has chosen to continue the "safer-at-home" phase that began May 22.
Cooper also said he will make it mandatory to wear a mask when individuals are out in public with limited exceptions. That mandate goes into effect at 5 p.m. Friday.
The Cooper administration is monitoring five public-health data points: number of hospitalizations; number of hospital beds, ICU beds and ventilators available; number of positive cases; percentage of positive cases; and number of individuals coming to hospital emergency rooms with COVID-19 symptoms.
"The numbers we see are a stark warning, and we must pay attention," Cooper said.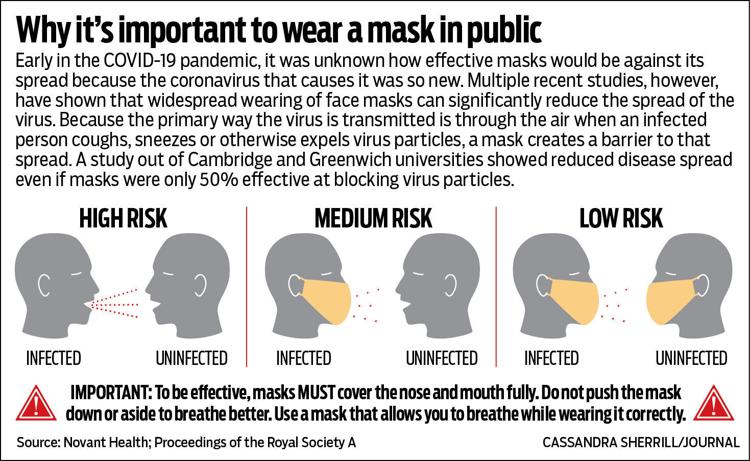 The N.C. Department of Health and Human Services reported earlier Wednesday 1,721 new cases statewide — the second highest daily total since the pandemic began in mid-March.
Hospitalizations were at 906 as of noon Wednesday, just nine down from the high of 915 set Tuesday. DHHS also reported 20 new virus-related deaths, including two in Forsyth County.
"The indicators (are) moving in the wrong direction," Cooper said.
Statewide COVID-19 cases and deaths counts were at 12,997 and 533, respectively, on May 8 — the start of the Phase One reopening.
Statewide cases and deaths were at 22,725 and 746, respectively, on May 22 — the start of the Phase Two reopening.
As of noon Wednesday, the cases and deaths were 56,174 and 1,271, respectively.
For Forsyth, the cases counts were 369 on May 8, 894 on May 22 and 2,679 as of 12:30 p.m. Wednesday. The deaths counts were five on May 8, nine on May 22 and 31 as of 12:30 p.m. Wednesday.
"North Carolina is relying on the data and the science to lift restrictions responsibly, and right now our increasing numbers show we need to hit the pause button while we work to stabilize our trends," Cooper said.
"As we watch these trends during the pause, we hope to be able to ease restrictions on playgrounds, museums and gyms."
GOP response
Senate leader Phil Berger, R-Rockingham, reacted to Cooper's three-week pause decision by attempting to contrast the response to recent mass gathering events.
"In Roy Cooper's North Carolina, the governor can walk with a group of protesters with no mask on, but you can't take your son or daughter to a playground," Berger said in a statement. "Rioters can break windows and set fires with impunity, but you can't exercise on an elliptical machine.
"We're assured that masses of mask-less people gathered together in the streets caused no rise in cases, yet we're now all required to wear masks because the danger is too great.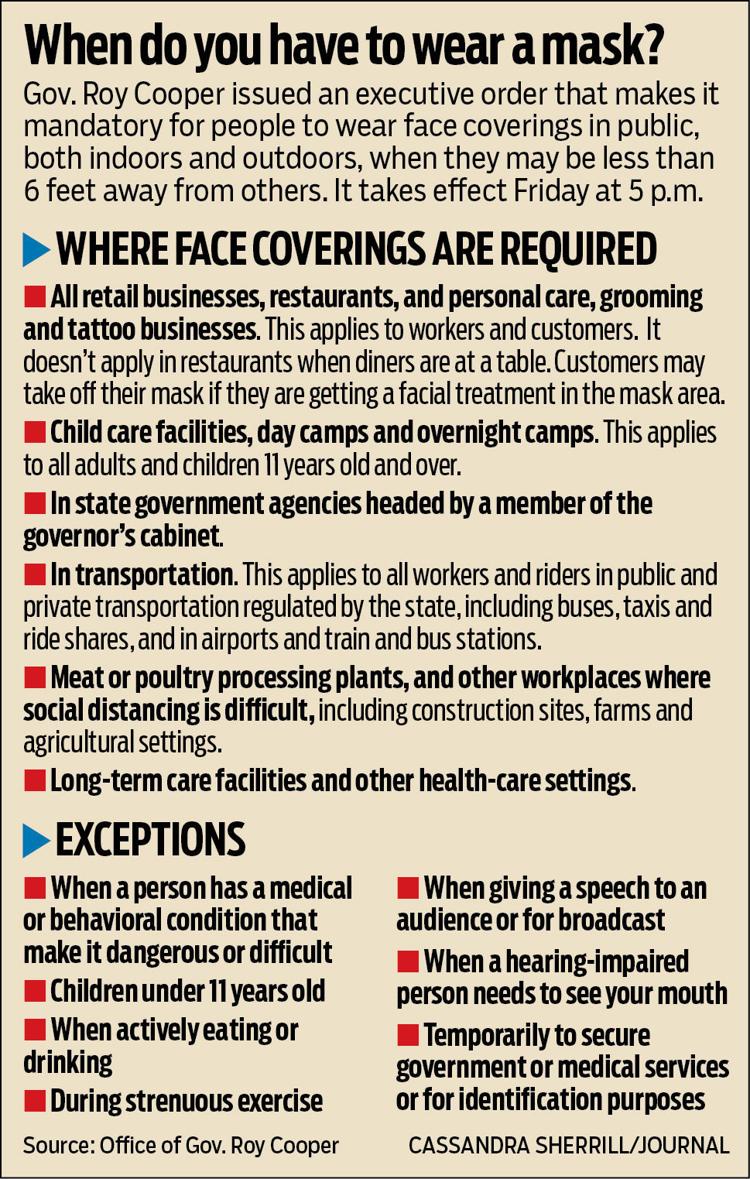 "The inconsistencies and hypocrisy continue to eat away at the trust in and credibility of this administration."
Rep. Donny Lambeth, R-Forsyth, and a leading health-care expert in the legislature, said reopening the state's economy "is a balancing act: the health of the public verses the return to some sense of normal."
"Generally, I believe you can do both. Open back up our businesses and economy, while informing and asking our citizens to be proactive in practicing caution against the virus. Citizens need to be aware this is a deadly virus, highly contagious, with no vaccine.
"We need to track and trace the outbreaks better to inform those who have been in an area where someone has the virus," Lambeth said. "This issue divides people in their opinions, and it is still months until we have a vaccination."
Frustrating decision
Under Phase Two of Cooper's three-part plan to reopen the state, he chose to keep closed several businesses that had been projected to reopen with similar 50% capacity limits that restaurants and personal-care services must observe.
Those businesses include bars, nightclubs, public playgrounds, gyms and fitness centers, movie theaters, bowling alleys, bingo parlors, and museums.
Cooper said part of his decision was based on not letting too many businesses reopen at the same time, thus potentially increasing the spread of the virus.
Cooper said he understands the frustration of individuals and businesses about the delays to entering Phase Three since May 22.
"This is not where we planned to be or wanted to be," Cooper said.
"This virus has been very difficult for business owners still under restrictions. They are anxious to open their doors."
Dr. Mandy Cohen, the state's health secretary, has recommended keeping fitness facilities closed until Phase Three.
She has said the facilities carry higher risk for spread of the virus in part because individuals working out are breathing harder and respiratory droplets can be discharged at greater distances.
"We need to all work together so we can protect our families and neighbors, restore our economy, and get people back to work and our children back to school," Cooper said.
"We want to stabilize our numbers so we can ease restrictions. Slowing the spread helps our economy."
Socioeconomic impact
The pandemic is understandably testing the patience and goodwill of most individuals, said Zagros Madjd-Sadjadi, an economics professor at Winston-Salem State University.
"As this becomes more and more the new normal, we will likely see a much more tepid recovery than we would have had if we had been able to keep COVID-19 in check as we reopened," Madjd-Sadjadi said.
"The longer we stay in this reduced activity period, the more likely that we will see a generation scarred by it."
Madjd-Sadjadi compared it to the psychological impact that the Great Depression had in terms of individuals cutting back on consumption and being more debt-averse.
Mitch Kokai, senior policy analyst with Libertarian think tank John Locke Foundation, said he remains uncertain that the public health benefits of the pause will outweigh the economic health damage.
"A number of business owners already have decided they never will be able to come back," Kokai said.
"That list will continue to grow as owners contemplate whether they will be able to return to work after spending another three weeks with lights off and doors closed."