Nearly 12,000 people are expected to attend this weekend's Winston-Salem Cycling Classic and its related music festival — with both events held in downtown Winston-Salem.
Spectators for the cycling events can stand along the sidewalk of the routes or bring their lawn chairs, said Ray Boden, the events' race director. Admission to the cycling events is free.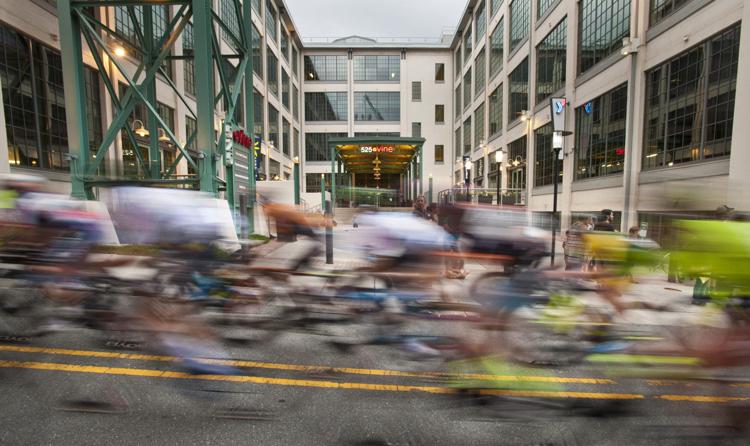 Winston-Salem police will use several rolling road closures and detours along the race routes, police said. Officers will be stationed along the routes to ease traffic congestion, but delays are expected, police said.
The Winston-Salem Cycling Classic Downtown Criterium will be held Saturday at the Wake Forest Innovation Quarter. Officers close streets between 8 a.m. and 8 p.m. Saturday.
The Winston-Salem Cycling Classic Road Race will be held Monday throughout downtown Winston-Salem. This event will involve intermittent street closures between 8 a.m. and 6 p.m., police said. This event will encompass the Downtown Winston-Salem, Old Salem and Buena Vista areas.
The Gears and Guitars Festival is being held Friday, Saturday and Sunday at Bailey Park at 445 Patterson Ave. Gates open at 5 p.m. and the performances begin at 6:45 p.m. Individual tickets for the music festival are $35 Friday and Saturday, and $40 on Sunday, Boden said.
Walk & Roll Winston-Salem will be held from 1 p.m. to 4 p.m. Monday on Patterson Avenue between Third Street to Fifth Street.
People who plan to attend these events should allow extra time to find parking spaces, police said. Drivers will not be permitted to park their vehicles along the cycling routes.
Vehicles owned by drivers who violate that rule could be towed, police said. 
Drivers should be aware of the cycling routes and follow the officers' directions, police said.
Saturday's forecast calls for a 20 percent chance of rain with a high temperature near 88 degrees. The low temperature Saturday will be around 67 degrees with partly cloudy skies and a 20-percent chance of rain.
The forecast calls for high temperatures Sunday and Monday to be near 92 degrees with sunny skies and no chance of rain on either day.
More live music will be performed Saturday, June 1, at the Texas Pete Spirits of Summer event on Fourth Street in downtown Winston-Salem. The stage will be located in front of Foothills BrewPub at 638 W. Fourth St. Advance tickets are $25 each, and the day of the event, tickets are $30.
A crowd of 3,000 to 5,000 people are expected to attend this event, which will close Fourth Street from Marshall to Spring Street, said Mary Charlotte Hinkle, the director of marketing and special projects for the Downtown Winston-Salem Partnership.