More businesses are ordered to close this week in North Carolina, and a two-week break from in-person instruction for public school students has been extended to May 15. The moves are intended to slow the spread of the new coronavirus, Gov. Roy Cooper announced Monday.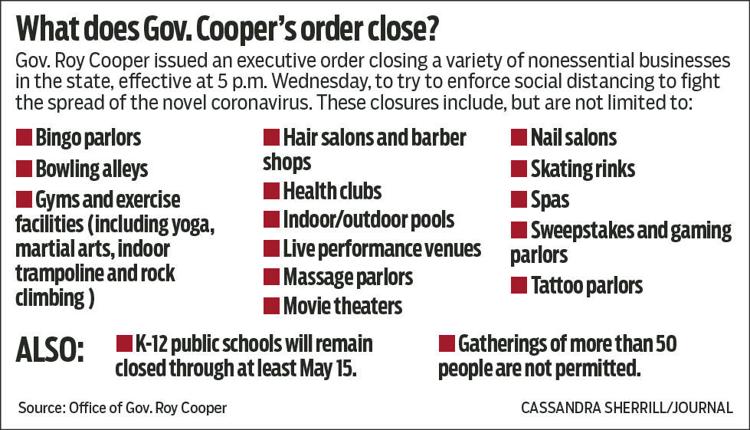 "I know that these actions cause hardship and heartache for a lot of people, but they're necessary to save lives," Cooper said at a news conference.
The executive order that Cooper plans to sign will require the closures of gyms, hair and nail salons, barbershops, tattoo parlors, movie theaters and other businesses. That order will be effective at 5 p.m. Wednesday. He also reduced mass gatherings to no more than 50 people. 
Cooper did not issue a shelter-in-place order as some other states, including California, have done. Restaurants that provide take-out or curbside service and grocery stores will remain open, Cooper said.
The governor said he wasn't giving up yet on students' returning to class to complete the public school year. State education officials and lawmakers are working on plans to expand online instructional assistance beyond virtual efforts already underway. Universities already have shifted to online instruction.
Nearly 55,000 students in Winston-Salem/Forsyth County Schools moved to online learning Thursday, with teachers posting assignments and connecting with their students on various digital platforms. After some early glitches, the system's main platform, PowerSchool Learning, has been working smoothly for the most part. 
Superintendent Angela Hairston said she understands that online learning will create stress for families. 
"However, we know this is the best decision for our entire community," she said in a statement. "We will continue to do our very best to support our students as we put the health and safety of our students, staff, and community first."
The school district has loaned more than 20,000 devices to students for use at home. Additionally, it plans to install 4,000 mobile hotspots for families lacking internet access. Those devices are expected to arrive later this week. 
On Monday, the number of known COVID-19 cases approached 300 in North Carolina, including a second case in Davidson County. Counting figures of known cases provided by individual county health departments, the number of statewide cases is likely higher than the 297 that the N.C. Department of Health and Human Services disclosed Monday. There still are no confirmed deaths in North Carolina from the novel coronavirus as of Monday's DHHS update.
About 90 percent of the local school district's staff is working from home, said school spokesman Brent Campbell.
"We are asking that only essential staff come in," Campbell said. "That varies from school to school but in some cases teachers still may need to come in. We are asking them to remain separated, work in their own classrooms and away from others if they are coming in."
As of Sunday, 46 states have shut down schools, according to Education Week. 
---
PHOTOS: Griffith Elementary device pick-up
PHOTOS: School cafeterias offer free meals for children