With several former Tar Heels on the floor, it was Isaiah Hicks who stole the show on Wednesday night, finishing with 15 points and 8 rebounds in a losing effort as Chicago topped Charlotte 95-92 in the NBA's Las Vegas Summer League.
It was the second straight game in double-figures for Hicks, who has spent the past two seasons the New York Knicks on a two-way contract, playing 21 NBA games. Meanwhile, his North Carolina teammate, the slimmed-down Kennedy Meeks finished with 3 points and 4 rebounds in 8 minutes.
Coby White had his toughest shooting game of the Summer League for the Bulls, hitting 4 of 17 field goal attempts on his way to 11 points, 7 rebounds and 2 assists in 31 minutes. Over four games, White has hit 25 of 70 field goal attempts (35 percent), which is well below his efficiency at Carolina.
New York 117, Los Angeles Lakers 96
After taking a step forward on Tuesday night, RJ Barrett looked comfortable for a second straight game for the Knicks, finishing with 21 points, 10 rebounds and 3 assists.
Having struggled with his shot so far in Summer League, Barrett made a better effort to get to the bucket, shooting 6 of 17 from the field and 7 of 10 from the free throw line.
Former Wake Forest guard Codi Miller-McIntyre continued his solid play for the Lakers, finishing with 15 points, 7 rebounds and 5 assists. Through three games, he's averaging 11 points, 7 rebounds and 6.3 assists.
Devontae Cacok, an undrafted rookie from UNC Wilmington, scored 14 points and added 9 rebounds in 23 minutes. Overall, Cacok has made 25 of 40 field goal attempts (62 percent) in four games, averaging 13.2 points and 9 rebounds for Los Angeles.
Brooklyn 93, Orlando 85
Former Duke forward Amile Jefferson continued making a case for a roster spot with the Magic, scoring 18 points and grabbing 8 rebounds in the loss. Over four games with the Magic, Jefferson has average 15.7 points and 9 rebounds.
For Brooklyn, Theo Pinson had 13 points in 24 minutes.
Dallas 79, Croatia 71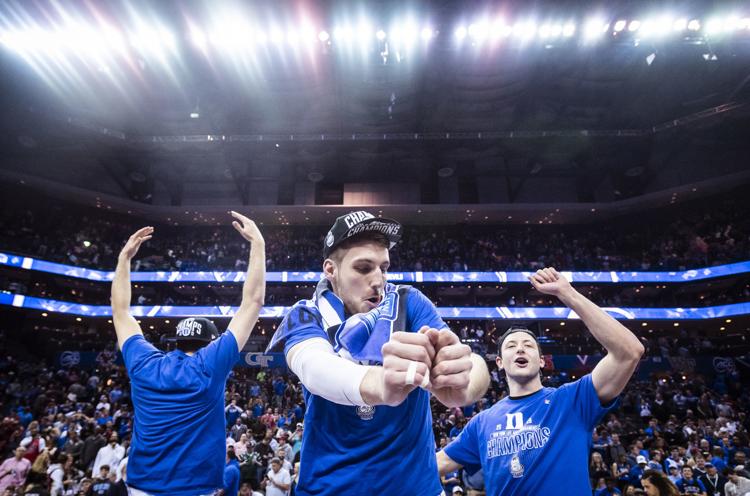 No former Big Four player has been a bigger surprise than Antonio Vrankovic this summer.
The former Duke reserve was in double-figures again Wednesday, scoring 12 points to go with 6 rebounds in 24 minutes.
After scoring a total of 74 points over four seasons for the Blue Devils, Vrankovic has averaged 7.2 points and 4.5 rebounds in an 15 minutes per game. Son of former NBA an international big man Stojko, it seems the younger Vrankovic will have a professional opportunity overseas.
New Orleans 99, Cleveland 78
Marques Bolden had another efficient outing for the Cavaliers, scoring 13 points to go with 3 rebounds in 21 minutes in the losing effort.
Through four games with Cleveland, Bolden, who went undrafted in June, is averaging 8.5 points, 4 rebounds and 1.5 blocks in 20 minutes.
For the Pelicans, former Virginia Tech star Nickeil Alexander-Walker finished with 26 points, 6 assists and 5 rebounds. He scored 23 points to go with 8 assists in his only other game for New Orleans this summer.
Phoenix 79, San Antonio 78
Kenny Williams played 19 minutes, scoring 3 points on 1 of 4 from the field for the Spurs.
Thursday night's schedule highlights
- Former Campbell star Chris Clemons (22.3 points) has been appointment viewing so far, but former Tar Heel Tony Bradley (18 points, 10.5 rebounds) has quietly had a great summer. Catch them in action when Houston meets Utah (8:30 p.m., ESPNU).
- Portland, which features former Big Four stars Gary Trent Jr., Jaylen Hoard and Nassir Little, will meet Oklahoma City (8 p.m., ESPNU).
- Catch Kyle Guy (18.7 points) as Sacramento meets the Los Angeles Clippers (10 p.m., NBATV) and former Florida State forwards Mfiondu Kabingele and Terance Mann.
- Grayson Allen has hit the ground running with Memphis. He'll play his third game with the Grizzlies as they meet Tacko Fall and Boston (10:30 p.m., ESPN2).